Mention to any parent that has an interest in cycling that you are looking to buy a bike for your child, and nine times out of ten the name 'Islabikes' will explode forth into the conversation.
Why? What's so good about Islabikes? I mean, why are they so revered as one of the best kids bikes available? After all, they're based out in rural Shropshire, and you can't buy them in your local bike shop, nor from any of the myriad of online retailers.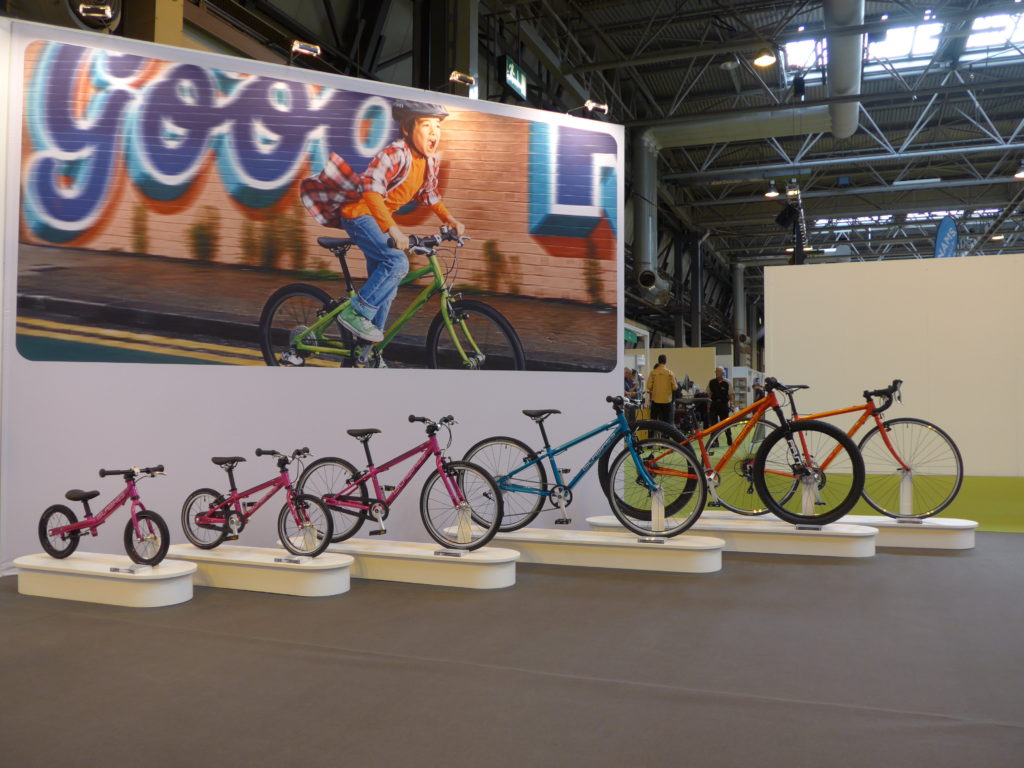 Who are Islabikes?
Islabikes is a British owned company led by Isla Rowntree, a hugely passionate cyclist, who's loved and raced bikes since she could clamber aboard one.  Following a successful racing career, Isla moved into building trailer bikes and then spent time honing her commercial skills in a senior role at Halfords.
Realising that there was a lack of quality kids bikes available for serious junior riders, Rowntree decided to do something about it. In 2006 Islabikes was established, trading out of a small unit in Ludlow.
AFFILIATE DISCLOSURE:   When you buy through links on our page we may get a small commission if the retailer has an affiliate scheme. You can find out how this works in our affiliate policy. Thanks for supporting us in this way! 
What's so good about Islabikes?
With the establishment of Islabikes, Rowntree became one of the most influential people in the world of cycling. Why? Because Islabikes make proper bikes in miniature so that children can enjoy the sensation of riding a lightweight, quality bike that has been designed just for them.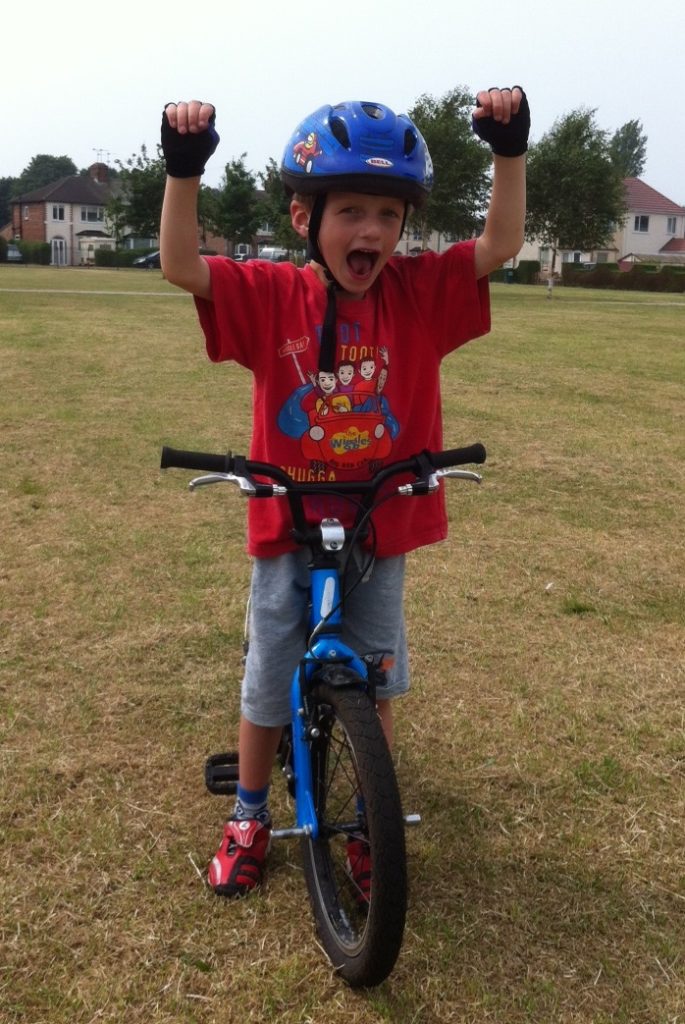 Islabikes kids bikes are the complete opposite of some of the cheap, heavy kids bikes that can feel like a lash up of gas piping and over-sized components.
Whatever you're sat on, cycling should be all about the riding. However, if you can make a connection with the bike you're on the experience will be so much more enjoyable. And for many young children who learn to ride on an Islabike this can lead to a love of bikes that lasts a lifetime.
Why do kids love Islabikes?
Kids love Islabikes because they're designed specifically for them. The handlebars, brakes, pedals and gear levers are all carefully sized to fit the age of the cyclist.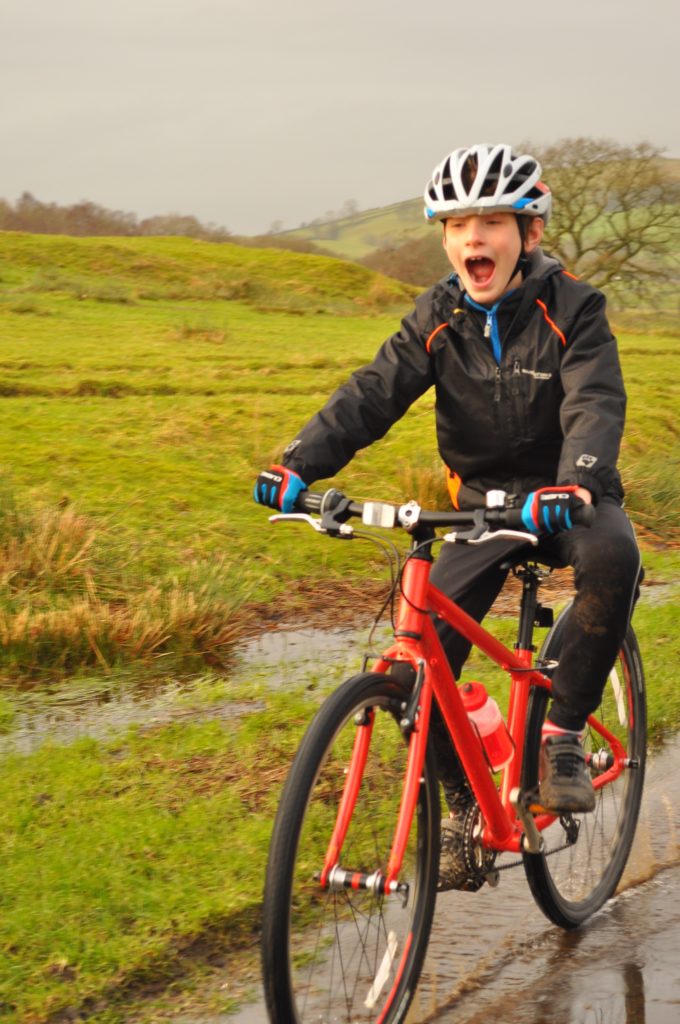 The bikes are lightweight, can be picked up easily and are very manoeuvrable, meaning the child has great control as they ride.  And ride they will. Kids on Islabikes have been known to ride long distances from an early age, and as any trip to a junior cyclocross event will confirm, they're extremely popular with young racers.
Why do parents love Islabikes?
As more and more parents are investing in quality bikes for themselves, it makes sense that they want their children to enjoy the similar benefits of a well designed, lightweight bike.  Islabikes are ideal for riding in the park, but also tackling family cycle touring and junior racing, both of which are growing in popularity.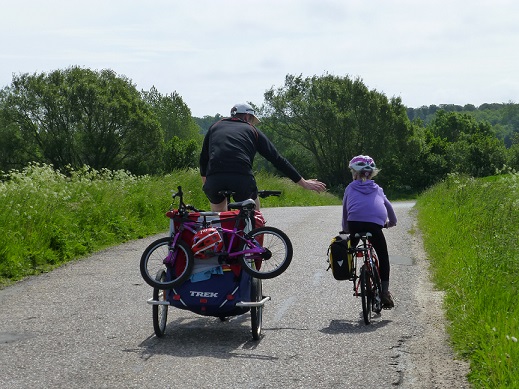 But, ask any parent who has gone through the Islabikes range with their kids, and they will agree that there is another plus point – the very high resale value of a used Islabike.
A . If you can afford the initial outlay, the longer term cost of the Islabike is much lower than a cheaper kids bike that is worn out by the time it's been outgrown. 
What bikes are in the Islabike range?
The Islabikes range starts with the Rothan, a balance bike suitable for 2 years plus.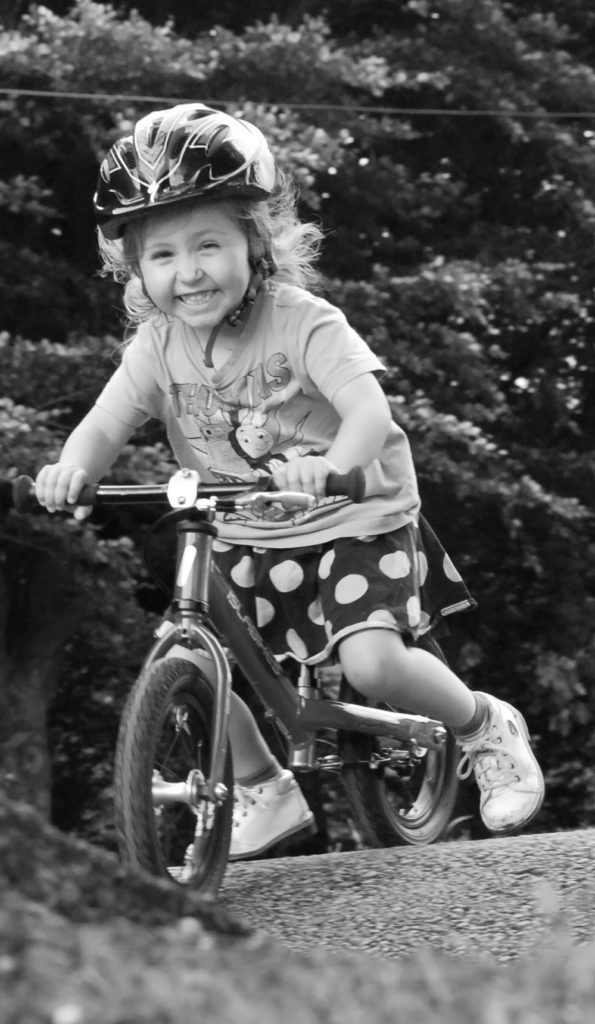 The Islabikes Rothan is a very lightweight balance bike, designed to get very young children used to scooting along, ready for the seamless transition to pedals. At  £199.99 the Rothan is one of the more expensive balance bikes on the market, but those who take their cycling seriously are often tempted.  There's usually a few – age and number of riders will affect the price you'll have to pay.
Islabikes first pedal bikes – the Cnoc
The Islabikes Cnoc comes in four sizes (14 small, 14 large, 16 and 20) and is designed for kids aged 3 to about 7 who love pedalling but aren't ready for the complexity of gears.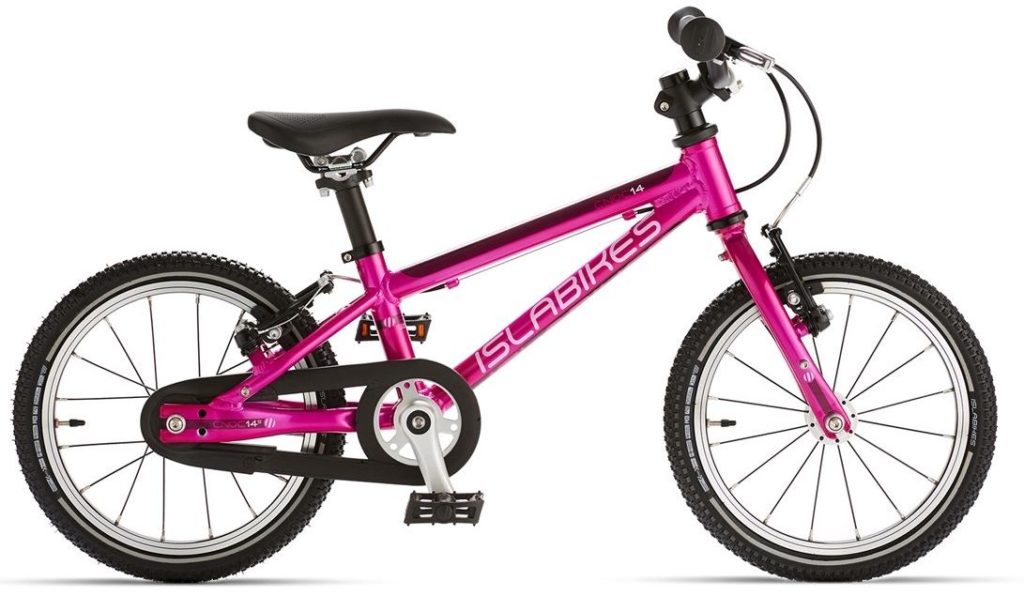 The Islabikes Cnoc single speed bikes are £399 new, and the
Islabikes multi-purpose kids bikes – the Beinn
The next model up is the Islabikes Beinn. This is a great hybrid / multipurpose kids bike, suitable for on and off road riding.  The Beinn 20 can often be the first encounter a child has with gears, and the fact that they have been designed specifically for small hands to operate makes the transition much easier.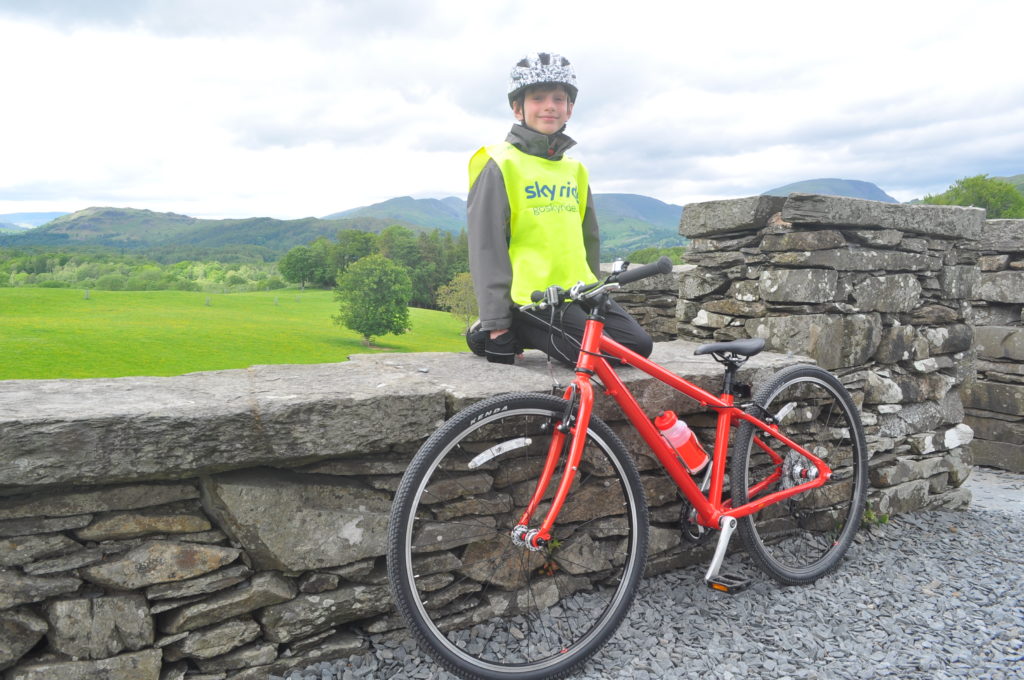 The Islabikes Beinn comes in 5 sizes – the 20 small, 20 large, 24, 26 small and 26 large – meaning that there is a Beinn for all ages from 5 years through to teenagers.  Because the Beinn can be fitted out with a pannier rack, mudguards and a stand it's very popular for family cycle touring or the daily ride to school.
Prices new range from £499 for the Beinn 20 Small to £599 for the Beinn 26 large. Again there are always plenty of Islabike Beinn's on eBay to choose from if your budget doesn't stretch to a new bike.
Click here to read Cycle Sprog's Islabikes Beinn review


As your child grows they may start to develop a love of mountain biking, road cycling or cycle-cross.  The Islabike range has bikes to cater for all these scenarios.
Islabikes drop handlebar kids bikes – the Luath
The Islabike Luath is their drop handlebar road and cyclocross offering. As Isla Rowntree was a National Cyclocross champion several times over, it's not surprising that the Luath has continued to evolve over the years into a very tasty bike. The Luath can be fitted with road tyres or cross tyres, making it a versatile all year round bike.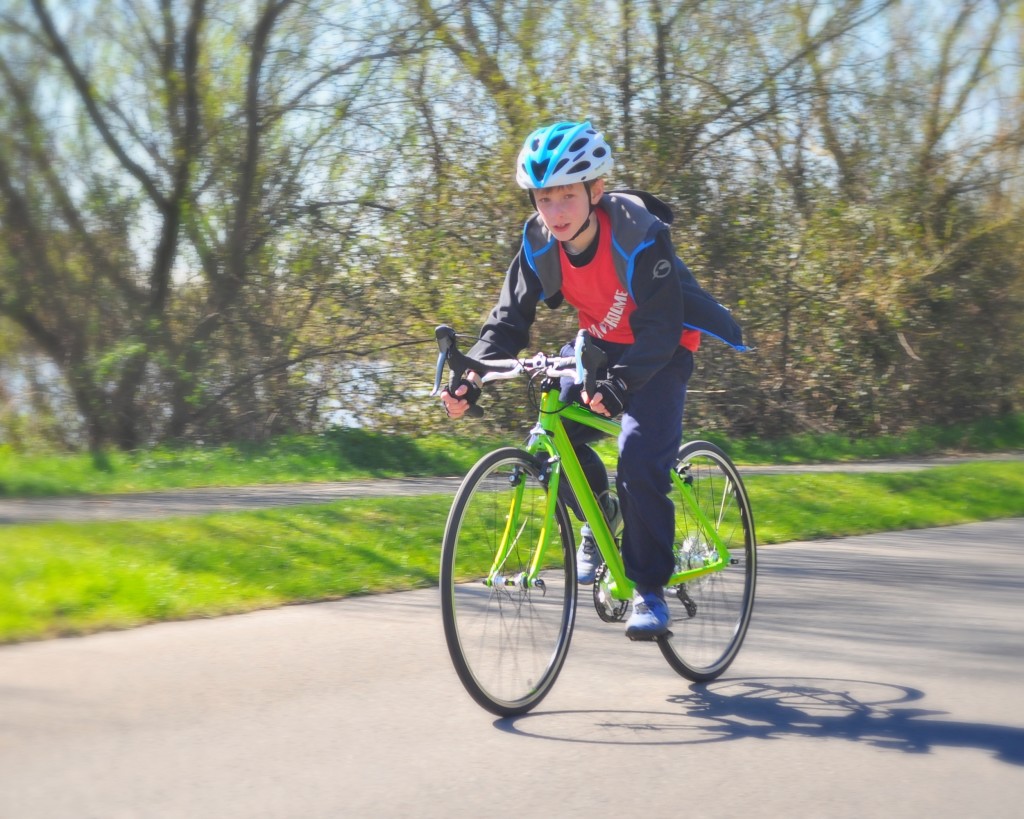 The Islabike Luath comes in 4 sizes – the 24, 26, 700 small and 700 large – catering for cyclists from 8 years through to small adults. Prices reflect the quality and popularity of these bikes which are priced from £799.99 to  £899.99 new.  The number of  varies depending on the time of year and condition.
Click here to read Cycle Sprog's Islabikes Luath review
Islabikes hardtail kids mountain bikes – the Creig
Of course, some kids much prefer the mountain bike trails to the roads, and Islabikes Creig is designed just for them.  The front suspension will get them over the most tricky of features on the trail, and the lightweight frame means that they can pick up speed on the descents.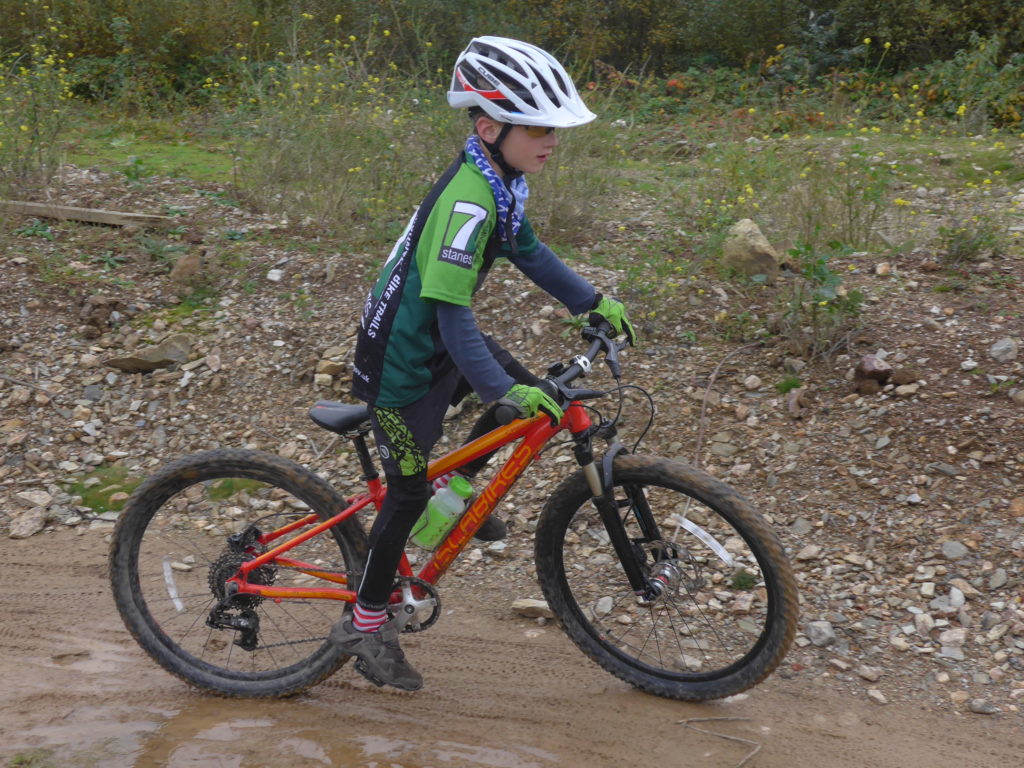 The Islabikes Creig comes in two sizes –  Creig 24 and Creig 26 – and the price of £1000 and £1099 respectively reflects the level of quality. Creig's are difficult to come by second hand, as the price means this is a bike for very keen junior mountain bikers only. It's worth worth keeping an eye on eBay if you're looking for a Creig
 as they do come up occasionally.
Islabikes competition bikes – the Pro Series
In spring 2016 Islabikes announced the launch of the Pro Series.  Designed specifically with serious racers in mind, the Pro Series is a top drawer range of bikes with price tags to match. You can read more about the detail of the Islabikes Pro Series here, and find out our opinions of the Pro Series when we saw them for the first time at the 2016 Cycle Show. Prices range from £800 for a Beinn Pro Series for a 4 year old, through to over £1,500 for the larger bikes.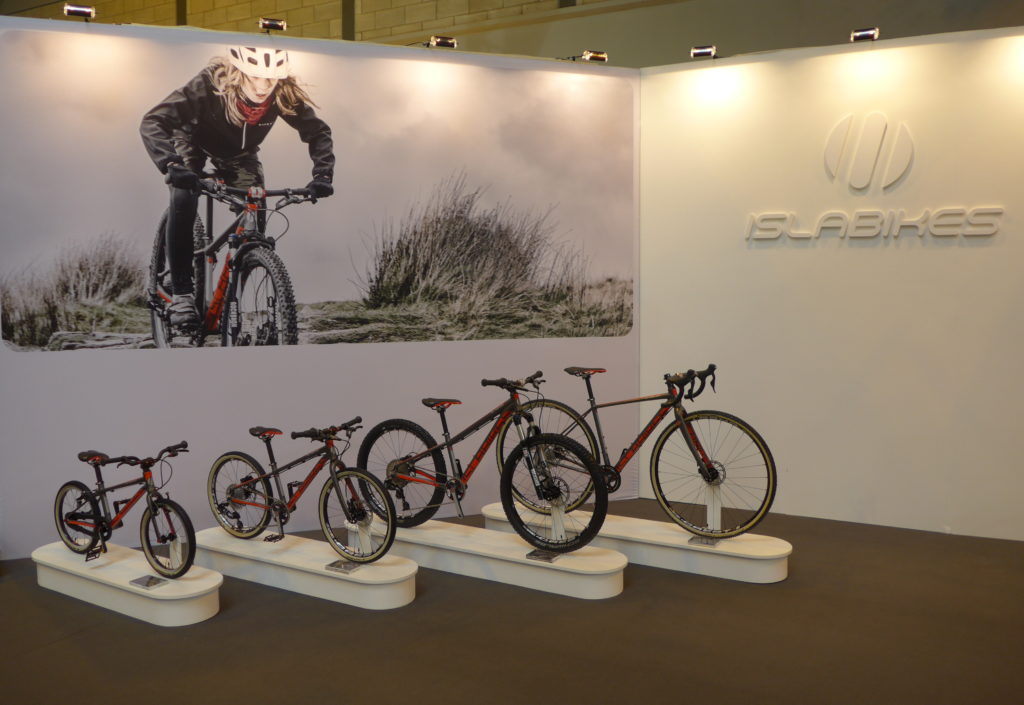 Cycle Sprog's experience of Islabikes
Take a browse through Cycle Sprog's pages and you'll see pictures of children riding Islabikes. This is because many of our contributors are huge Islabike fans, which in itself speaks volumes about the quality of the bikes.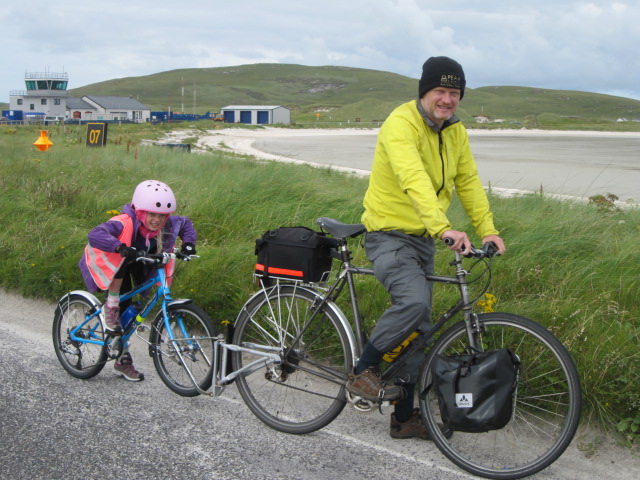 When my son N first learnt to ride his Islabike Cnoc 16, he instantly looked comfortable and at home on it. Before long he was off like a pro, and took some keeping up with! Being lightweight, the Cnoc 16 was perfectly at home climbing the hills on the 'Pedal a Bike Away' mountain bike trails in the Forest of Dean, or riding into school for the 'Bike It' breakfast. It coped with everything.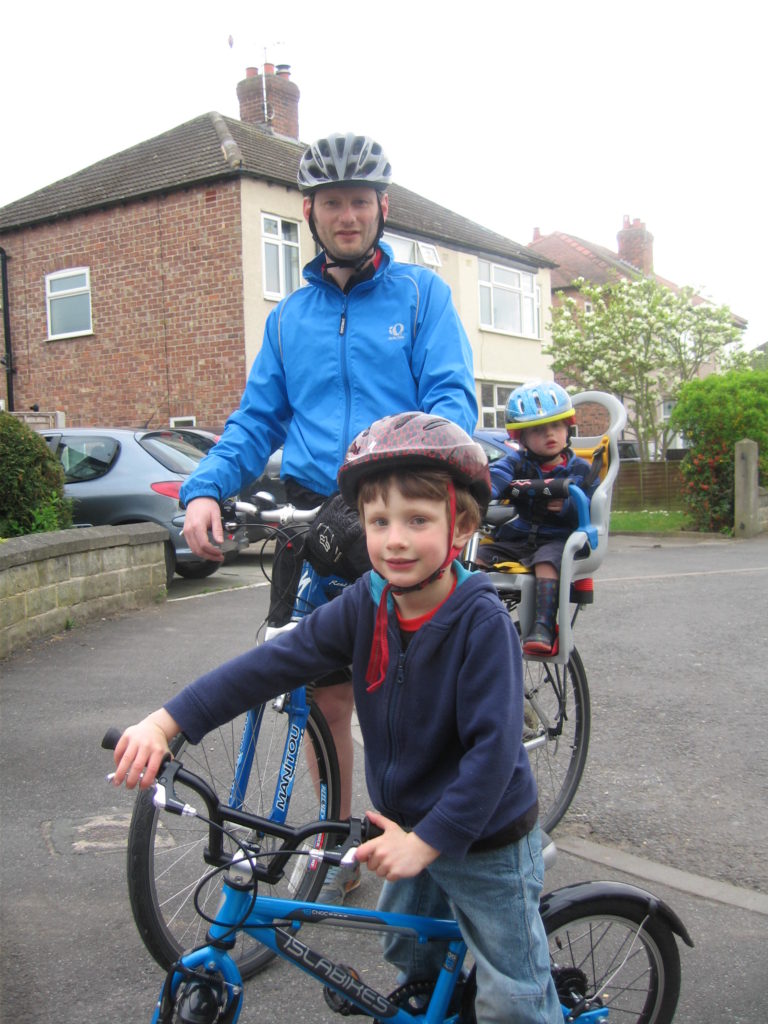 He inevitably grew out of the Cnoc, and it was passed onto his younger brother, who loved riding it and enjoyed being pulled along using the FollowMe Tandem when we were travelling long distances.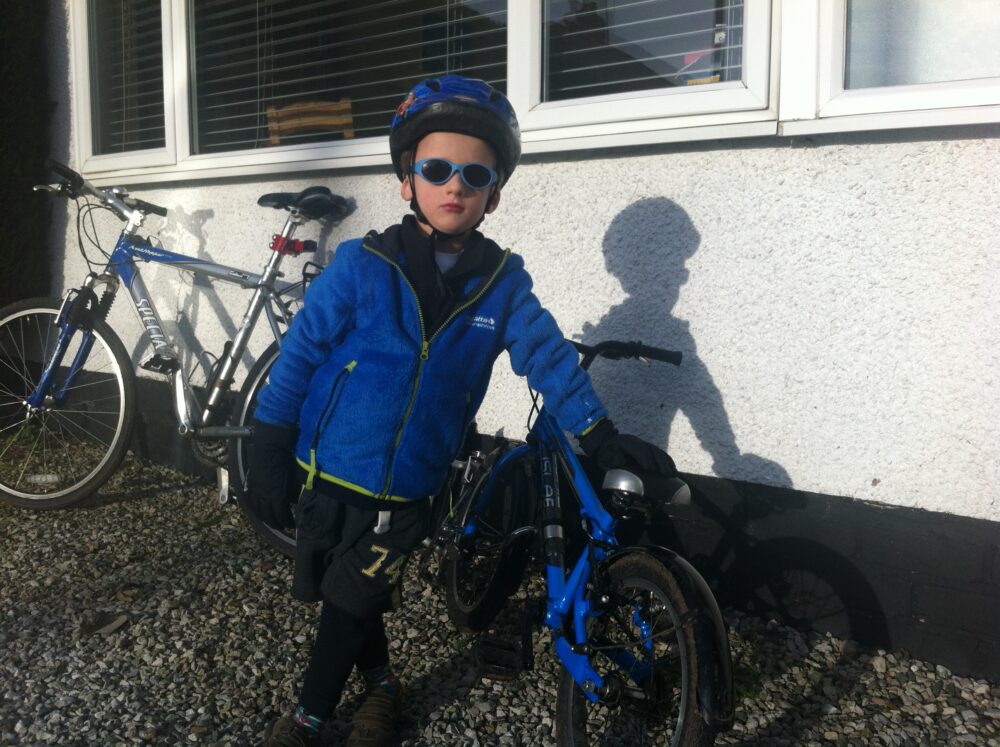 Since starting Cycle Sprog the boys have been busy reviewing some of the larger Islabikes – the Beinn, the Luath and currently the Creig. You will see some photos of their testing sessions here in this post!
Are Islabikes worth the money?
You have to have relatively deep pockets to buy your way into the Islabike club, but you get what you pay for when it comes to buying a kids bike.
The quality of the components and the design details on the Islabikes show that a great deal of thought and care has been invested to produce what I would have imagined the design brief stated as 'The best quality kids bike on the market'. Add in the fact that each Islabike will withstand a lot of abuse, so is ideal to pass on to a second child.
With the incredibly strong resale values of Islabikes on eBay, making a purchase doesn't look so expensive after all.
Where can I buy an Islabike?
There are four ways to buy an Islabike, and none of them are quick. First, you need to visit the website (www.islabikes.co.uk) to decide which bike you want. You can also check out the Islabikes reviews we've done here on Cycle Sprog.
Then your options are:
1) Visit the Islabikes showroom in Ludlow.  It's a great day out – the staff are extremely helpful, and they have a brilliant test track.  You need to book an appointment in advance, and don't expect to walk away with a bike – you will have to wait for delivery as each Islabikes product is assembled to order. An added bonus is that the showroom is next to the Ludlow Food Centre and café!
2)  Phone them up and place an order
3) Place an order online on the Islabikes website
4) Islabikes go on tour around the major cycling events, where you can test ride their bikes and place an order. See their website for further details of upcoming venues.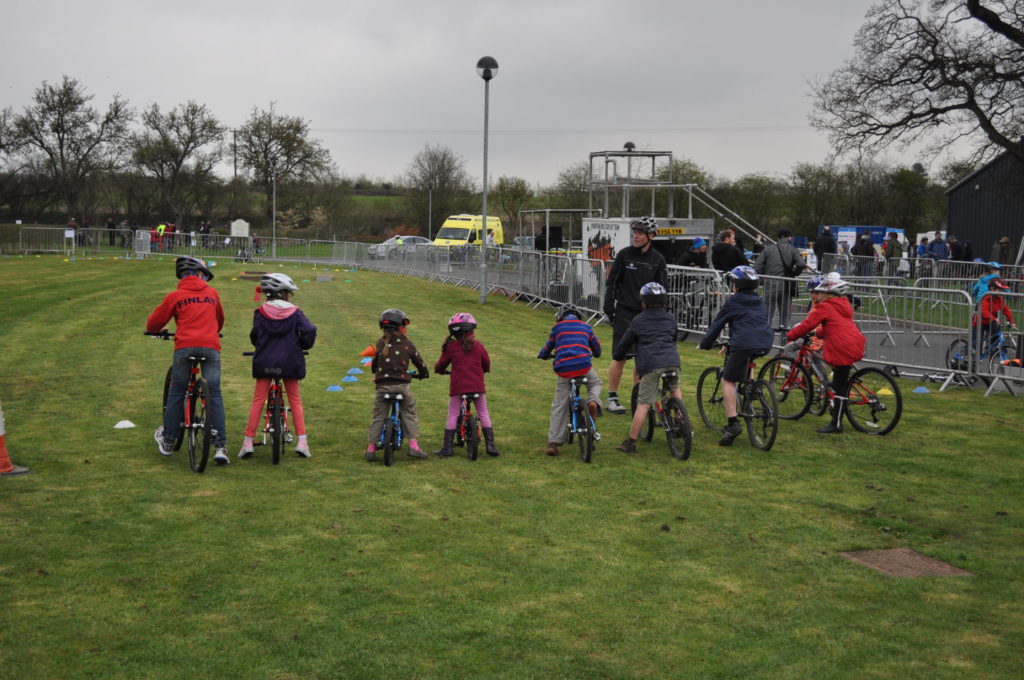 The options listed above will get you a brand new Islabike, but please be warned they can involve up to a 21 day wait (even more in the run up to Christmas).
The second hand Islabikes option
Due to the popularity of Islabikes, and the fact that the robustness of the bike means they're usually grown out of rather than worn out of, second hand Islabikes are a good way to get hold of one.  There are three main ways to get hold of a used Islabike:
a) Bid for an Islabikes second hand on eBay or other online market places such as Preloved
b) Join the Pre-owned Islabikes Facebook Page and see if anyone has a bike in your area for sale
c) Ask friends and family with older children if they want to sell theirs on.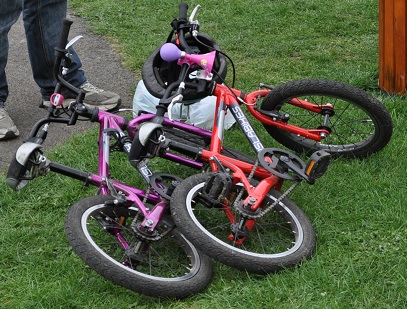 If you're buying a second hand Islabikes don't expect to get a bargain – Islabikes resale values can be almost as high as new for a well looked after current model. They also tend to sell very quickly (which is one of the reasons parents love them!). Older models can go cheaper, if you're prepared for more wear and tear and not having the latest colours and design.
Want to know more about cycling with your kids?
If you'd like more advice on cycling with your kids, inspiration for family friendly cycle routes, or reviews of the best kids bikes and children's cycling accessories don't forget to sign up for the Cycle Sprog newsletter.
Please follow us on Facebook and Twitter. If you've found this article useful then it would be great if you could share it with your friends. Thanks!
AFFILIATE DISCLOSURE:   When you buy through links on our page we may get a small commission if the retailer has an affiliate scheme. You can find out how this works in our affiliate policy. Thanks for supporting us in this way! 
This article on what's so good about Islabikes was first published in June 2013 and updated in November 2016.
Affiliate disclosure:  Some of the links on this page will provide a small commission to Cycle Sprog if you make a purchase (the eBay ones). We use this income to fund the hosting and maintainence of the website. Thanks for your support.
Cycle Sprog have reviewed Islabikes products and photographs of these are shown in this article. We have also bought our own Islabikes and these are shown too. This article has been written as honestly as possible based on our experiences and those of other parents.