On Saturday we were lucky enough to have a stage of the regional Cyclo-Cross league take place just down the road. My boys have done some Go Ride junior cyclo-cross events before, but this was a much more serious affair, with both junior and adult races taking place throughout the day. It was a great chance from my youngest, T, to have a go at riding in an U8 cyclo-cross league race. Here's how we got on!
The organisation of the event had been done by our local bike shop, and the layout of the cyclo-cross track and the ease of registration was incredibly professional. T was surprised (and pleased) to get timing chips to wear around his ankle, just like the senior riders. There was even an official photographer, with some Flickr albums of the event produced afterwards, which some of the photos (the better ones!) in this post are from.
The junior riders (aged 14-18) went first, and the first thing we noticed was that they were riding up a very steep hill, and then carrying their bikes up a flight of steps. A lot, but by no means all, of the riders were from clubs and on serious cyclocross bikes.
At this point T started to look nervous, but thankfully a marshall explained that each age category had a different route around the course and that the younger ones didn't have to carry their bikes – phew!
We soon remembered why cyclo-cross is so popular with kids! Because you ride round and round the course for a set time, it soon doesn't matter whether you're at the front, in the middle or at the back. All the riders get mixed up together quite quickly, and everyone gets cheered on equally by the supportive crowd. The winners are determined by how many laps are completed, not necessarily who crosses the line first. It was great fun spotting and cheering friends in each race.

The U12's came next – their course was shorter and with one slope, but the effort was just as intense. By the time the U10's race was in progress T was feeling slightly better as the course was shorter again and the riders looked closer in age to him.
Finally, it was the turn of the U8's, and this was by far my favourite race!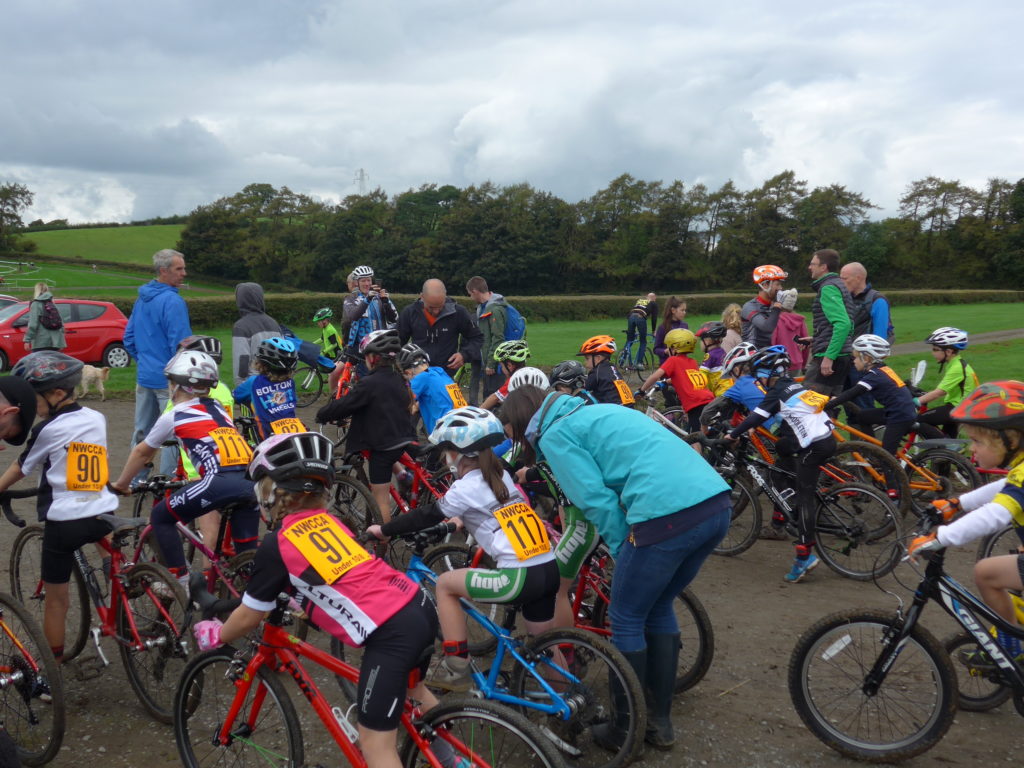 The spread of riders ranged from a little boy on a Hoy Napier balance bike (who stole the show with his two laps) to serious club riders on cyclocross bikes, with every age and bike type in between.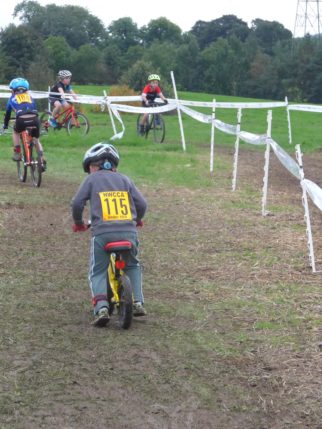 An U8 cyclo-cross league race is ten minutes of mud filled fun, and (almost) everyone looked like they were having a great time. The 10 minutes seemed to fly by, although I may have thought differently if I'd been riding a balance bike! T was soon back with a huge grin on his face and mud all over his Islabikes Creig 24 mountain bike!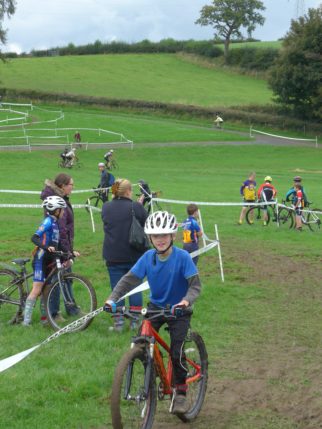 There swiftly followed a victory ceremony for girls and boys in each age category, with the local race teams and those from further afield providing many of the medallists. The picture below shows the winners of the U8 cyclo-cross league race – well done girls!
Then every child got a packet of Haribo and a carton of juice – what a great way to end a race!
We stayed around to watch the start of the senior races (and the thought even briefly occurred to me that I should try and get a cross bike and get fit enough to enter the ladies race myself next year) – before heading back home to wash off all the mud.
The verdict from T and his friends was that Cyclo-Cross is a brilliant sport, and they'd love to have another go as soon as possible.
To find out where your local junior cyclocross event is being held, check out the British Cycling events page.
Other posts you may like: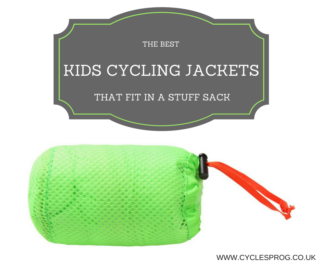 This post was first published in October 2016.