Each year, the UK cycle industry has two main shows that provide retailers, manufacturers and distributors a platform with which to wow the ticket buying public with their latest and greatest offerings. Some products may be a rollover from last year, others given a slight makeover, with a nip here and a tuck there. And finally, there are the totally new lines – fresh out of the box. For those able to dig deep into their pockets it will be the first chance for them to cast their eyes over and get close and hands on to the latest offerings of the cycling industry.
Nervous times for all then – for the people that make the bikes, the people that sell them and of course, the people that buy them. Pardon the pun, but there is a lot riding on the release of a new product.
All eyes on the Islabikes Pro Series
Cycle Sprog has just been to one of these events – the 2016 Cycle Show at the Birmingham NEC. Islabikes were there with their recently launched and much publicised Pro Series. Publicised for many reasons may I add.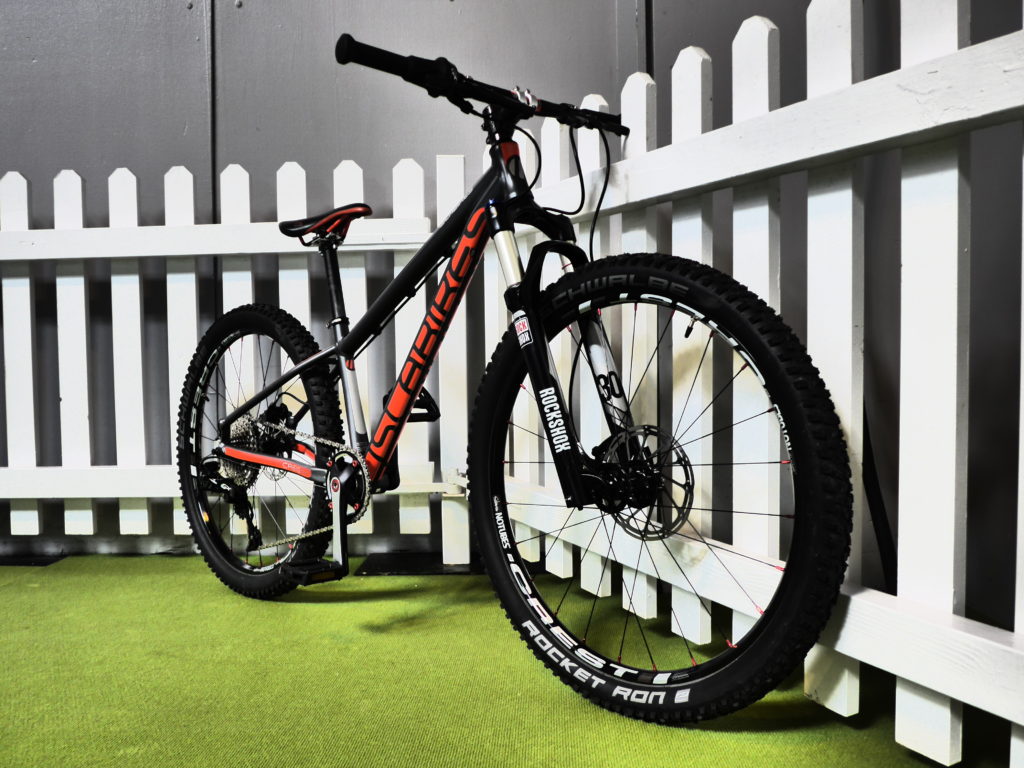 Some say that the Islabikes Pro Series are expensive and only for the super rich. Some say they're pushing the envelope of children's bicycle design. Others that they're taking things too far and that only adult bikes should cost so much. But why should it be the preserve of the adult world? By it's very nature, a product constructed with quality materials and with an obsessive attention to detail is going to cost significantly more than a standard offering, irrelevant of whether it's being built for an adult or a child.
Also, when you take account of the costs and time incurred in altering and tweaking a standard bike for a serious and competitive rider, the total cost will have risen dramatically from the initial purchase price.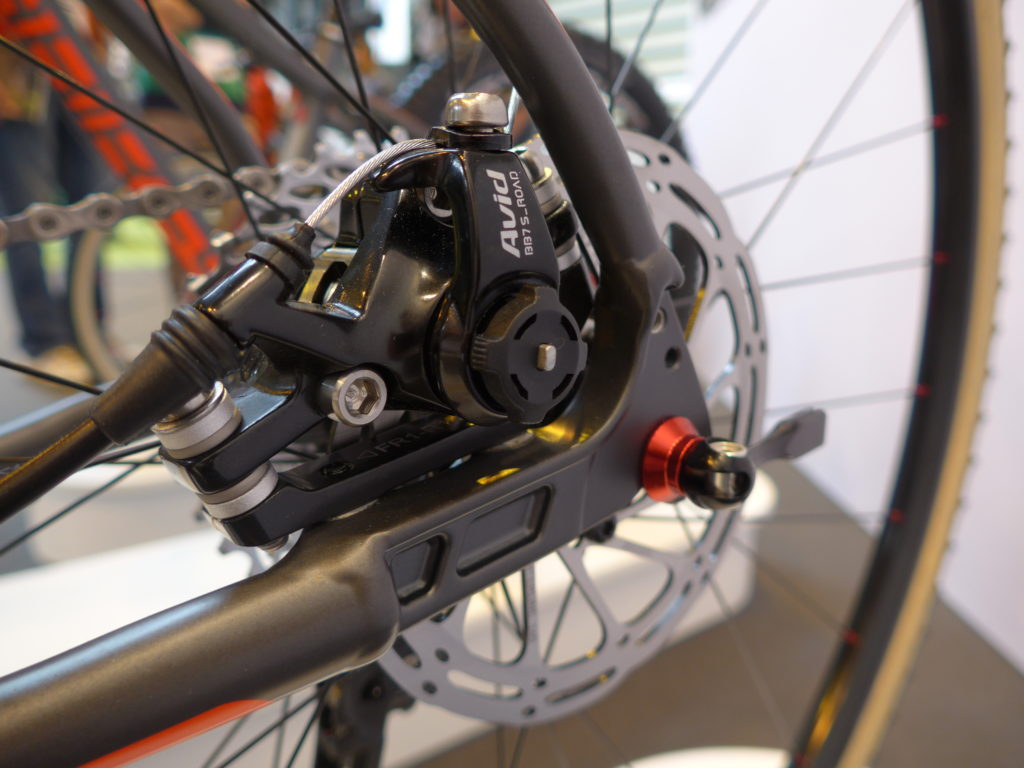 So I guess this is where the Islabikes Pro Series comes in. By creating a range of bikes that have already been lovingly tweaked and fettled using child proportioned components, the potential for altering and upsetting the geometry and handling by fitting the equivalent (but unsuitable) adult componentry has all but been snuffed out.
I don't know for sure, but I guess it must be quite galling as a designer to think that you've spent countless hours labouring over how a bike will handle and perform and then someone slaps an unsuitable carbon fork on it and throws it totally out of kilter! Grrrr.
So does it work?
Well in a word, yes. This was my first opportunity to actually handle the bikes in the Islabikes Pro Series range (plus take a sneaky ride on the Luath 700 Pro Series around the Islabikes test track) and I must admit to being a bit curious as to whether the reality would match the hype.
Having had regular experience of manhandling Islabikes standard Creig 24 and 26 mountain bikes on and off roof-mounted bike racks, I have continually been grateful that they weigh so much less than looks would suggest. So when lifting a Creig 26 Pro Series down off the display rack, the lack of weight was instantly apparent. The Islabikes Creig is a lightweight, but the Pro Series version is something else.
You can have the Pro Series in any colour you like, so long as it's gunmetal and red!
Up close the two-tone satin finish is striking, suiting the aesthetics of a bicycle frame really well with its pearl-like sheen.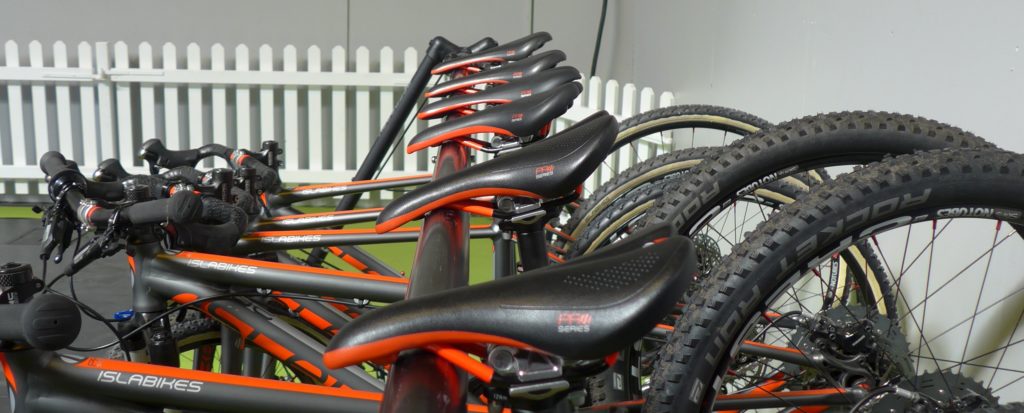 The artificial lights of the NEC can be quite harsh, but unlike gloss finished frames there's no glare from the Pro Series finish and this gives them an interesting subtlety.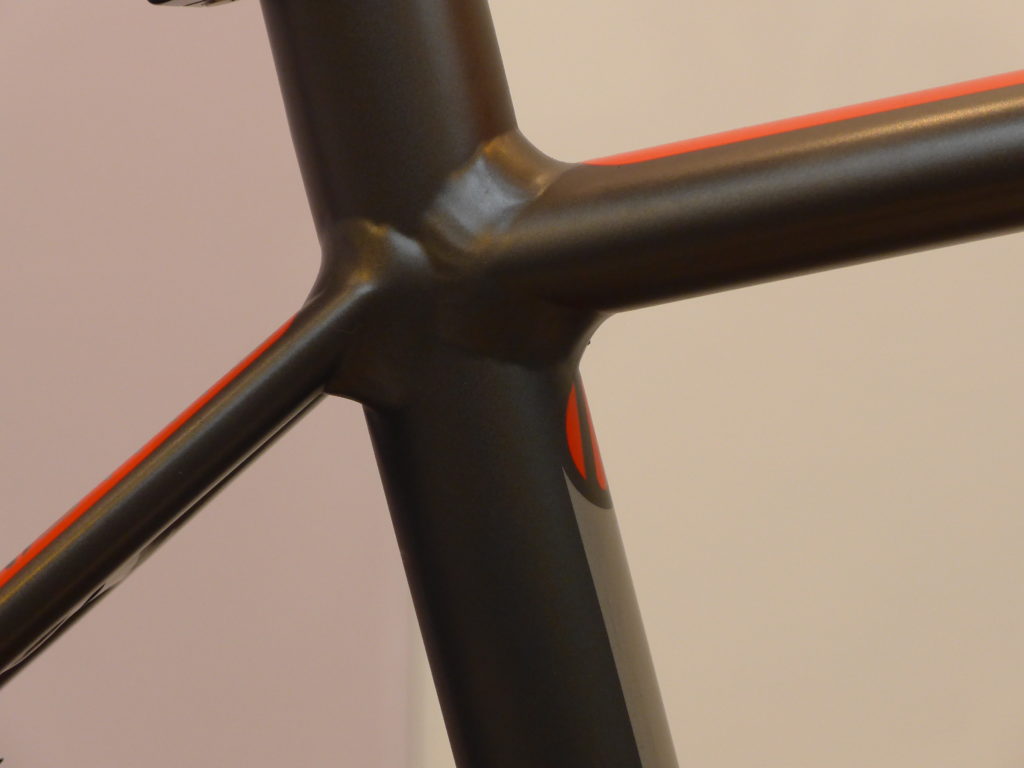 However, it's nigh on impossible to please all the people all of the time and there will be those that would like a different colour scheme and finish. For me at least, it's a winner.
Models on offer
The Islabikes Pro Series has been designed to cater for children aged from 4 years to 11 years plus. The model range follows the existing Islabikes lineup with the Cnoc, Beinn, Luath and Creig all being available. So no matter what your size or whether your discipline is cyclocross, mountain biking or a special everyday style bike, there is a Pro Series option available.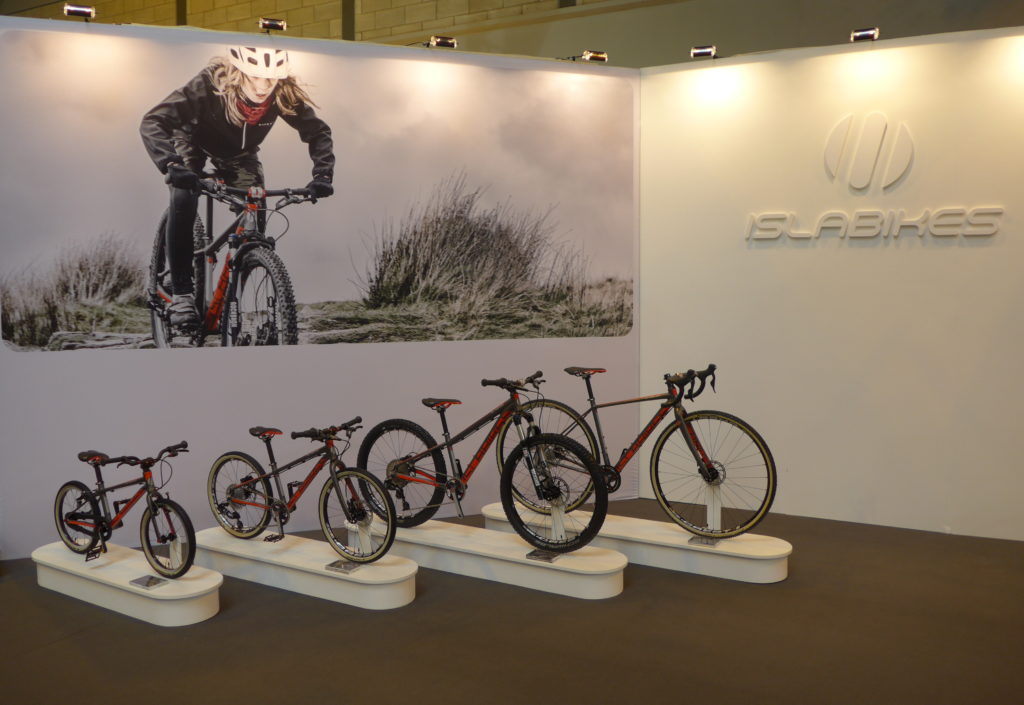 You would think that the larger size Luath and Creig bikes would make up the bulk of sales, as kids get seriously into racing. Hoever, Islabikes Events/PR Manager Steve Chapman mentioned they were surprised and obviously delighted at just how well the Pro Series Beinn 20 had been received, and that this interest had translated into firm orders.
Test ride – kids and childish adults only!
'Grabbing the keys' to a Pro Series and taking it for a quick spin was on the cards as soon as I clapped eyes on them. With Isla Rowntree off on lunch, I thought I'd take my chances and picked the Luath 700 Pro Series that had the most seatpost on show. So a quick leg over and we were off.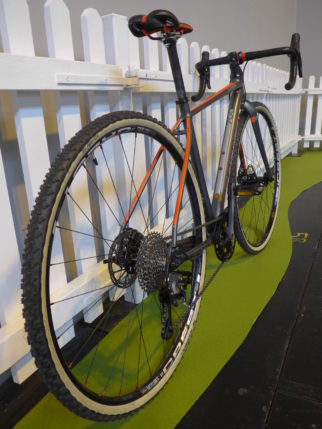 Fitted with cyclocross tyres the Luath 700 Pro Series (£1,599.99) felt very controlled and precise when making manoeuvres within the small test track area and was a joy to ride.
Gear changes, courtesy of the Shimano Ultegra shifters and drivetrain were precise and swift with a reassuring 'snick, snick, snick' through the gears.
Braking with the Avid BB7 cable actuated disc brakes was effective, with a gradual feel at the lever reminiscent of rim brakes rather than the dramatic 'on/off' exhibited by some disc brake systems.
Casting a critical eye over each of the bikes on the stand, the level of detail on offer is breathtaking. For me, designing bikes such as these must be a great job – getting the chance to create a top notch frame and then dress it with superb componentry. Make no mistake, these are not cheap bikes, but rest assured it's easy to see where the money has been spent.
So if you're in the market for a top end bike for your child then you're be foolish to overlook the Islabikes Pro Series range.
Further details of the Islabikes Pro Series are available on the Islabikes website.
Read about what else we got up to at the 2016 Cycle Show
To get a exclusive discount code to the 2019 Cycle Show, click here!