Thanks for coming to Cycle Sprog for advice on buying a cheap kids bike this January.  As you may have already discovered, there's been a lot of kids bikes sold this past 18 months and we're now facing a situation where there's a bit of a shortage in some brands and sizes.
This means there's not so many deals and discounts on bikes at the moment, so it's harder to find a really cheap kids bike (that's still great fun to ride!).  But this article will help you find a great bike for your child without spending too much money this month!
You might need to be a little flexible on colour choices right now, or choose to rent or buy secondhand, all of which we'll explain in more detail.
In this post, we're looking to take you through some of the cheapest kids bikes, but please remember – we only recommend only ones that are good quality and safe to ride, and which won't fall apart by spring.   
This means you won't find any £50 brand new bikes here, as we know they're not worth parting with your cash.
However, we do have some great ideas on where to get a great quality kids bike – CHEAP – this month! 
Take a moment to GRAB YOUR FREE KIDS BIKE BUYING CHECKLIST which will help you record all the information you need to find the perfect bike for your child. 
Cycle Sprog is an family run, reader supported, website. We belong to several affiliate schemes so may receive a small commission from sales made from links on our site. We do our best to be impartial and recommend products on their quality not whether they are in a scheme.
In a hurry?  These are the cheapest kids bikes we're recommending this month
If you don't have time to read our full article, then this is the list of cheap kids bikes that we recommend you check out.   Stock is quite low at the moment, so don't delay if you've seen a bike you like!
Cuda Trace kids bikes – Cuda have recently merged their budget and premium ranges into one mid-range, lightweight, value bike – the Cuda Trace
Raleigh Kids Bikes – an established brand making a comeback in terms of quality – heavier bikes than some others in this list
Pinnacle bikes – sold at Evans Cycles and Sports Direct – the Pinnacle bikes are much better quality than their other cheaper ranges
Wild Bikes – a great range of quality, lightweight bikes, without the high price tag! 
B-Twin – Decathlon's in-house range of kids bikes really varies in quality and weight.  Check out their lightweight aluminium framed bikes which get great reviews from parents. 
Carrera Bikes – Bikeability approved bikes from Halfords
Ridgeback kids bikes– several ranges of kids bikes at different price points
Squish Bikes – a cheaper alternative to Frog and Islabikes
Vitus Bikes – great specification bikes cheaper than their competitors (and look great too)
Wiggins Bikes – Sir Bradley's range of kids bikes – recently discontinued new, but plenty available second hand
And, if you don't want to buy a bike, why not try leasing one instead? 
Bike Club – monthly bike rental scheme leasing quality kids bikes – no upfront costs of buying a bike. Return it when your child grows and upgrade to next size bike.  
Cycle Sprog Guide to the cheapest kids bikes
Please buy a proper bike, not a bike shaped object
Let's start by getting thing straight – here at Cycle Sprog we want parents to spend their money on a bike that their kid will enjoy riding,  which will give them years of safe cycling fun and be grown out of, rather than fall apart.
IF YOU'RE TEMPTED TO SPEND LESS THAN £100 ON A NEW BIKE THIS CHRISTMAS, PLEASE READ THIS ARTICLE AS TO WHY YOU COULD BE BUYING YOUR CHILD A  BIKE THAT'S NOT SAFE
We don't want you to buy a bike that will lie unused, or rust quickly.  
This post, therefore, contains the best value, cheapest kids bikes we could find, rather than those very cheap bike shaped, heavy objects that we know from experience won't be loved or ridden anywhere near as much.
Buy a heavy, steel bike for under £100 that your child can't pick up and it is likely to rust/break leaving your child heartbroken, and you angry at the expense of having to buy another one.
The best cheaper kids bikes to buy this month 
In this selection, we're looking at bikes that come in a lot cheaper than the more expensive and established kids bike brands such as Islabikes, Hoy, Frog, Woom etc, but which don't compromise on quality, safety or weight.
They're ideal for families who want to get out and enjoy cycling but want to do so on a cheaper budget.
With all these bikes you should be able to buy new and resell on to recoup your costs when your child has outgrown them, if you take care of them, or else in most cases find a decent second-hand one now.
We've included where to lease and buy secondhand as well as new where appropriate to help you find the perfect bike for your budget. 
Take a moment to GRAB YOUR FREE KIDS BIKE BUYING CHECKLIST which will help you record all the information you need to find the perfect bike for your child. 
Cuda Trace kids bikes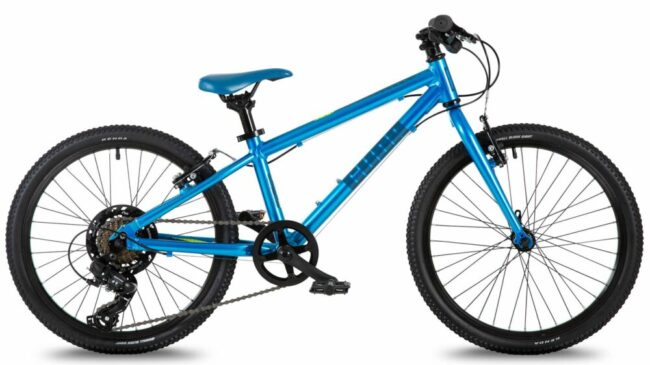 Cuda are a British brand based in Sheffield.   Until recently they had two kids bike ranges – one of cheap entry level bikes which were quite heavy.  The other was more expensive with lightweight, well specified kids bikes.
They've now combined the best bits of both ranges to create Cuda Trace.   These bikes are lighter than many cheap kids bikes, but cheaper than many lightweight kids bikes.  Clever!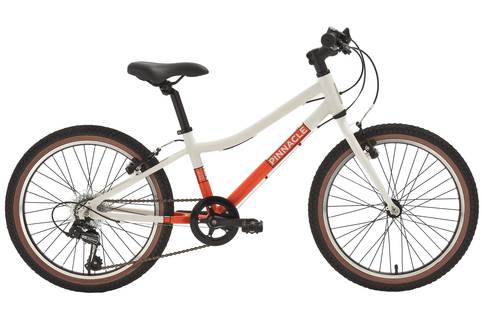 Pinnacle is an in-house brand for Evans Cycles, so is available to be both home delivered or collected on most high streets. 
The Pinnacle range is much better specified and lighter weight than many other kids bikes in the same price bracket.  Parents report seeing their children ride so much more easily once they swap their "princess" or "batman" bike for a Pinnacle.
Prices range from £200 for the 14″ wheel Pinnacle Koa through to £400 for the largest 26″ wheel bike – the Pinnacle Kauri.
Pinnacle Bikes are available at the shops in Mike Ashley's Sports Direct empire, including Evans Cycles and Sports Direct.  It's worth giving their Trust Pilot reviews a look if you're particular about things like delivery time scales and customer service so you can make an informed decision about the all round purchasing vs riding experience.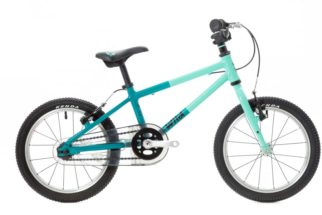 Wild Bikes are the 'in house' children's bike range from Go Outdoors. Lightweight with a great specification and colour choices, Wild Bikes have been very popular with both kids and parents alike as an alternative to the most established and expensive kids bike brands.
The Wild Bikes have sizes ranging from 14″ wheel (3 years) through to 24″ wheel (approx 10 years).
You will need to buy the Go Outdoor discount card for £5 (it's easy to do when on the website) to get the full benefit of the cheaper price on these bikes.  
They always seem to be reduced, so do take any percentage discount claims with a pinch of salt!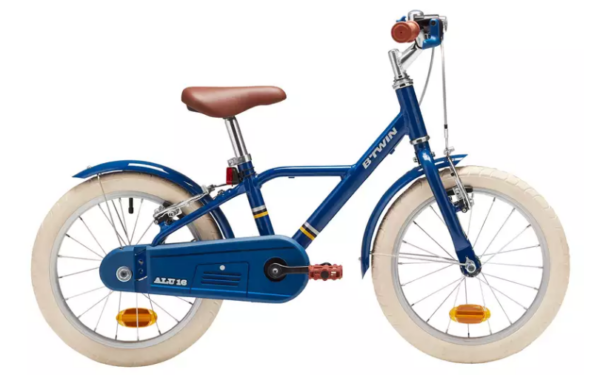 B'Twin bikes are sold exclusively at Decathlon, and the range includes very heavy steel framed bikes through to much more lightweight aluminium ones. 
Remember that for a young child starting out on their pedalling journey a very heavy bike can make it difficult for them to move around. As children get older, stronger and more confident this difference becomes slightly less critical and so the cheaper end of the B-Twin range becomes a more attractive option.
The smaller aluminium bikes all get rave reviews, and are much cheaper than their equivalents elsewhere. 
As Decathlon also have a huge presence across Europe you can use Google Translate to read the 1 and 2 star reviews from other parents who have had these bikes to help you make your decision. 
Cycle Sprog reviewed and recommended brand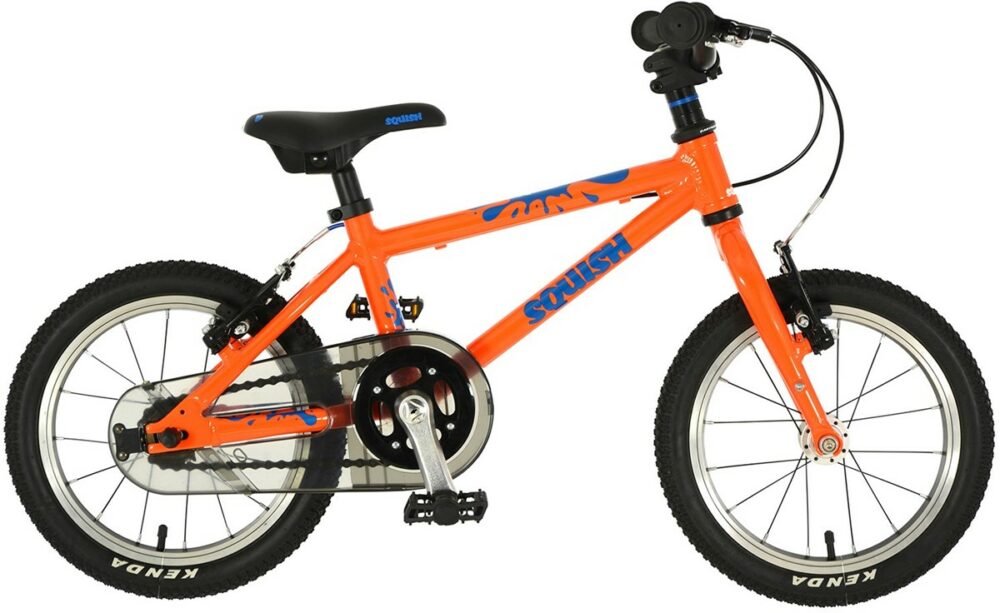 NEW YEAR DEAL FROM THE BIKE CLUB!  Get your Sprog cycling in 2022 - they're giving YOUR FIRST MONTH'S SUBSCRIPTION FREE plus FREE DELIVERY. 
Squish Bikes are a midrange brand that hasn't sacrificed a decent specification and respectable weight in order to lower the price.
The 14″ Squish bike (pictured above) is the smallest offering. There are also 16″, 18″, 20″, 24″ and 26″ wheel sizes, and we like the fact that there are two frame sizes for the 26″ wheel bike to cater for taller kids.
The range has an 18″ wheel bike, which is unusual for a lightweight kids bike. You can read our review of the Squish 18 here.
If you want to keep your up front costs really low you can lease a Squish Bike from The Bike Club. You just pay a monthly subscription fee, and when you're child outgrows the bike you send it back and upgrade to the next size. It's hassle free and an environmentally friendly way of owning bikes.
Buy A New Squish Bike Rent A Squish Bike Buy A Secondhand Squish
AD:   Got an old Squish Bike to sell on?  The Bike Club have made it hassle free - click here for your valuation and to arrange a courier to come and collect your old Squish bike.  

Cycle Sprog reviewed and recommended brand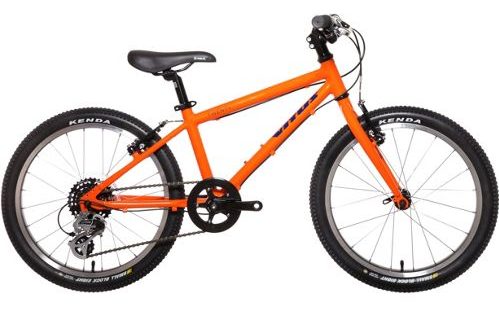 Vitus bikes are a great choice as they're clearly taking on the more expensive Frog Bikes and Islabikes, at a much cheaper price point. You get a lightweight 6061 alloy frame, child proportioned components, Kenda tyres and easy to use gearing (where fitted).
Vitus kids bikes come in 16″, 20″ and 24″ wheels, as well as a balance bike.   They also do a range of reasonably priced mountain bikes, although these tend to sell out quickly!
You can read our thoughts on the Vitus 20 Plus here.
Buy A New Vitus Buy A Preowned Vitus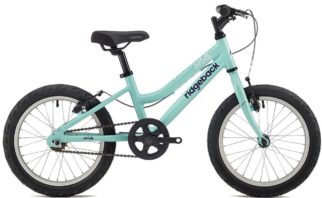 Ridgeback kids bikes have two ranges of kids bikes.   The Dimension range is their premium kids bike range, and isn't cheap (unless you're leasing) so we won't cover that here. 
The remainder of their range is cheaper, and of course there's got to be a trade off, so these bikes will be that bit heavier and not quite as well specified.
However, the bikes are still a lot better specified and lighter weight than the much cheaper, steel framed bikes available elsewhere, plus they come fitted with child proportioned components which make cycling much easier for younger children.   
Annoyingly Ridgeback still persist with having "girls" bikes called Harmony and Honey, and "boys" bikes called the MX range. 
I'll leave you to decide if you think having your bike called "Honey" is a good idea, but this blog explains why girls and boys bikes deserve to be equal.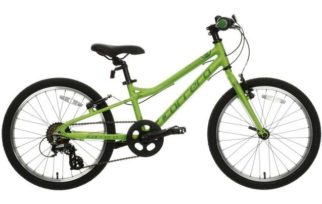 Halfords sell some really cheap, heavy kids bikes that we don't recommend if you want your child to really enjoy their cycling, and for the bike to last a long time.
However, their Carrera kids bike range is well worth a look if you're on a budget – it's made with a lightweight aluminium frame, with child sized components. As Halfords themselves say on their website about the smallest bike in the range:  "An aluminium frame makes this bike nearly half the weight of the "Police Patrol" bike". 
The Carrera range comes recommended by the Bikeability scheme as being safe for children to ride on the road – the bikes have front and rear alloy V-brakes for reliable stopping plus Kenda tyres for good grip on various surfaces and weather conditions.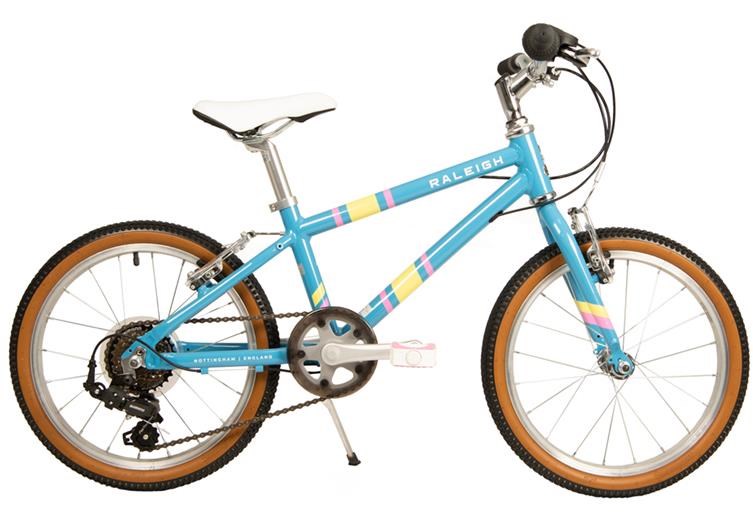 Raleigh were founded in 1885  and are one of the oldest bike brands in the world.  At one point bikes poured out of their Nottingham factory, but in more recent decades they've had a turbulent time, with numerous changes of ownership and production shifting out of the UK to Vietnam.
It's safe to say they lost their way when it came to the quality of their kids bikes.
More recently they seem to be turning the tide, and their new Pop range provides a fun and vibrant alternative to some of the other brands at the cheaper end of the kids bike market. 
They've ditched the very heavy steel framed bikes of the last decade and come up with a slightly lighter weight aluminium framed kids bikes range.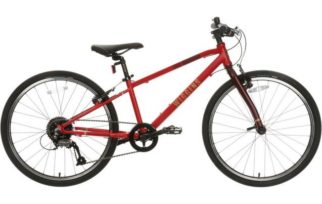 Wiggins Children's Bikes were sold exclusively at Halfords and were a very popular choice of bike. Unfortunately, the Wiggins kids bike range was discontinued in early 2021, but there are still plenty of Wiggins Kids Bikes available secondhand on eBay at a very cheap price. 
All the Wiggins Children's bikes are very well specified and also come with a great sense of style that Bradley Wiggins is known for, with his signature reverse forks and mod target design. They range in size from a balance bike for toddlers through to 700c road bikes for teenagers.   For winter 2019, they updated their specifications and look so you may find a choice of two different designs for each wheel size you search for. 
Is leasing the cheapest way to get a kids bike this Christmas? 
NEW YEAR DEAL FROM THE BIKE CLUB!  Get your Sprog cycling in 2022 - they're giving YOUR FIRST MONTH'S SUBSCRIPTION FREE plus FREE DELIVERY. 
If you're looking for a cheap way to get your child a bike at the moment, then we recommend you take a look at The Bike Club.  If you've not heard of them, they've had the brilliant idea of offering kids bikes on a leasing model (think the kids bike equivalent of Airbnb, Spotify or Netflix!). 
It's really simple – you sign up online for a monthly membership and choose a bike that fits your child now.  When they've grown out of it, you send the bike back and upgrade to the next size.
Not only does this keep upfront costs low, but they also take care of all the hassles of sourcing a new bike for you, plus it's possibly more environmentally friendly as every bike will be ridden multiple times.  You can choose from a new bike or a reUsed bike (which they service after each rider).
We know a lot of people who have been using this service for several years now, which is why we are happy to recommend them to our readers.
Monthly fees start at just £5 per month for a reUsed balance bike through to over £26 per month for a new 26″ wheel mountain bike.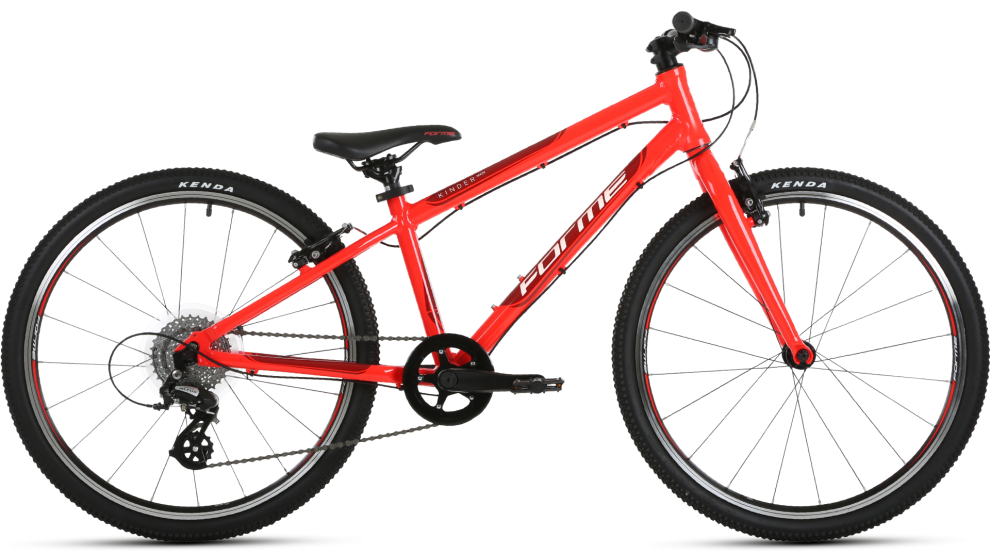 As with everything at the moment their rental fleet is getting sold out fast, so if you want a particular model or size we recommend you sign up as soon as possible. 
You can also join their waiting list if you want a particular make, model or colour which isn't currently available. 
NEW YEAR DEAL FROM THE BIKE CLUB!  Get your Sprog cycling in 2022 - they're giving YOUR FIRST MONTH'S SUBSCRIPTION FREE plus FREE DELIVERY. 
Sponsored content start: 
If you have an old kids bike you've been meaning to sell on, then The Bike Club also have a hassle free way to do this, called reCycle.
They will even send a courier with a box to pick it up!  Get a valution of your old bike here.  

Sponsored Content End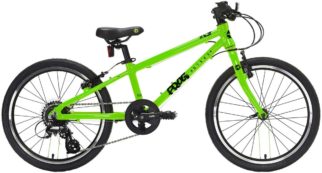 At the moment there's such a shortage of Frog Bikes that it's highly unlikely to find one reduced, but you should worth checking out our link to see where else the cheapest Frog Bikes currently are.
However, usually the best value, cheap kids bikes are actually second hand. Frog Bikes are well made, lightweight and designed to last, so if you buy carefully you'll be onto a winner.  Check out these links:
Check out the pre-owned Frogbikes Facebook page!
NEW YEAR DEAL FROM THE BIKE CLUB!  Get your Sprog cycling in 2022 - they're giving YOUR FIRST MONTH'S SUBSCRIPTION FREE plus FREE DELIVERY. 
Cheap Islabikes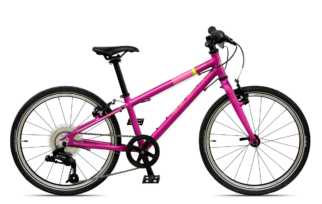 Islabikes are THE premium kid bike, with prices to match.  However, there are many available secondhand that if you know where to look you can sometimes find a real bargain and get a second-hand Islabike cheaper than a new bike of another brand. 
Check out our post on "Where to buy cheap Islabikes" for more advice on how to do this.
Alternatively, you can go straight to eBay to see what's available, or lease one (if there is one in stock) from The Bike Club. 
We hope you found this post useful – if you find your child the perfect bike at a great price, please do let us know, either in the comments section below or via the Cycle Sprog Facebook page.
Other posts you may like:
To find the best bike for your child, then these age-specific guides will help: 
Affiliate Disclosure:  Like most websites, we use affiliate schemes to help fund the ongoing hosting and maintenance of our website. If you buy something using our links it doesn't cost you any more, but you're helping to keep Cycle Sprog going. Thanks so much for your support.
Support Cycle Sprog!
If you've found this article useful you can buy us a virtual coffee (or two!) to say thanks and help us keep the Cycle Sprog website going. 
This post was first published in December 2016 and updated January 2022.