If your child is aged between about 7 and 10 years of age (depending on their height) and loves riding off-road bumpy stuff, then your thoughts are probably turning to which are the best kids 24″ wheel mountain bikes, and how much you need to spend to get them out enjoying mountain bike trails and cross-country mtb riding.
Before you go any further GRAB YOUR FREE KIDS BIKE BUYING CHECKLIST  as it will really help make sure you're buying the best bike for your child.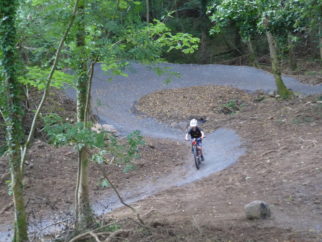 If you need any advice on the terminology I've used in this post I've also written an article called Buying a kids mountain bike – things you need to know.
If you're looking for something a bit cheaper, then choosing a decent, lightweight 24″ wheel hybrid bike is a better bet than spending on a cheap mountain bike that is incredibly heavy and has suspension forks that don't work.
Cycle Sprog is an family run, reader supported, website. We belong to several affiliate schemes so may receive a small commission from sales made from links on our site. We do our best to be impartial and recommend products on their quality not whether they are in a scheme.
The best kids 24″ wheel mountain bikes

As you will probably be aware, there is a shortage of kids bikes at the moment so this article contains some bikes that we have found in stock that might not be 'full blown' mountain bikes but are certainly capable of riding off-road trails and tracks. Please note, retailers stock levels are changing constantly – a handful of bikes may come into stock but demand is extremely high so they won't be around for long.
B'Twin Rockrider ST920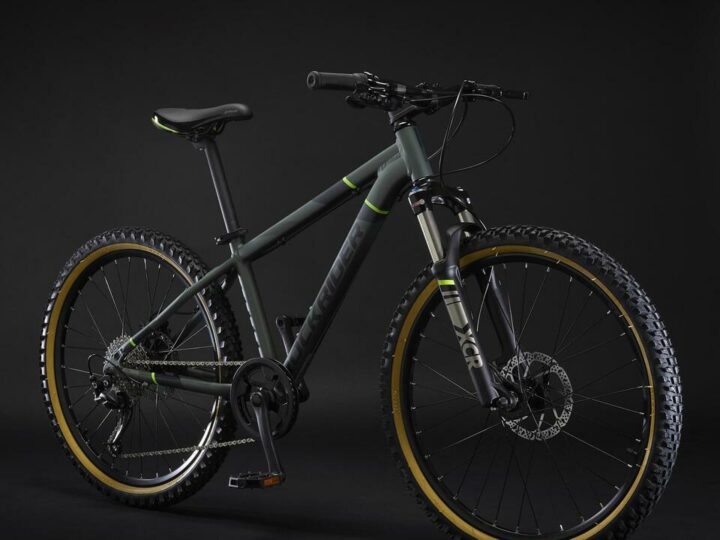 Height range: 135-150cm
Brakes: Tektro Hydraulic Disc with 160mm rotors front and rear
Suspension:  Front:  SR Suntour XCR air suspension fork with lockout
Gears: 36T x 11-36T, 9 Speed with Shimano Altus rear derailleur and trigger shifter
Frame: Aluminium
Tyres: skinwall
Available colours: KHAKI / Fluo lime yellow
Warranty: 
The B'Twin brand is a bicycle range from Decathlon who, incidentally, happen to be the largest sporting goods retailer in the world with a presence in 57 countries. On the cycling front, the adult range of equipment and bikes has really stepped up with some excellent products and this has started to trickle down to the junior sizes.
The Rockrider ST920 is a great entry into the world of mountain biking for junior riders. Its specification includes a Shimano Altus rear derailleur and thumb shifter for changing through the 9 speeds. It comes fitted with an 11-36 cassette paired with a 36 tooth chainset, which if I'm honest could be a few teeth smaller to make things a little easier when tackling really steep climbs. We should also point out that the Rockrider ST920 features equipment such as an air suspension front fork and hydraulic disc brakes normally seen on much more expensive bikes. 
Buy New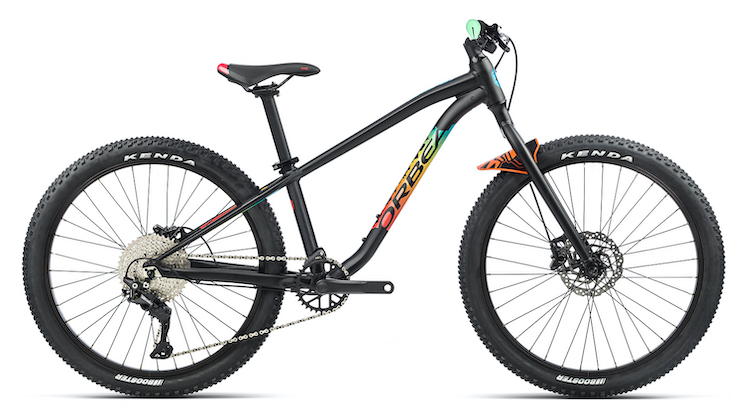 Orbea Laufey Key data:
Height range: 135 -155cm
Standover: 593mm
Minimum Seatpost Height: 664mm
Maximum Seatpost Height: 842mm
Brakes:  Shimano MT400 hydraulic disc
Suspension: Rigid fork
Gearing: 10 speed 32T x 11-42T operated by Shimano Deore M4100 (Thumb trigger)
Frame: 6061 Aluminum for both frame and fork
Tyres:  Kenda Booster K1277 24×2.20″ 30TPI
Other features: Front mud fender
Available colours:  Black with rainbow accents, blue-grey/red
Warranty:  2 years - register bike within 30 days for lifetime warranty on frame and forks and 3 years on paint, varnish and corrosion
A no-nonsense trail bike, Orbea have the Laufey model in several different component specifications spanning through children's wheel sizes up to adult. The Laufey H30 is an aluminium frame and fork engineered to reduce flex and with internal cable routing to keep things neat. There are Shimano hydraulic disc brakes and a 10-speed drivetrain that uses a wide range 11-42T cassette paired up to a 32T chainset.
Designed for tackling mountains, the H30 is kitted out with tubeless Kenda Booster tyres which are 2.2 wide with an aggressive tread to give high levels of grip when venturing off-road.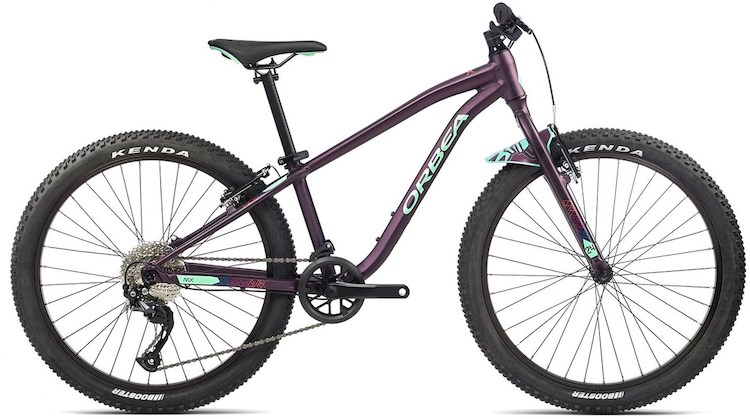 Orbea MX24 Team 2021 Key Data:
Typical height range: 135-155cm
Standover height: 590mm
Bike weight: not given
Brakes: Alloy V-Brake
Frame: 6061 Aluminium frame and fork
Suspension: No
Gears:  9 speed – 11-36T cassette with 32T chainset and operated by Shimano SL-M2010 Rapidfire thumb shifter
Tyres: Kenda Booster K1277 24×2.20″ 30TPI
Additional features:  Internal cable routing; replaceable gear hanger; IS brake mounts if wish to fit discs in future
Available colours: Lime-Watermelon; Purple-Mint
Warranty: 2 years - register bike within 30 days for lifetime warranty on frame and forks and 3 years on paint, varnish and corrosion
A lightweight mountain bike from the Basque country that is not going to be scared of rough terrain! The MX 24 Team is equipped with a good quality 9-speed drivetrain, consisting of a 'single' 32 tooth chainring at the front to keep changes to a minimum, and a wide-ranging 11-36 tooth cassette to give a good spread of gears for all types of terrain. It's definitely been designed for having a lot of fun!
Cycle Sprog Reviewed and Recommended bike
Frog Bikes are renowned for making some of the best and most popular quality kids hybrid bikes, and in more recent years they've expanded out into mountain bikes. The Frog "Push The Limits" (PTL) range of junior MTB's was launched in Spring 2018, and the bikes have very quickly become a common sight out onto the trails.  The Frog MTB 62 is their 24″ wheel offering and is suitable for kids with a minimum inside leg of 62cm.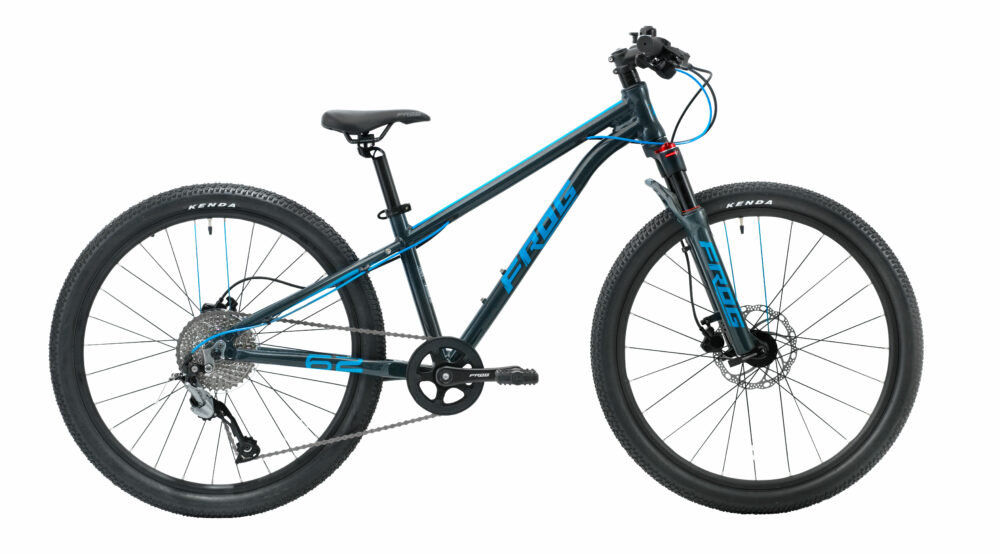 Frog MTB 62 Key data:
Typical age range: 8-10 years
Inside Leg: 62cm
Bike weight: 11.3kg
Brakes: Tektro hydraulic disc brakes
Frame: 6061 T6 heat treated, aluminium alloy
Gears: 9 speed 32T x 12-36t operated by Shimano Acera SLM3000 Rapidfire Shift speed lever (thumb operated)
Tyres: Kenda K1153, 24×1.95
Available colours: Grey/blue or grey/red
Warranty: 2 years - extended to 5 years for frame if you register the bike within 28 days of purchase
The spec of the Frog MTB 62 has all the attention to detail that we've come to expect from Frog Bikes, including a specifically designed junior specific 24″air suspension fork with lockout and damping control, a lightweight oversize handlebar and stem and easy-reach junior specific hydraulic brakes.  The Shimano rapid-fire 9-speed shift lever is an easy to use way to move the chain on the 12-36t Shimano Alivio HG-400.  When we reviewed the slightly larger Frog MTB 69 our only complaint was with the supplied tyres, so you may want to upgrade the tyres if you're buying a second hand version.  The newer versions have a more bespoke MTB tyre fitted, which is better suited to off road riding.
If you've got an old Frog Bike that's been outgrown and needs selling get your Used Frog Bike quotation here. 
Cycle Sprog reviewed and recommended brand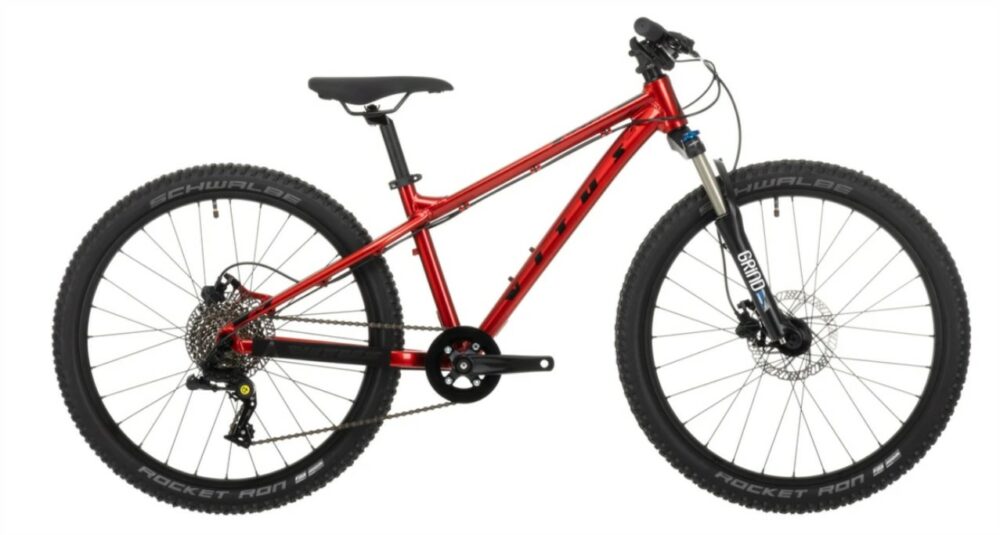 Vitus Nucleus 24 Key data:
Height range: 127-142cm
Inside Leg: 57-66cm
Brakes: Tektro Hd-m276 Hydraulic Disc with Reach Adjust and 160mm rotors front and rear
Suspension:  Front:  SR Suntour XCR 65mm travel air suspension fork
Gears: 30T x 11-34T, 8 Speed operated by Box Four 8 Speed Multi Shifter (thumb trigger)
Frame: Aluminium
Tyres: Schwalbe Rocket Ron 2.1″
Available colours: Silver; red
Warranty: 5 year frame and forks, 2 year components
The Vitus range is really pushing the boundaries for what you get for your money when buying a 24″ wheel kids mountain bike, both in terms of performance and looks.
The Vitus Nucleus 24 features disc brakes and air sprung forks, while most other mountain bikes at this price will have either rim brakes or coil forks in order to keep the price down.  The Nucleus 24 has a single chainring at the front, meaning your Sprog doesn't have to worry about complicated left-hand gear changes, with a great spread of gears for even the steepest hills.  This makes for a great bike, without the price tag associated with so many of the other quality 24″ wheel MTB's.  Vitus say it's suitable for XC, trail and bikepark riding.
We've recently reviewed the slightly larger Vitus Nucleus 26 and were really impressed with how this bike performed.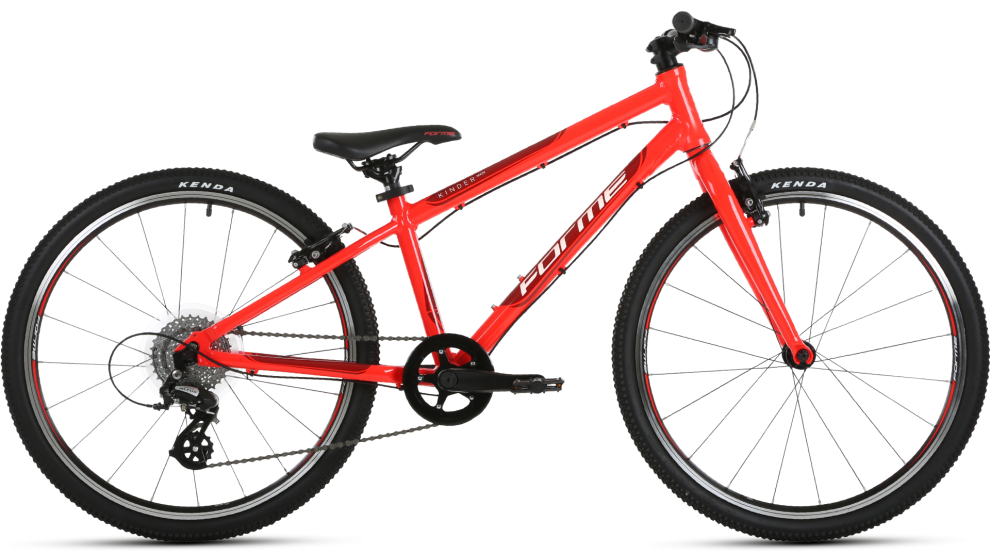 Forme Kinder MX24 Key Data: 
Inside Leg:  61 cm to 67cm   
Saddle to floor: 66cm to 74cm
Bike weight:  9.34 kg
Brakes: Tektro V Brakes
Gearing: 8 speed Shimano 11-34T cassette with 32T chainring with changes by Shimano Rapid Fire thumb shifter
Frame:  Alloy 6061
Tyres:  Kenda Small Block Eight 24″ x 1.5″
Available colours:  Red, Blue and Pink
Warranty:  Lifetime on Frame
Whilst this isn't a traditional mountain bike, the Kinder MX24 is a good all round choice if you're wanting a go anywhere bike that's equally good for riding on roads as well as trails, and it has the advantage of being available to rent for an affordable monthly payment.
Weighing in at just 9.34kg the Kinder is light for a bike this size, meaning it's going to be easy to manoeuvre. This is important as your child is likely to get more adventurous with their cycling at this age, and as they ride further they're going to have to deal with more steps, kerbs and other obstacles.
The gearing on the Forme Kinder is simple – 8 speeds operated by a Shimano Rapid Fire trigger shifter. The range of gears should be fine for most hills a child of this age is tackling – after all the bike is named after Kinder Scout in the Peak District (close to where Forme Bikes are based).  The Kenda tyres are good all terrain options found on many quality kids bikes in this price range.
If your child is growing quickly and you're not sure whether to skip to a bigger bike for them to "grow into", then you need to know that the Kinder MX24 is available on a monthly lease via The Bike Club.  A monthly subscription allows you to get a bike that fits your child now and upgrade it to the next size when they've grown and are completely ready for the next size up.
The Forme Kinder MX24 is a versatile all-rounder of a bike that will be just as happy riding some trails at the weekends as it will be doing the daily school (assuming we're all still going to school!)
Islabikes Creig 24 mountain bike
Cycle Sprog reviewed and recommended bike
Put the Islabikes Creig 26 on a hot wash and this is the result! Featuring the same frame and component specification as its 26″ wheeled big sister, the Creig 24 is a purposeful, well designed and executed piece of hardware.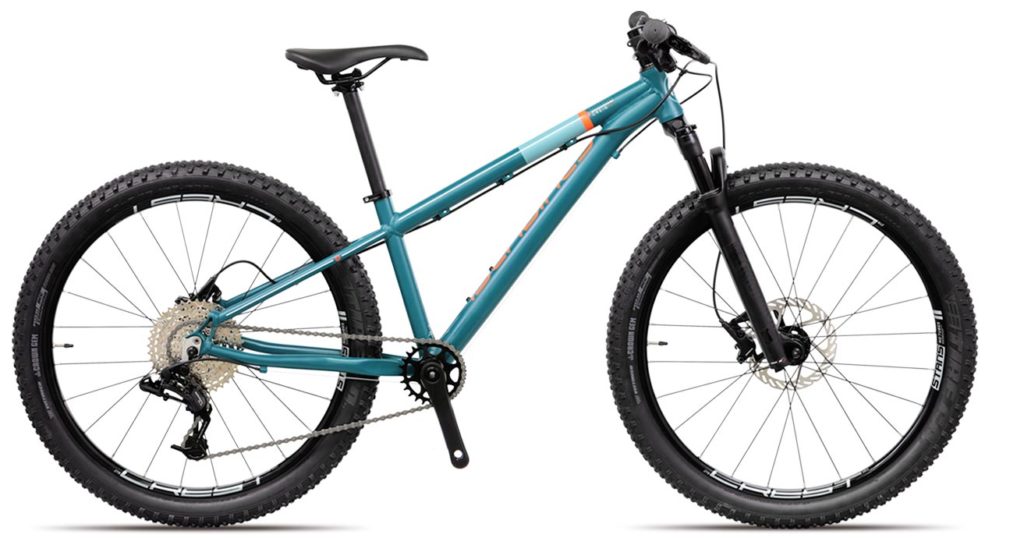 Isla Creig 24 Key data:
Typical age range: 8+ years
Inside Leg: 58-68cm
Minimum Height: 128cm
Brakes: SRAM Level hydraulic with 140mm rear and 160mm front discs
Frame: Aluminium
Tyres: Vee Tyre
Available colours: Charcoal or dark teal
Weight; 10.6kg
Warranty: 5 years on frame and forks and 2 years on parts
It's not cheap by any standards, but then quality costs. Totally redesigned to create a long, low and relaxed trail beast, the Creig comes with With 1×8 SRAM X4 gearing and a lightweight Rock Shox Gold 30 air fork with 60mm travel, the Islabikes Creig is a lightweight that's seriously equipped for mountain biking activity.
Our test rider T has ridden the previous generation Islabikes Creig 24 in various locations, including the wonderful Kirroughtree Trail Centre in Galloway Forest and also at The Track Bike Park, near Redruth in Cornwall (both brilliant places and worth a visit!). It has proven to be a robust and confidence inspiring bike that has provided T with many grins. You can read our review of the Islabikes Creig 24 here.
The new Islabikes Creig 24 has a retail price of £899 and is only available direct from Islabikes.
Advert:  If you've got an outgrown Islabike that you haven't got round to selling on, why not get a quotation today from The Bike Club? They'll even send a courier with a bike box to come and collect it from you.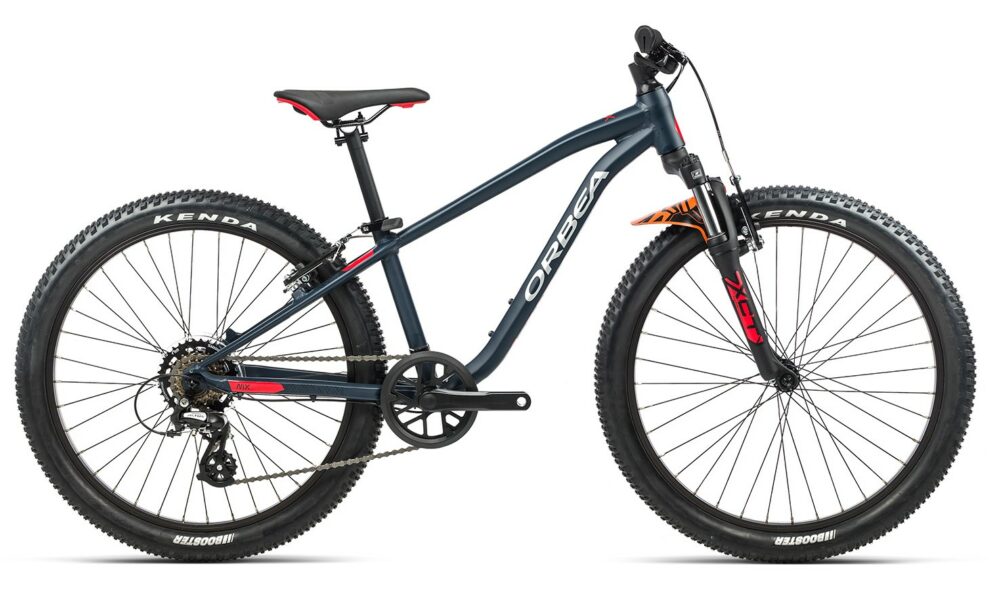 Orbea MX24 XC Key Data:
Height range:  135-155 cm
Standover: 59cm
Minimum Seatpost Height: 66.4 cm
Maximum Seatpost Height: 81.2 cm
Brakes:  V-Brakes (rim)
Suspension: Yes – coil with 50mm travel
Gearing: 7 speed 34T x 14-34T operated by Shimano SL-M315 shifters (Thumb trigger)
Frame: 6061 Aluminum
Tyres:  Kenda Booster K1277 24 x 2.20″
Other features:  Central kickstand compatible; removable hanger; mudguard and carrier ready
Available colours:  Blue, lime or purple
Warranty:  2 years - register bike within 30 days for lifetime warranty on frame and forks and 3 years on paint, varnish and corrosion
The Orbea MX24 XC is an entry-level kids mountain bike which is a good choice if your Cycle Sprog is just taking to the trails and wants suspension and easy to use gearing, without the cost of some of the more expensively specified models in their MX junior range.
This does mean coil suspension and V-brakes, but for most kids starting out gently this should be more than adequate. If they really take to MTBing, then you can save your pennies for upgraded features on the next size up!
What they will appreciate is the lightweight frame and single chainring (which makes changing gear so much easier than a bike with about 21 speeds).   It's these important features which separate this type of bike from some of the cheaper options you'll find being touted as "mountain bikes" elsewhere.
Founded in Vancouver, Canada Kona certainly know a thing or two about mountain bikes. This Hula 24 is the new 2021 model with a new frame and a design that omits the superfluous.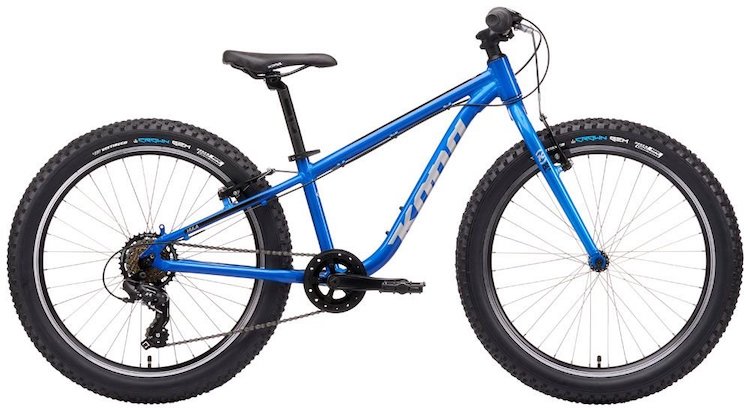 Kona Hula Key data:
Typical age range: 7-10 years
Standover: 615 mm
Brakes: Tektro V-Brake
Frame: Kona 6061 Aluminum Butted
Fork: Kona Project Two JR
Gears: 7 speed – 28 tooth single chainset with 14-34T cassette and Shimano Revo Shift shifter
Tyres: Vee Tire Crown Gem 24 x 2.6"
Bike weight: n/a
Available colours: Metallic Alpine Blue
Warranty: 1 yr on complete bicycle. Extended lifetime warranty (for original owner) if bike registered within 3 months of purchase.
It comes equipped with legendary Project Two forks and a lightweight butted aluminium frameset that accommodates the 2.6 'Plus' size tyres, giving superb traction and a good degree of compliance over rough terrain. There's a single chainring and a good spread of gears from the 14-34T cassette, while a Shimano Tourney Revo shifter makes the moves between the 7 gears.
At Cycle Sprog, we believe kids should be able to get out and enjoy riding a bike, and experience the sense of freedom it brings. Ideally, all kids bikes would be good quality, not too heavy and will last the distance. We've put together a selection of quality children's  24″ wheeled mountain bikes, both with rigid and suspension forks. A good rule of thumb tends to be that as the models rise in price, so does the quality of components while overall weight reduces. However, all of the bikes here should give good service and be bags of fun.
Sponsored Content Start
Want to make some quick cash from that too small bike?
Do you have a good quality kids bike that's been outgrown and you've been meaning to sell on? 
Luckily The Bike Club are making it REALLY EASY for you to sell on old kids bikes. 
Just get an online valuation for your old bike, and if you're happy with the price they'll send a courier round with a bike box to pick it up. 
No hassle - just more space and more cash for the next size bike. Easy! 

Sponsored Content End
I hope you've found my selection of the best kids 24-inch wheel mountain bikes useful.  If your child rides a model not on this list and you think it should be, please let me know via Facebook as I'd love to hear about it.  Happy riding!
Please check out some of our other articles:
Disclosure: This post about the best kids 24-inch wheel mountain bikes and contains affiliate links. The small commission we get if you buy through these links helps us keep running the Cycle Sprog website. Thanks for your support!