This weekend we had one of those brilliant cycle rides that happen by chance every so often. It was Cycle Sprog's 5th birthday, so we'd decided to head over to the Yorkshire Dales for a night of camping and some mountain bike riding the following day. I won't bore you with the details of how long it took to get the new bike rack fitted to our van and get packed up for our first camping trip of the year, but suffice to say by the time we set off on Saturday we were immediately stopping to buy chips for tea and abandoning our plans for a relaxed bbq on the campsite!
Our intention had been to go to Reeth, but with two tired boys and the prospect of pitching the tent in the dark, we decided on a last minute change of plan and pulled into Askrigg Camping Site.  With views like this the next morning, I think we made the correct choice!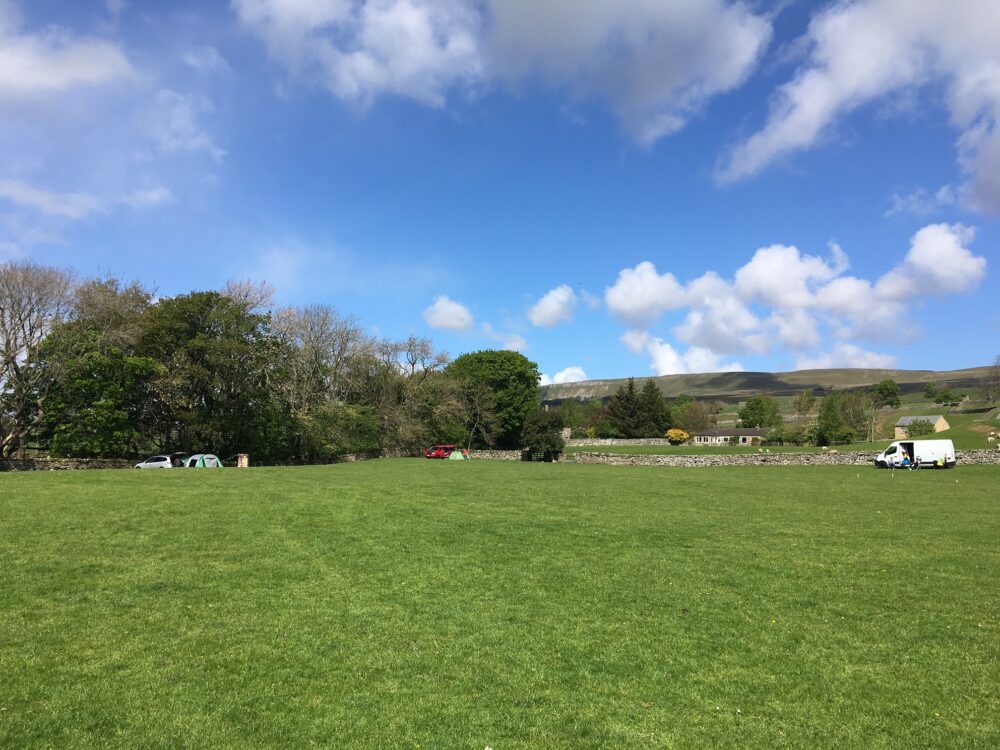 Indeed, it turned out to be a brilliant decision, as Askrigg Campsite is run by Heather, a mum of two and keen cyclist, who quickly convinced us that we didn't need to continue to Reeth, but that there was enough riding nearby to keep us occupied. The local OS map is criss-crossed with bridleways, meaning you really can take your pick of routes.
We decided to take the bridleway from the Muker road just outside Askrigg and cycle towards the enticingly named "Beacon".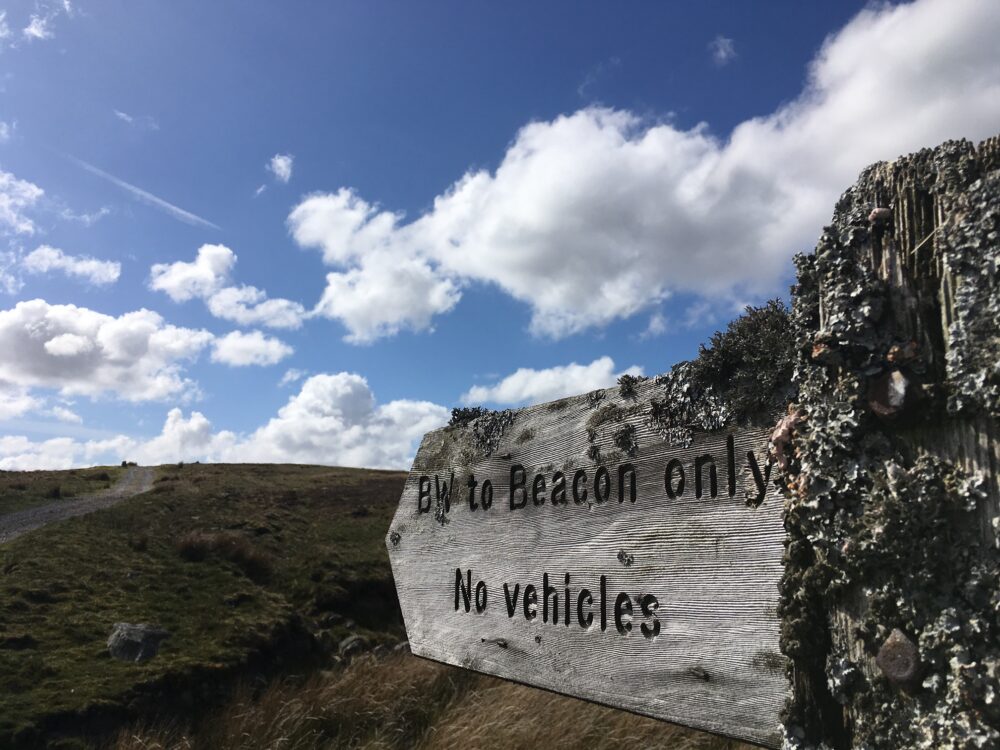 Heather had advised that there were some steep bits at the start of the route but that once we were on the ridge there would be some amazing views – and she wasn't wrong!!
The route starts with a series of steep uphill climbs that really get the legs working.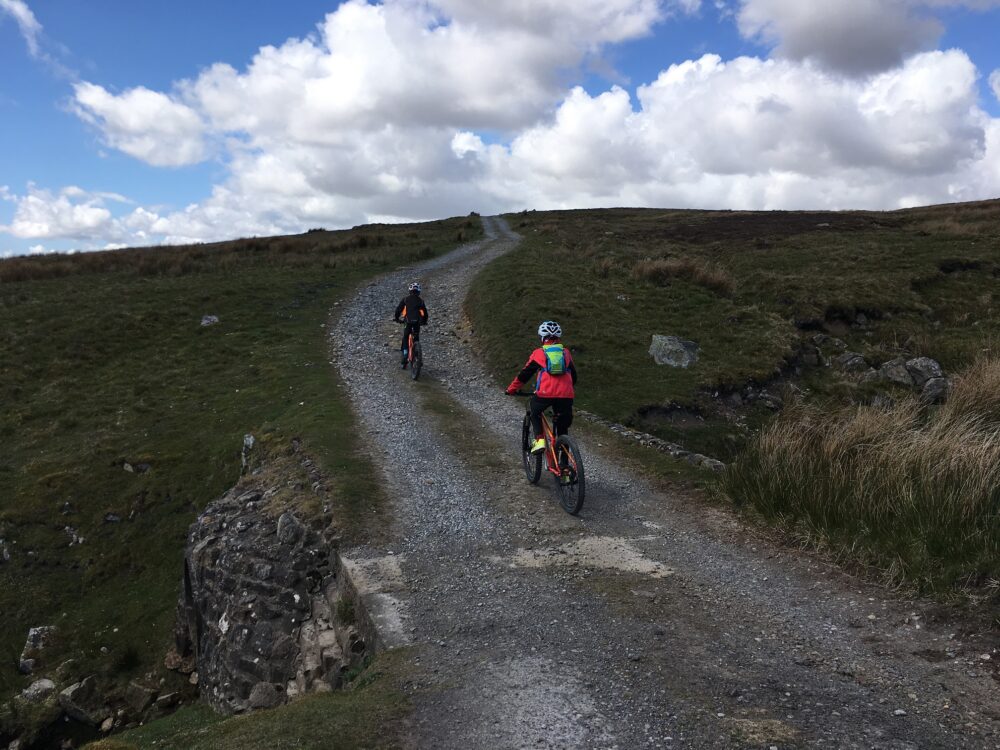 Our boys are aged 8 and 10 and were riding Islabikes Creig mountain bikes with 24″ and 26″ wheels, which are very lightweight and designed specifically for this type of riding. They're both reasonably experienced mountain bikers, but as the wind started to pick up they had to get off and push at points!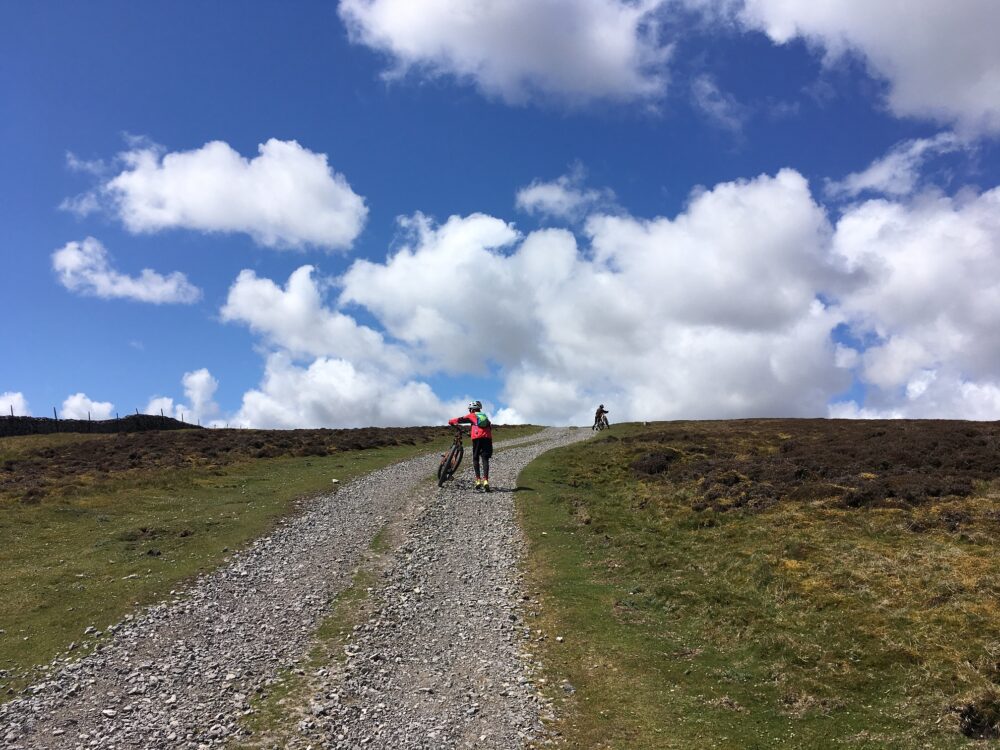 With hindsight we should have had lunch at the car park, as it is a hard ascent of over 50 metres from standing start and they weren't fuelled up as much as they needed to be.  Lesson learnt for next time!
If your child is less confident, or on smaller wheels, they may need a lot of motivating to get up this first climb – be warned!  However, the effort is worth it, as the route then flattens out for some stunning views as you ride across Whitfield Fell.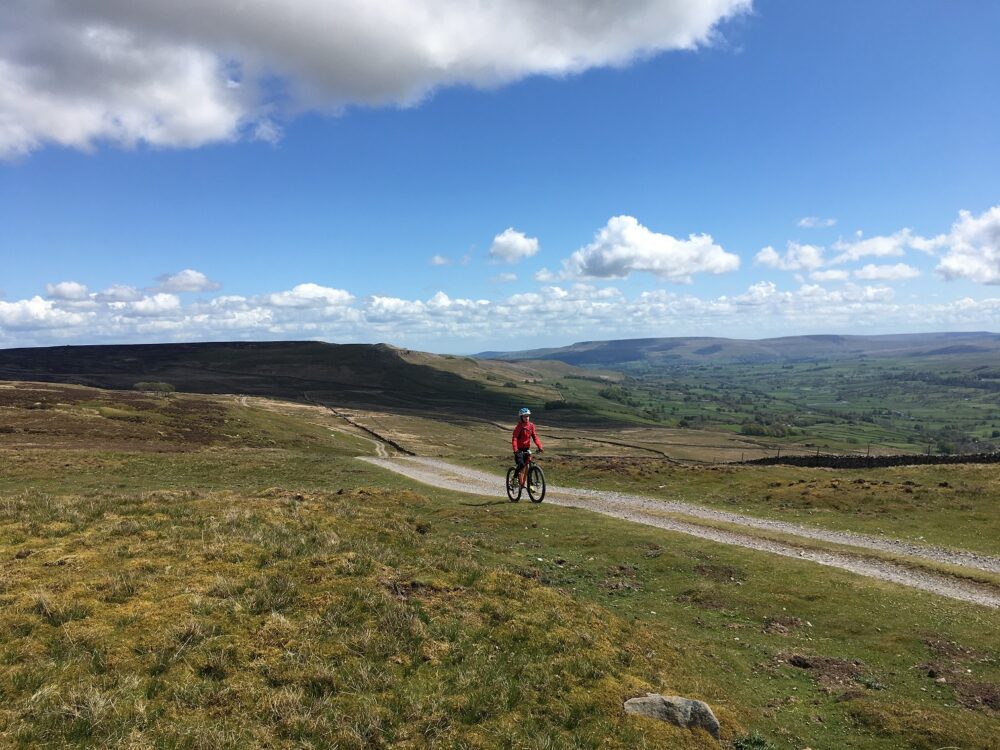 This is the bit of the ride that's fast and reasonably flat, and would be a welcome relief to kids trying their hand out at cross country mountain biking for the first time. You've done the climb, now for some fast and fun flat riding and the promise of a cracking descent on the return journey. A perfect introduction!
There's a few interesting things along the route to keep curious minds entertained, including these circular shelters which march up the hillside at regular intervals, and caused much debate as to their use and origin.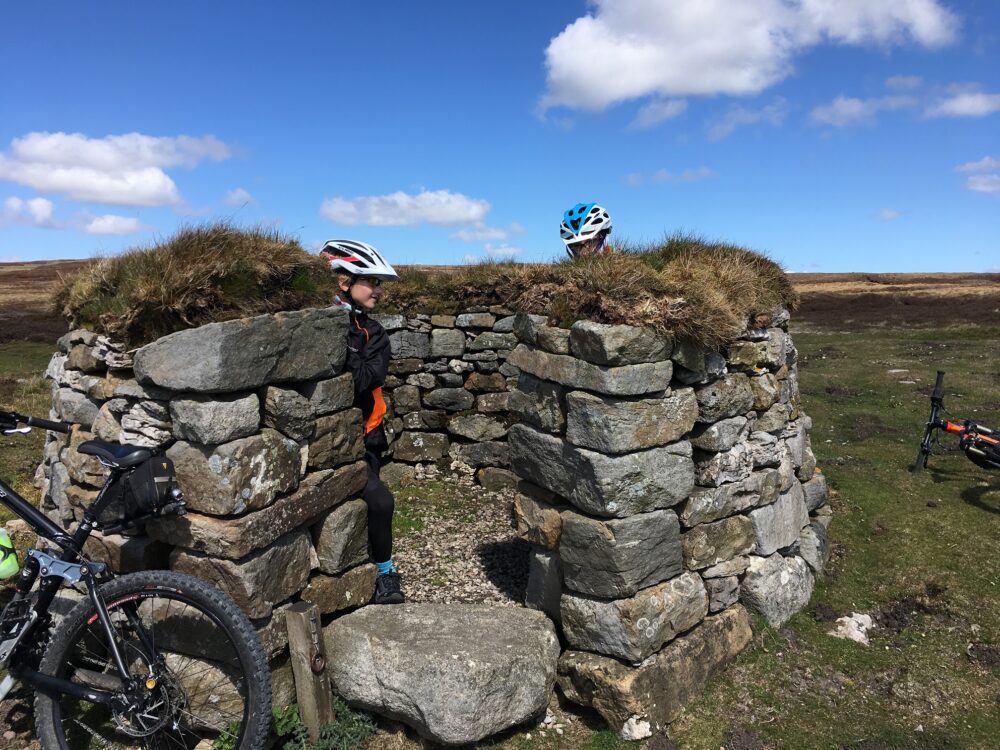 If anyone can come up with something better than the entrance to a Star Wars style rebel enclosure deep within the hillside then do let us know!
There are also a lot of shake holes which make for interesting viewing. We saw rabbits running across the path, and several birds of prey calling and circling. If your children are into collecting rocks and stones they'll be happy, as the path is strewn with interesting specimens.
The bridleway along the ridge is nice and wide, so there is little chance of getting lost as you ride along this section of the route.  It is very exposed though, and we were riding into a strong headwind all the way, which made it tough going.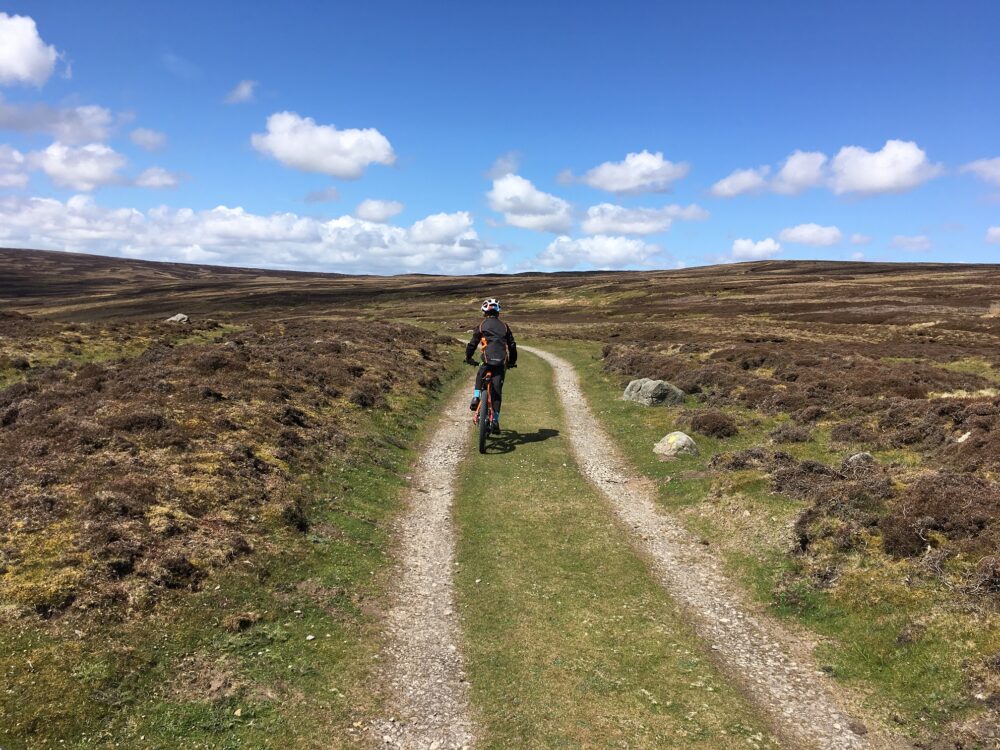 For younger or less experienced riders, I'd recommend turning round once the wide path turns north, narrows to a  grass single track and starts to ascend again. You can enjoy a fast but controllable descent back to the car park – result!
Once the path narrows to grass singletrack, the ride changes and becomes a bit of a slog with just over 100m of ascent. At this point you really do head out into the wilds, so I'd recommend that everyone in your group needs to be confident off road riders.  I'd also recommend you have with you (and know how to use) both a puncture repair and first aid kit as you're really going to be miles from anywhere in case of incident.
The weather changes very quickly, so you need to be prepared for it to close in. However, if you're all set to go, and the kids are well fuelled up then you're in for a rip roaring ride.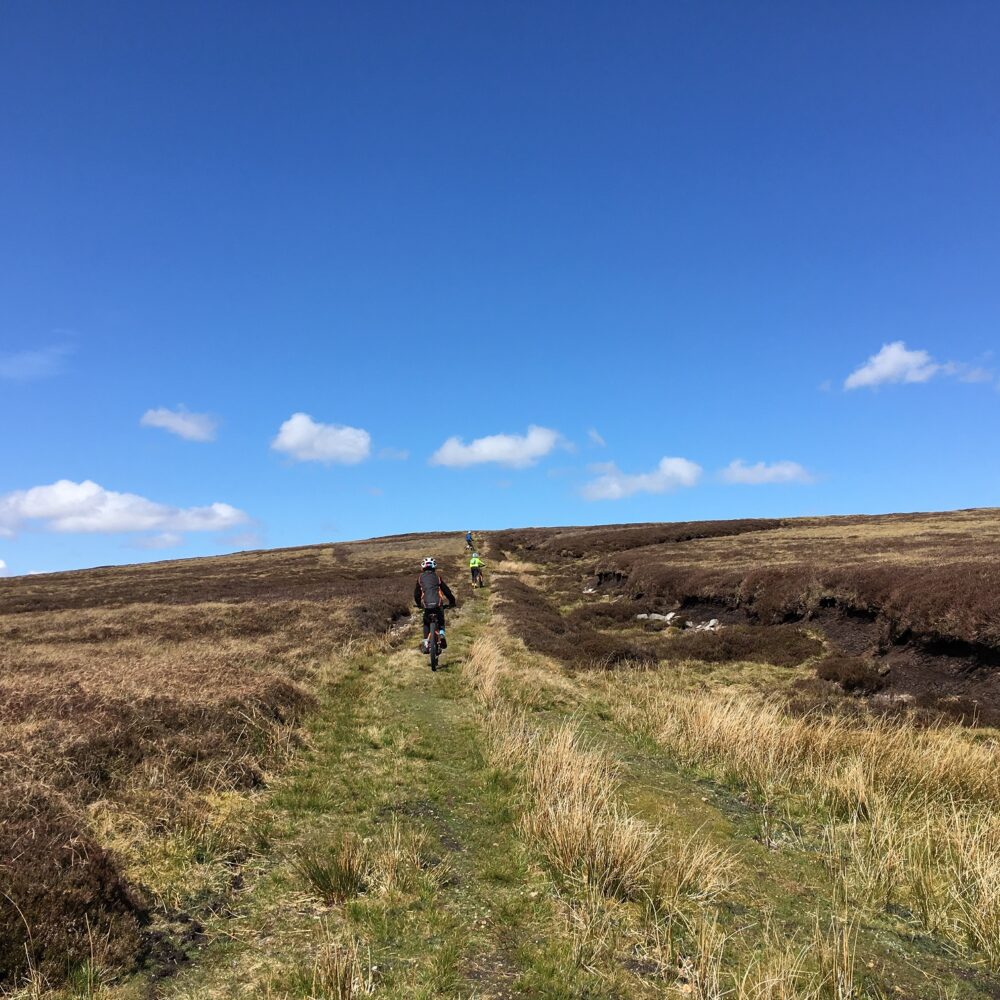 The path becomes a bit technical in places, and it's a steady uphill ride as the route follows a stream. It would be very muddy after heavy rain, but we were riding after a month of sunshine so the stream bed was dry and the going easier than it could be. Even so, there were a few places that required pushing up.
Thankfully the climb is contoured, so you get a bit of flat riding every so often, which makes it more manageable with the kids.  The first milestone is the cairn and this is reached after the final ascent. It's really worth persevering if you can!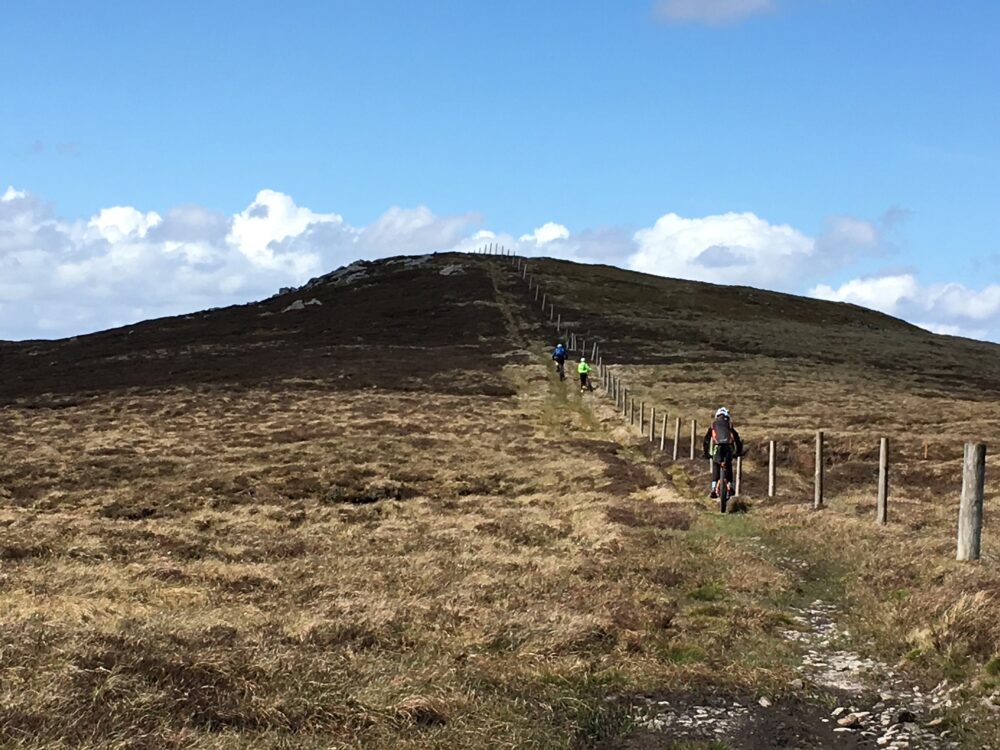 The views are INCREDIBLE – with the exception of the path, fencing and the cairn, it is hard to see any evidence of humankind. And because of the clear conditions, we could see for miles!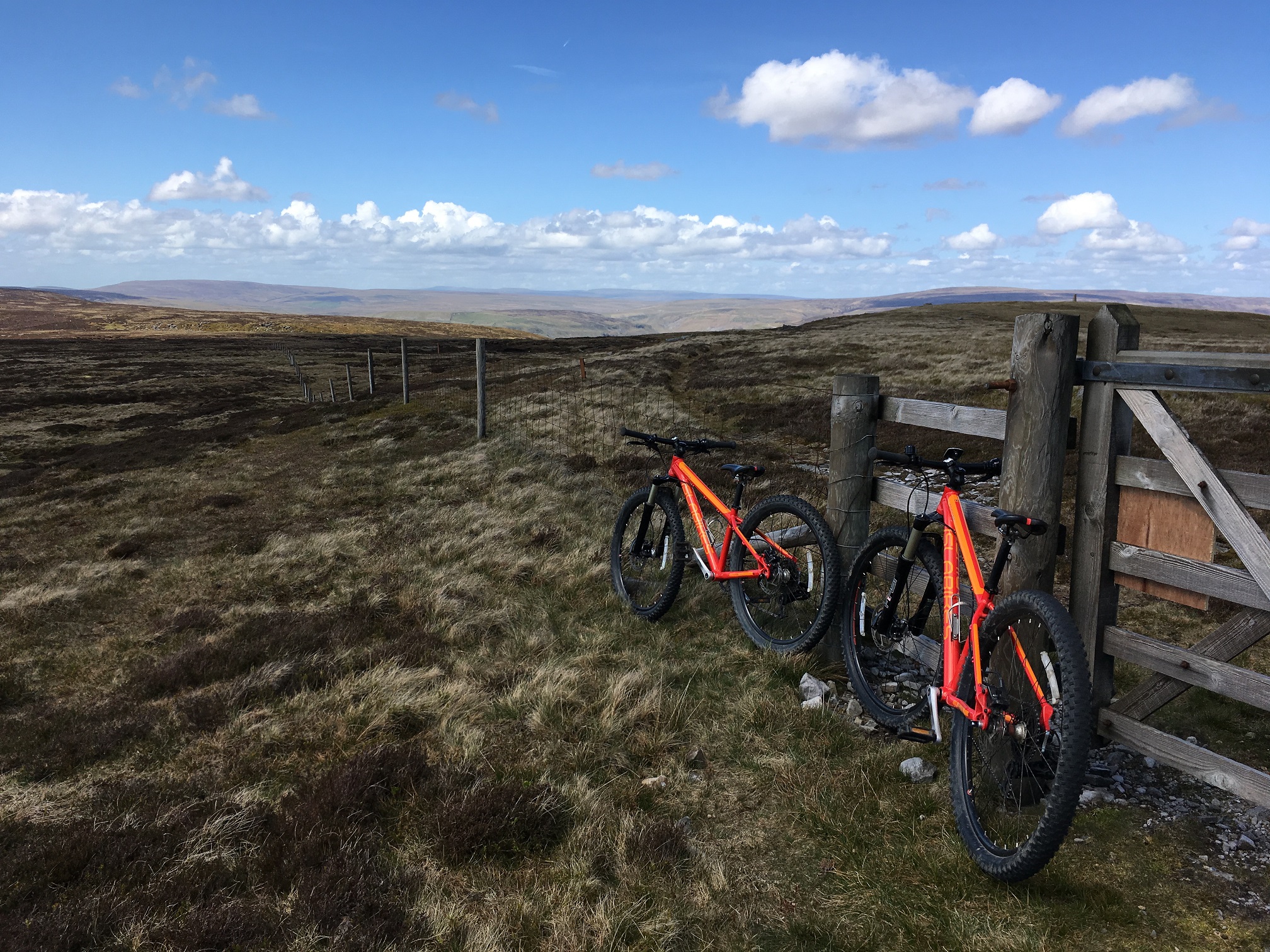 It even prompted me to attempt to test out the panoramic functionality on the phone! Sadly it's hard to do it justice – but you get the idea…..

At this point you're very exposed, and with the wind REALLY picking up we were thankful for our extra layers of clothing and for this little hole to hide in to refuel. The sheltered warmth of the campsite seemed a million miles away up here.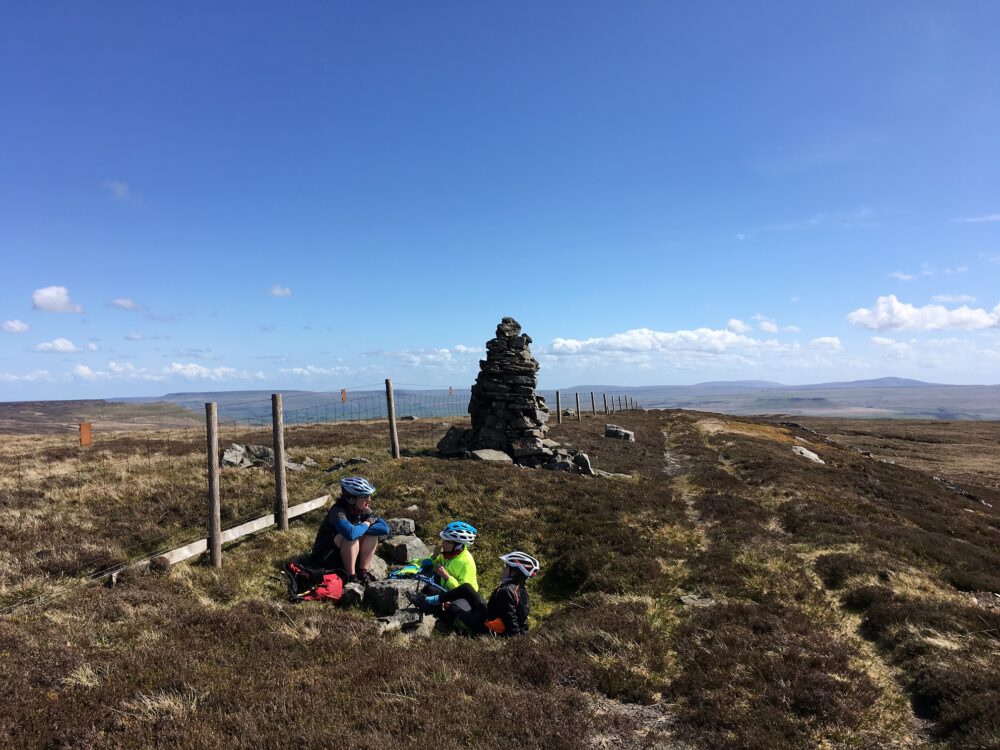 Once you've reached the first cairn, it's a short and flat ride over Oxnop Common to the end of the track – I wouldn't have welcomed telling the boys that there was more climbing at this point!   It really did feel as if we were riding on the top of the world, and it made all the hard work worth it.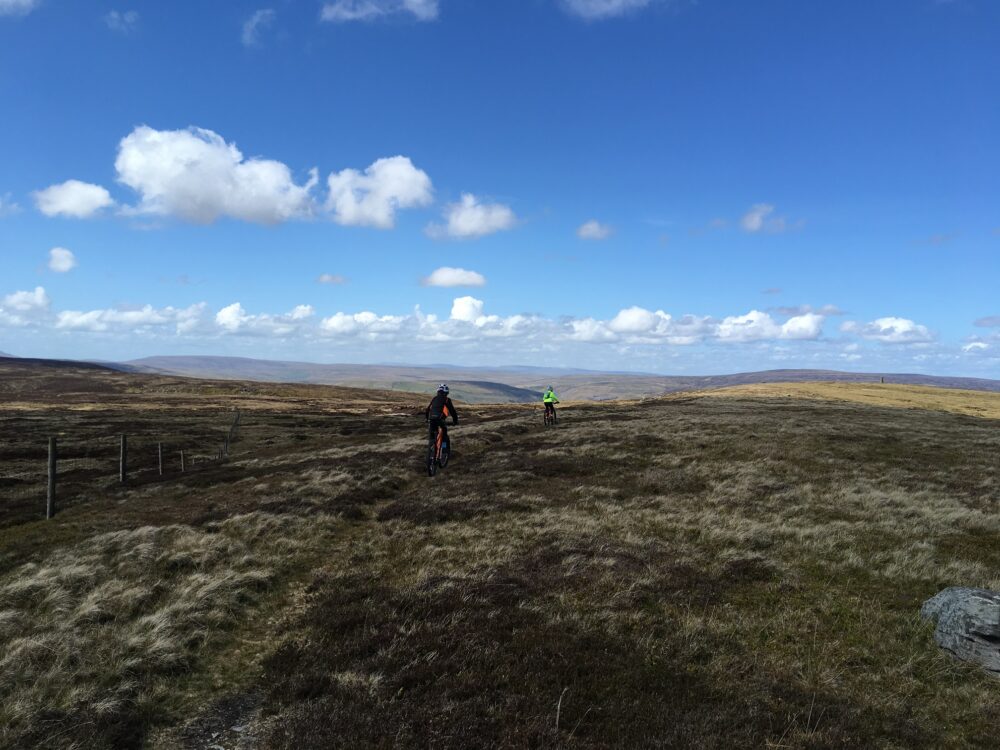 Words can't do the views justice, as the photos only start to show what an incredible place this is.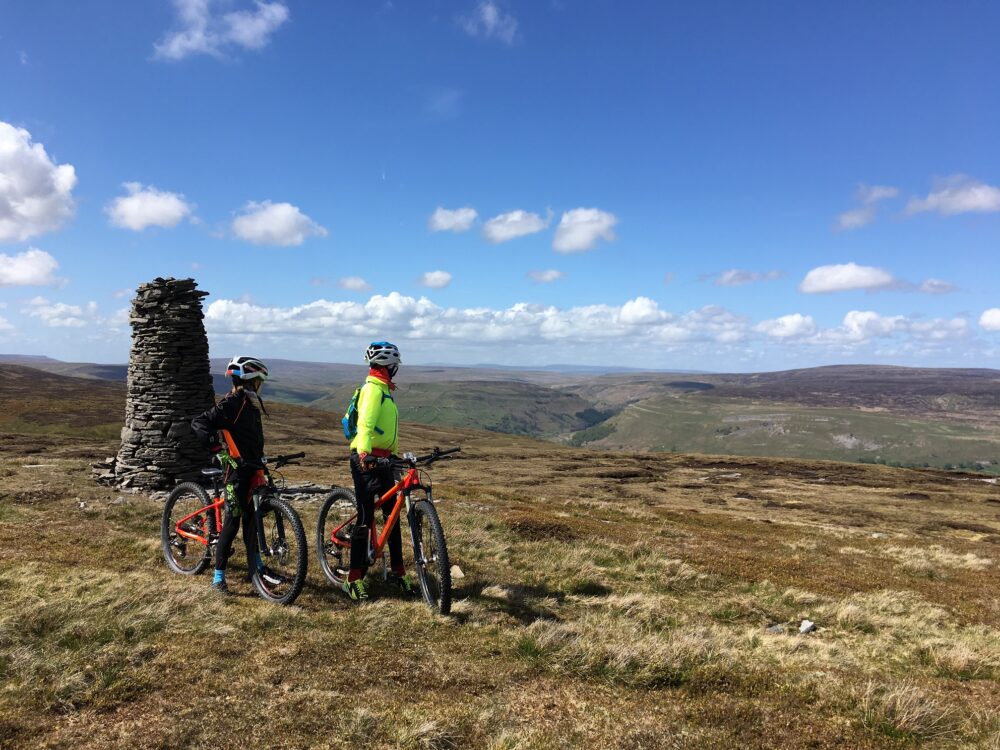 The ferocity and gusting nature of the wind caught us by surprise as we turned around to go back to the cairn, with 8 year old T struggling to remain upright on his bike.  As you can see from this photo there really is no shelter, and the wind just whipped ferociously around us.  On occasions it was carrying him away from the path, as he just wasn't weighty enough to withstand some of the bigger gusts.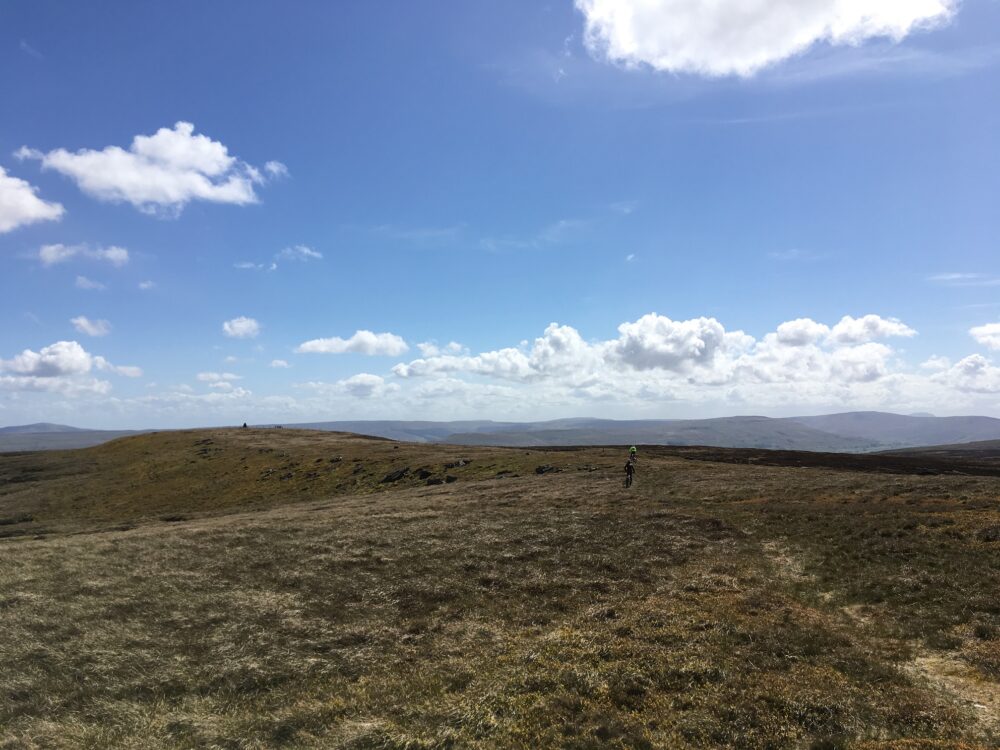 So, we decided it would be safer for him to push and use our bodies as a windbreak to give him a bit of respite and make sure he didn't get blown over!  It made us realise what a wild and unforgiving place this was and to be thankful that it was warm and sunny, rather than cold and raining.
As we passed the cairn and dropped a little height, the fun really began!  The 100m of ascent we struggled up became a fast, exhilarating single track descent, which passed all too quickly!!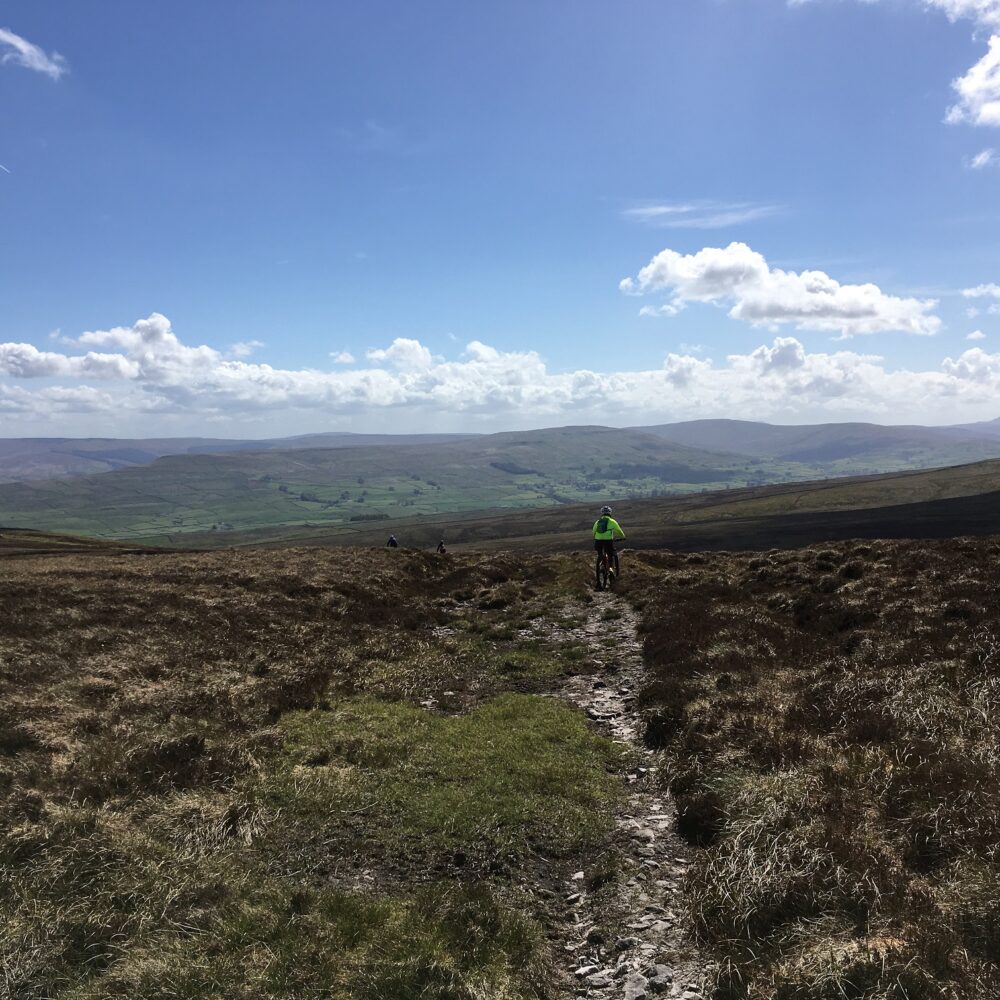 Suddenly we were back on the rocky path, and the long sweeping descent back down to the car park.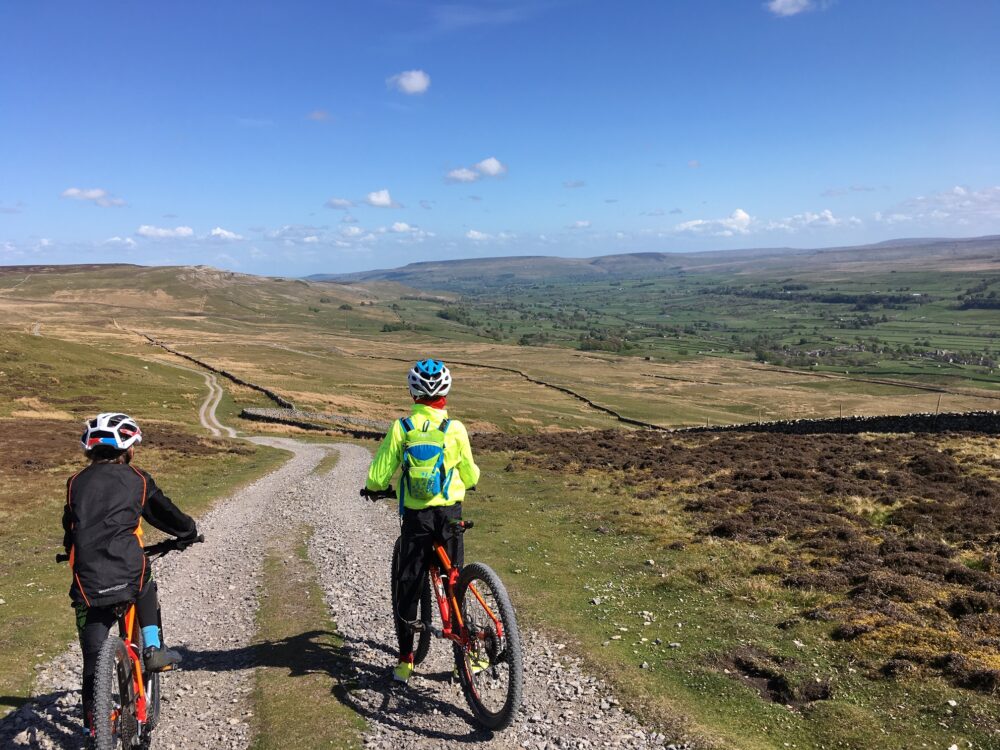 We were out on the bikes for about two and three quarter hours, which included lunch breaks, numerous stops for the loo, consumption of snacks and just gawping at the magnificent views. The Garmin tells us that we did an hour of actual cycling, with just over 8.8km distance and 156m of ascent covered.  More importantly than time or distance, we felt like we'd really left civilisation behind and got back to nature. We didn't see another person in that 3 hours!
About the mountain biking route to The Beacon, Near Askrigg, Yorkshire Dales
We rode the route in May 2017, after a period of prolonged dry weather when the temperature was about 15c.  Both our boys are experienced cyclists, and they were riding good quality mountain bikes designed for off road riding.
Starting point: Off road parking area by cattle grid on the Askrigg to Muker road  (GR SD 94672 92957)
Terrain:  Several steep climbs and descents on rocky and grassy bridleways. Due to the exposed nature of this ride, it can get very windy.  The ground will get very muddy after prolonged rain.
Age:  Our boys are aged 8 and 10 and regular mountain bikers.
Bike type: Off road or hybrid bikes. Suspension recommended but not necessary. Our boys were riding Islabikes Creig 24″ and 26″, loaned to us by Islabikes.
Refreshments: Take your own with you –  nearest cafe's and pubs are a drive away in Askrigg.
Toilets:  Anywhere you please!
OS Map: Explorer OL 30 Yorkshire Dales (Northern & Central Area)
Where we stayed:  We set up camp at Askrigg campsite, a brilliant, back to basics site with a lovely owner. If you're looking for all mod-cons, then this campsite isn't for you. If you're looking to get away from it all with a field shared with sheep and chickens, and nothing more than an outdoor sink and an eco-loo (which incidentally keeps the kids interested for ages!) then I'd highly recommend it.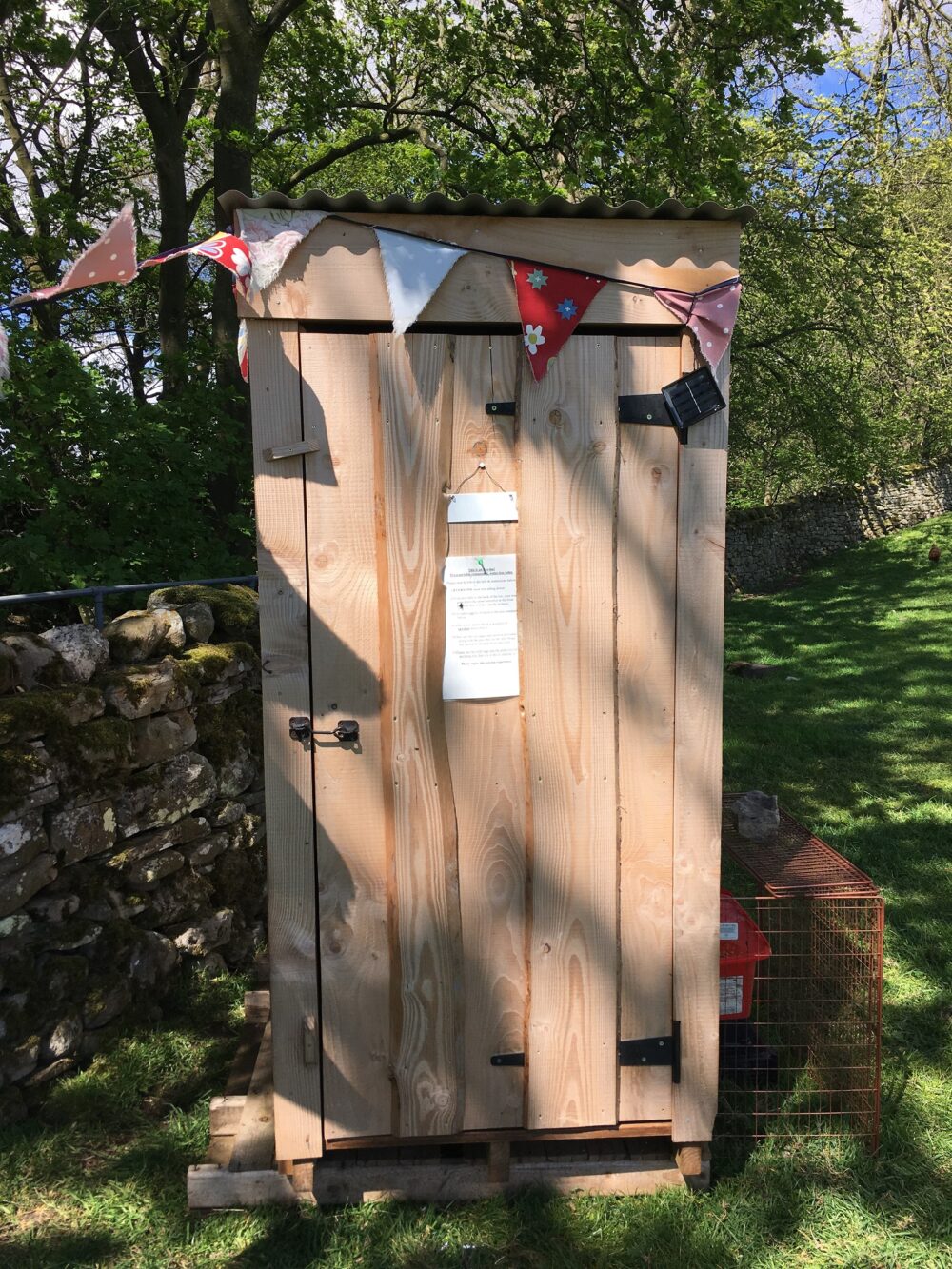 We paid £5 per adult and £2.50 per child, out of holiday season. Check their website for opening times and availability.
Cycle Sprog Verdict
We've definitely got the taste for family mountain biking in the Yorkshire Dales and hope to go back soon – you never know we may make it as far as Reeth next time… but we'd have to get past this route. It's tempting to do it all over again!
If you have any favourite family cycle rides you'd like to share, do please let us know – we're always looking for new routes to share.   If you follow us on Facebook you'll get to hear about other routes, plus bike reviews and family cycling news as it happens.
Other articles you may find interesting:
Disclosure: This post contains some links that use Affiliate Marketing – this provides us with a very small income which pays for the hosting and maintenance of the website. Thanks for your support