Regular Cycle Sprog readers will know that I've recently been exploring disused railway lines in West Yorkshire with my two children (aged 5 and almost 2) and our bikes. After the success of our previous cycle rides, we decided to extend our search into neighbouring North Yorkshire. This time we took along some friends who also have two young girls to try out the Harrogate to Ripley Cycleway (which is also known as the Nidderdale Greenway).
Harrogate to Ripley Cycleway – route description
The Harrogate to Ripley Cycleway is a 4 mile tarmaced route between the Bilton area of Harrogate and Ripley, following the route of the old Leeds to Northallerton Railway. It is forms part of the 112 mile long National Cycle Network Route 67, maintained by Sustrans.
There is plenty to keep little cyclists interested along route, including cycling over the impressive Grade 2 listed, seven-arch Nidd Gorge Viaduct, which was brought back into use for this route.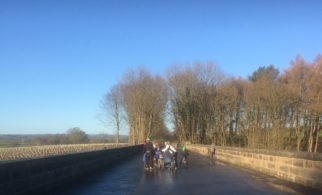 There are also three cyclist sculptures by the local Portrait Bench: here we are with them – they're a bit shy!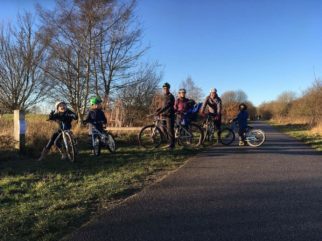 For those of you who haven't come across a Sustrans Portrait Bench before, they are three distinctive, life-size local figures cut from sheet steel, inviting you to sit or step up into the space and become a part of the portrait group. There are over 250 around the UK, and there is a Sustran's leaflet for this bench that explains who the characters are (local cyclists) and the inspiration behind the bench.
The main attraction of this family cycle ride is Ripley Castle at the end of the route, where there is a lovely tearoom for replenishing energy, as well as the castle itself. There is bike parking in the castle courtyard where you can secure your bikes and go and explore the grounds, so don't forget your bike lock. At certain times of the year they run guided tours for families – check the Ripley Castle website for details of opening hours and admission charges.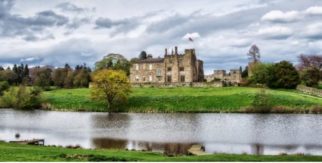 There's also cycle parking in Ripley, outside the Boars Head pub.
If you need something to get the kids back on their bikes and pedalling the return journey to Harrogate, the world famous Betty's Tearooms are not far from the start of the route, on Parliament Street. There is also Farrah's Food Hall on Montpellier Parade which stocks over 200 lines of old fashioned sweets, and has a 16 foot long purpose built counter holding almost 100 different types of English and Continental chocolates, plus an upstairs café. Both were established around the time of WWI, so consider it a history lesson!
The centre of Harrogate isn't very cycle friendly, so you may be best leaving your bikes at the car or station and walking through the town.
Can children ride the Nidderdale Greenway?
Yes – however, there are a couple of things to note. Despite this cycle path being along the route of a former railway there are a few hills so it would be easier for bikes with gears. There is a very short on road section before you cross the A61 via Toucan controlled crossing and then another section to get you to Ripley Castle. This is busier so you may want to get off your bikes and walk this short section.
As with all disused railway rides, this is a there and back route, so total distance cycled was 8 miles.

Getting to the Harrogate to Ripley Cycle Route
Arriving by car:
If you arrive by car, you can either park in the Dragon Road pay and display car park next to Asda in Harrogate or park on street on Grove Park Avenue, Harrogate, just at the start of the route.
Arriving by train:
At the time of writing, a signed high quality route from Harrogate Station to the beginning of the railway path has yet to be completed. If you arrive in Harrogate by train, exit West of the station and walk your bikes up Station Parade before turning right on Bower Road before accessing the route at the back of Asda Car Park. It's about 1km from the station to the start of the route.
There are 32 covered bike storage places at Harrogate Station, with CCTV coverage. There also Bike and Go bikes available for rent at Harrogate Station (but only in adult sizes)
More information on the Harrogate to Ripley Cycleway
For further details of the route, including information on detours and closure, visit the Route 67 page on Sustrans website.
There is a very detailed write up of the route on Hedgehog Cycling if you want to check each stage of the route out.
About the Author: Emma Young is a mum of two children and a transport planner, promoting sustainable transport. As well as being a guest blogger for Cycle Sprog she also runs the Child Friendly Bike Rides in Yorkshire Facebook Group.
Here are some other great guest blogs from Emma for you to enjoy: