What's it like taking kids to the Cycle Show at the NEC?
Having received some complimentary tickets for the Cycle Show at Birmingham NEC thanks to Cycle Sprog I was both excited but slightly apprehensive about taking a 7 and a 3-year-old with us.
We planned to get there as soon as it opened at 9:30 in order to beat some of the crowds which meant getting the boys up at 6 am in order to set off from Leeds at 7 am. We arrived just as the show was opening, and joined what appeared to be a long queue, but were thankfully inside the show within minutes.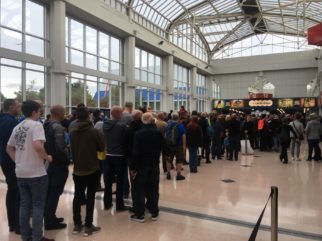 After checking out the times of the talks that we wanted to see, we managed to stumble across the Islabikes stand (we hadn't managed to find the map at the back of the programme yet!)  After queuing for only a few minutes the boys managed to get to have a go on the test track. The boys enjoyed whizzing around on newer versions of the bikes they already have.
After some more aimless wandering and the boys picking up some freebies from Cycle Solutions, we came across the e-bike area. As we had never ridden e-bikes before, and seeing how they are really beginning to take off, we decided to take a couple for a spin.
We thought we would have to go one at a time as they did not have any children's bikes but fortunately, they had an e-cargo bike. As I had heard so much about cargo bikes I was keen to give one a go. After strapping the boys in with their goody bags they had acquired and a brief instruction on how it worked I made my way out onto the test track. After a few unsuccessful attempts at getting started, I swapped bikes with my husband. Within seconds he was zooming round the track much to the delight of the boys. This has given me real admiration for those who ride cargo bikes!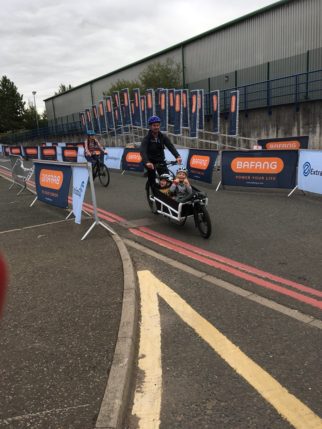 We then realised it was time to go and hear the Cycle Sprog talk in the new riders zone. As we still hadn't got our bearings we asked for directions and were told that it was at the other end, a 10 minute walk! After a mad dash we got there just in time to say "hi" to Karen before she gave her talk.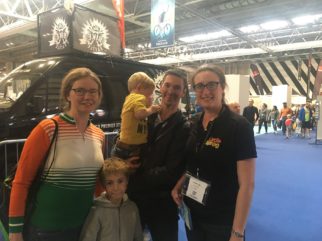 Karen, with the support of her family, gave a very entertaining talk about their family cycling story.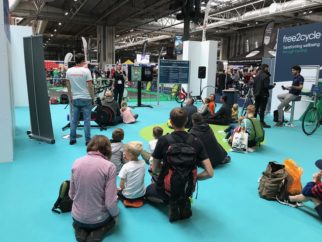 At the end of her talk Karen shared some top tips, one of which I wish I had heard before attempting to ride a cargo bike with the boys in. She suggests trying new child seats, cargo bikes etc with a bag of potatoes in before taking the kids out!   At the end of the talk, we were all rewarded with the family cycling essential, a bag of Haribo (other jelly sweets are available) which was much appreciated.
Just as Karen finished her talk the bike battle show, located next to the new riders section, was about to start so we made a dash and managed to get a prime spot to watch the flat land bmx tricks (which was described as breakdancing on bikes), awe inspiring trial riding and scary jumps and back flips using their van as the start ramp.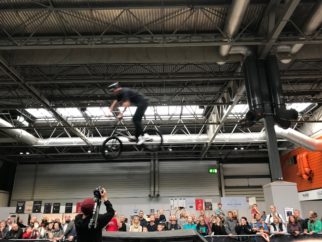 The boys loved cheering the guys on to do more daring tricks and were pleased to get a signed poster from Lee Musselwhite.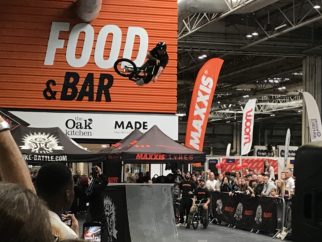 The boys then went and had a spin on the Cube bikes test track. They loved following the little roadway on the ground and dodging in and out of all the brightly coloured cardboard cut outs.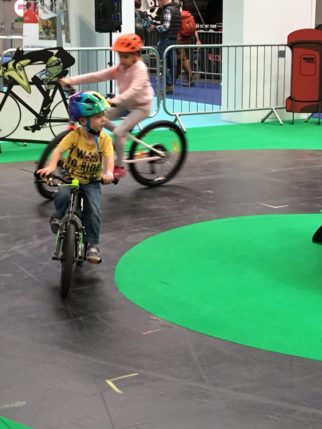 We then found a quiet spot to sit down and eat the picnic we had brought before checking out some of the retail stands as our eldest had some birthday money to spend. He was very pleased with his purchase of enduro shorts and gloves from Shred XS.
It was now time for mummy and daddy to do some shopping before going to listen to Markus Stitz talking about Bikepacking the world and Scotland. This was a very good excuse for another sit-down. This was an inspiring talk of Bikepacking around the world culminating in a talk about the work he is doing for Bikepacking Scotland and showed a preview of a video promoting the new family-friendly East Lothian Trail featuring Family ByCycle. We will have to do this once the boys are a bit bigger.
After the talk, the boys were desperate to have another spin in the e-cargo bike and another ride around the Islabike test track. Here the boys were fortunate enough to try out their discontinued Pro Series bikes. Without explaining to our youngest the significance of these bikes, when we eventually managed to stop him, he said "I love this bike". It goes to show he has discerning taste!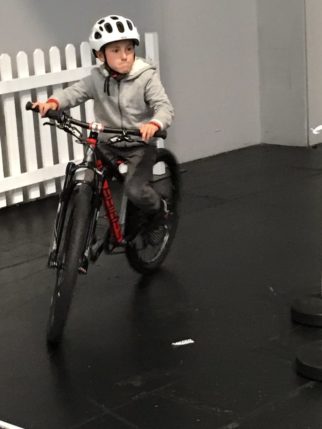 After a quick drink stop and a couple of last-minute purchases, it was time to take two very tired boys and parents home. I had not expected to keep the boys entertained so easily for the full day. Therefore, do not be put off going to the Cycle Show as a family if you have young children, there is plenty to keep them occupied.
We are now looking forward to going to the Cycle Expo in Harrogate in a couple of weeks' time to see how it compares for family friendliness.
Emma Young is a regular contributor to Cycle Sprog, often writing about the family-friendly bike rides to be found in her home county of Yorkshire. 
Other posts about the Cycle Show: