ShredXS 2019 range of kids off-road cycle clothing showcased at Cycle Show
Kids cycle clothing brand Shred XS showcased the latest additions to their range at the 2018 Cycle Show. The family-run company from Inverness in Scotland have expanded from a small concern, specialising in kids downhill mountain biking shorts and tops, to one of the leading brands for kids involved in all types of off-road riding.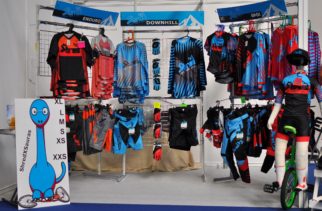 The brainchild of two young mountain bikers – Jess and Fraser – with the help of mum and dad, ShredXS has gone from strength to strength over the past few years.  The popularity of the brand is mainly due to great customer service, an obsessive attention to detail and a willingness to listen to customer feedback to continually improve and enhance their range.
Mountain bike gloves for a 3 year old
One of the latest additions is a range of child and youth-sized gloves.  Whilst kids cycling gloves aren't anything new, what we really liked about their range was the fact that it starts with a small mountain bike glove for a 3-year-old, which has been designed with both the child and parent in mind.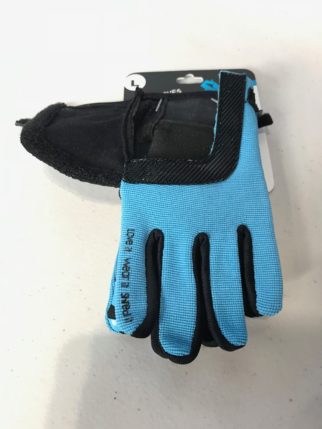 Knowing how difficult it is to get little, wriggly fingers into gloves, ShredXS have designed theirs with an easy access opening which means it's relatively easy to get 4 fingers and a thumb into place.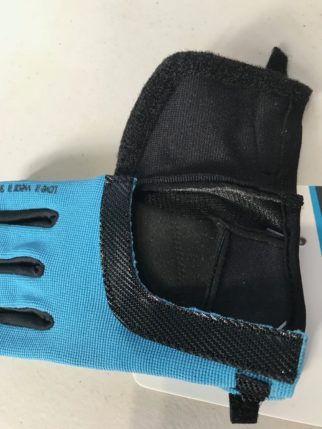 A simple solution to an age old problem, and one that I think parents all over the country will be thanking ShredXS for.  The kids size gloves also have silicon markings on the first two fingers, making it easier to teach young rippers how to do 2 fingered braking.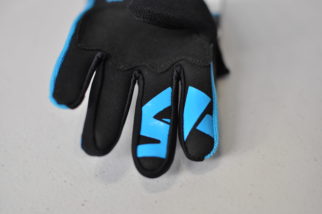 There's also additional protection around the wrist, greater than what's usually found on mountain bike gloves, as they'd noticed this was an area kids were catching when they came off their bikes.
Taking onboard feedback from the kids at their local bike club also helps refine products for use in the real world. The kids explained how gloves often have thick gel padding on the palms that moves the hand away from the bar, making it harder to grip, brake or control the bike. So ShredXS designed the gloves to provide both comfort and control without the need for excessive padding.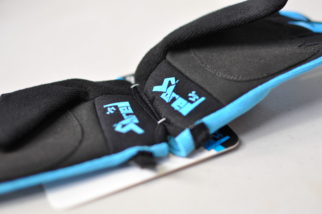 The easy access opening is found on the "kids" sizing, which covers ages 3-4 (Small), 4-5 years (Medium) and 5-6 years (Large).
The "youth" design reverts to a standard slip on design,  but still has the  silicon markers and higher wrist protection.  The Youth glove is available in Small (aged 7-8 years) Medium (8-9 years) and Large (9 – 10 years).
The gloves are available in blue or red and are priced £18.00.
Cycle Jerseys for small kids
ShredXS have also branched out into BMX and XC wear, as kids competing in both sports were using the downhill clothing range but finding it not quite fit for purpose.
I particularly loved this teeny tiny cross country jersey, sized for ages 3 and over – almost enough to make me broody again!!!!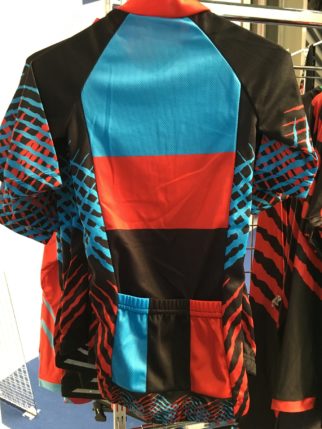 But not quite!! Here's my 9 year old baby showing the sizing for scale. They grow up so quickly don't they???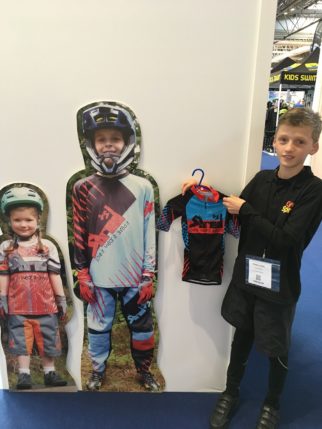 The BMX range includes long pants, which have been designed to be robust but breathable, with ShredXS's usual removable hip padding along with enough space for riders to wear knee and/or shin pads below.  There's also a small amount of reinforcement over the knee to protect those who 'forget' to wear their pads.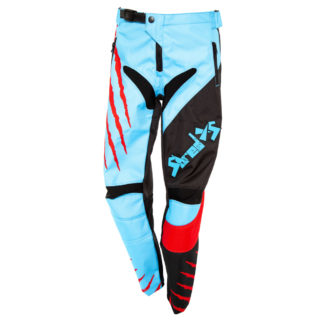 The full ShredXS range can be found on their website at www.ShredXS.com
Other posts you may like: