The 2018 Cycle Show at the NEC, Birmingham is the biggest annual gathering of bikes and cycling related gear in the UK, and continues all weekend (28th through 30th September). The Trade Day takes place before the public opening, and was a chance for us to have some in-depth conversations with the leaders in kids cycling.
This year we were really pleased with the number of kids specific brands at the Cycle Show – both bikes and clothing – reflecting the growing realisation that junior riders need more than just a cut down version of an adult model. There was also a good number of adult brands exhibiting their kids bikes – we remember when we first attended the show 8 years ago and not one established brand had brought along their kids offering.
This year we took along 9 year old T (our youngest Cycle Sprog) to the Show. He's in the process of writing up his highlights of the Cycle Show, so come back soon to find out what caught his attention.
Here's our summary of the best kids bikes we saw, and some of the exciting developments that are taking place for 2019. We were also really impressed with some of the kids cycling kit (clothing, helmets and accessories) on display, so we'll cover that in another post next week.
Cube Bikes
Cube are sponsoring one of the two kids test tracks this year, so it's not surprising they've brought along a good selection of their bikes along.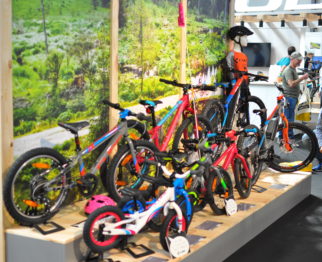 They've got three really exciting new kids and youth bikes coming out for the 2019 season, and two of them were on display at the Cycle Show.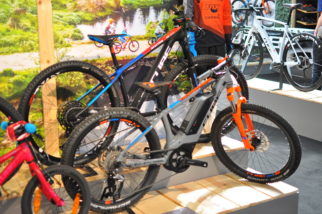 Firstly, they're about to release their first kids e-bike, the Acid 240 Hybrid. This certainly got T excited!!! Priced at £1,599 the bike will no doubt appeal to those Cycle Sprogs who love descents but aren't too keen on the climb beforehand. The Suntour XCT forks will give 80 mm of travel to get over the bumps.
We're going to be keen to see how kids find handling this bike, as the stated weight is 18.7 kg – quite a hefty amount for a child to manoeuvre. This is due to the additional weight of the motor (supplied by Bosch), which has been fitted to a super light double butted aluminium frame.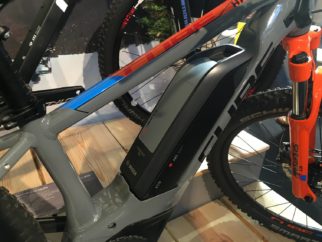 Obviously with UK laws saying that you must be 14 or over to ride an e-bike on the road, this is going to have to be a bike purely for off-road use. The e-bike will be available Spring 2019 – we'll let you know when it goes on sale in the UK.
Cube's second new offering for 2019 is at the other end of the weight spectrum, coming in at 10.1 kg. The Reaction C:62 Youth is their new carbon hardtrail cross country racing MTB. It's pictured behind / above the e-bike in the first picture.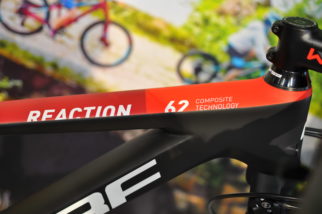 The twin moulded carbon frame, 100mm Manitou Markhor TS air forks, Magura's custom MT4 hydraulic disc brakes and Sram Eagle 32 T / 11 – 50 T gearing all suggest that this is going to be one fun bike to ride.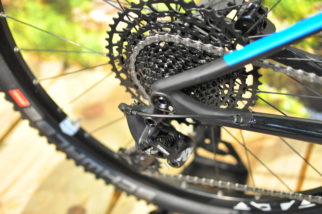 The Cube Reaction C:62 Youth has been designed to have the same features as their adult Reaction C:26 range, just scaled down for junior racers. It comes in two sizes – a 13.5″ frame with 27.5″ wheels and a 15″ frame with 29″ wheels. Both sizes retail at £1,399.
Cube's third new offering the Cubie 180 – an 18" wheel mountain bike wasn't available at the Show, but we learnt that it is a proper scaled down MTB rather than a smaller bike made larger.
Whyte Bikes
We've been seeing huge numbers of Sprogs on Whyte Bikes at trail centres this summer, so it wasn't entirely surprising to learn that their 403 26″ wheel entry level youth bike was their biggest selling bike last year. Yes, that's correct – a kids bike outsold their adult bikes!!! Other bike manufacturers take note please – we're not kidding you when we tell you to take the kids market seriously!!
We were excited to see that Whyte have two new offerings for 2019 – both of which got us all salivating!
The Whyte 203 is the bike they never planned to make – a 20" wheel mountain bike, scaled down proportionately for young riders.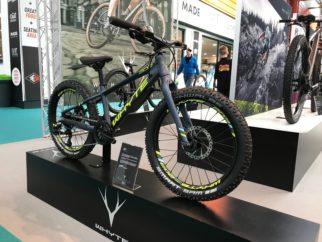 Apparently one of their designers has a Sprog who was demanding a 20″ wheel mountain bike with hydraulic brakes – and the rest is history. The Whyte 203 will be available during November, just in time for Christmas, and has a retail price of £499. It's available to pre-order here.
Obviously, this now leaves a gaping hole, with Whyte lacking a 24" set of wheels – we predict we'll be reporting on that from a future show!
The Whyte T-120 is at the other end of the age spectrum – a 27.5" wheel bike to cater for youth riders who have outgrown their 26" wheel offerings.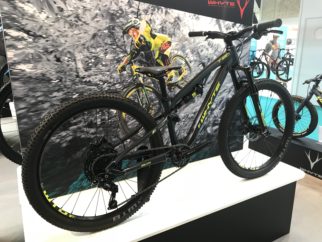 This full suspension bike is based on the frame design of the model T130 adult bike, and with the adult frame having a makeover for 2019 Whyte realised that the small sized moulds for the previous version would be great for the basis of a youth bike, which they've called the T120. This bike isn't going to be available until late spring 2019. The price has yet to be confirmed, but expect it to be in the region of £1,700.
Woom Bikes
It was great to see The Little Bike Company and Woom Bikes at their first Cycle Show. We've been impressed with the two Woom Bikes we've reviewed (the Woom 2 and the Woom 3), so it was great to see the entire Woom range on display at the show.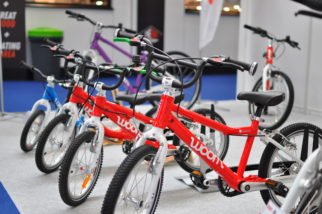 The 2019 models have a new stem design that allows for greater adjustment and positioning of the bars which means the bikes should last that little bit longer.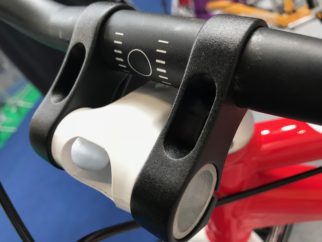 Also, there was an interesting hole in the frame on the smaller pedal bikes (the 14" wheel Woom 2 through to the 20" wheel Woom 3) which we've been told is to fit their still-in-design stage Woom Tandem, which will allow the bike to be towed behind an adult bike. We'll bring you more details on this as soon as we get them.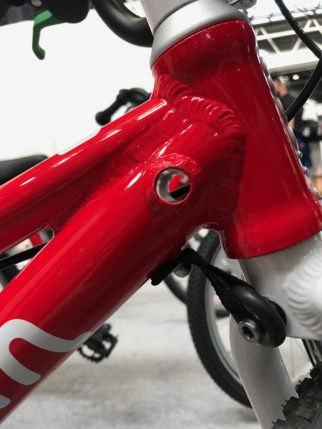 Kids Racing
It was great to finally meet up with Linette and Pat from Kids Racing – we've been corresponding on social media for years! Of course it was also brilliant to see up close some of Kids Racing range of bikes that are some of the lightest and fastest kids bikes around due to the incredible thought, design and attention to detail. They've become so popular that they're now a common sight on so many start lines across the country. Traditionally cyclocross specialists, they have Scatto, Forme and Kuota bikes on display.

However, always looking at new ways to bring super lightweight race bikes to their customers, Kids Racing have also been developing a prototype mountain bike which is going to be a very interesting proposition if they decide to take this forward into production. We'll let you know as soon as we hear their decision on this one – but enough to say the prototype is lighter than some balance bikes we've come across!
Kids Cycling were also showcasing their range of kids racing clothing, which you can read about in our other post on Kids Clothing and Kit at the 2018 Cycle Show, which is coming soon.
If you're going to the 2018 Cycle Show, it's worth knowing that they're running a competition to win a bundle of their winter kit. Guess the weight of one of their custom built hill bikes and you could be walking away with this great prize. So pop by to give it a go and be amazed at just how light their bikes really are.
Islabikes
It's always great to catch up with Islabikes, who are at the Show with their own test track. T has been desperate to ride one of their Pro-Series bikes since they came out, so was very impressed to get a go on the Pro Series Creig 26. Just in time, as Islabikes have recently decided to discontinue the range, and no more Pro Series bikes will be made. Keep an eye on the Islabikes website as they run down the stock, as you may get a good deal if you're in the market for a race ready bike.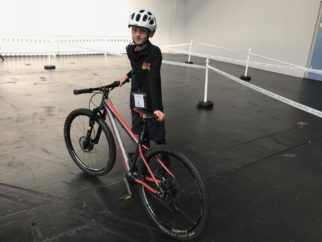 This years new bike from Islabikes is the Beinn 27, (£440) which was launched earlier this year. This is an evolution of their old Beinn 26 Large Frame married to 27.5" wheels to give additional stability and speed, and was displayed along with some of it's younger siblings.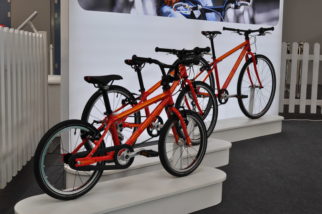 Regular Cycle Sprog readers will know that we've been keenly following the progress of the Islabikes Imagine Project. We were pleased to learn that it is continuing to progress towards the goal of producing a fully sustainable bike that lasts several generations, using the principles of the circular economy.Development of the frame and forks has been slower than originally anticipated, but it is hoped that the first set of bikes are due to go out to early adopter customers before the end of the year.
As well as the bikes, there's a lot to work out around how the customer service model will operate within the circular economy. Given the scale of what Islabikes are trying to achieve with the Imagine Project (this is not a simple bike rental model!) they're learning every step of the way, from within and outside the bike industry. We could have spent hours discussing how to recycle or reuse carbon fibre bike frames, but sadly we had to move on.
Kona Bikes
Kona had one of the best stands at the Cycle Show – a house full of mountain bikes – perfection!!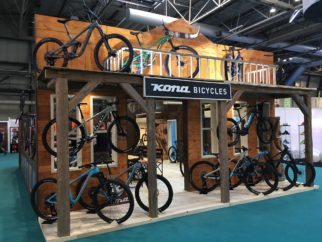 They only had one of their kids bikes on display – the Kona Honzo 24 hardtail mountain bike (RRP £649). This is their mid-range offering, which has a 6061 aluminium frame, double walled wheel rims, an air sprung Spinner Grind 65mm travel fork and Tektro HDM286 hydraulic disc brakes.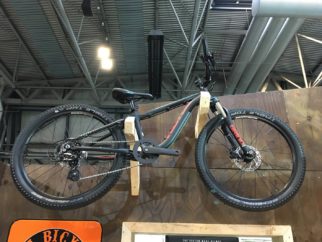 We also had a good chat about their premium full suspension offering – the Process 24, which sadly wasn't on display, as it becomes available later this year.
Hopefully we'll be getting some of Kona's 2019 bikes for our Cycle Sprog review panel to put through their paces and can then share our thoughts with you on what looks to be an exciting range.
Kiddimoto
Every year balance bike specialists Kiddimoto have something new at the Cycle Show – in previous years it's been a carbon fibre balance bike and a crowdfunded range of pedal bikes. Given the lack of interest in their Darwin Bike crowdfunder last year, we weren't expecting to see any pedal bikes on their stand this year, but they've decided to continue developing the range of belt driven kids bikes. It's not expected to be ready until Spring 2019.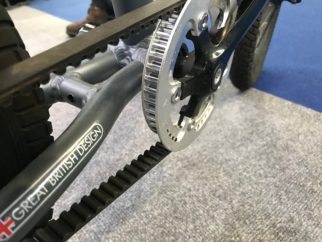 There were a couple of other brands with kids bikes on display including Cannondale, Orange and Marin, who didn't have staff available to speak to us when we called by.
There were a few other brands (such as Canyon) who disappointingly weren't showcasing their kids bikes this year – maybe next year….
All in all, we were really pleased to have so many new kids bikes to look at this year at the Cycle Show. If you fancy taking your Cycle Sprogs along to the 2019 Cycle Show, then the show is running from Friday 13th September to Saturday 15th September.
You can purchased discounted tickets by visiting this link here.
Other articles you may be interested in that include the exhibitors mentioned above
Disclosure: Here at Cycle Sprog, similar to most online publications, we use affiliate marketing to help provide us an income. This means that for some of the links on this page we will get a small commission if you make a purchase after clicking the link. This generally are those links taking you to online retailers – but not all, as smaller retailers tend not to use affiliate schemes. We try to be impartial and cover all kids bikes equally. It really helps us if you buy through the links on the page. Thanks!