Until recently there's been a lack of well specified, lightweight 18″ wheel kids bikes around, with most kids bike manufacturers going from a single speed 16″ bike to a 20″ wheel bike (the majority of which come with gears). Cube Bikes have obviously noticed that there's a gap in the market for a quality 18″ wheel bike that's suitable for younger kids who are desperate to get out on the trails, but not quite yet big enough to handle a larger frame, 20″ wheels and gears of a larger mountain bike. The Cubie 180 SL is a new release for 2019, and is designed to be a first step towards a MTB for younger riders, aged up to about 6 years.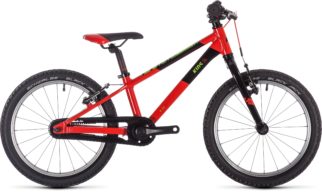 The Cubie 180 SL is taking its inspiration from Cube's adult and junior range of mountain bikes, to give a bike that's built with a lightweight aluminium frame and forks that have been designed to take the everyday knocks and scrapes a little ripper will put it through. The Cubie 180 has V brake bosses front and rear so your child can learn how to control their speed, using brake levers designed for little hands. The single speed Hudson 32T chainset comes with a Hebie Chainlooper chainguard to keep the chain away from a child's legs and clothing. Cube have fitted new width Schwalbe Black Jack tyres which are a decent all-terrain option MTB tyre.
With no heavy suspension or gearing to weigh the Cubie 180 down, it comes in weighing 7.5kg which going to be so much lighter than the majority of 18″ wheel bikes around.
The standover height of the bike is 485mm, meaning an age range of about 4 – 6 years, depending on the height and capability of the rider.
The Cubie 180 will be available in shops from November 2018 at a price of £299. You can pre-order the bike now at Tredz to get one in time for Christmas.
Other articles you may like: