Here at Cycle Sprog HQ we've had the fortune to review a kid specific mountain bike from a manufacturer that has taken the UK market by storm over the last few years. Enter Cube Bikes and the Cube 240 kids mountain bike.
Who are Cube?

Founded in 1993 by Marcus Pürner, this German brand has gone from strength to strength, with a massive selection of bikes covering the spectrum from kids through to hardcore triathlon with everything in-between.Over the last year I've travelled extensively around the UK and Ireland, and I've not failed to notice the various models of Cube bikes that are being ridden, suggesting that they must be doing something right. The Company motto 'Cube your Life' is meant to signify delivery of top quality, hi-tech biking fun, and so with a Cube 240 boys mountain bike to test, we'll see if the reality lives up to the motto!
Spotlight on the reviewer
Our reviewer is N, aged 8 years old and likes to ride trails, but has also found a fondness for road riding since getting a road bike. N has used the Cube 240 for the daily commute to school, plus weekend rides on path's with some off-roading adventures in Ireland thrown in for good measure.
The bike itself – Cube 240 childs mountain bike
Cube sent a Cube 240 boys mountain bike in a fetching white for us to test, however there are nine variations on the 240 theme with different colours and models. They range from the "Street" which is designed for road and trail riding (which also comes in a step through frame),to the SL mountain bike which is a high spec machine. It seems as though they've provided something for everyone.
First impressions?
Dazzling White, at least on our test bike! It's a good quality paint-job, with a good depth of colour meaning the bike literally gleams. The white frame is matched with red and blue accent colours and this gives a complete package that is visually impressive. At time of going to press,
Cube have just updated the 240 range for 2017, with a new lightweight frame and changes to colour and graphics which look great. Equipment levels are good, and fit and finish is excellent. Out of the box it took just a few adjustments to get the handlebars in position ready for the road.
What age child is the Cube 240 aimed at?
The fit of any bike depends on the height of a child rather than their age.  In our case we found it suitable for a child of 7 and 8 years, and with a low sloping top tube it's easy to clamber on and off without difficulty so good for legs that may not be the longest. The cube 240 does have room for growth though, which is comforting to know as bikes are not cheap items. I must admit to having put the seatpost up to maximum to bring it home from school one day when N was on a play date. So a six footer can ride it, even if he does look slightly silly!
What's the Cube 240 like to ride?
The bike made it's way by ferry to Ireland for the summer holidays, racked up on the roof with the other family bikes. Here the Cube 240 was used for road riding, tackling muddy tracks and even a few rides along some of the beaches on the east coast – fabulous!
View from the Sprog
On coming out of school, we often overhead exclamations of 'wow', cool bike', and 'love that' made by various groups of salivating kids. In the looks department, the Cube 240 is firmly rooted in the upper echelons – it really is a stunning design. But enough of my words, here's N's view of the bike:
'I really like the look of it because it has different colours on the white frame. It feels quick and is medium light in weight. There are lots of gears for hills, and the brakes work really well. The suspension seems quite hard at the moment. Maybe this will get softer the more it's used? All my friends like it'.
Components on the Cube 240

Brakes
The Cub 240 kids mountain bike comes equipped with traditional style v-brakes which do a good job of hauling the bike up from speed.  Some may think this is old technology, which it is when you have disc brakes everywhere these days, however on a kids bike they're cheap and easy to maintain and do a perfectly acceptable job for the majority of cases. If hydraulic disc brakes are needed, then the SL model comes ready equipped with a Tektro HDM 290 setup.
Gears
Shimano kit is the order of the day here with a 21-speed setup and importantly a huge 32 toothed sprocket on the back for when the going gets really tough. Shifting is performed by Shimano Revo Shift, which is a twist grip system and the front and rear dérailleurs come from the Shimano stable too.
In the past, N has found some twist grips to be difficult to actually twist, but the Revo Shift SL-RS45's fitted here haven't caused him any problems.

What size are the wheels?
The wheels and hubs are 24″ and are a Cube own branded product. They spin nicely and have coped well with what they've been asked to do in a variety of weather conditions. Tyres are Kenda Team Cube, and replacements can be picked up from a variety of retailers.
How heavy is it?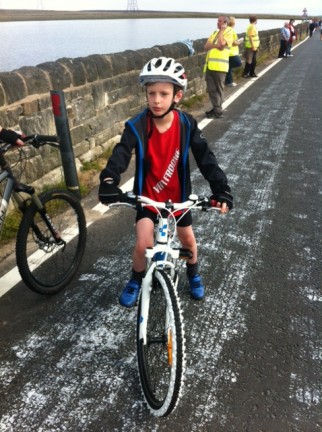 The new model comes in at 11.95 kg which is reasonable but isn't the lightest 24″ bike on the market. However, it does come equipped with suspension forks which do add weight. N isn't the largest or strongest boy so I do think the gearing on the Cube has been a tremendous help as he's tackled most hills that he's thrown himself at. For example, when the tour de France visited Yorkshire, we got up at 6am and climbed up Cragg Vale (the longest continual ascent in England) before the race came through, with the hill posing no great difficulty for N and the Cube.
So as a package, the components of the Cube 240 work well together and on the move it feels lighter than it is, however if you are looking for something lighter, the SL model comes in at 11.8kg, and with a variety of upgraded components is one for the racer in the family.
How much does the Cube 240 cost?
The price of the Cube 240 kids mountain bike is £629 for the top of the range SL model
Where can I buy a Cube 240 Kids Mountain Bike?
The 2014 and 2015 models can be bought from many outlets including Chain Reaction Cycles, Hargroves Cycles, and of course the Cube website.
Is the Cube 240 good value for money?
In terms of it's build quality and finish, the Cube 240 is a very well put together piece of kit. The paintwork has held up extremely well to knocks, spills and all weather conditions, and components are still operating as they should. Price wise it compares favourably with products from other quality manufacturers, so for someone prepared to pay for a high quality kids mountain bike it fits the bill. It feels like the kind of bike that when it's passed to a younger sibling or sold on, it will scrub up really well and look the part as well as performing as it should.
Cube 240 kids bike review – The verdict
A 'do it all bike' that is perfectly comfortable on the school run, due to the wide bars that give good stability and great visibility from the saddle, or out on the hills and trails carving through the dirt.
As kids mountain bikes should be, the Cube 240 has been designed to take proper punishment. N has used it everyday on the school run whatever the weather, and taken it through fields and down steep muddy tracks.
However, there is no doubt that it could handle whatever you wanted to throw at it with aplomb, as it's a robust piece of kit that's been designed to take on the worst and lap it up. A great bike!
Other posts you may be interested in: