Summer is here, and it's the perfect time of year to get out on the bike with the kids and enjoy the light evenings that we've been blessed with. More often than not the weather is usually kind, but let's not kid ourselves, the inevitable is going to happen at some stage.
We've been caught in a few showers of late when the blue skies have rapidly departed, leaving only a grumpy grey sky for the journey home from school (hot chocolate when you get home always seems to cheer everybody up!).
It's at times like these when you wish you'd packed a jacket for the kids, but as if by magic the people at Pere Performance have sent one over for review.
First impressions – Pere Performance kids rain jacket
The first thing you notice about the Pere Performance kids rain jacket is the colour, and secondly it's weight. Or should I say the lack of! It really is a featherweight, and so much so, that it won't make a jot of difference when stuffed in a rucksack. That is if you intend popping it into one, because a lovely little feature of this jacket is the ability to fold in on itself and be packed into the back pocket.
So what you might ask? That's not exactly a groundbreaking technical first. But hang on a minute, as this little number features a belt attachment that resides inside the pocket, and so you can pack the jacket into the pocket, belt it around your child's waist and off they go. No mess, no fuss, no need for a bag.
Taking a look around it, the jacket is definitely in the windproof camp, able to be donned rapidly when things get a little chilly, but also ready to repel a short, light shower should the need arise.
This sort of thing is a very versatile piece of kit due to it's size and weight, and as it's designed to be worn over other layers can be very useful on the school run or weekend ride.
The Detail

On seeing the rain jacket for the first time, I was intrigued by the colour choice as it's not the mellowest shade of green ever seen. However, once you get it outside and on the bike, the vibrancy of the colour really makes it stand out from the surroundings in an urban environment, which is good news as it can be picked out by other road users.
If you're off roading in a lush green environment, then the jacket blends much more into the surroundings, so you don't stand out like a sore thumb (it's just slightly harder to spot them as they ride off into the distance!)
So it's bright enough to be seen, but not as in your face as say a dayglo yellow; it's much more subtle than that, whilst still providing the visibility when you need it.
On the subject of visibility, there are reflective logo's fore and aft should you be out after dark. The one on the rear is situated fairly low down on the tail (which is nice and long to keep things dry in the bottom department), so should not be obscured if a rucksack is being worn.
The jacket is edged on the hem with a blue trim that carries through to the main zip and the three pockets, and is a great colour choice that really compliments the green fabric of the main body. On the subject of zips, N has managed to do up the main zip without assistance, and already has an assortment of coins and stones placed in the pockets. Just the sticks to add in now then!
The rear pocket has enough space for a snack or two, and the side pockets are deep enough for a child to put hands into should they be feeling a bit chilly and need to stop off somewhere for a quick warm.
One thing to be noted is that there is no zip garage to stop chafing from the closure on the neck and chin, however we have not had any complaints when it has been worn. It does have a nice high collar though, that keeps the neck protected from wind.
It's also had a work out on our journey to school, and as a result been one of the playground conversation topics, where the general consensus was that it was cool. Result.
What's it made from?
It's constructed from 100% Polyamide, which is a water resistant nylon fabric that is both ripstop and breathable.
The stitching on our test piece looked very good, with no stray threads anywhere to be seen.
Inside, it's the same story with nice soft edges to the panels of the jacket, such that you could wear it with little underneath and not get any rubbing.
How does it fit?
The jacket we had on test was designed to fit a child aged seven to eight years, however the range covers ages 5-6 up to 11-12 years.
The jacket is designed with a slim fit for the body and arms and this should minimise any rustling on the move, keeping them nice and streamlined when heading into wind.
Our tester is very tall and rangey for his age, with slim build and having just turned eight.
For him, there was just enough length in the sleeves to avoid any items of clothing underneath poking out and getting caught in any rain.
I you have a tall or large child, it would be worth checking out the 9-10 year jacket to see exactly what the difference is in size, in terms of length but also in width.
How well does it keep the rain out?
It's marketed as being 'showerproof', so we wouldn't expect it to fend off a downpour, but it should come into it's own as a jacket to pop on should you be caught out when a few drops of the wet stuff come down. We've used it on occasions such as this and it's performed well, with the water beading off the fabric nicely.
Anything heavier though, and the rain will make it's way through the stitching and zips as unlike a bulkier and heavier 'waterproof' jacket, where the seams are sealed against ingress, this one isn't because that's not the role it's designed for.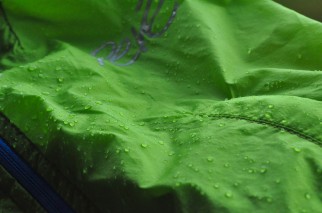 We were also impressed at how warm it kept N – he's rather sensitive to the cold (i.e. shivers and complains a lot) but the Pere Performance rain jacket kept him warm even on days where he'd usually demand a thin fleece top.
Verdict
All in all a well made, lightweight and easily stowable windproof jacket that will fend off a light shower and keep your young cyclist warm. Make sure you buy the correct size for your child.
Where can I buy the Pere Performance Kids Cycling Jacket?
The Pere Performance Rain Jacket has an RRP of £54 (although it's often on sale for much less) and is available from The Little Bike Company and Amazon.
Cycle Sprog were given this jacket for review by Pere Performance.