When V02 got in touch and asked if we'd like to review their Mr Face kids cycling jerseys I knew instantly that this was going to be a review that my boys would love. The moment that they saw Mr Happy smiling at them on screen, they were hooked. They spent a long time looking at each of the 6 characters available and deciding on their favourites.
Time seemed to stand still while they waited for the jersey's to arrive, but finally the day came when they returned from school to find the postman had been. The kind people at V02 sent us a selection of the jerseys which meant less squabbling, but added the agony of deciding which jersey would be theirs.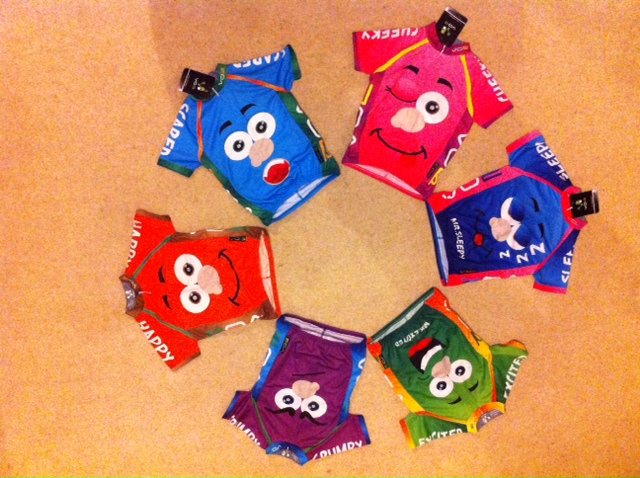 5 year old T settled on Mr Excited, because it was a green jersey, "and I'm going to be a sprinter like Mark Cavendish".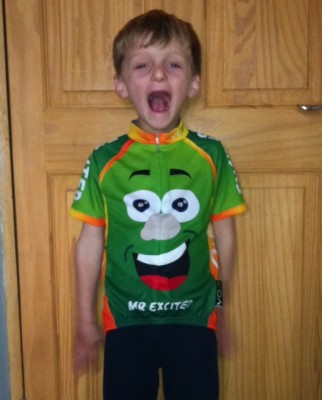 I'm SO excited – I just can't hide it! – T tries his Mr Excited cycling jersey on for the first time
7 year old N went for the Orange Mr Happy, his firm favourite from the start, and who can blame him? The purple Mr Grumpy went to another Cycle Sprog reviewer, 5 year old Tom, and Mr Sleepy to his 7 year old sister Alice.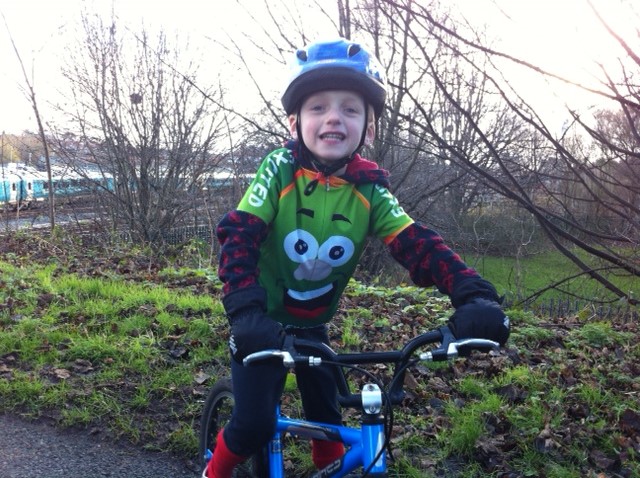 As the Mr Face cycling jersey's arrived at the start of winter, I thought it would be difficult to start reviewing them, but nothing was going to stop 5 year old T.
At every opportunity he was out in the garden, churning up our lawn on his bike whilst wearing his Mr Excited jersey.
We managed to get out on a number of family rides during the cold weather, during which he showed that there's no need to hide a jersey underneath layers (and speaks volumes about how much he loves this cycling top!)
As a result we've had a good chance to test out how durable the cycling jerseys are to washing and wear, albeit it often with thermals underneath, or fleeces on top.
V02 kids size cycling jersey's – quality and fit
The V02 Mr Face cycling jersey's have really impressed us with their quality. Despite lots of use, the zips remain in great condition, the fabric has stood up to machine washing, and they still look good as new. The zip is untaped so lies against the skin and I did wonder if this would cause any problems. I'm pleased to report this has not been the case, even for one of our reviewers who has very sensitive skin.
As with all good cycling jerseys, these are very snug. Having sent the measurements for our 7 year old to the nice folk at V02, they sent the 6-7 year old jerseys. The problem with kids is they grow SO fast, so what is a perfect fit one day, is too small the next. It was inevitable therefore that within a couple of months N was literally bursting out of Mr Happy and by the time Alice wanted to wear hers for a cycling holiday round Denmark it was out of the question. Thank goodness for younger siblings – the age 6-7 fit the five year olds well, and they are definitely going to get loads of wear out of them.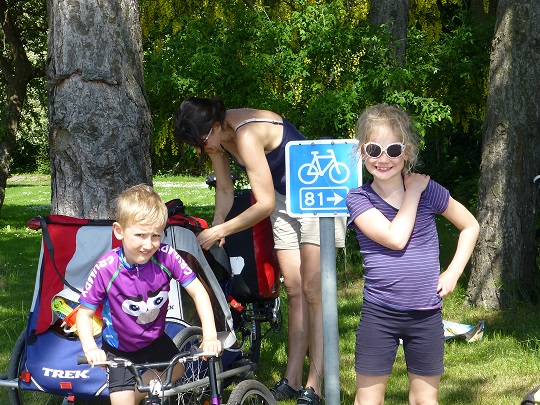 Alice wants to know if she can have the next size up please?
My advice would be to go for a larger size that allows your child to have some growth, and lets them wear a thermal top underneath during the winter. This is unless your kids are serious racers who need the aerodynamics of a tight fitting jersey to save crucial seconds. The alternative is having to deal with disappointment when they realise they can't wear their favourite jersey on the next bike ride.
Features of the V02 kids cycling jersey
The V02 Mr Face kids cycling jerseys have two elasticated rear pockets. Tom loved filling his Mr Grumpy jersey up with snacks during his tour of Denmark – declaring himself a "proper cyclist". The half way zip allows for a lot of posing, as budding members of the pelaton can show off their chests.
The VO2 moisture management fabric is the same that V02 use for their custom made cycling kit for adults, and is designed to wick sweat away from the skin whilst maintaining a high level of comfort. Tom wore his every day of his 10 day cycling tour of Denmark during warm May weather, and kept cool and comfortable throughout.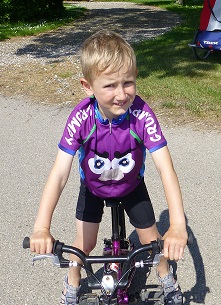 Another plus point is the fabric dries very quickly when washed – ideal when away on tour.
A kids size cycling jersey that's fun to wear
While parents are interested in quality, durability, comfort and cost when looking for a cycling top for their child, all this is immaterial if it won't get worn because there's a more favourable option (which in my experience is usually a totally inappropriate choice for the climate or destination).
No such problem with the Mr Face cycling jerseys. Your child will either love them or hate them instantly.
If, as with all our reviewers, it's love at first sight, you'll be pestered to go on bike rides at every opportunity, and faced with them wearing their cycling jersey when they'd be better off wearing something else!

What better way to encourage a life long love of cycling?
What faces can I get on the kids cycling jerseys?
The following characters are available: Mr Happy (Orange), Mr Sleepy (dark blue), Mr Scared (light blue), Mr Cheeky (pink), Mr Excited (Green), and Mr Grumpy (purple).
Each design comes with a motivational slogan on the back – for example Mr Grumpy's is "Pain is temporary, pride is forever" – which can be a useful reminder on the homeward stretch.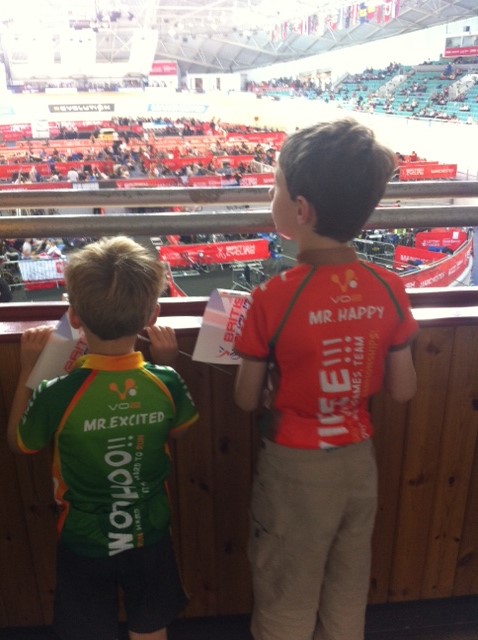 My one small disappointment with the Mr Excited cycling jersey was it says "Run hard when it's hard to run", which seemed to me more appropriate for a running vest than a cycling jersey, but this certainly didn't bother my 5 year old.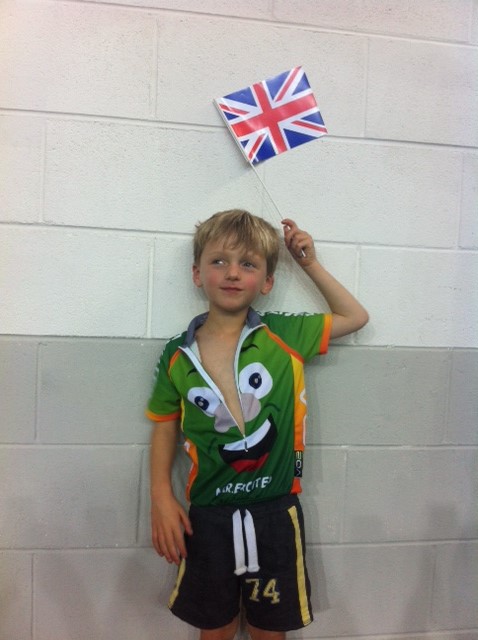 The main problem, however, with the Mr Face cycling jerseys is that they only come in kids sizes. When N and T wore theirs to see the World Cup Cycling at Manchester velodrome, we lost count of the number of adults who smiled at the boys, and then commented that they wanted one. Something for V02 to take note of?
Mr Face cycling jersey review: the final verdict
A high quality kids cycling top, that's fun to wear and also fits well. Get it in a slightly larger size and children can wear a thermal underneath it, which means you get more wear out of it. Washes and dries quickly.
Where to buy the V02 Mr Face children's size cycling jerseys
The Mr Face cycling jersey's are sadly now discontinued, but you could check Ebay to see if anyone is selling one secondhand.
Cycle Sprog were provided with the Mr Face children's sized cycling jerseys for review by V02 – one of the UK's leading suppliers of bespoke designed, top-quality activewear for athletes and amateurs.
Other articles you may want to check out whilst you're here:
If you've enjoyed reading this article, please do sign up for our newsletter - we'll keep up updated when we have new articles which may be of interest. Thanks!