Woom Bikes are a new entrant to the UK kids bike market, with a range of some of the lightest kids bikes available.
They're sold in the UK exclusively from The Little Bike Company, who sent us the smallest pedal bike, the 14″ wheel Woom 2, to review.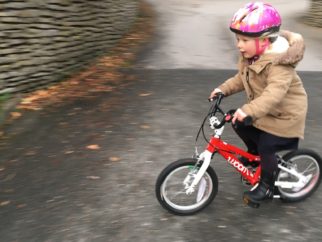 Who are Woom Bikes?
Woom Bikes are an Austrian company who specialise in making high quality, lightweight kids bikes. The company was co-founded by bike designer Christian Bezdeka and marketeer Marcus Ihlenfeld when they both started looking for bikes for their own children and were dismayed at the lack of high quality, lightweight options available. In 2013 the pair built their first Woom bike in Marcus's garage in Vienna, and since then they've grown into a company manufacturing all sizes of kids bikes, from balance bikes (the Woom 1) through to 26″ wheel bikes (Woom 6).
The Woom 2 kids bike
The Woom 2 is a 14″ wheel starter bike, aimed at children with a 38-49cm inner leg measurement (this will be roughly between the ages of 3 and 6 depending on the child).
The frame and forks on the Woom 2 are made of very light aluminium tubing (6061) and all the components are designed to be age specific. It weights in at just 5.2kg, making it one of the lightest 14″ wheel bikes around.  The Woom 2 is available in 4 colours (red, blue, green or yellow) and retails at £260.
A little bit about Jessica – our Woom 2 reviewer
Jessica is 4 years old. She has an older sister Katherine who is 6. Jessica usually gets Katherine's 'hand me downs' in terms of bikes. But not on this occasion!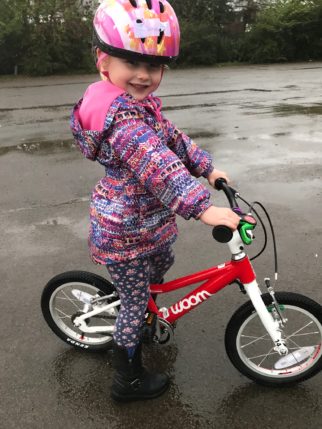 Jessica's past experience has been on a balance bike followed by a 12" girls princess bike.
Both Jessica and Katherine love their bikes and scooters and they cycle to school every day together.
Jessica has been attending her local Go-Ride club on her Princess Bike for two terms.   The Woom 2 was her first time riding a lighter weight kids bike with child sized components.
Woom 2 14″ kids bike review
We asked Jessica to ride the Woom 2 as much as possible for a couple of months. Here her Dad gives us the lowdown on how she got on.
What's the Woom 2 like for a 4 year old to ride?
The Woom 2 is lightweight and Jessica has had no problems at all riding it.  The ease at which she settled into a new riding experience has been delightful for us as parents to watch. The bike was an instant success.
No longer does she struggle to keep up with her older sister, who rides a "cupcake" bike.  Jessica now has the skill and confidence to keep up with her and sometimes beats her! 
Mum has caught the bug too, seeing Jessica come on in leaps and bounds in such a short time, and we are riding a lot more as a family now.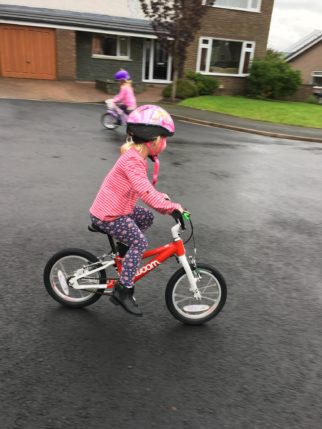 Is there a significant difference between the Woom 2 and her previous bike?
Yes! Jessica has been going to her local Go-Ride cycle club for several months, and she's been struggling to keep up on her princess bike with other children on lighter bikes. 
The lighter weight and flexibility of the ride has made a huge difference to Jessica's confidence, and the security of the brakes is also a significant factor. 
She will now try things she's learnt at Go-Ride that she couldn't or wouldn't attempt on her old bike, such as this exercise: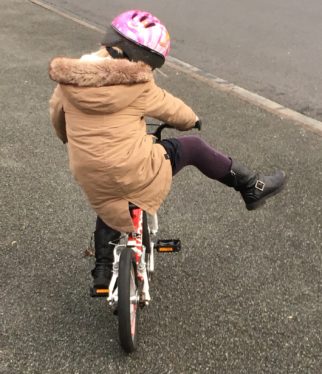 We thought she might want additions like baskets but she has not commented or asked for anything further. She looks forward to riding her bike every day and is always disappointed if she can't.
Cycle Sprog were loaned the Woom 2 bike for the duration of the review by The Little Bike Company. 
Other posts you may find useful:
If you've found this review interesting, then please follow Cycle Sprog on Facebook, or sign up for our newsletter.