Woom Bikes are a new entrant to the UK kids bike market, with a range of some of the lightest kids bikes available.
They're sold in the UK exclusively from The Little Bike Company, who sent us the smallest pedal bike, the 14″ wheel Woom 2, to review.
Affiliate disclosure: Cycle Sprog may get a small commission if you make a purchase from the links in this post. For more information please see our affiliate policy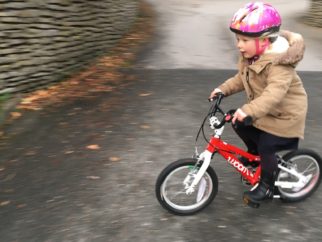 Who are Woom Bikes?
Woom Bikes are an Austrian company who specialise in making high quality, lightweight kids bikes.
The company was co-founded by bike designer Christian Bezdeka and marketeer Marcus Ihlenfeld when they both started looking for bikes for their own children and were dismayed at the lack of high quality, lightweight options available.
In 2013 the pair built their first Woom bike in Marcus's garage in Vienna, and since then they've grown into a company manufacturing all sizes of kids bikes, from balance bikes (the Woom 1) through to 26″ wheel bikes (Woom 6).
The Woom 2 kids bike
The Woom 2 is a 14″ wheel starter bike, aimed at children with a 38-49cm inner leg measurement (this will be roughly between the ages of 3 and 6 depending on the child).
The frame and forks on the Woom 2 are made of very light aluminium tubing (6061) and all the components are designed to be age specific. It weights in at just 5.2kg, making it one of the lightest 14″ wheel bikes around.  The Woom 2 is available in 4 colours (red, blue, green or yellow) and retails at £320.
A little bit about Jessica – our Woom 2 reviewer
Jessica is 4 years old. She has an older sister Katherine who is 6. Jessica usually gets Katherine's 'hand me downs' in terms of bikes. But not on this occasion!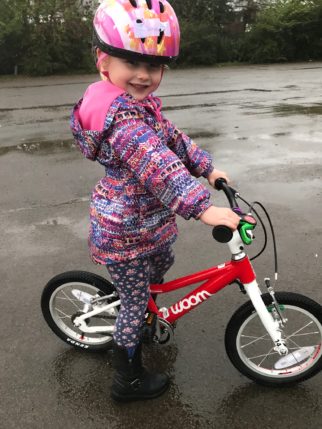 Jessica's past experience has been on a balance bike followed by a 12" girls princess bike.
Both Jessica and Katherine love their bikes and scooters and they cycle to school every day together.
Jessica has been attending her local Go-Ride club on her Princess Bike for two terms.   The Woom 2 was her first time riding a lighter weight kids bike with child sized components.
Woom 2 14″ kids bike review
We asked Jessica to ride the Woom 2 as much as possible for a couple of months. Here her Dad gives us the lowdown on how she got on.
What's the Woom 2 like for a 4 year old to ride?
The Woom 2 is lightweight and Jessica has had no problems at all riding it.  The ease at which she settled into a new riding experience has been delightful for us as parents to watch. The bike was an instant success.
No longer does she struggle to keep up with her older sister, who rides a "cupcake" bike.  Jessica now has the skill and confidence to keep up with her and sometimes beats her!
Mum has caught the bug too, seeing Jessica come on in leaps and bounds in such a short time, and we are riding a lot more as a family now.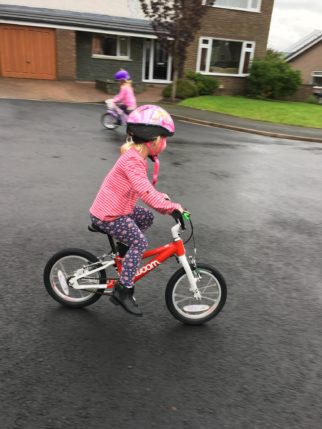 Is there a significant difference between the Woom 2 and her previous bike?
Yes! Jessica has been going to her local Go-Ride cycle club for several months, and she's been struggling to keep up on her princess bike with other children on lighter bikes.
The lighter weight and flexibility of the ride has made a huge difference to Jessica's confidence, and the security of the brakes is also a significant factor.
She will now try things she's learnt at Go-Ride that she couldn't or wouldn't attempt on her old bike, such as this exercise: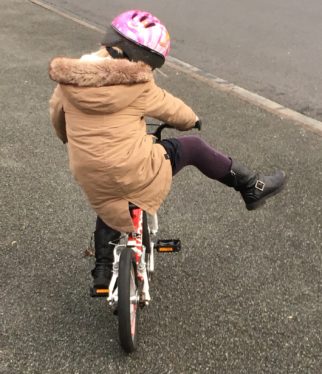 We thought she might want additions like baskets but she has not commented or asked for anything further. She looks forward to riding her bike every day and is always disappointed if she can't.
How good are the brakes on the Woom 2?
The brakes are one of the best features on the bike.  Jessica has small hands and the child proportioned brake levers are well within reach.
The control she is able to bring to her riding using the mini V-brakes to slow down or stop has increased her confidence.
They've also meant that as parents we feel much more confident that she'll be able to stop in an emergency.   There was a squeaking noise from the brakes after using the bike in wet weather but they still work perfectly well.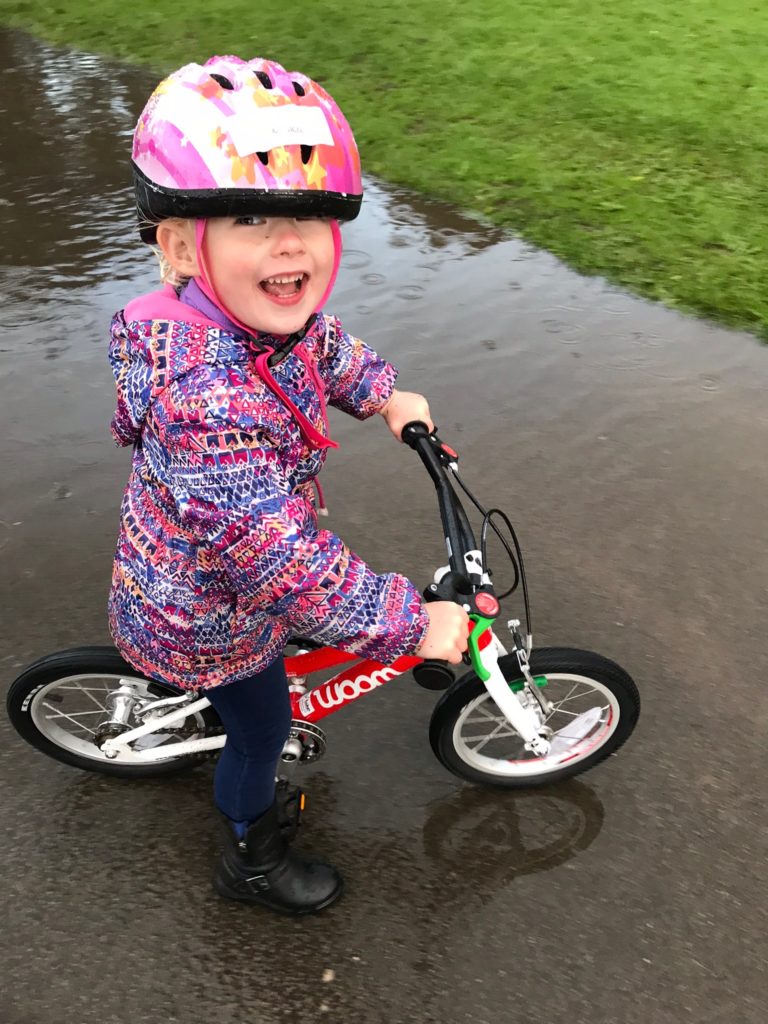 The front brake pad and the corresponding right hand lever are both colour coded green, whilst the rear brake pad and left hand lever are black.
This could be helpful for children learning to brake for the first time.
How comfortable is the Woom 2 to ride?
The saddle is child proportioned and is a good size and fit. Jessica is happy to ride the bike for prolonged periods of over an hour and has never complained of discomfort.
The longer rides involved riding up and down hills (she said downhill is more fun – reflecting her confidence in the brakes).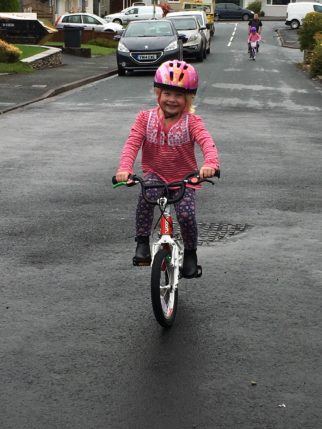 How easy is it for Jessica to lift and manoeuvre the bike?
One of the best features is the lightness of the bike – the frame is made from A-6061 aluminium, which is significantly lighter than the heavy steel frame of her princess bike.
For us as parents, we often have to lift the bikes into the car, and we can pick it up with ease.
For Jessica, as the Woom 2 is much lighter than her previous bike, the differences can be seen in the rapid improvements in her cycling skills and confidence.
She can now turn and manoeuvre much more easily. She can also lift the bike up by herself, as this picture shows: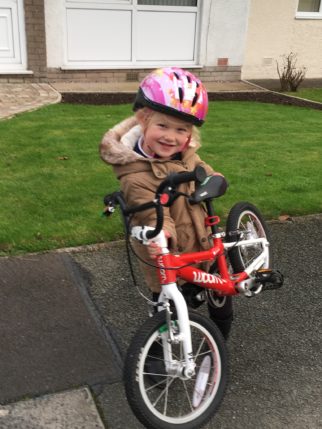 How does the bike handle on different terrains?
Jessica has been riding the Woom 2 daily to school along solid pavements and paths, in all weather conditions.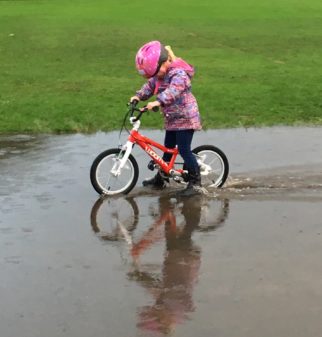 It has also been ridden on grass too, and the Kenda small block 1.5″ x 14 tyres have handled both solid and grass surfaces with ease compared to other bikes in the family.
She hasn't ridden it on gravel or rock surfaces, and we may consider fitting more grippy off-road tyres if Jessica showed an interest in that type of cycling.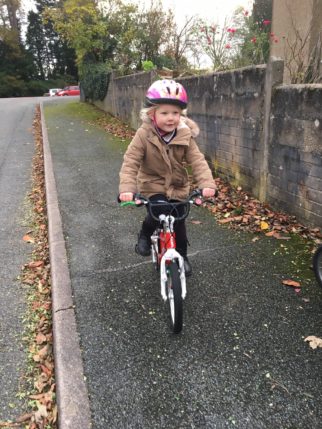 Have you had any issues with the performance of the bike during the review period?
No, it does the job every day with no maintenance required as yet.
Our review Woom bike came fitted with a kickstand, but Jessica has never used hers (I suspect they are more popular with parents storing the bike, than with kids)
Editors update:  The Woom 2 came fitted with a kickstand as standard until 2018.  Now they are available to purchase separately.
Mudguards would be useful for wet/muddy conditions, especially if used daily for school run. There are fittings on the bike for mudguards, and Woom do make a specific one to fit the bike.
What was Jessica's verdict on the bike?
Jessica loves the fact she can now beat her older sister. She can get up hills much easier and we all appreciate this. One unexpected benefit of the bike is that breakfast times are easier and quicker as we just use the threat that she won't be allowed to ride her bike to school!!
Every day we can hear her say "wwwweeeeeeeee" as she rides down the hills with a great big smile on her face.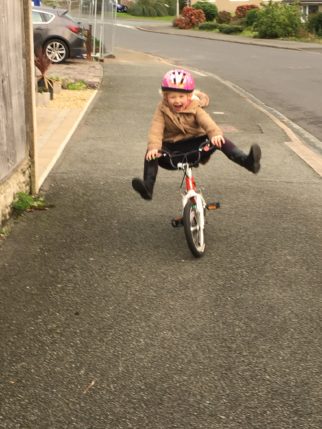 Would you recommend the Woom 2 14″ wheel bike to other parents?
Yes – we would recommend the Woom 2, certainly for this age group and riding on regular surfaces on a daily basis. It's a super lightweight bike, flexible and very easy to ride and maintain.
It looks good on the eye with modern styling that does not look out of place in a crowd of more established brands.
However, there is one important consideration, which is the resale value.  Woom are a new name entering the quality kids bike market dominated by a couple of names.
With no history of resale values, you are taking slightly more of a risk in this respect. However, we've had other parents asking us about the bike, making positive comments on the Woom's appearance and lightness, and noting Jessica's ability on the bike.
This would definitely all help us to find a buyer locally were we to be selling the bike on. The bike, and the fact it is that little bit different from the usual kids bikes, would probably help it sell itself.
Cycle Sprog's technical review of the Woom 2
If you'd like to know more about our opinion of the technical specification of the Woom 2, then we've made this short video that looks in detail at each aspect of the bike:
Editors Note:  Since this video was made the Woom 2 specification has changed slightly. The kickstand is now an optional extra, and the seat post is now a fixed bolt rather than quick release.
Where to buy the Woom 2 14″ wheel kids bike
The Little Bike Company are the importers of Woom Bikes in the UK.  They have a shop in Berkhamstead, and also sell online for those of you not close enough to pay a visit.
Buy Now
Cycle Sprog were loaned the Woom 2 bike for the duration of the review by The Little Bike Company. 
Other posts you may find useful:
If you've found this review interesting, then please follow Cycle Sprog on Facebook, or sign up for our newsletter.