A new kids race bike has been launched by Forme Bikes and kidsracing.co.uk. The Forme Calver Junior Pro 700c has been a joint project between the bike manufacture and the specialist kids cycle racing suppliers, with the aim to develop the most advanced children's race bike yet.
The Forme Calver Junior Pro 700c, when built with the correct HUPcc child-specific components, will give junior riders the benefit of a lightweight, elite level frameset, powerful disc brakes, thru-axles with replaceable dropouts, internal cabling and a low standover. This allows younger riders to use lightweight 700c wheelsets.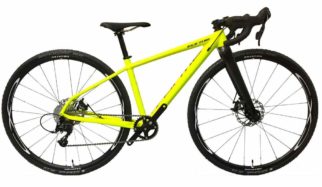 The XXS 38cm frame weighs just 1.1kg and is sized for U8, U10 and U12 riders aged between about 7 years old through to 11 years of age, due to its low standover and short top-tube of 49cm.
The bikes have been designed from the ground up to fit small riders properly, specified with HUPcc rider-sized compact drop, short reach and narrow handlebars, short stem, positive-offset rotary seat post, short-reach shifters and narrow Q-factor, short cranks with the right gearing options for kids. The underside of the top-tube has been flattened for shouldering the bike over obstacles.
With the lifting of the ban on disc brakes in British Cycling road racing events, a swap of tyres means that the Calver Junior Pro 700c can also be used for the road, although its worth noting this is a race bike, not a touring bike as there are no mudguard eyelets or pannier rack mounts.
The Calver Junior Pro 700c is suitable for both Drop Bar builds for Road, Triathlon and Cyclocross racing or flat bar builds for MTB XC, Triathlon and Cyclocross events.
Kid Racing can supply as a frameset, in self-build kit form (for £545) or as a fully built race-ready bike, (from £1,399) with components specified to fit each rider correctly, geared for their chosen discipline with 10-speed, 11-speed with British Cycling or British triathlon age group gearing, cyclocross specific gearing or hillclimb gearing – using correct short-reach components throughout. The bike is available now for pre-order direct from Kids Racing and stock should be available during September 2018.
Other articles you may find useful: