Disused railway lines are a great place for family cycling – they provide a safe traffic free environment for your kids. They don't usually have any excessive gradients, so can be managed on small bikes with no gears. In West Yorkshire there are a plethora of disused railway lines so we decided to go for an explore to see where they would take us. We've ridden three so far – the Wetherby Railway Path, The Linesway and the Spen Valley Greenway. This is how we got on.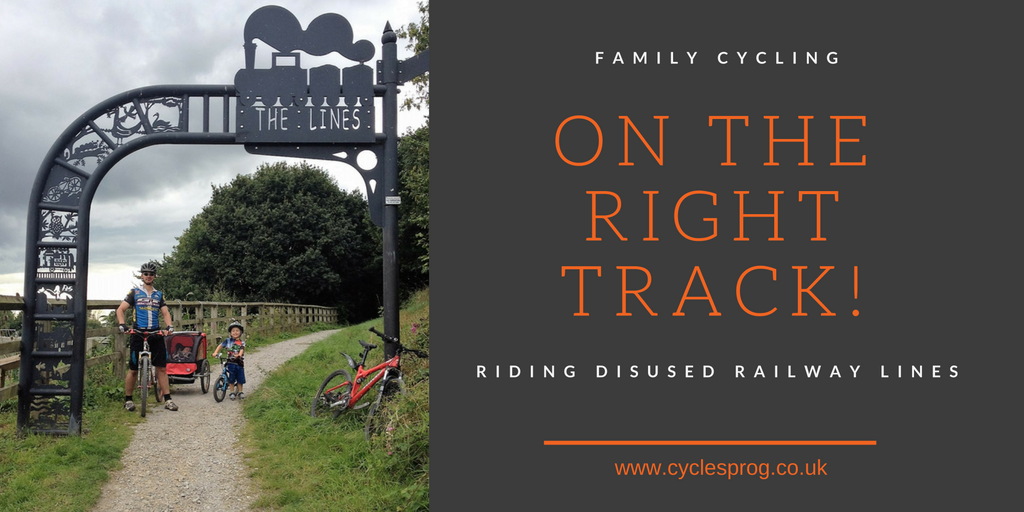 Cycling the Wetherby Railway Path, West Yorkshire
Firstly we tried the Wetherby Railway Path which runs for only 2.7 miles on gravel track between Spofforth and Wetherby, making it a great introduction for new riders. We started our journey at Spofforth where there is a small free car park off East Park Road adjacent to a lovely children's playground.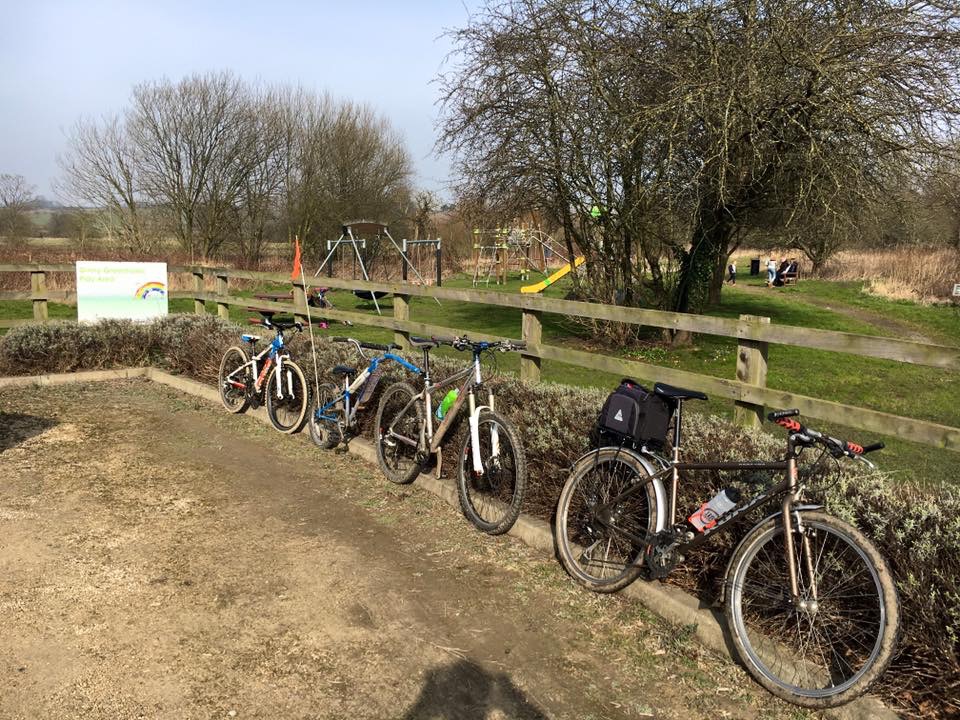 The route finishes on the outskirts of Wetherby. A short walk into town (busy main road alert) takes you to a variety of cafes, or you can head down to the river of an ice cream. There are public toilets in the town centre on The Shambles near the market place.
After a section on road through Wetherby there is a further off road route to Thorpe Arch which we have yet to try.
I recommended this route to friends who are keen road cyclists. They have two girls aged 5 and 8 but had not ventured out on a family ride together before. His response was just what I wanted – "I had what was probably one of the best days out on a bike, which is a big statement as I've ridden for 20 years all over the world and raced for a few years too". It's such a great feeling getting out and sharing your love of cycling with your kids!
The Linesway – a not so trailer friendly cycle route
In pursuit of extending our mileage we tried the Linesway – a 4 mile route between Allerton Bywater and Garforth on a mixture of gravel track and tarmaced path.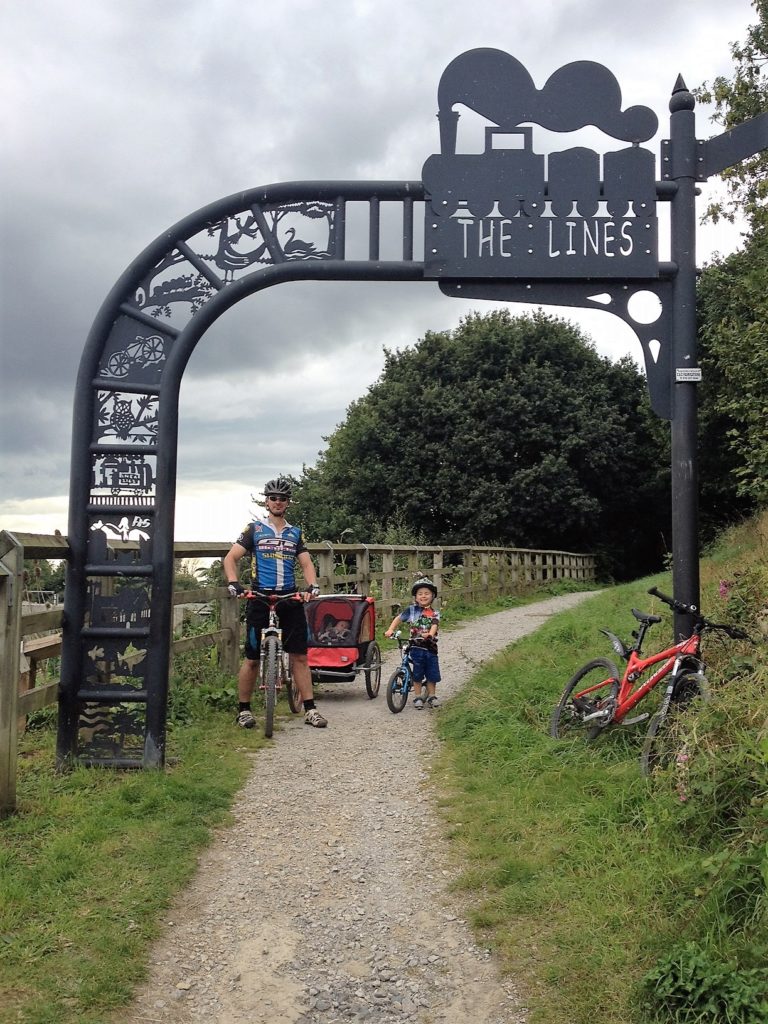 We parked on street in the centre of Allerton Bywater near the children's playground. There are numerous barriers on route which does not make this a suitable route for a double trailer.
We had a few "comedy" moments trying to squeeze the trailer through a couple of these. There are no facilities, cafes or toilets en-route so be prepared with your own snacks, drinks etc.
Spen Valley Greenway – a great family cycling route
Our most recent adventure was the Spen Valley Greenway – a 7 mile off road route between Dewsbury and the outskirts of Bradford. This is a fun route on tarmac track with plenty of points of interest and sculptures to keep the children's interest. We parked at Dewsbury Country Park which provides ample free parking.
After a short ride along a quiet road we joined the trail. The series of sculptures and features made out of old industrial equipment, including a flock of sheep and a man's face, provided motivation to keep pedalling.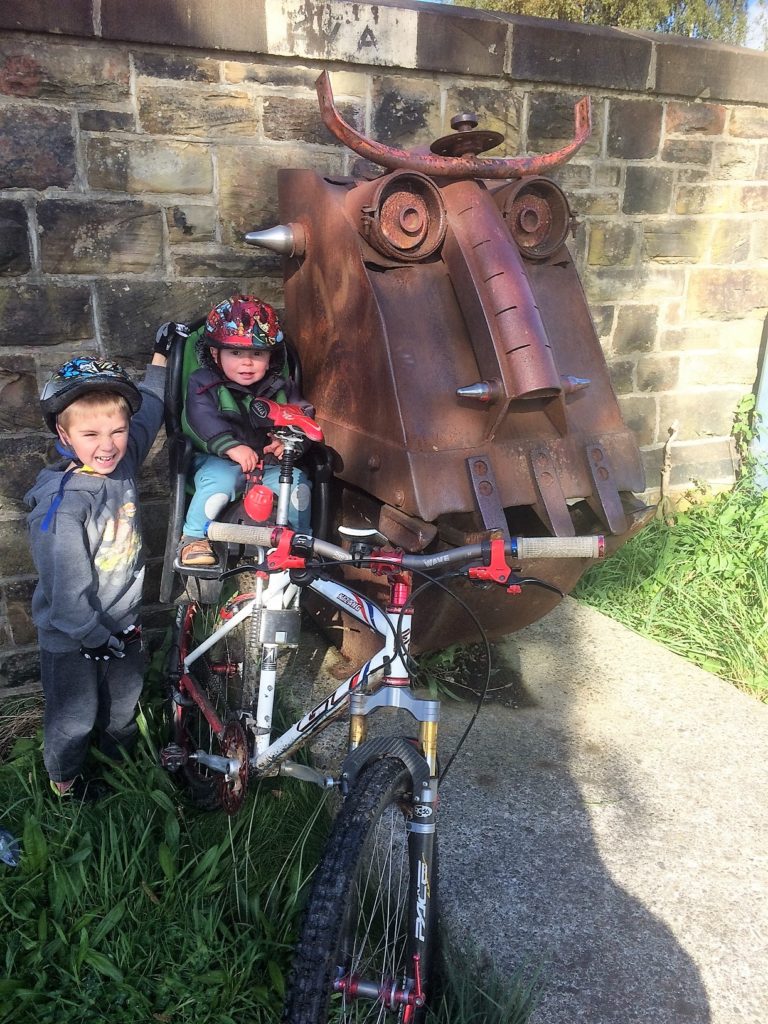 A circle of hoops to ride through provided entertainment as we chased each other round in circles.
For the more adventurous there are several short sections of singletrack running parallel to the main route which produced many shouts of glee as Angus splashed through muddy puddles and shot down lumps and bumps.
Milepost café is located on the route at Liversedge. This is meant to be open 7 days a week but unfortunately due to unforeseen circumstances it was closed the day we went past so we can't vouch for the quality of the cakes. Luckily there is a Tesco located adjacent to the route at Cleckheaton if you need to stop for supplies. Unfortunately there are no public toilets enroute, not even at Tesco or Dewsbury Country Park.
We recommend starting at Dewsbury as it is generally downhill all the way back from Bradford which makes a difference when the little ones have tired legs after an epic adventure.
Cycling the disused railways of West Yorkshire
All these routes along disused railway lines in West Yorkshire are flat and great for young cyclists who can't yet cope with hills or trafficked roads. All are there-and-back routes, meaning you can decide the best time to turn back – or cycle the entire 14 miles there and back (on the Spen Valley Greenway) if you're feeling energetic!
Next we're going to be heading out to explore the disused railways of North Yorkshire, so keep an eye out for my next post. You may also like my previous post on the Room on the Broom Trail at Anglers Country Park near Wakefield.
About the Author: Emma Young is a mum of two children and a transport planner, promoting sustainable transport. As well as being a guest blogger for Cycle Sprog she also runs the Child Friendly Bike Rides in Yorkshire Facebook Group.
Here are some routes that Emma has ridden with her children: