On a family bike ride it's always great to have something to keep small children entertained. What better than hunting for witches and pixies? Perhaps only combining it with the classic book "Room on a Broom", by Julia Donaldson! Mum of two Emma enjoyed such an adventure this summer, and got some brilliant family cycling at Anglers Country Park near Wakefield West Yorkshire done as well. Here's how she and her family got on.
Room on a Broom Trail at Anglers Country Park
"On a warm sunny day in August we thought we would go on an adventure to find witches and pixies on our bikes, so we headed off the Anglers Country Park near Wakefield, West Yorkshire . We started off searching for witches and other creatures on the Room on the Broom trail, a 2 mile route round a reservoir.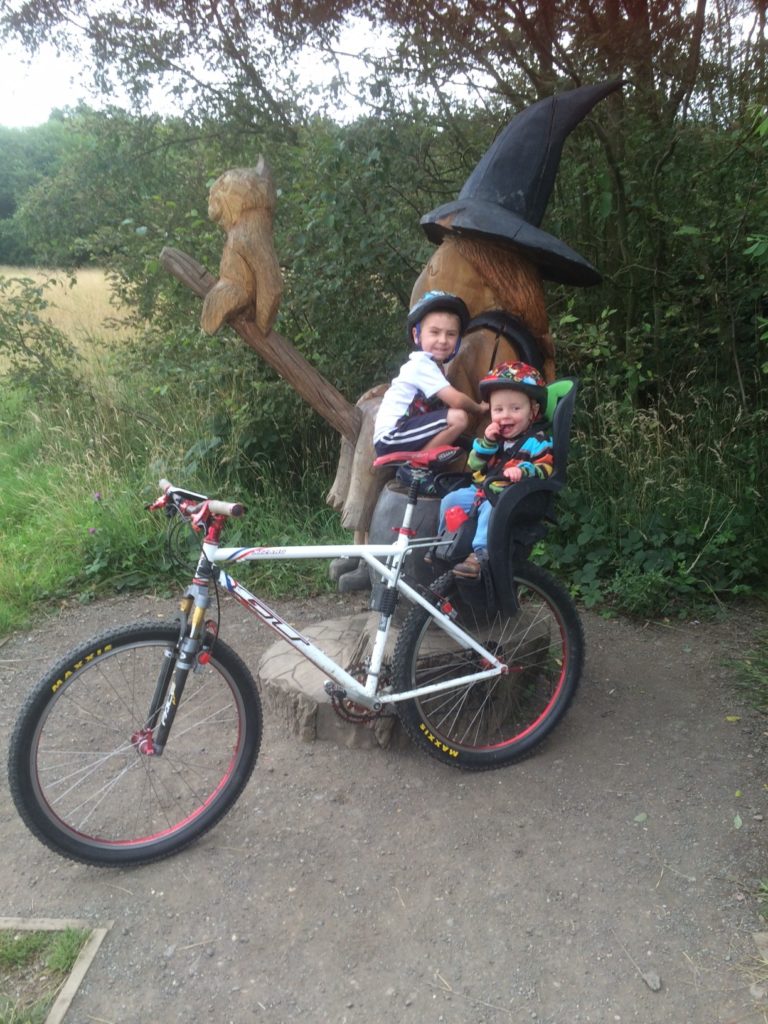 The Room on the Broom route at Anglers Country Park is great for children who have just learnt to ride a bike as it is nice and flat and completely traffic free. We first did this route with our eldest, Angus, when he was 3 and was just starting out on his first pedal bike. The Anglers County Park has a free car park. To start the trail you need to head to the Visitors Centre. You can pick up an activity pack for £2 – it's full of fun activities for the kids, although this is not essential to enjoy the route. The route then heads towards the reservoir where you will come across the first of many beautiful sculptures on the route.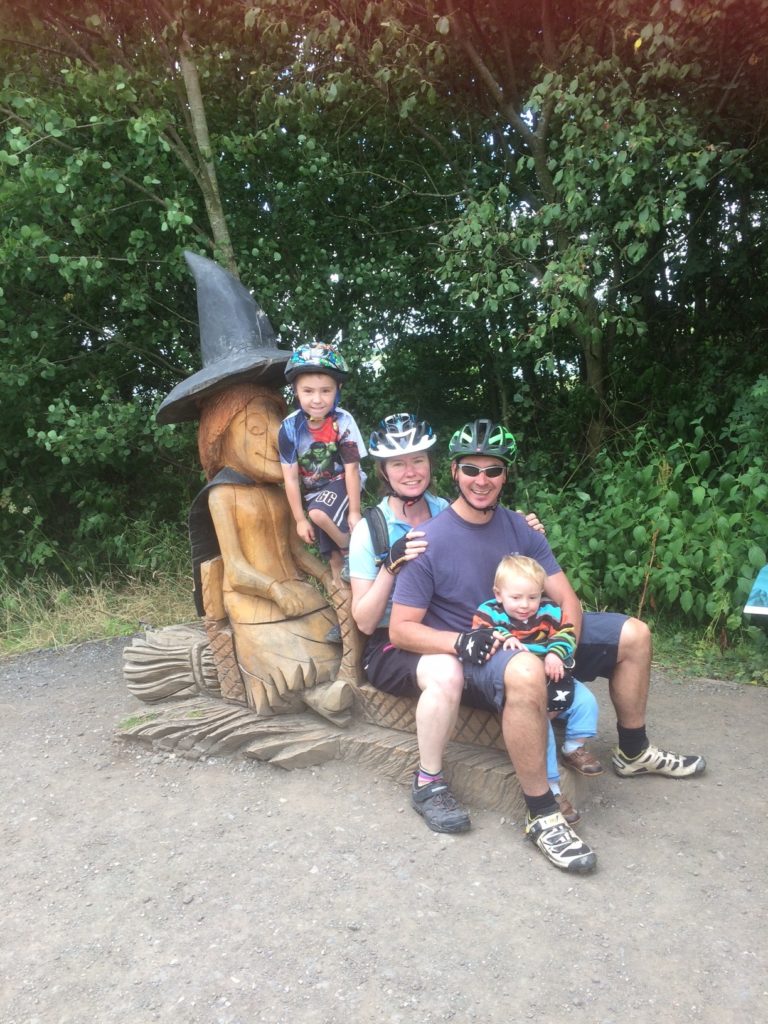 A word of warning – when the path splits keep bearing right and go round the reservoir in an anti- clockwise direction so that you can follow the story in the correct sequence. First time we did, we did the bike ride wrong way round so started at the end of the story! En route there are a series of sculptures, animal footprints, brass rubbings and various activities to do. The sculptures provide a good incentive to keep on cycling. The only down side is if your children are anything like ours, you will have to get off your bikes and take a photo with each of the sculptures!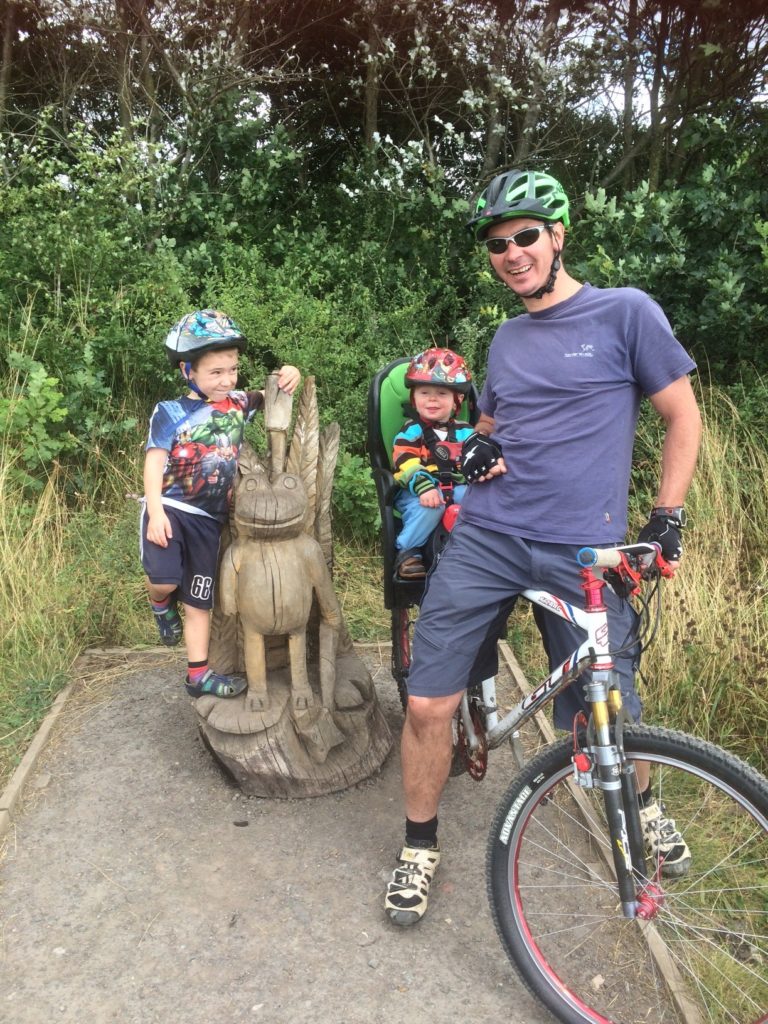 On completing the route we made use of the facilities at the Anglers County Park Visitors Centre including café, toilets and adventure playground.
Pixie Village at Haw Park Wood
After we'd rested and refuelled we decided to go in search of the pixie village, that local legends says is in the adjacent Haw Park Wood . Setting off on our bikes again we headed back through the car park and the main entrance and headed right down a very quiet lane. We entered the woods with no specific route in mind and went in search of some little wooden doors in the base of the trees. Various maps located around Haw Park Wood assisted us with our navigation (alternatively you can purchase cycle maps at the visitors centre for £2 which covers all the cycle routes in Wakefield). We headed down a hill which did mean there was a bit of a climb back on our return, therefore bikes with gears are definitely recommended – even with gears Angus, now 4, still needed a bit of a shove up the hill. After finding our way back to the entrance of the wood without finding the pixie village we returned back to the Anglers County Park car park with another 4.5 miles of cycling done – result! Do let me know if you manage to find the pixie village. With plenty of traffic free routes starting from here we will definitely be back for another adventure. Who knows where we will get to next time, how about Nostell Priory or New Millerdam?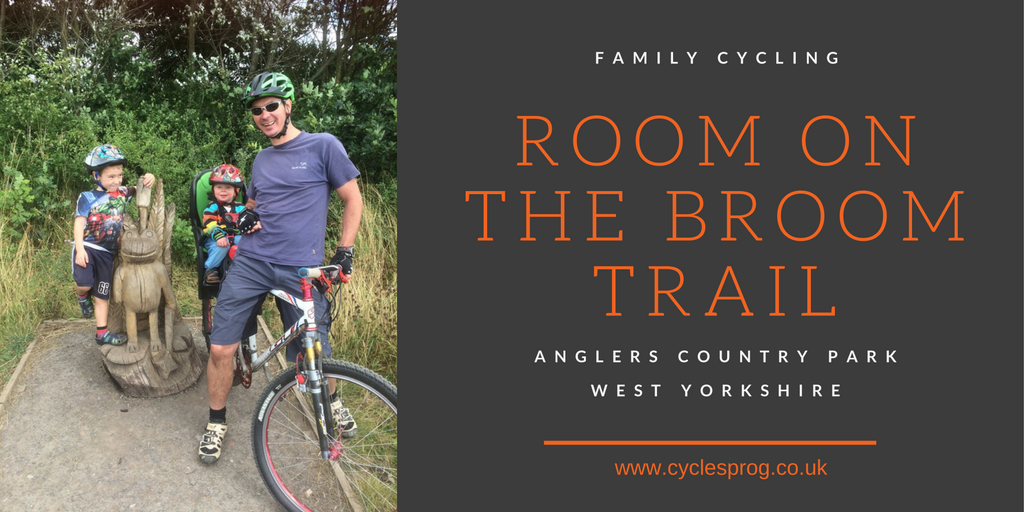 About the Author: Emma Young is a mum of two children and a transport planner, promoting sustainable transport. As well as being a guest blogger for Cycle Sprog she also runs the Child Friendly Bike Rides in Yorkshire Facebook Group. Here are some routes that Emma has ridden with her children,and events they've been t0:
If you've enjoyed this post, please do share it with your friends, and follow Cycle Sprog on Facebook so you know when we have more great routes to share If you have a great family cycling route you'd like to share on Cycle Sprog, do please get in touch.