This weekend saw the inaugural Cycling Expo Yorkshire take place at the Great Yorkshire Showground, Harrogate, Mum of 2 (and regular Cycle Sprog contributor) Emma, took her two young sons along. Here's how they got on.
Taking kids to the 2018 Cycle Expo Yorkshire
Having been to the Cycle Show at the NEC in Birmingham for the first time this year with our two boys (aged 3 and 7) we were intrigued as to how the inaugural Cycle Expo Yorkshire would compare and whether it would be as entertaining for the children.
In eager anticipation, we got there as the doors opened. Before we got into the main hall we could see an off-road track had been set up through the woods and that the Little Rippers had brought some Sender ramps with them. Unfortunately due to Storm Callum, the outside activities had to be suspended so we made our way into the Exhibition Halls.
Our first impression was that it was a lot smaller than the Cycle Show at the NEC. However, this is not necessarily a bad thing when you are there with two young boys as it was a lot less daunting and I was less worried about losing them.
Testing kids bikes at the Cycling Expo Yorkshire
The boys made their way straight to Hall 2 where a couple of test tracks were set up. Our eldest spotted some electric trial bikes from Oset bikes he wanted to try. Unfortunately, they didn't have one small enough for our youngest, although they did say that they could start competing from the age of four. After a brief description of how they worked, he was off and really enjoyed the experience but did find it quite tiring. The point of these bikes is not to go fast but to practice balance skills.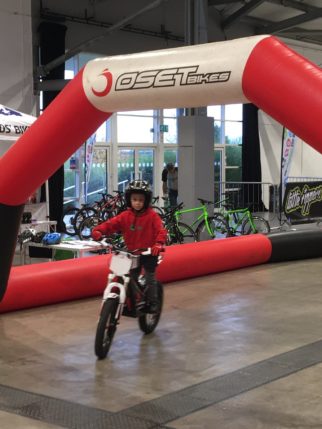 Also in Hall 2 were the team from Little Rippers who had taken shelter and had brought a fleet of demo bikes from Frog and a team from insync bikes who had brought their new DeNovo range of kids bikes.
The boys were fitted with a couple of bikes by two Team GB up and coming cyclists Vicky Williamson and Blaine Ridge-Davis assisted by Shanaze Reade.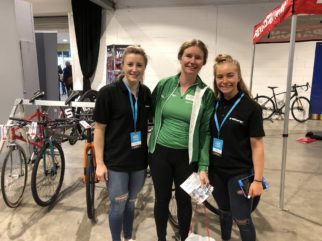 The boys loved whizzing round the test track which extended outside of Hall 2 with an optional hill to test the bikes to their full potential.
We then went to watch some of the UK BMX flatlands championships and Jack Carthy the UCI World Cup Champion showing us his awe-inspiring mountain bike trial skills alongside. I was worried that the boys would be picking up ideas for new tricks!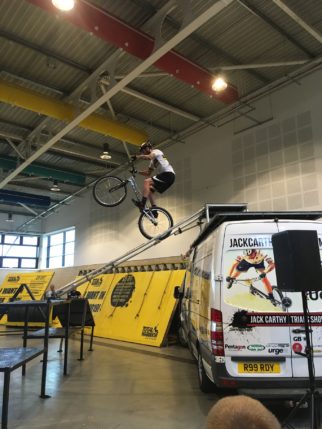 Throughout the day were a series of sofa sessions that involved Guy Kesteven (freelance writer and one of the UK's leading bike testers from Bike Radar, MBUK and Cycling Plus magazines) interviewing various people including Shanaze Reade, Lizzie Deignan and Ruby Isaac (the star of Little Big Shots). Here's a video of Ruby:
These we only short interviews of 15 minutes so were short enough to keep the children's attention. He asked questions about how and when they started cycling which provided inspiration to the younger members of the audience.
To burn off more energy the boys took part in some run races on balance bikes hosted by a team from British Cycling – Go Ride.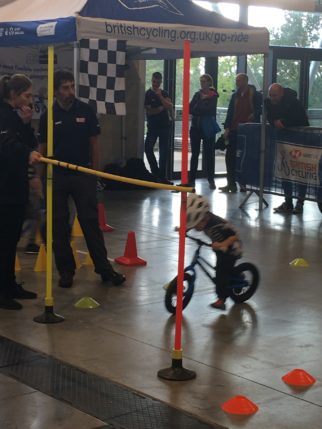 These races got quite competitive. Some of the older children, who had long outgrown balance bikes, seemed to particularly enjoy the races.
All children were rewarded with a medal and had chance to stand on the winners podium.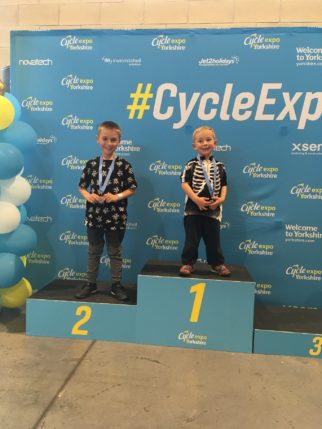 The boys were intrigued by the range of bikes in the Inclusivity Zone which included bikes from Get Cycling and ICE trikes.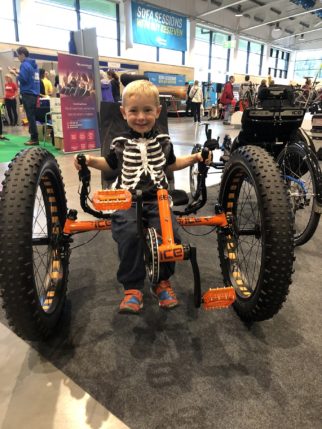 Our eldest got chance to ride a recumbent trike whilst they both loved being ridden around the test track.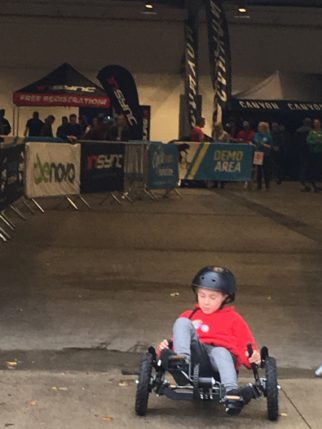 Cycling Expo Yorkshire with kids – the final verdict
With adult tickets a similar price to the adult tickets for the Cycle Show at the NEC, the Cycle Expo Yorkshire provided less value for money but certainly felt less daunting to visit with young children. However, the concept was for a more interactive show with more opportunities to ride bikes which was unfortunately hampered by the bad weather.
As this was the inaugural Cycle Expo Yorkshire it was a very enjoyable day out and hopefully, some lessons have been learnt for next years expo which is programmed to coincide with UCI Road World Championships on 21st to 23rd September. I'm looking forward to something bigger and better next year!
Other posts from Emma you should check out now: