If you're looking for a balance bike for your child the choice can be a bit overwhelming as there are just so many makes, models and sizes out there.
How can you be certain that you're picking the best balance bike for the size and age of your child? What is the best balance bike if they're really small? What's the best if you've got a limited budget? What's the best choice bicycle if they're just about to start pedalling?  What's the best balance bike for an older child? Fear not! We've got all the answers right here for you!
If you need more information about what a balance bike is, and what you need to consider when buying one, then check out our post 10 things to consider when buying a balance bike for your child. If not, just dive in!
Cycle Sprog is an family run, reader supported, website. We belong to several affiliate schemes so may receive a small commission from sales made from links on our site. We do our best to be impartial and recommend products on their quality not whether they are in a scheme.
The best balance bikes for children of all ages – 202022
In this post we look at some of the most popular choices of balance bike available in the UK at the moment, and whether or not they will suit your child.
CYCLE SPROG REVIEWED BIKE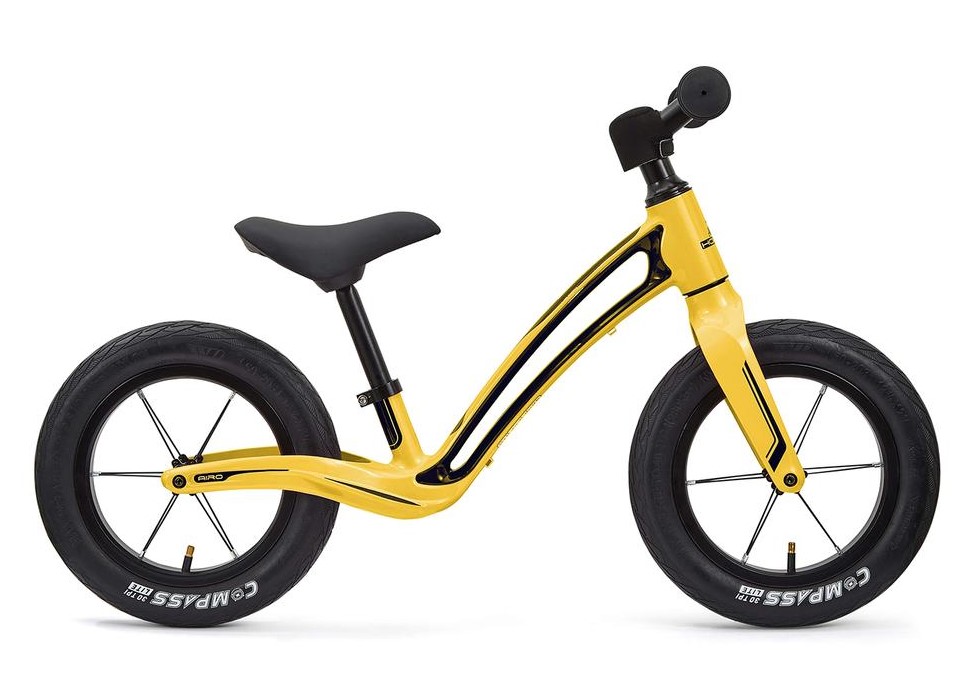 If you're looking for a quality balance bike that has an air of exclusivity around it then look no further than the brand new Hornit AIRO.  It was launched just in time for Christmas 2020 so really is one of the new kids on the balance bike block.
Hornit already make a great range of kids cycle helmets in some really fun designs (unicorns, icecreams, sloths – check 'em out if you have a reluctant helmet wearer!) and are now turning their attention to two wheels.
The thing that really stands out is just how light it is for a balance bike that has "proper" pneumatic tyres (hence the name "AIRO").
Weighing in at just  2.95kg  this is quite a feat of balance bike design.  They've even managed to include a footplate for your child to rest their feet on as they gain confidence and start moving at speed – but you don't get brakes.
The frame design of the Hornit AIRO allows a lot of variation in the height of the seat post, meaning it is suitable for children with an inside leg between 30cm and 54cm. 
This could equate to between 1.5 years and 5 years depending how tall / small your child is.  The AIRO's comes in six colour options – white, red, yellow, pink, blue and turquoise. 
Hornit are so confident in the quality of this balance bike they're giving it a lifetime warranty which can be registered on-line for free.
If you want to know more about our thoughts you can read our first impressions review of the Hornit AIRO balance bike here.
Buy Now
Let's face it – some children are just heavy-handed!  If your toddler leaves a trail of destruction wherever they go, then a Puky Balance Bike is for them.
When I asked a group of parents which was their favourite balance bike, the one that got the rave reviews for being long-lasting and well built was the Puky.
It's designed and manufactured in Germany to a really high standard, which may well explain it!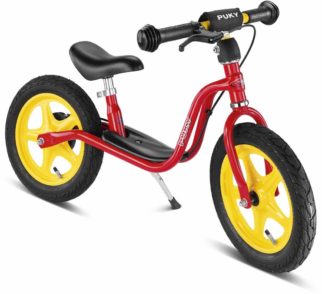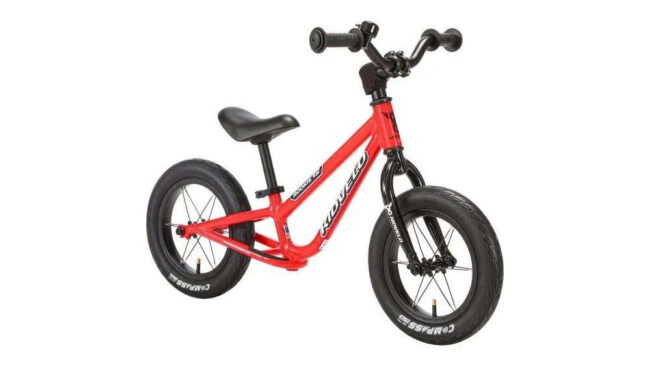 If you're looking for a balance bike that's going to get everyone talking, then the brand new Kidvelo Rookie 12 is the bike for you! 
It was only launched in Autumn 2021, and we've already got our hands on one so can confirm it's built to a really high standard.  This is to be expected, as it's the brain child of four people who've worked in the balance bike industry for decades. 
You can read our review of the Kidvelo Rookie 12 here if you want to know more. 
This balance bike is available to lease from The Bike Club
If your little one has that competitive streak, then the Strider is the perfect balance bike for them. Strider's are built to be raced (the Strider Balance Bike World Cup takes place globally each year). We love the fact that the Strider balance bikes come with two seat posts, meaning that the bike can be used up to the age of about 5, so the fun doesn't have to stop just because they've grown!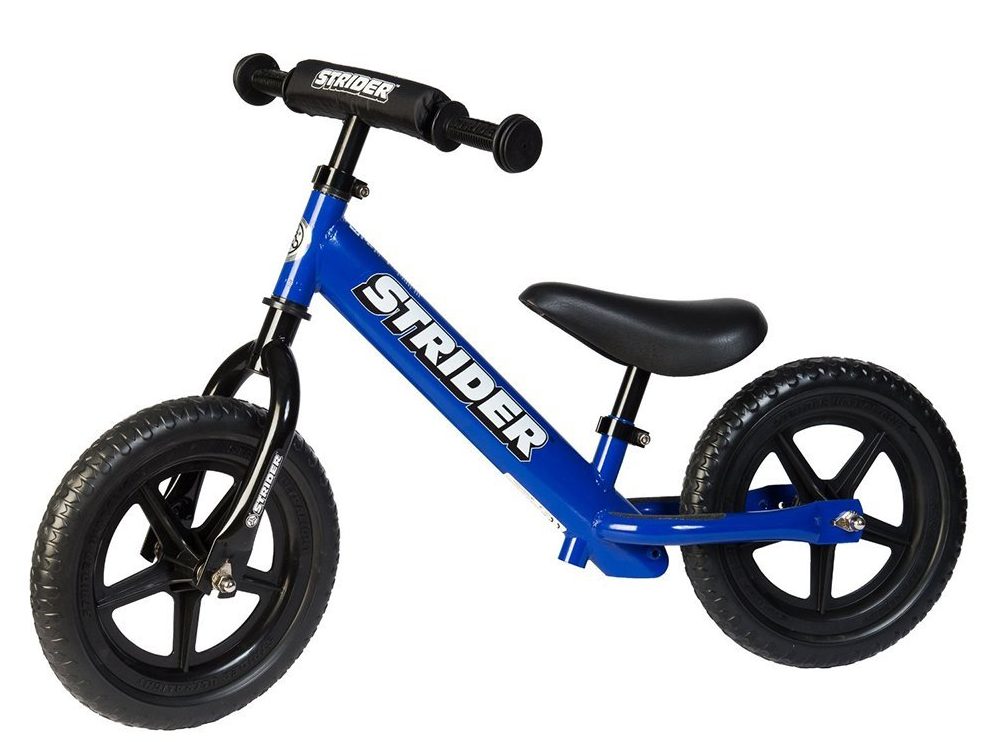 The good news is that the Strider Sport is now available to rent from The Bike Club meaning you can pay a monthly subscription and upgrade to a pedal bike as soon as your child has outgrown it.
Rent now:  Strider balance bikes can be leased from The Bike Club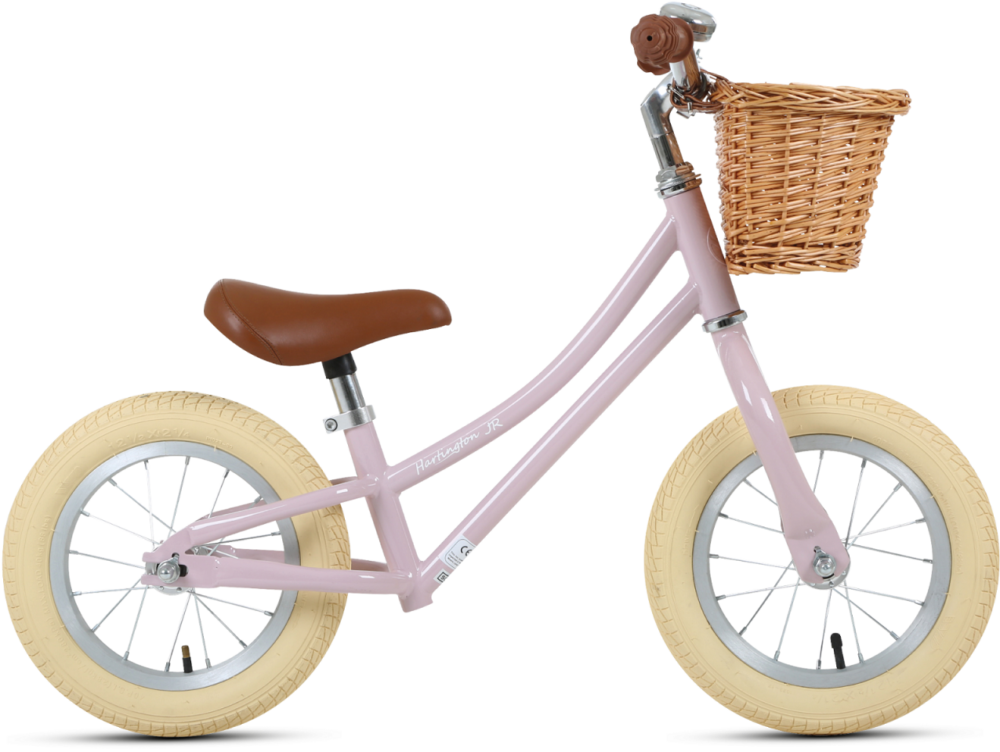 If your Cycle Sprog wants the stylish look of a city bike, complete with a basket on the front, then the Forme Hartington is a great option.  It comes in a choice of two pastel shades and has bell fitted too.
Buy now:  Forme Hartington Balance Bike
Cycle Sprog reviewed and recommended bike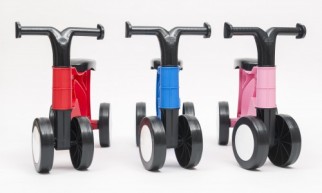 The Lena Bike is small, lightweight and durable – and so much fun! It's designed for when your child has just started to walk (so this varies around the 18 month mark) and will give your child the confidence to move onto a proper balance bike when they're old enough.
You can read our review of the Lena bike here (also known as the Toddlebike).
Buy secondhand:  These great little bikes do sometimes become available on eBay – these are links to some of the names that they could be listed under, as they've been sold using various names over the years:
Toddlebike
Lena Bike
Lena Scooter
However, we've had feedback from parents that because these are so cheap they often don't bother with eBay and sell locally so it's worth asking around on local sales boards etc in case someone has one available. 
Cycle Sprog reviewed and recommended brand
THIS BIKE IS AVAILABLE TO LEASE AT THE BIKE CLUB! 
Frog Bikes only make kids bikes, so they are able to concentrate on getting all the details right. We've reviewed a number of their kids bikes over the years and have always been impressed. Their Tadpole range comes in three sizes, so there's a balance bike suitable for virtually every height or age of child.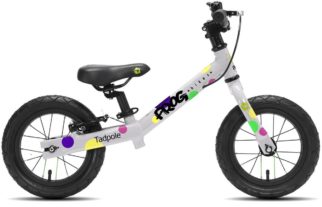 All the Frog Tadpole balance bikes come with a rear brake to get your child used to the concept of braking (although they will probably still use their feet a lot to stop, especially in the early days).  The tyres are pneumatic, so good for use on a variety of terrains, and all three bike models come with features such as a steering lock to prevent over-steer accidents and a quick-release seat post, plus a 5 year warranty on the frame and forks.
For very little kids there is the Tadpole Mini, which is suitable for children with an inside leg of just 24cm.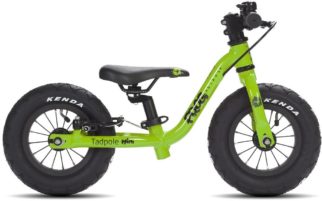 It weighs only 3.46kg, so is light enough for a small child to manoeuvre themselves. The 10″ wheel Tadpole Mini is available in a choice of three colours (red, pink or green) and has an RRP of £145.
Frogs "standard" size balance bike is the 12″ wheel Tadpole which is suitable for children with an inside leg of 31cm.  It's available in a choice of 7 colour schemes, including the popular "Spotty" and Team Sky options.  The Frog Tadpole has an RRP of £210.
The Tadpole Plus is a 14″ wheel balance bike for taller children, with a minimum inside leg of 38cm.  This will probably equate to 3 or 4 years and over.  It comes in four colour choices, including the Union Jack option (below) and has an RRP of £180.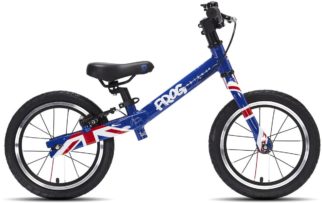 We've reviewed lots of different sized Frog Bikes over the years and have always been very impressed so have no hesitations in recommending their balance bikes as a great way to get your Sprog onto two wheels.
The good news is that you can lease a Frog balance bike from The Bike Club for a monthly subscription fee. This is an increasingly popular way to keep your child in bikes as they grow.  When your Sprog is ready to move onto a pedal bike you just send the Tadpole back and upgrade to the appropriately sized bike. If you child grows but isn't ready for pedals you can swap for the next sized up balance bike too.
Sponsored content start: 
If you have an old kids bike you've been meaning to sell on, then The Bike Club also have a hassle free way to do this, called reCycle.
They will even send a courier with a box to pick it up!  Get a valution of your old bike here.  

Sponsored Content End
Buy New: Frog Balance Bikes
Lease Now:  Rent a Frog Balance Bike from £5.00 per month at The Bike Club
Buy second hand: There's also a very healthy trade in used Frog balance bikes on eBay, due to the great build quality of these bikes.
Cycle Sprog reviewed and recommended brand
THIS BIKE IS AVAILABLE TO LEASE AT THE BIKE CLUB!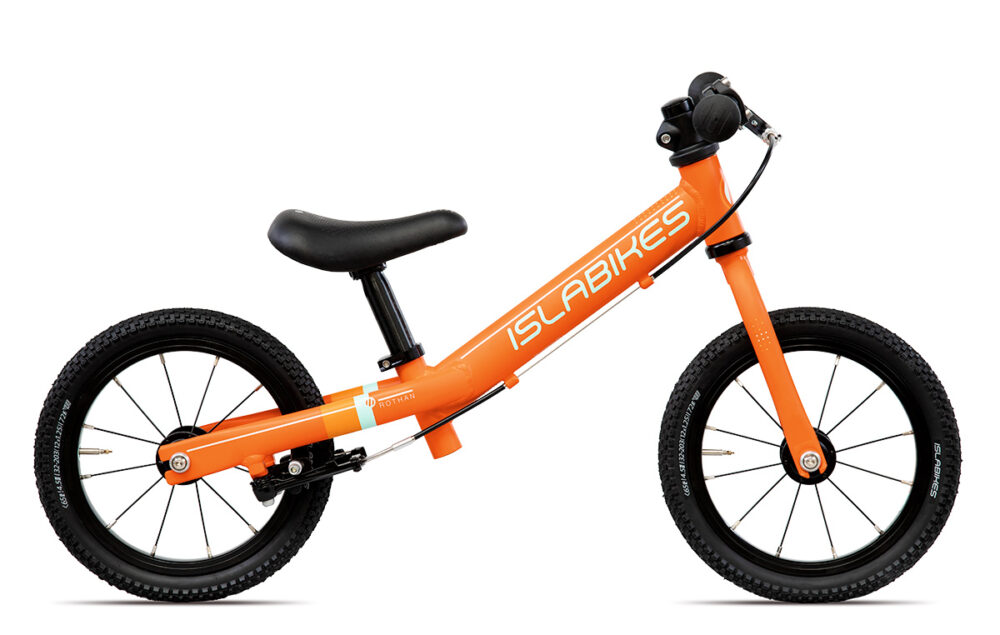 Islabikes are the original manufacturers of quality kids bikes, with over a decade of experience in designing and manufacturing lightweight frames fitted with components perfectly proportioned for the age and size of the rider.  Whilst there's now a large number of other options available on the market, Islabikes are still renowned as the premier kid's bike brand in cycling circles. The Rothan is their balance bike offering – it's suitable for children with an inside leg of 30cm.  The attention to detail is superb on every Islabikes product, and you'll smile every time you see the paintwork or lift up the frame (3.2kg).
There's plenty of much cheaper balance bikes out there, but if you're planning to invest in Islabikes, then the Rothan will be the start of your journey. Be prepared to become addicted to the range – we've reviewed loads of Islabikes over the years, and love them!
The Rothan also occasionally becomes available for monthly rental at The Bike Club – for a small monthly subscription you get to use the balance bike and then can upgrade to a pedal bike when your child is ready.
Lease now:  The Islabikes Rothan can be leased from The Bike Club from £6.30 per month
Buy new: The Islabikes Rothan costs £199 and is available exclusively from Islabikes.
Buy second hand: There is a very strong second hand market for used Islabikes on eBay, as the bikes are so well made they will last well beyond most families needs.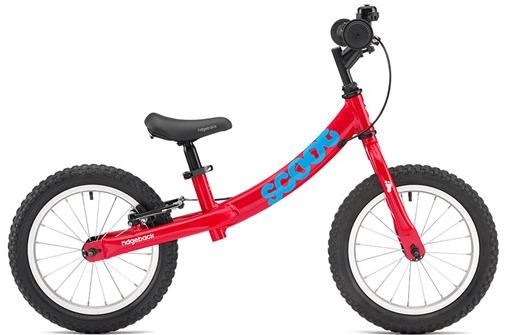 Most balance bikes are aimed at children aged under 5 and come with 12″ wheels.  If your child hasn't mastered pedalling and needs to continue using a balance bike as they get older, then it's important for both their stability and confidence that they have a balance bike that's the right size for them.
The Ridgeback Scoot 14″ is a larger balance bike, with 14″ wheels, a lightweight aluminium frame and a rear brake.  It comes in a range of stylish colours and has a fresh, modern feel to it.
Buy New:The Ridgeback Scoot XL
Buy Secondhand:  The Ridgeback Scoot 14″ only rarely becomes available secondhand, but it's worth checking this eBay link just in case there is one available. 
Our kids have to continue to inhabit our planet once we've finished messing it up.  The Wishbone Recycled balance bike is attempting to redress the balance slightly.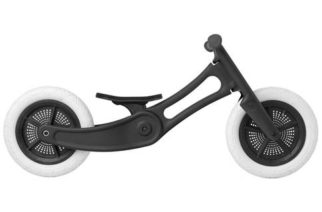 The Wishbone is made out of old carpets (or 100% post-consumer recycled carpet if you want the official title).  There are two versions –  the 2 in 1 allows expansion from a seat height of 23cm (shown above) all the way up to 51cm using Wishbone's patented "Rotafix" system.  The slightly more expensive 3 in 1 version starts out as a three-wheeled trike and transforms into the balance bike, which means it can be used from age 12 months without the need for buying an additional product.
Buy new: Wishbone recycled balance bike
Buy secondhand: If you really want to keep your eco-credentials high, then check out eBay for a secondhand Wishbone balance bike. They have other models that are made out of sustainably grown wood if the recycled one isn't available.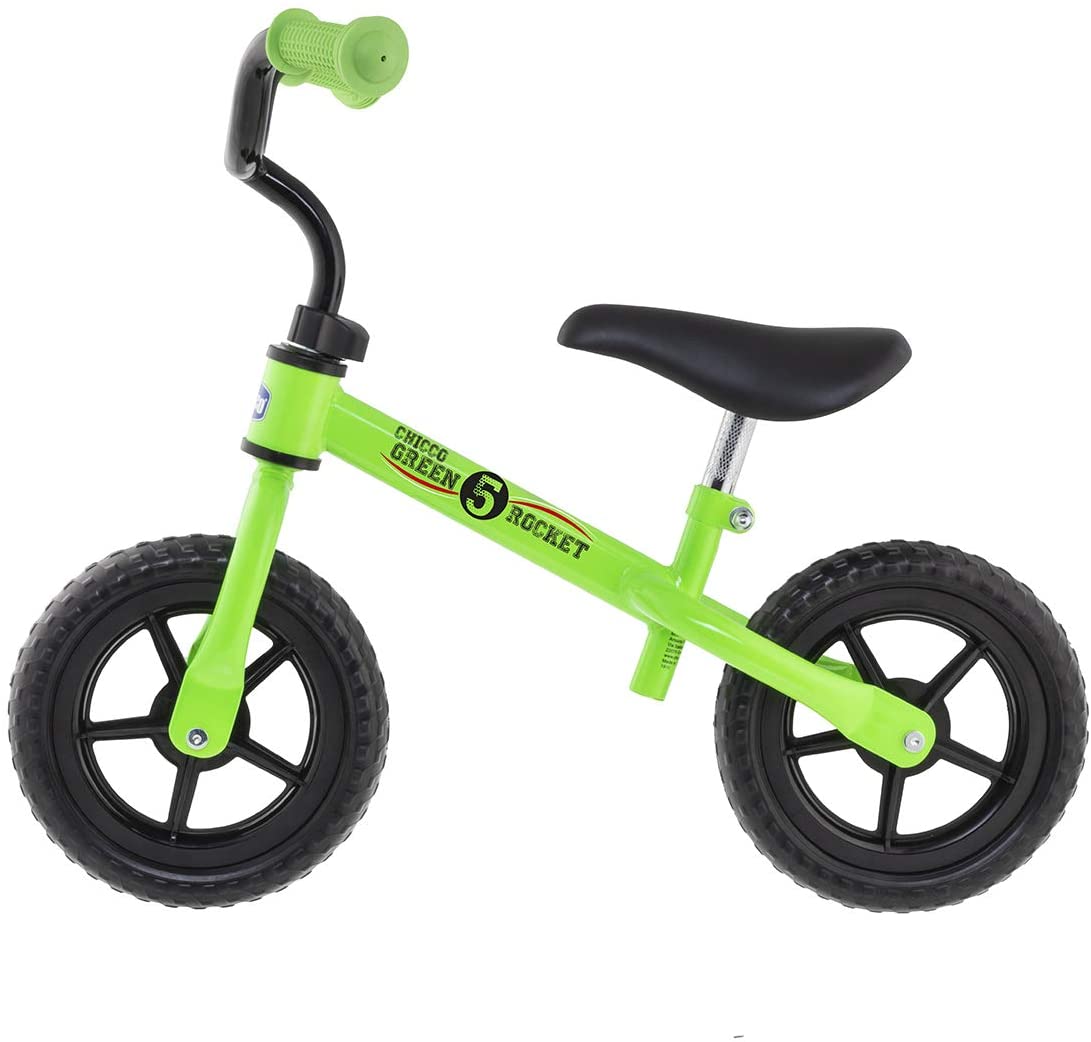 As with all things in life, when it comes to kids bikes the cheaper models have to compromise on weight and quality somewhere along the line. Often this makes them very difficult to ride, however, we know a few parents who recommended Chico balance bikes as being lightweight and easy to control, although the riding position is very upright, which may affect how fast your child can go.
At this price you're only getting solid plastic tyres, so the ride won't be anywhere as near as comfortable as a more expensive balance bike with pneumatic tyres, but given how quickly they're likely to be progressing onto a pedal bike, the Chicco allows you to save now for when they move on up to pedals.
Buy Secondhand: Due to the popularity of these bikes, they are frequently available on eBay.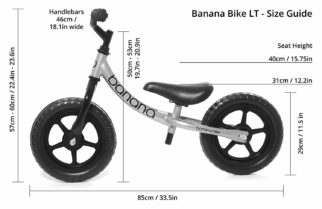 The Banana balance bike gets rave reviews on Amazon from parents with 2 year olds. The reviews all comment on it's lightweight, low saddle height, ease of use and low price.   The Banana Bike has a saddle that goes from 31cm to 40cm, so your child needs to have a slightly longer inside leg measurement than 31cm whilst wearing their shoes to allow them to scoot along.  The Banana balance bike is nowhere as small as the Frog Mini Tadpole (inside leg 24cm) but is a much cheaper alternative if your child is slightly taller.  Note it doesn't have the
Buy new:  Banana Balance Bike 
Buy secondhand:  The Banana Balance Bikes have been around just about long enough for them to be starting to appear second hand on eBay and the number will no doubt increase over time.
If your little one is regularly riding their balance bike in low light conditions (say home from nursery on dark winter days) then the Phantom Ride light up balance bike will help keep them visible.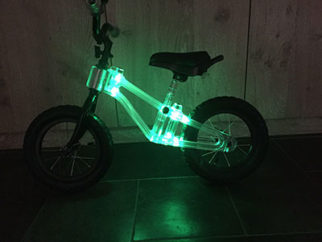 The Phantom Ride was designed in California and came to the UK in December 2016. The innovative polycarbonate frame houses two LED units that make the bike quite literally glow in the dark. You can read more about how the bike came into being it in our post on the new light up balance bike.
The Phantom Ride Balance Bike has an RRP of £140 and comes in two colour choices – blue or red – and each colour is available in either plain or glitter options.
A word of warning – the LED inserts take 3 AAA batteries each (which are not included), so you'll need 6 AAA batteries to have a fully lit up balance bike.
Buy now: Phantom Ride Balance Bike
Buy Secondhand: Phantom Ride Balance Bike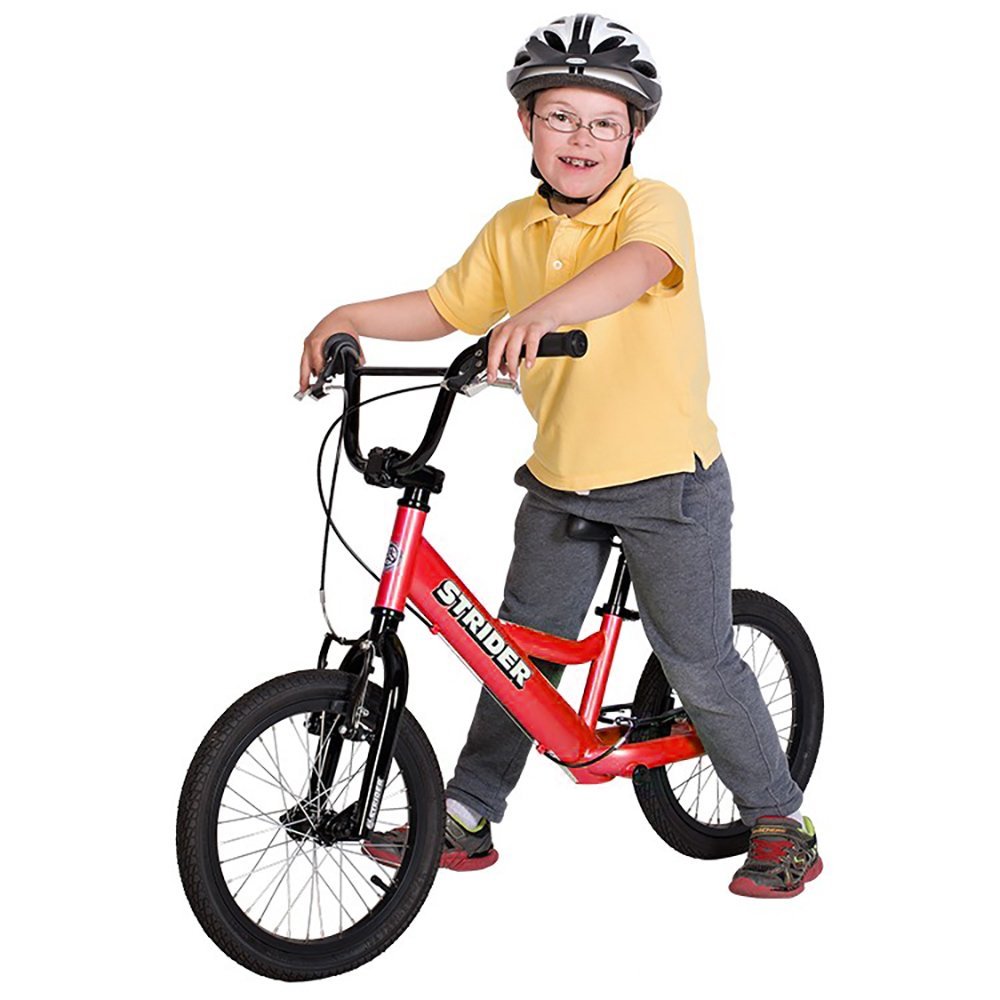 For some kids pedalling just isn't an option, or perhaps they're coming late to learning to ride a bike.
The Strider Youth 16″ balance bike is designed for ages 6 and above, with an extendable seat post that should keep them going until at least the age of 12.
Buy now: Strider 16 Sport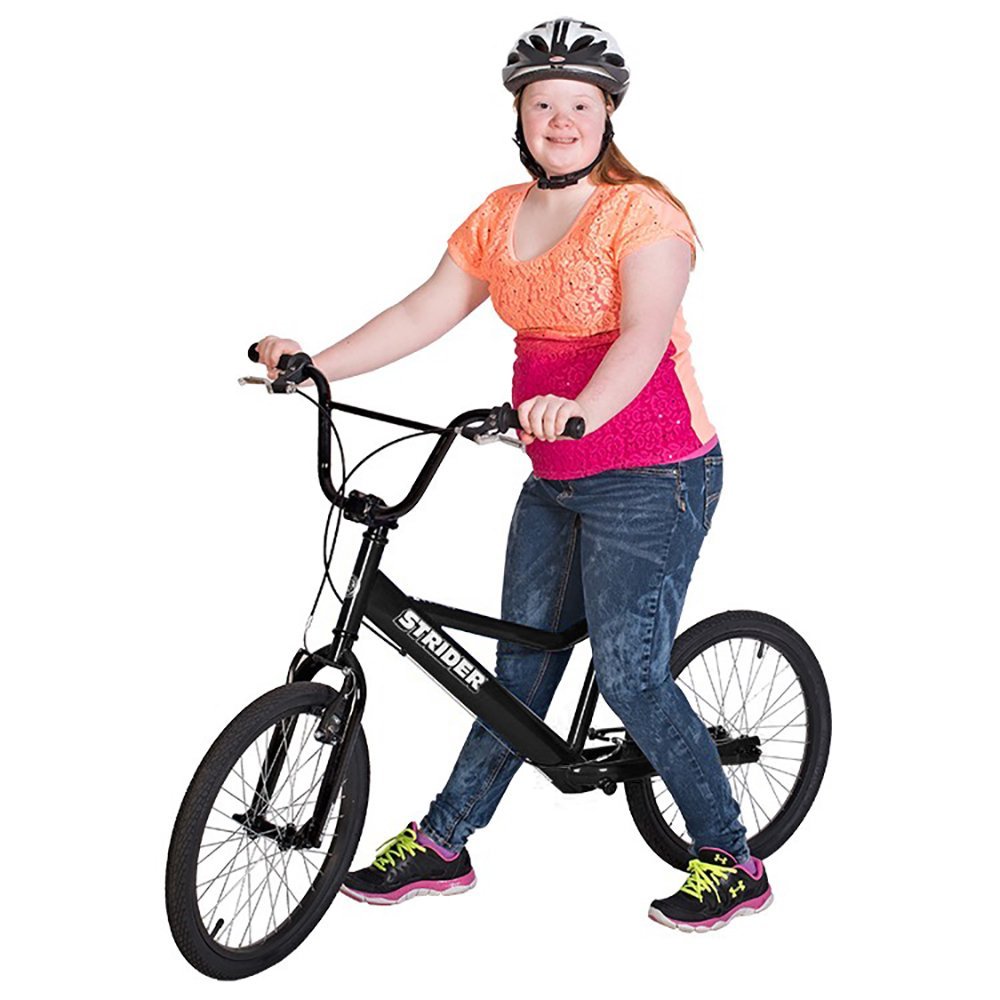 The Strider 20″ balance bike is, as you've probably guessed, a size up from the Strider Youth 16″.  It's an excellent bike for teens who don't have the option of pedalling, or who need additional support balancing before moving to a pedal bike.  The Strider 20″ is a suitable balance bike for adults too.
Buy Now: The  Strider 20 adult balance bike
Cycle Sprog reviewed and recommended brand

OUT OF STOCK UNTIL 2022
Kids grow and develop so quickly so you don't know how long they're going to be riding a balance bike for, and when they're going to be ready to transition to pedals.
One way to ensure your child doesn't get stranded without a bike is to buy a balance bike that can be converted into a pedal bike when they're ready – and – this is the really clever bit – then grows with your child!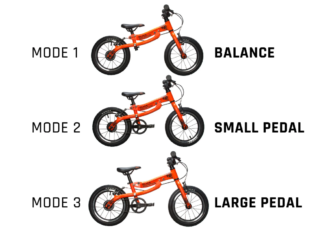 Some kids transition from a balance bike to pedal bike really quickly and others can take much longer.  The Black Mountain bikes start their life as a balance bike and then you add pedals when your child is ready.
Find out what happened when a Cycle Sprog swapped her heavy bike for a Black Mountain Skog in our review.
The frame also grows so you can have the bike in a small frame mode and then when your child has outgrown it you can adjust the frame to make it bigger.  Yes, it's a bigger cost up front, but if you buy when your child is at the balance bike stage you get three bikes in one, plus there are no hassles of shopping for new bikes for quite a few years!
There are four Black Mountain bikes – the Pinto is their smaller 14″ wheel offering which is aimed at ages 2.5 years and over. It's designed to replace a balance bike and a 12″ and 14″ wheel pedal bike.  Their larger offering is the Skøg, which comes with 16″ wheels and is suited for taller children (approximately 4.5 years and over) and will replace a larger balance bike, 14″ and 16″ wheel bike.
For older kids there are two larger models – the 18″ wheel Kapel and the 20″ wheel Hutto, so there is the complete range of sizes for all ages (although note that with these larger bikes you have to buy a separate balance bike adaptor kit)
Buy new: The Black Mountain balance bikes can only be purchased or picked up from their South Wales showroom 
Buy secondhand: Black Mountain are too new to be available second hand at the moment, as the children are still using the growing frame.  One thing to note if you're thinking about resale values is that the 3 year warranty is transferable to a new owner, which is very unusual with kids bikes.
I hope this article has helped you in choosing a balance bike for your child. Do drop me a comment below if I've missed off your favourite, or to let me know which balance bike you end up choosing.
You may find these other articles useful:
Affiliate Disclosure: Some of the links in this post use affiliate marketing. This means that we get a very small commission for every purchase made. This helps us to pay for the ongoing maintenance of the website. We would be really grateful if you could support our work by purchasing your balance bike through these links. Thanks!  Karen and Chris
To keep up to date with all the latest family cycling news, reviews, blogs and routes, why not follow Cycle Sprog on Facebook?
Support Cycle Sprog!
If you've found this article useful you can buy us a virtual coffee (or two!) to say thanks and help us keep the Cycle Sprog website going. 
This post on the best balance bikes was first written in November 2016 and updated in November 2022 to reflect the availability of new bikes.