The decision on which first bike to buy for your child is an important one. The bike chosen will form an important part of your family's memories, photos and videos long after the bike itself has been outgrown. Frog Bikes have two 14″ wheel bikes in their "First Pedal" range, aimed at 3 – 5 year olds who are just learning to ride a bike.
We've been testing out the Frog 43, the smaller of their starter bikes, to see if it meets the requirements of our demanding testers.  The Frog 43 is a 14″ wheel single gear pedal bike, ideal for those just starting out on their cycling adventures, aged about 3 years and over.
Cycle Sprog is an family run, reader supported, website. We belong to several affiliate schemes so may receive a small commission from sales made from links on our site. We do our best to be impartial and recommend products on their quality not whether they are in a scheme.
The Frog 43 First Pedal bike review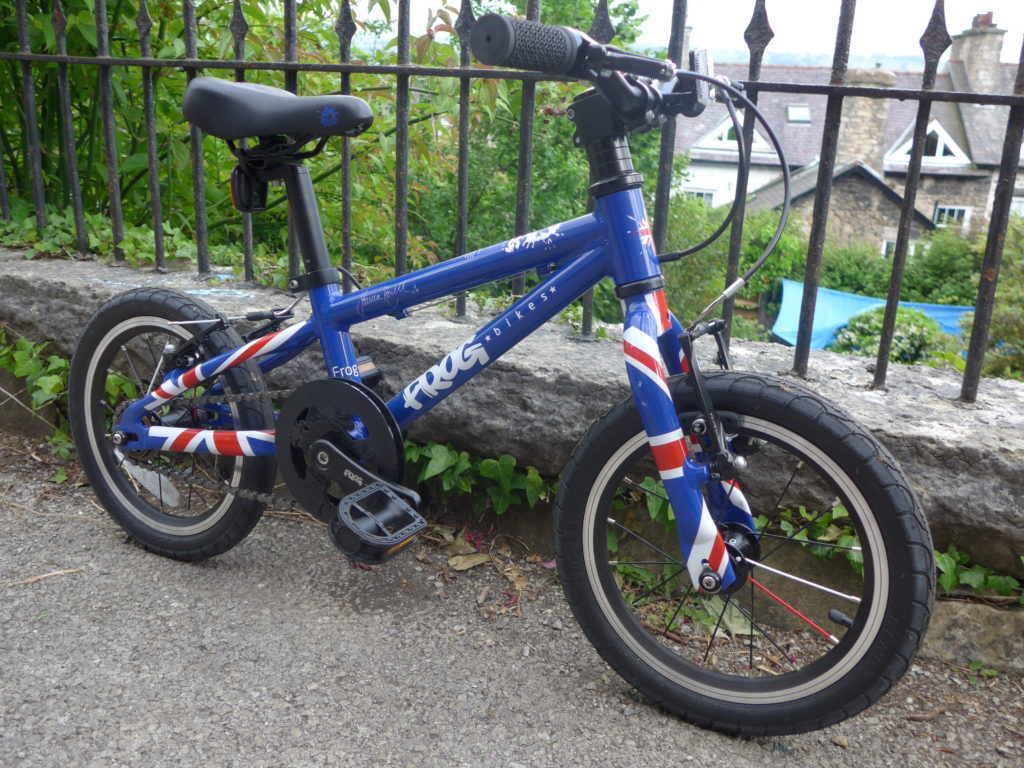 Frog 43 details:
Price – £240
Age – 3-4 years old (43cm minimum inside leg)
Type – Multi-purpose
Handlebars – Straight
Weight – 6.3kg (inc. pedals)
Gears – Single speed 
Colours – Available in 4 plain colours, plus union jack, spotty and team sky
Accessories – Mudguard, bell and deflectors supplied as standard. Kickstand and stabilisers available separately.
We like – A good quality, competitively priced, lightweight bike for the young riders new to pedalling. Highly recommended for families with more than one child or those looking to sell on after use. 
Where to buy – Stocked in lots of local bike shops, or online at Tredz. 
Buy Now
What age is the Frog 43 First Pedal bike aimed at?
The Frog 43 is part of the 'First Pedal' bike range from Frog Bikes that comprises two models. The Frog 43 comes with 14″ wheels and is suitable for kids with a minimum inside leg of 40cm.  This is likely to be children aged 3 or 4 years, but would also suit older children who haven't grown as quickly.
The larger model in the First Pedal range is the Frog 48, which has 16″ wheels and is aimed at kids with a minimum inside leg of 48cm (approximately 4 to 5 years). The Frog First Pedal bikes come in a wide range of colours – our review bike was the new Union Jack design. Both the Frog 43 and Frog 48 are also available are red, purple, orange, spotty, pink, USA Stars and Stripes and Team Sky colours.
The Frog 43 bike reviewers
We had a team of young reviewers desperate to get a ride on the Frog 43.  That's the great thing about kids – once they've learnt to pedal, there really is no stopping them!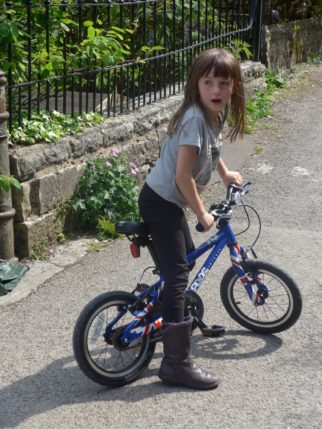 The first of many to take it for a spin was A (pictured), who was slightly too big for it. However, you try telling that to an excited girl that's got her hands on the grips and is ready to take off! Once A had zoomed around, we were able to get the view of a couple of 3 and 4 years olds, one of whom had only been pedalling for a week or so.
We then couldn't stop some older cyclists having a turn and can confidently report that the Frog 43 can take the weight of teenagers, who it seems are never too old to try out a bike aimed at someone a decade younger! (Of course, under no circumstances are we suggesting that the Frog 43 should be used by anyone other than the age range recommended by Frog bikes – we didn't have a go ourselves – honest!)
Frog 43 review – first impressions
The Frog 43 has, as we've come to expect with all the other Frog Bikes we've reviewed, a quality look and feel. The paintwork is rich and deep, and the components well made.  Everyone who saw it loved the new Union Jack design and the kids were just desperate to have a go.
Being such a lightweight, the Frog 43 is an easy bike to pick up. It's also nice and stable, so we had no problems with newly pedalling cyclists getting on and riding straight away. We even had one 3 year old riding it in just her pants!
Gears on the Frog 43
Because the Frog 43 is part of the 'first pedal bike' range it does not come with any complex gearing to distract from the enjoyment of having just learnt to pedal. Instead it comes equipped with a single speed freewheel sporting 18 teeth and a chainset that features 32 teeth. 
This gearing ratio was find for those of our reviewers who were new to pedalling. The Frog design around the pedals is a fun bit of additional and subtle branding which the kids loved.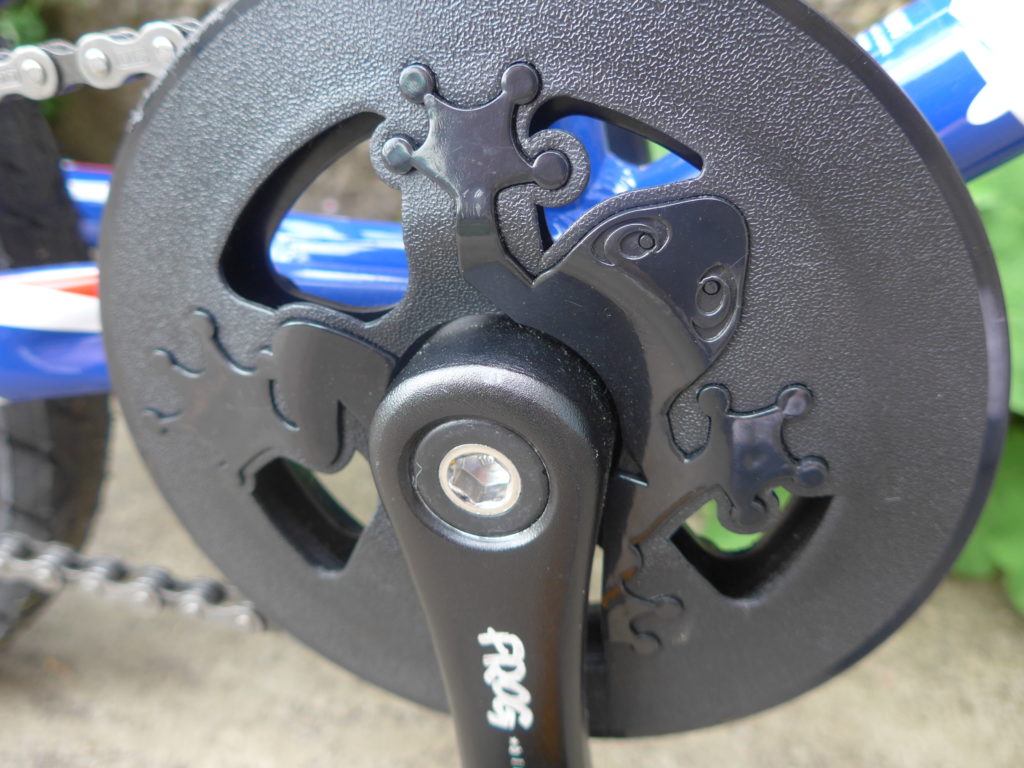 Wheels on the Frog 43
The wheels on the Frog 43 are 14″ in diameter with aluminium hubs and rims. This makes them light but they should also be strong enough to take a hammering from young riders.
There is a subtle design element on the spokes – on each wheel two spokes are painted a contrasting colour. On the Union Jack bike, these were red and blue. On the standard colour schemes, it's lime green, and on the Team Sky bikes, it's turquoise and yellow. I do like the quirky little details that Frog Bikes add to their bikes.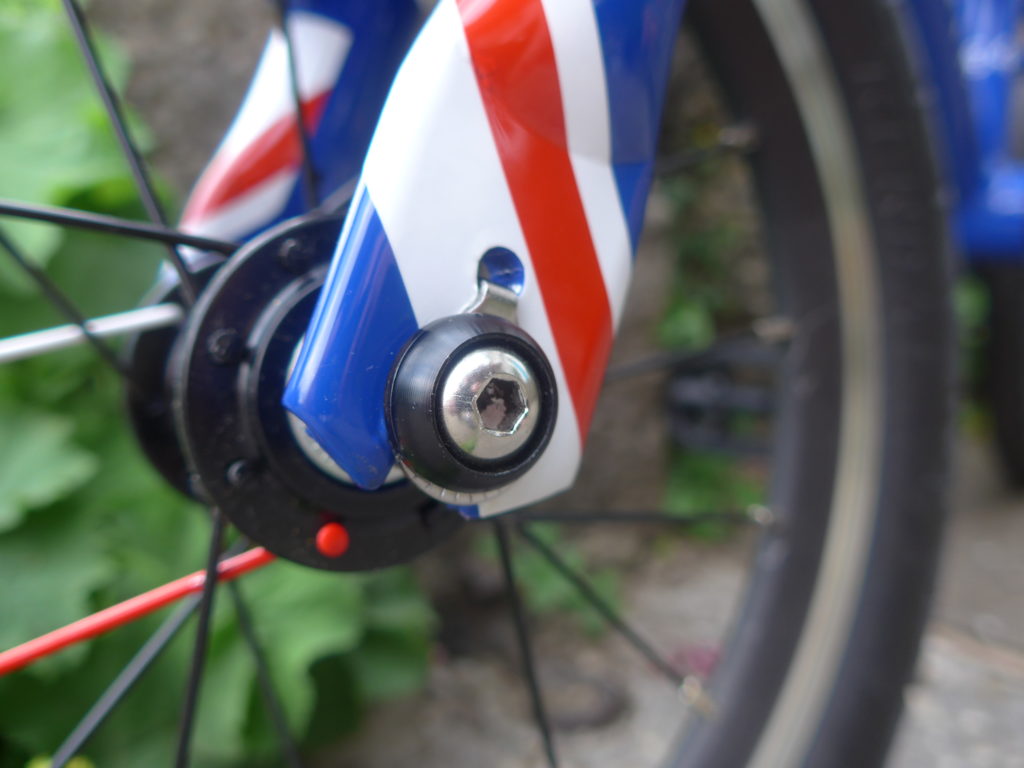 The axles are of the hollow bolt through variety that uses a hex key skewer, so if you're thinking of marrying the Frog 43 up with a FollowMe tandem then you'll need the "Islabikes version" as they use the same system.
The Frog 43 comes supplied with two sets of Kenda tyres. One set is a hybrid style suitable for smooth paths and roads and the other, a knobbly set for tearing it up off-road. This is a great idea as it allows you to tailor the bike for whatever conditions your little speedster enjoys riding in.  It's worth pointing out that the knobbly tyres can't be used with the mudguards.
Braking on the Frog 43 kids bike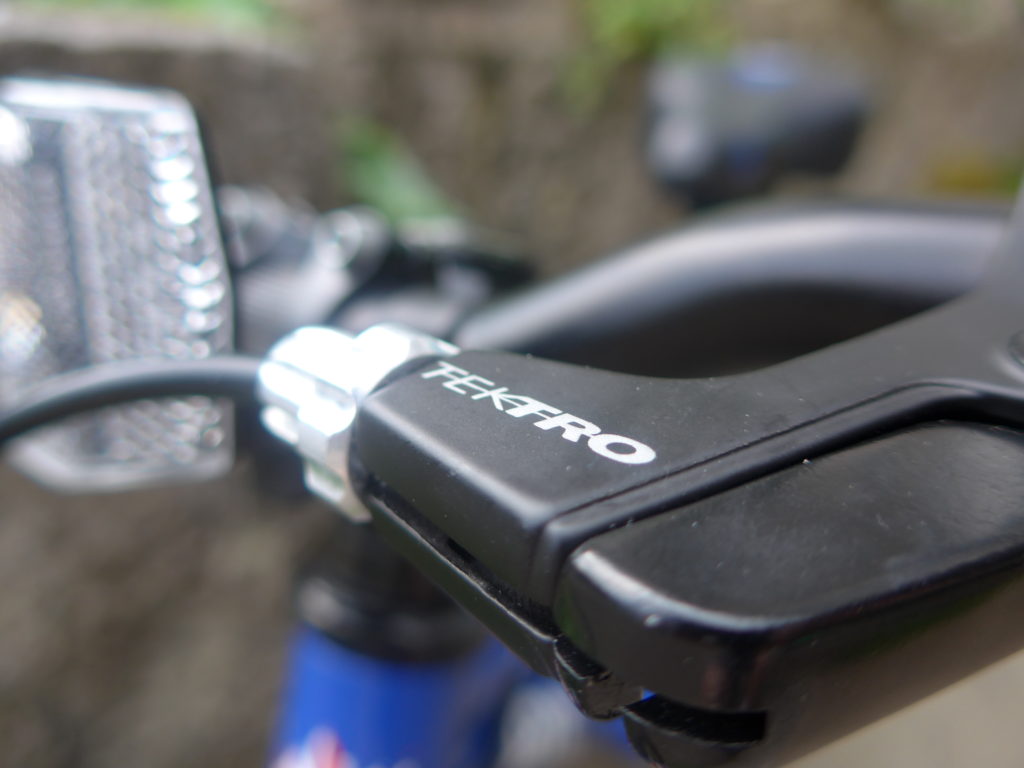 Braking on the Frog 43 is provided by Tektro for both levers and v-brake style calipers. The child-sized levers are easy for little hands to operate and our reviewers had no difficulty in using them to come to a swift stop. If required, it is possible for the levers to be adjusted to bring them closer to the bars, which is good for very young riders.
Saddle and pedals on the Frog 43
The saddle fitted to the Frog 43 is used on all of the smaller bikes from the Tadpole up to the hybrid style Frog 55. It is a child specific item and seems to provide comfort for the bottoms that have tested it. One point to note is that the seat post is not quick release but requires a hex key (Allen key) to adjust the height.
The pedals on the Frog 43 are plastic with reasonably good grips for trainers or wellie boots to adhere to. Another plus point for plastic pedals is that they're kinder to shins than metal ones when the inevitable bumps and scrapes happen. Minimising skin loss is always a good thing!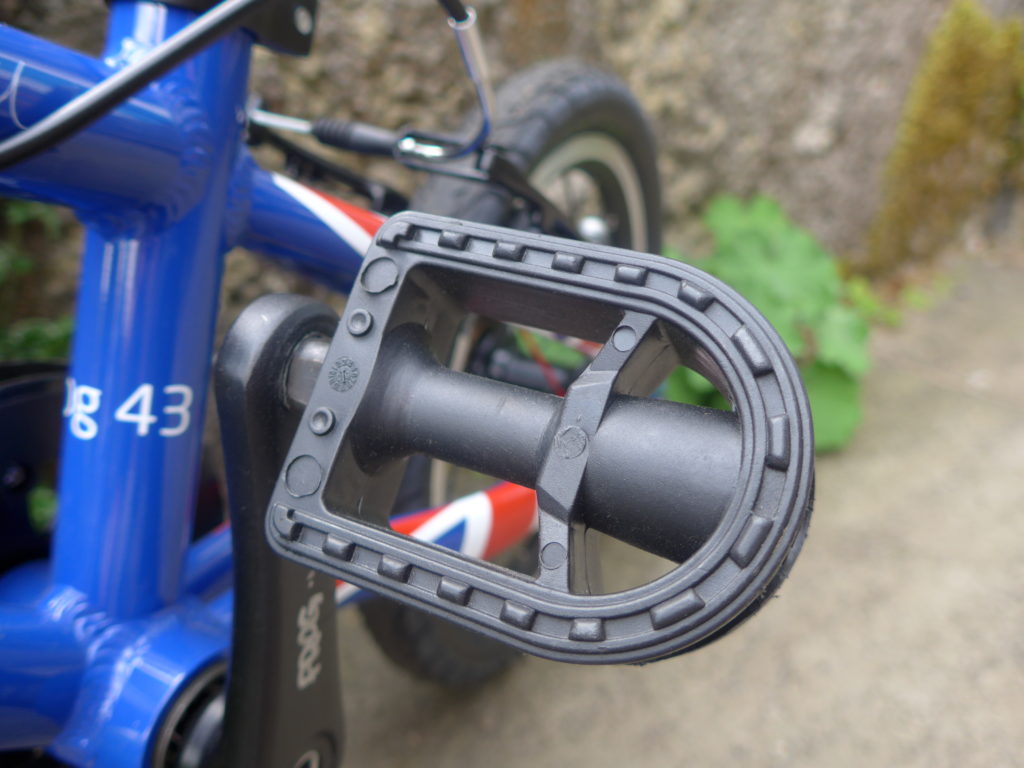 Weight – how easy is it to lift a Frog 43 kids bike?
Frog's website lists the Frog 43 as weighing in at 6.3kg. Now, this doesn't state whether it's with or without pedals so we weighed it ourselves just to be sure and, sure enough, it came in at 6.3kg WITH pedals fitted. I'd say that's pretty respectable. (EDITORS NOTE – Since this review was written, the bike has been updated and now the stated weight is 6.48kg.
This is possibly due to slight changes in the gearing and other components, but 180g is really not going to make much difference to the handling and weight of the bike) Even the youngest of our reviewers aged 3 years was able to manoeuvre the Frog 43 with ease. Having learnt to pedal a couple of weeks ago, she was still at the stage of riding in a straight line, braking to a stop, getting off to turn the bike around before heading back in a straight line. She managed this no problem at all.
How does the Frog 43 Union Jack kids bike perform?
The Frog 43 performs in a manner akin to other members of the Frog Bike family, in that it's a lightweight build that feels well put together. The great thing about a lightweight bike is that kids can climb aboard and immediately go zooming off, their legs a blur. The Frog 43 is no different in this respect.
The Frog 43 performed equally well on both tarmac and grass, where our tester A managed to build up speed rapidly on a downhill section. This was a great test for proving that the brakes work really well when they have to!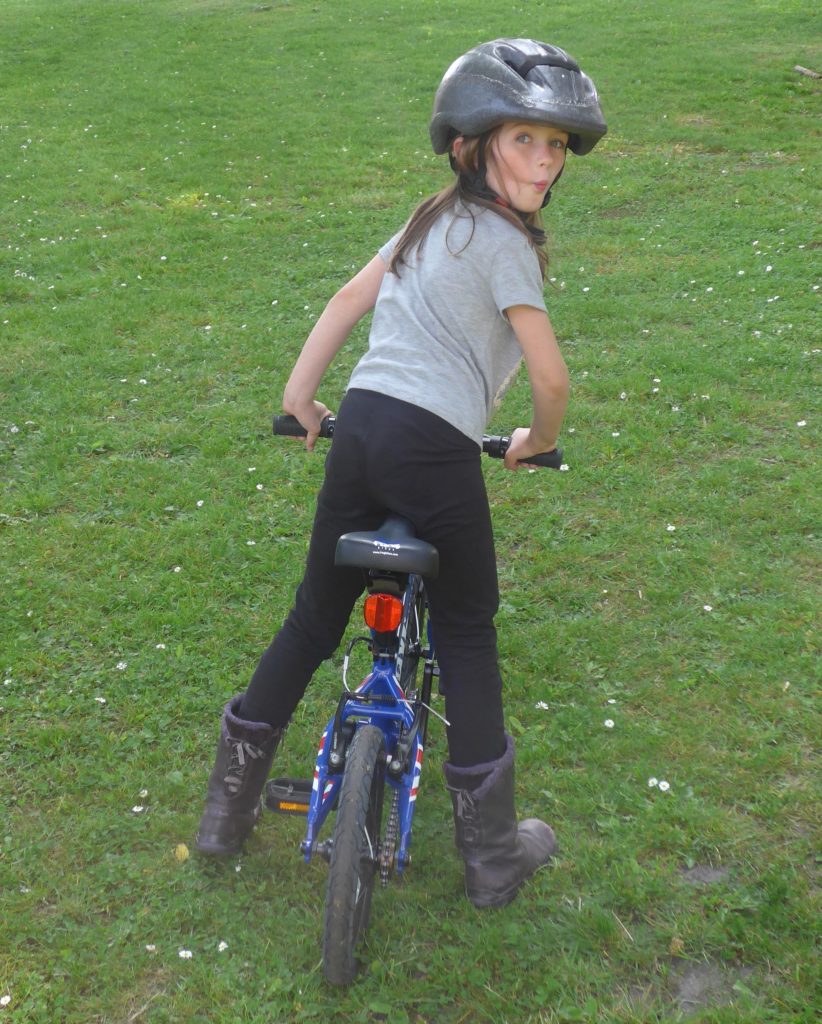 Being part of Frog's test fleet, the review bike has been through the sweaty palms of several children before we received it. Considering this, the Frog 43 still looks in great condition and with a quick wash and polish would look almost as good as new again.  This is worth considering when buying a kids bike, as you should be able to recoup a decent proportion of your purchase price when you come to sell on.
Using stabilisers on the Frog First Pedal bike range
If your child is not able to pedal yet then Frog recommend the EZ Trainer Suspension Stabiliser 12-16″ Wheel from Adie. These stabilisers claim to absorb the bumps from the road, and ensure the rear wheel stays in constant contact with the ground on uneven surfaces.
The EX suspension stabilisers fit both the Frog 43 and 48 and have good safety testing (EN 14765).  Your local Frog stockist can fit these with a change of axle.  Here at Cycle Sprog we have not yet tested these out, so are unable to comment on the ease of use etc.
What accessories are available for the Frog 43?
A kickstand can be purchased for the Frog 43 that parks the bike upright and so does away with the scratches and scrapes that arise from being chucked (or is that carefully placed?) onto the ground. Frog do a wide range of Team Sky branded accessories.
Mudguards come supplied with the Frog 43, so there is no need to purchase separately (note these were not installed on the bike we were sent to review). The Frog 43 also comes with a bell and reflectors.
Is the Frog 43 First Pedal bike good value for money?
Over the past few years, Frog have carved a reputation for themselves as a company delivering good quality kids bikes that are priced accordingly. At £255 the Frog 43 is not cheap, but then Frog are not in the business of making bike shaped objects that weigh the same as a small planet. For the specification and its light weight, the Frog 43 is priced very competitively and delivers a good return on what is a significant investment for a kids bike.
As with other premium kids bikes it should hold its value well when coming to sell on. Plus, if there's another budding cyclist waiting in the wings, the Frog 43 should withstand the punishment dished out from two or even three kids and still come back for more.
Alternatives to the Frog 43 as a first kids pedal bike
At the premium end of the first kids bike market, the number of 14″ bikes to choose from is by no means large. Some of the bigger names don't have a 14″ wheel in their range. If you want to see some alternatives, check out our post on the best 14″ wheel starter bikes.
The Frog 43 kids first bike review – the final verdict
The Frog 43 is a well put together bicycle for the rider that's new to the world of pedals. Kids will revel in the fun paint scheme and enjoy the light weight of the bike as they zoom along with pedals a blur.
Price wise it compares well to its competitors, plus it has the backup of the Frog warranty that gives 2 years on frame, forks, parts and paintwork. If you register your new Frog bike on the Frog website, you are then signed up to Warranty Plus which extends the warranty on frame and forks to 5 years (which will certainly outlast the time the original owner will be using it).
In summary, the Frog 43 is a quality kids bike that is competitively priced, fun to look and even more fun to ride. Highly recommended as the star of your first biking memories, photos and videos.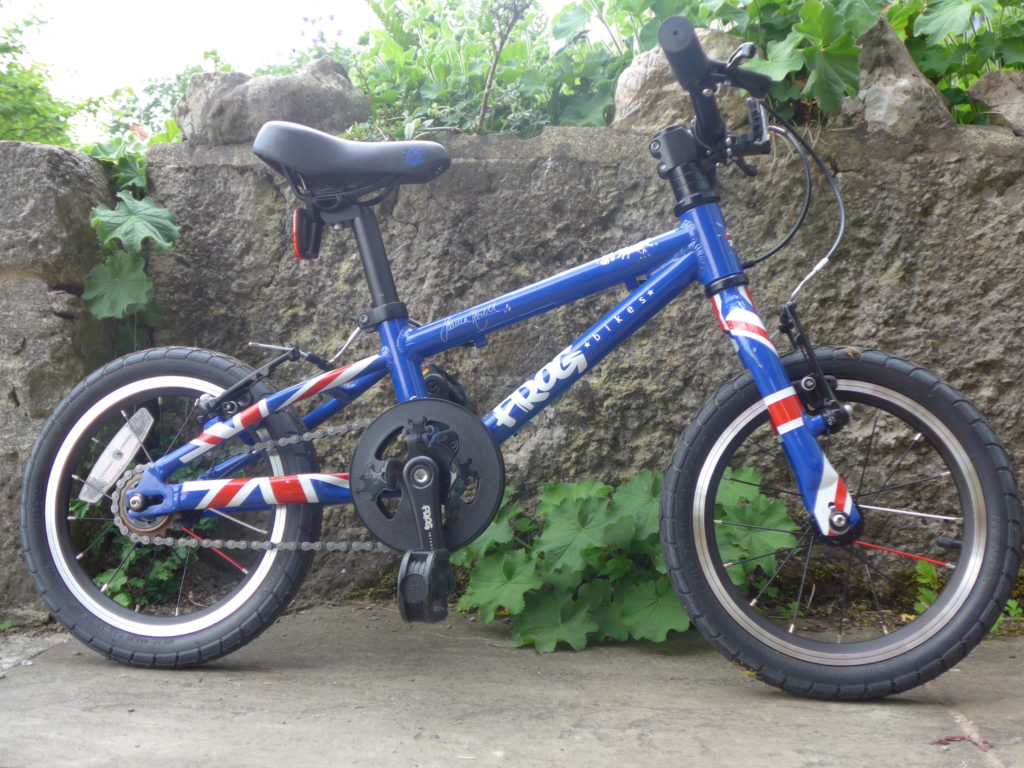 Where can the Frog 43 be bought?
Frog bikes are also stocked by lots of local bike shops – you can find your nearest Frog Bikes stockist here.  ==> BUY FROG 43 NOW AT TREDZ AND GET FREE HOME DELIVERY
Cycle Sprog were lent the Frog 43 First Pedal bike for review by Frog Bikes.
This article was first published in June 2016 and updated in January 2019 to update links and prices
Other articles you may find useful:
Affiliate Disclosure:  To keep the Cycle Sprog website up and running, we get income from being members of affiliate marketing schemes.
This means that if you click on some of the links in this post we may get a small commission. This doesn't affect the amount you pay and lets us keep the website going. Thanks for your support.