We've been very excited at Cycle Sprog for two reasons. Firstly, we've taken delivery of our first ever 18" wheel kids bike (I know – it's not a wheel size that you tend to equate with lightweight, well specified kids bikes). Secondly, it comes in the form of a Squish Bike – a new entrant into the lightweight kids bike market. Exciting times!!! So, without further ado, here is the first part of our Squish 18 review  – first impressions only at this point.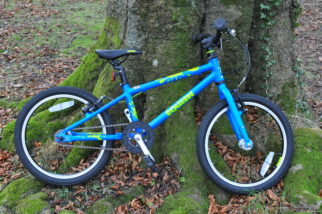 Who are Squish Bikes?
A good question! Squish Bikes are a new brand from Tandem Group Cycles, who also own the Dawes and Claud Butler ranges. They're Birmingham based and do all their design and development work here in the UK.
We'd read Squish Bikes promotional claims to be light weight, good quality and fun to ride, but we've been reserving judgement until we could actually get our hands on a Squish bike to review.
The price points on the Squish Bikes seem very competitive indeed, and they have been designed to be a more affordable light weight bike than the Dawes Academy. The Squish bikes range in size and price from a 14″ wheel bike (£270) through to a 26″ wheel bike with two frame size options (£370). The Squish 18 comes in at £290.
Is there a need for an 18″ wheel kids bike?
At the time we got sent this bike none of the other players in the lightweight kids bike market had an 18″ wheel bike. So, why did Squish taken the step of releasing this bike?  I asked them and this was the answer I got:
"The 18" is a great stop gap for kids jumping up from a 16" to a 20", and also those jumping from a 14" that are a bit too tall for a 16".  More sizes simply offers better choice and a better fit".
It's been interesting to see that in the few years that have passed since we first wrote this article several other premium kids bike brands have also brought out an 18″ wheel offering. 
First impressions of the Squish 18 
Because we live a fair way from a major conurbation we don't have a Squish bike dealer close by.  We therefore received the Squish 18 review bike via courier.
As you can imagine we've taken delivery of a fair few bikes in boxes over the years, and I have to say we were really impressed with the way the Squish 18 was packaged. This wasn't just a bike 'stuffed' into a box.
The frame tubes were double protected with both foam and cardboard. The front wheel was removed for packing but came with a cardboard disc over the spokes to stop any rubbing issues. A nice touch was that sections of inner tube had been used to protect the cranks. For a bike at this price point, it may have been tempting to cut corners on packaging, so this was a good start.
Lifting the bike from the box the lightness of the triple butted alloy frame is evident – this certainly isn't a hunk of steel that will be difficult for a child to ride. In fact, it's a real featherweight coming in at 6.96kg.
As we removed the layers of protection, the Squish 18 began to reveal itself to us.  The paint work is deep and glossy and the design very pleasing. The Squish branding is a little person called Squish, who features on the headset, along with bright, fun sploshes of paint, which we feel will appeal to the younger age range.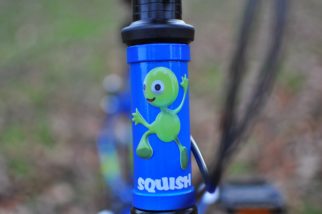 The bike was reasonably simple for Chris (a seasoned bike assembler) to put together, with a few caveats mentioned below that wouldn't be a problem if buying in store. The bike doesn't come with an assembly manual – the owner's manual assumes you've bought a fully assembled bike.
The Squish Bike 18″ wheel review 
Bikes are built to compete at a certain price point and to achieve this manufacturers choose components such as wheels, chainsets, seat posts, stem, and handlebars, very carefully indeed.
Obviously the proof of any bike is how it will perform out on the paths, roads and trails, and whether it will withstand being passed on down to siblings and friends. As Squish Bikes are a new brand, we can't comment on performance until our reviewer has had the bike for a while. However, we can give you our 'first look' opinion of the bike, and it goes something like this:
Squish Bike frame
The triple butted alloy frames are sprayed and then lacquered, which gives a lovely shiny finish to the bike.  The paint is deep and glossy and the lacquer should allow your child to adorn with stickers and not damage the frame.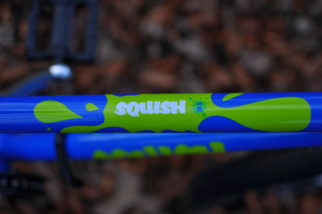 On that topic, perhaps the most important bit for any young cyclists reading this review is that Squish Bikes come with a sticker sheet!!!   This probably doesn't cause as much excitement by the time you're buying a 24" wheel bike, but for younger children, this is a great idea – they can decorate their bike frame or their bedroom door with the little gender neutral character called Squish.
The only small niggle we have is that the head badge is a squidgy vinyl Squish which doesn't sit particularly tight against the frame at the edges. It will be interesting to see how this stays on the bike after being rained on and vigorously scrubbed during a wash down.
The 18″ wheel Squish bike we got sent was bright blue with lime green decals which, it has to be said, is a fantastic colour combination.  There's also an aqua and purple version available too. 
Other bike sizes have different colour ranges – all of them bright and marketed as unisex kids bikes.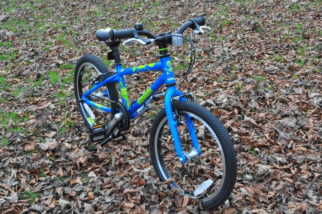 Brakes on the Squish 18
The Tektro brakes are designed for small hands and can be easily adjusted to ensure that your child can brake safely. Your local bike shop can do this if you're getting the bike fitted in store. If you're buying for a surprise Christmas present, or online, it's an easy adjustment to make at home if your child has smaller or larger hands than average.
In typical Tektro fashion, the brakes proved effective when applied with good stopping power, no noise and no fuss.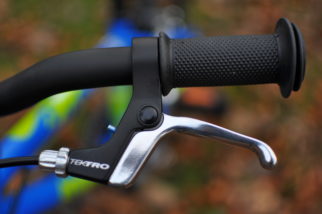 Seat tube and saddle
The seat tube on our Squish 18 came pre-applied with thick grease to stop it seizing up – a nice touch. It's not quick release, so you might want to take a suitable hex key with you when out riding to make those 'on the fly' adjustments. Plus, you just need to turn your back and your child seems to grow!
Unfortunately, the hex keys supplied with the bike don't fit the 4mm bolt on the seat post, so you will have to use your own if you're assembling the bike and then for future adjustments (if buying in store ask them to supply a 4mm Allen/hex key for the seat post).
If you're buying the Squish 18 mail order from Tredz, I've checked and all their bikes are supplied with a 9-piece multi-tool, which has a 4mm hex key on it.   If you're buying elsewhere, you may need to get yourself a handy pocket sized bike multitool – an invaluable piece of kit!
Multitools come in all sizes and prices, but the Topeak Hexus II is a bargain for the quality and tools it offers.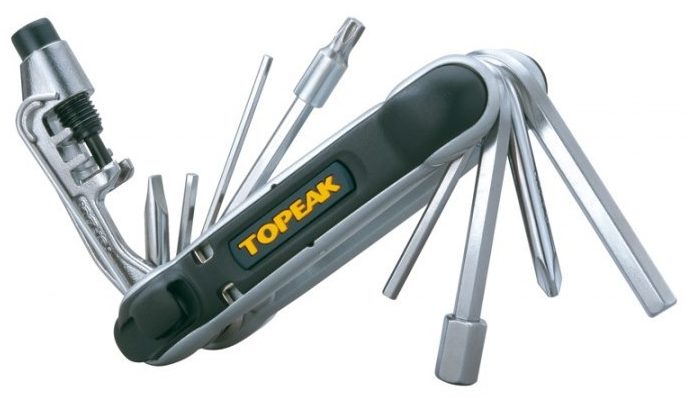 => Available at Tredz for £15.99
The saddle is of child sized proportions, and is decorated with the Squish "splosh" of paint.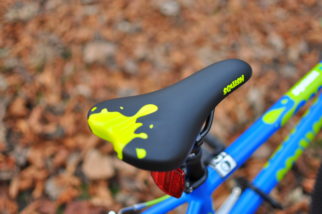 Squish bike wheels
The 18″ wheels spin freely and fast. Alloy rims with cnc machined rims for braking are matched to alloy hubs by Quando; it's comforting to see a named brand widely used throughout the industry. A hollow axle and Hex key (Allen key) fixing bolts attach the front wheel to the Squish 18 – a simple and neat solution not seen on cheap, heavy kids bikes. Just remember to take your multitool or hex keys with you in case of a puncture!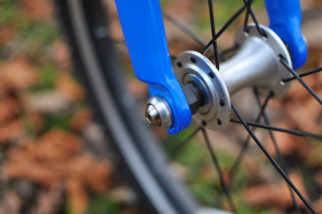 At the rear, there is a solid axle that is slightly over standard length to allow stabilisers to be fitted. But not everybody wants to fit stabilisers? It's okay, the guys at Squish have it covered as the Squish 18 comes with black plastic protectors that slip onto the axle nuts and cover everything up neatly.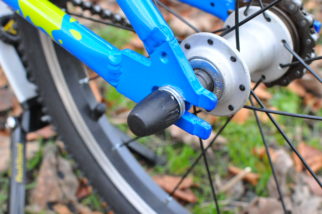 However, a word of warning – we struggled to remove these black caps. There was no movement at all when we tried to loosen by hand, and a token effort when attempting to prise off with a knife. They didn't fit the spanner tool supplied with the bike either. Finally, pliers were found, and these did the trick easily.  We mention this, as you'd need to take off the caps to remove the wheel to fix a puncture – so worth thinking how you would get the caps off if needed when out and about. Alternatively, you could leave them off.
Applying a liberal amount of grease to the inside surface should help and refitting them a couple of times may work, else take a small pair of pliers with you if you're doing any adventurous cycling.  Also, make sure you're carrying a tool to release both axle types (the tools supplied with the bike is fine).
Sponsored Content Start
Want to make some quick cash from that too small bike?
Do you have a good quality kids bike that's been outgrown and you've been meaning to sell on? 
Luckily The Bike Club are making it REALLY EASY for you to sell on old kids bikes. 
Just get an online valuation for your old bike, and if you're happy with the price they'll send a courier round with a bike box to pick it up. 
No hassle - just more space and more cash for the next size bike. Easy! 

Sponsored Content End
18″ tyres – an unusual size!
The tyres on Squish Bikes are  18″ x 1.5″ small blocks – they look to be grippy enough for grass and gravel but not too fat and chunky to be a hindrance on the road.
The 14″ and 16" Squish bikes both use Kenda tyres, but interestingly, all the larger sizes, including the 18", use the Tandem Groups own brand "Cadence" tyres. They opened tooling for these exclusive tyres in 2013 when developing the Dawes Academy range (when it was much more difficult to get hold of Kenda 1.5" width tyres).  We've been reliably informed that the Cadence tyres are designed to be as light as possible, whilst maintaining optimum grip and performance. We're going to be awaiting the verdict of our tester as to how they perform – we've got high hopes as the tyres were designed for a bike with a higher price point!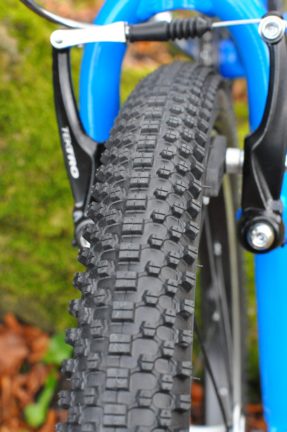 Gears on the Squish 18
The Squish 18 a single speed kids bike, so firmly aimed at younger riders stepping up from 16" wheel bikes but not wanting or ready for the complexity that gears bring.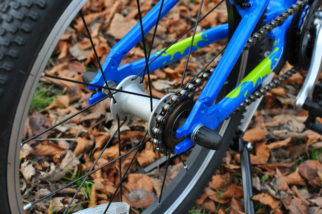 As time progresses, it would be good to see if Squish release a geared version of the 18″ wheel bike for those children ready for gears but not quite big enough to handle a 20" wheel bike – this is a current gap in the quality kids bike market.
Pedals and reflectors
The pedals are plastic bodied so aren't too heavy – they rotate well and have grippy plastic pins for traction during wet weather.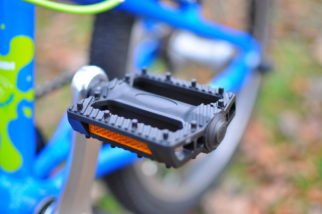 Our bike came in a box and needed the pedals fitting, but before doing that we greased the threads to stop them from seizing into the cranks as this isn't a fun way to spend time should you wish to remove them. The pedals came without grease on the threads, so we recommend you grease these up yourself if you're assembling at home. If you're picking it up from a reputable bike shop, then they'll have this sorted.
The reflectors and bell require a pozi-drive (crosshead) screwdriver to install. These items are really worth fitting as they help raise awareness to others that your child is on their bike.
Is the Squish Bikes 18″ wheel kids bike good value for money?
In our opinion of having a first look at the Squish 18, then we'd say yes, it's definitely good value for money. Firstly, this is a wheel size that the other quality bike manufacturers aren't yet catering for, so if you're looking for a well specified, lightweight 18″ wheel bike, then this is your only choice.
Secondly, Squish bikes in general are very competitively priced compared to their rivals in the lightweight bike market. We've been impressed with the quality of the frame and components and the thought that has gone into the design of the bike. There are a few little niggles, such as the lack of a Hex key to secure the seat post, but these are really very minor.
Of course – the real test is  how this bike performs over a period of time.  You can read our long term review of the Squish 18 here. 
Squish 18 review – the final verdict
We were really impressed with this bike – it would be a great choice for a taller child who is too big for a 16″ wheel bike but isn't ready to make the jump up to 20″ wheels and the complexity of gears.  Those not confident with allen keys should buy from a local dealer who will assemble the bike for you.
Where can I buy Squish Bikes?
Squish Bikes are sold through a network of local bike shops, which is great as you can try sizings before you buy, and support your local independent bike shop at the same time.
You can also rent the Squish 18 on a monthly basis from The Bike Club, and the great thing is when your Sprog outgrows it you just send it back and upgrade to a larger wheel bike.  
The Bike Club also have a scheme called reCycle where they'll buy your old quality kids bike to add to their fleet – you can get a valuation here. 
Buy New  Rent Now   Buy Local Buy Used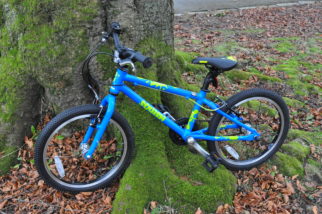 Cycle Sprog have been provided with the Squish 18 kids bike for review by Tandem Group Cycles.
Other posts you may like:
Affiliate Disclosure: Some of the links on this page may contain affiliate links, which means if you make a purchase Cycle Sprog will get a small commission. This doesn't affect what you pay, but does allow us to continue running the website. Thanks for your support.
This article was first published in December 2017 and updated in March 2021 to reflect new prices and availability