Kids summer cycling gloves are so important for keeping little hands protected while riding a bike – from blisters and from scrapes – as well as helping reduce the vibration through the handlebars, especially when riding on rougher terrain.
Here is what is currently available in the way of short-fingered children's summer cycling gloves.  Most of the gloves are smaller versions of adult cycling mitts, although we've included a few that are child-specific in their sizing.  All will provide your Cycle Sprog with good protection as they're riding their bike this summer.
Cycle Sprog is an family run, reader supported, website. We belong to several affiliate schemes so may receive a small commission from sales made from links on our site. We do our best to be impartial and recommend products on their quality not whether they are in a scheme.
Things to look for when buying summer cycling mitts for your child
Short fingered kids cycling gloves (aka cycling mitts) are a relatively simple piece of kit, but they do vary in style, size, price and quality. Things to look out for are:
The fit of the glove – you want them to be snug on your child's hand – too big and they'll get chaffing where the glove is moving against their skin. Too small and they'll dig in.   Some kids sized cycling gloves come with velcro tighteners for a closer fit.
Padding – the more expensive the glove, the more padding you're likely to get on the palm.  Some kids like this, but it the glove is too big for them this can bunch up and cause complaints
Ease of getting the glove on and off – this will vary depending on your child's hand size
Quality of fabric – some cheaper gloves don't have seams on the material on the fingers, which means they're more likely to fray (i.e. be picked at by little fingers)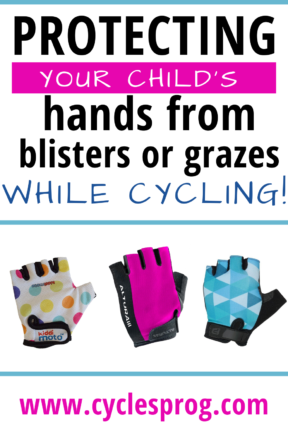 The best kids summer cycling gloves
Here's our selection of the best summer kids short fingered cycling gloves. Obviously, there are issues with supply levels at the moment, and delivery may take longer than usual.  Given the huge increase in the number of families cycling this summer we recommend you buy early in the season to avoid disappointment.
Note:  Where hand measurements are given measure around the widest part of the hand excluding the thumb.
Altura Children's Airstream Mitts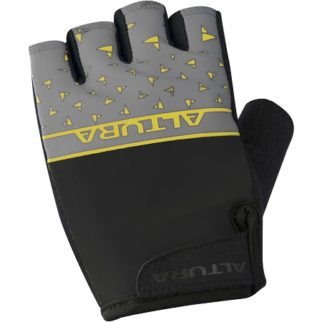 The Altura Airstream kids cycling mitts have memory foam padding in the palm to provide good protection from bumps and the vibration of their ride. This is coupled with a high wicking fabric which gives a decent amount of grip on the handlebars.  Altura use a hook and loop cuff adjuster for a secure fit so there shouldn't be any chaffing.  The gloves also have a microfibre sweat panel which can be used for wiping sweating foreheads or snotty noses!
These fingerless cycling gloves come in 3 colour schemes  (grey/black, blue/blue or orange/blue)  and are available in 3 sizes.
Hand circumference:
Small – 14.5-16 cm
Medium – 15.5-17 cm
Large – 17-19 cm
Buy Now:  Altura Airstream kids cycling mitts at Wiggle 
Polaris Controller Kids Cycling Mitts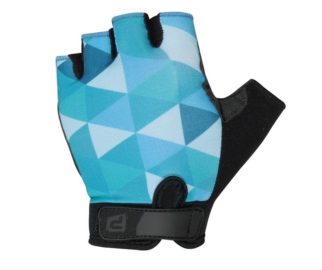 Another popular choice of kids summer cycling mitt is the Polaris Controller. It comes in a wider range of colours and patterns that the Altura – including the jewel pattern shown, and a spotty version as well as skulls and camouflage versions. The mitt has many of the same features, including padded palms, sweat wipe area on the thumb and an easy open Velcro fastener.  The Polaris mitt comes in four sizes:
Small = 12.0cm;
Medium = 15.0cm;
Large = 17.0cm;
XL = 19.0cm
BUY NOW:  Polaris Controller kids cycling gloves from Amazon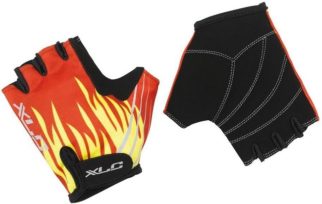 These XLC mitts certainly look the part with their fiery design! The Lycra back is breathable, and the palm is padded so these mitts will allow for great grip. They have a hook and loop fasteners for a secure and adjustable fit. They are also fully washable so you can chuck them in the wash post the big rides!
They come in three sizes;
4 (S)
5 (M)
6 (L)
Check availability:  XLC Fireworker Kids Cycling Mitts at Tredz
Kiddimoto Mitts – for ages 2 plus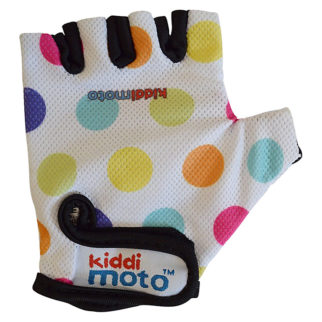 Most of the kids cycling gloves mentioned in this post don't fit the very smallest of hands (i.e ages 2 years – 4 years old)
One of the best kids summer cycling gloves for toddlers and very young children are the Kiddimoto range. They come in a wide range of colours and styles that appeal to very young children – including spots, butterflies and splotches.  These small cycling mitts have all the features you need – padded palms, breathable lycra-backed fabric and a handy Velcro wrist strap. They should fit even the smallest balance bikers hands and give a good grip on the handlebars.
The Kiddimoto gloves come in two sizes:
Small (ages 2 – 4 years)
Medium (ages 5 plus)
BUY NOW:  Kiddimoto toddler and child cycling gloves from Halfords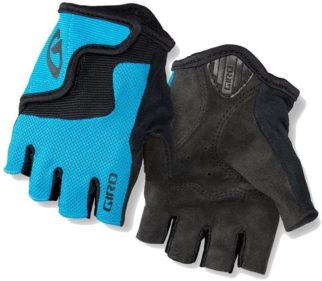 Giros popular adult mitts have been mimicked here in their junior version and come with a bundle of features. They are made with a moisture wicking breathable mesh and have a padded Clarino palm. They also have a highly absorbent microfiber wiping surface, so they should be comfortable to wear. They have a wide opening at the top and are secured closed with Velcro, easy for little fingers to get them on and off!
Available in five colours and various sizes: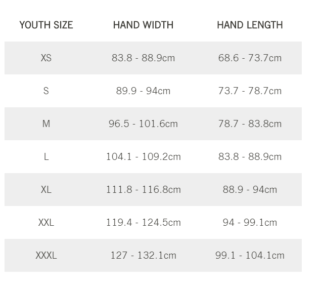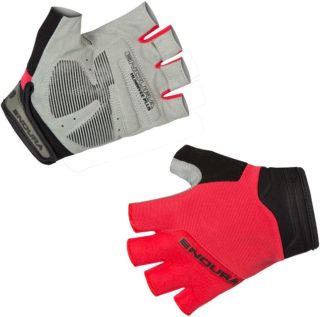 The Endura Hummvee Plus is a great choice if your young biker doesn't want flashy patterns or "childish" designs, these look very understated and "grown up" – depending on your idea of grownup! They have silicon palm prints that give great grip, Velcro straps for an adjustable fit, and a Terry sweat wipe for runny noses!
The gloves come in either Red or Black and are available in three sizes.
Buy now:  The Hummvee Plus from Tredz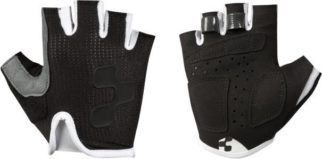 The Cube Race Junior mitt is a great choice for your little biker. Lightweight and with Cubes great ventilation system, they are designed to reduce sweaty palms making them comfortable to wear. The palms have been reinforced and they have a Pull-On and Tear-Off System, so they will be easy to get on and off. They also have an elastic cuff, so they show feel secure when on. As with most mitts, they come with absorbent fabric for wiping off sweat mid-cycle.
They come in 3 sizes;
Size       cms (circumference)
xxxs       13.5-14.5
xxs         14.5-15.5
xs           15.5-17
Buy now: Cube Junior Cycling Gloves from Tredz

The Madison Tracker Kids Mitts are available in three brilliant bright colours, Pink, Red, and Blue. They have light padding in the palm which will allow for a good grip as the wearer will be able to feel the handlebars well through them. The Lycra back gives great flexibility and the thumb has a brow wipe for sweaty foreheads! The easy-off finger tabs mean they'll be quick to whip off at the end of the ride.
They come in 3 sizes;
size       cms (measure across the back of the palm)
S            7.0 – 7.5
M           7.5 – 8.0
L            8.0 – 9.5
BUY NOW:  Maddison kids cycling gloves from Leisure Lakes Bikes 
Cube Junior Race Eazy Short Finger Cycling Gloves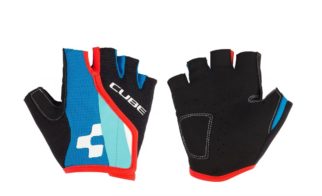 Our boys have used the long fingered version of these Cube gloves and found them to be very comfortable and easy to get on and off. The Cube Race Eazy gloves have got an extra large Velcro fastener which is easier for younger children to do up. The gloves come in three sizes – note that the smallest Cube glove is bigger than the Polaris and Altura gloves, as these are junior, rather than kids gloves – a subtle but important difference.
XXXS – 13.5 – 14.5 cm
XXS –  14.5 – 15.5 cm
XS – 15.5 – 17 cm
Buy now: Cube Junior Race Eazy cycling gloves from Infinity Cycles

Other articles you may find useful:
Disclosure: Some of the links in this article on kids summer cycling gloves use affiliate marketing, which means Cycle Sprog gets a very small commission for every purchase made. This helps us to keep the website running, so thanks so much for your support by buying through these links.