If your kids are going to continue to cycle throughout the cold winter months, then a pair of good quality warm children's winter cycling gloves become an essential purchase.  This is because they need to be able to keep gripping the handle bars, change gears and of course brake – whatever the temperature. They also need to be able to handle a cup of warming soup!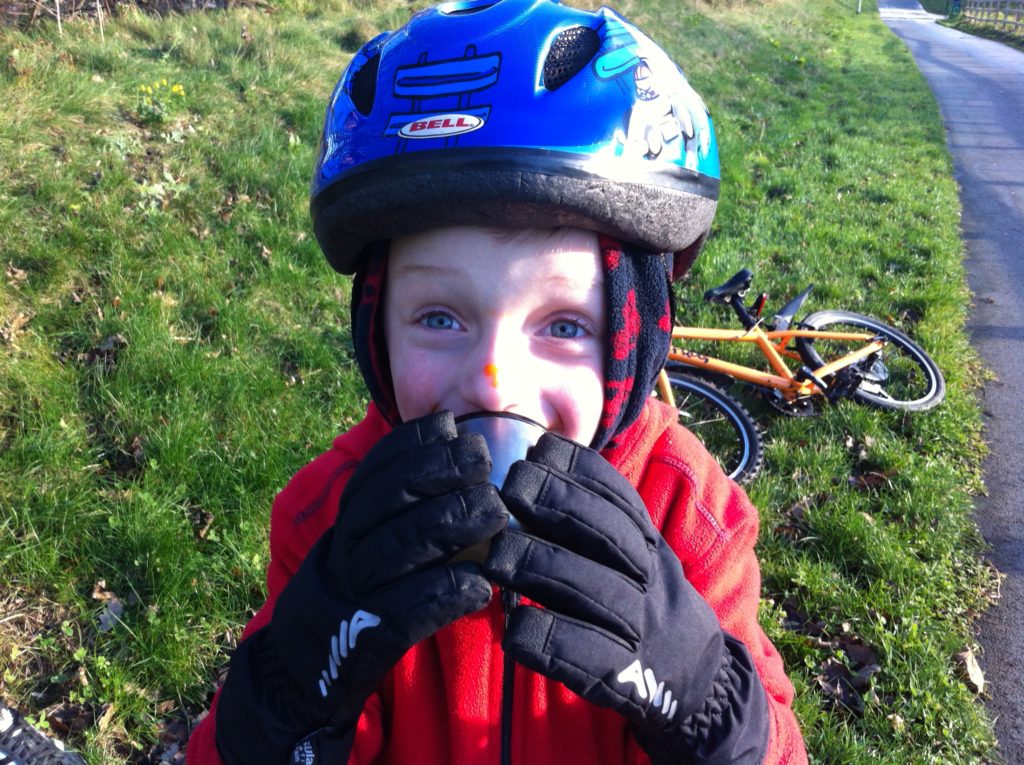 Winter gloves are also important for toddlers and younger children sitting in cargo bikes, bike seats or trailers, who lose heat quickly.
Winter cycling gloves need to be warm, windproof and reasonably waterproof and sized for smaller hands.  Be wary of some of the cheaper gloves on the market that are suitable for milder weather autumn/spring use but aren't designed for year round riding.  Or aren't well made enough to withstand being taken on and off a lot – weak seams are an annoying feature of some gloves.
Cycle Sprog is an family run, reader supported, website. We belong to several affiliate schemes so may receive a small commission from sales made from links on our site. We do our best to be impartial and recommend products on their quality not whether they are in a scheme.
The best kids sized cycling gloves – 2022
As with everything this year there's a shortage of stock of some brands and sizes of kids winter cycling gloves.  
If you find a pair in stock in your child's size I do recommend you don't delay and buy immediately – they may not be there when you come back!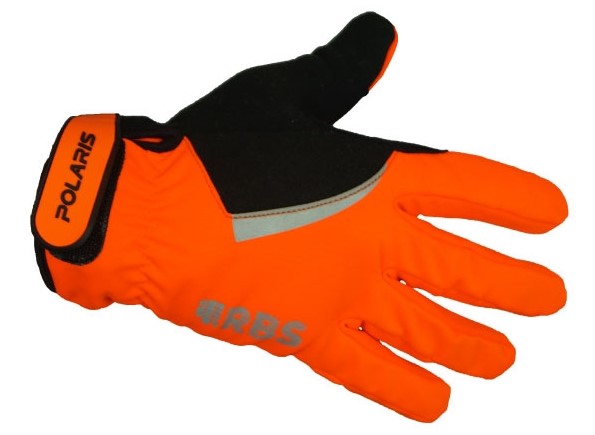 The Polaris Mini Hoolie Children's Cycling Glove is a fully windproof winter glove, and is weatherproof (meaning it will repel water up to a point, but isn't 100% watertight).  
It's particularly suited to riding in the dark, due to the high visibility trim, and their RBS glove (RBS stands for "Really Bright Stuff") is good for low light conditions, particularly when signalling.  
They come in yellow or orange with black trim, or black with orange.
The velcro adjustable cuff gives more options for keeping out the cold and rain, or releasing heat.
The silicon print on fingers and palm add additional grip in the wet and there is a fleece nose wipe on the thumb (lovely!!)  
This glove would be ideal for those who cycle to school all year round.
Sizings of Polaris Kids Cycling Gloves are given on their website as:
Small = 11.5 – 13.0cm (5-6yrs)
Medium = 13.0 – 14.5cm (7-8 years)
Large = 14.5cm – 16.0cm (9-10 years)
XL = 16.0 – 17.5cm (11-12 years)
Buy Now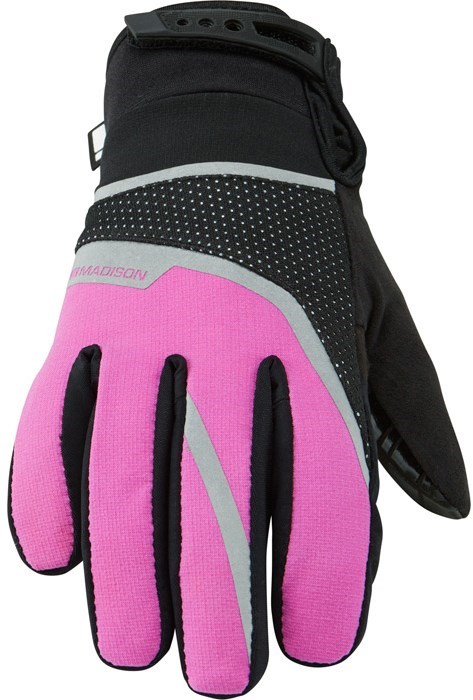 Maddison kids winter cycling gloves come in a range of colours, with black, yellow and pink options available.   The Protec is their heavier weight offering, and Maddison claim these gloves are waterproof, windproof and breathable.
They have a  micro-fleece lining to keep hands warm and dry.  They've got a cuff adjuster plus reflective print and detailing for enhanced visibility.  
These gloves come with silver thread on the tips of the thumb and index fingers to allow for basic control of touch screen devices without the removal of the gloves, so these are a good all round choice for mobile savvy kids, or those navigating using a device.
The Maddison gloves sizing is done in cm's not years.  Their website states – "measure across the of palm for glove size" and you don't include the thumb.  
Their ranges for their youth sizes say:
XS – 6cm-7cm;
S 7-7.5cm;
M 7.5-8cm; L 8-9.8cm
Buy Now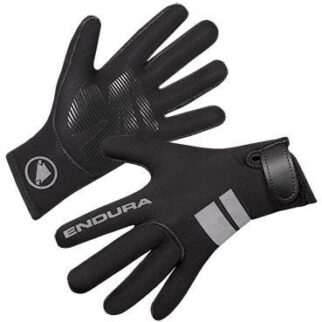 Endura are another popular choice for winter cycling kit – they're designed to keep you dry and warm in whatever a Scottish winter can throw at you, and we've been impressed with everything we've bought from them in the past.
Their Autumn/Winter kids cycle glove offering is the Nemo II.
It's got an interesting feel super stretch neoprene outer, which should be very waterproof, and a reflective trim.
There's silicone grip on the palm, and a deep cuff with a velcro wrist strap adjuster to stop rain or snow getting down inside.
These gloves are ideal for hardened winter cyclists who go out in all weather conditions – Endura even say they're ideal for snowballing!
The Nemo II has been updated recently, but our readers have been impressed with previous versions of the glove…
The Nemo gets the thumbs up from Dad of two Toby, who told us "You won't find warmer and more dexterous, I promise. They are amazingly good, and for snowballs too."
However, we also received the following review from Mum of two Victoria, who told us "The sizes are very off, my 5 year old wears the age 7-8 and she is very petite and my 7 year old wears the 9-10. Also, they did not keep my 5 year olds hands warm – she screamed the whole way to school while cycling and they were blocks of ice when we arrived!"
The Endura Nemo full finger kids cycling gloves are available in 5-6yrs (5.5cm), 7-8yrs (6cm), 9-10yrs (6.5cm) & 11-12yrs (7cm), measuring across the top of the knuckles to find the size.
Buy Now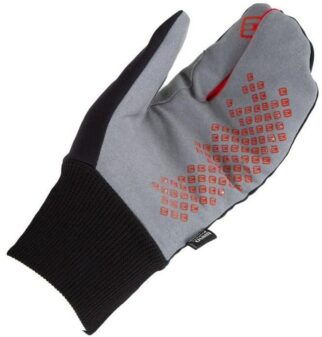 An alternative to traditional gloves are these kids sized waterproof cycling mittens from ETC, which are designed to keep the worst of the elements at bay. This mitten style is commonly seen in colder climates but is now available in junior sizes in the UK. The ETC junior mittens are designed with both practicality and reflectivity in mind.
They have a breathable softshell exterior, which ETC advise is waterproof and windproof. The palm and the finger have a silicone print to reduce slip and the cuff is long and elastic so can be tucked up inside clothing and reduce bare skin around the wrists. The ETC Mittens come in 3 sizes (7-8 years), 9-10 years and 11-12 years, and three colour options – black, blue and pink.
Buy now – ETC Junior Winter Mittens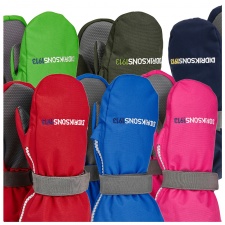 For younger children who are sitting in a cargo bike, trailer or bike seat, you need to make sure their hands are really warm.
Unlike young cyclists, they are sitting still and not generating body warmth.  Extremities like fingers will get cold quickly.
Mittens are a good way to keep smaller hands warm, as you're not fiddling trying to get fingers into the correct holes.
The Didriksons Biggles Zip Mittens come with a zip down the side, to help you get your child's hands into them – something we think will really help when you're rushing to get out the house.
They're made of 100% Polyamide Weave, which is water resistant, but the tapes aren't seamed, so they're not 100% waterproof. Warmth is provided by fleece pile. The mittens come in ages Baby – 2 years, 2-4, 4-6 and 6-8 years, and five bright colours. 
Buy now: Didriksons Biggles Zip Mittens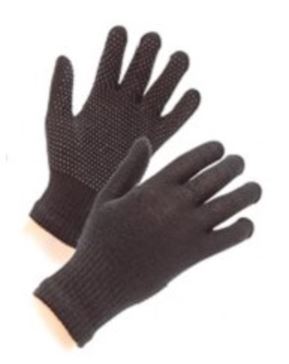 It's always useful to have a little pair of "normal" gloves to have tucked away in your rucksack.
Picture the scene – you've stopped for a break, the winter cycling gloves are too cumbersome and so come off, but it's too cold to go without gloves – you know the result if they get freezing fingers, so best be prepared.  Alternatively, you may find their hands warm up too much in their winter gloves up a hill, and they won't keep them on.  
They can also be used under other mitts and gloves in extremely cold weather.
We also find really cheap thin gloves are good for turning short fingered cycling mitts into autumn/winter cycling gloves in an emergency situation (i.e. you've turned the house upside down and can't find the warm kids winter cycling gloves anywhere!)
A cheap pair of magic gloves with a grippy palm are useful if your child ends up needing to use them for cycling in and be picked up for about £2.00 a pair.
Buy now:  Cheap emergency gloves with grippy palm
Don't lose the gloves!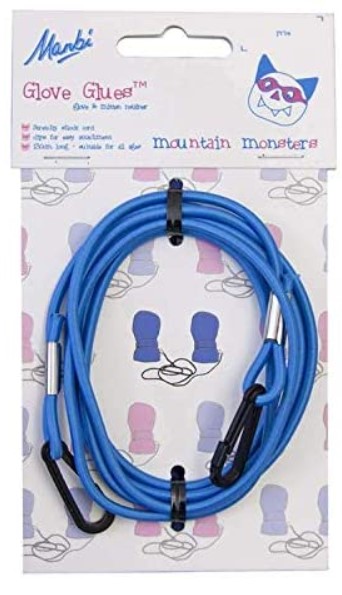 Finally, if your kids are prone to taking their gloves off and losing them (especially if they're sitting behind you in a rear bike seat or bike trailer and you can't see them!) then the good old fashioned piece of elastic is a good idea.   
If you don't have an spare elastic lying around, then Glove Glue is a great alternative – it's a correctly sized piece of elastic which comes with clips, meaning you don't have to sew anything, but does need you to have gloves with a loop hole on them.
Currently out of Stock
Kids Winter Cycling Gloves from Polaris
Credit is due to Polaris for realising that winter cycling takes many forms and that one glove doesn't suit the needs of all kids. Whilst many manufacturers have a range of adult gloves, most only have one winter kids glove on offer.  It's great therefore that Polaris have four different kids winter gloves – the Mini Windgrip, Mini Attack, Mini Hoolie and Mini Torrent, which go up in level of protection.
Unsurprisingly, a couple of these options are currently out of stock, so they are listed towards the bottom of the page, however, it's worth keeping an eye on these if they are you're prefered option as hopefully more stock will be available soon!
All Polaris kids winter gloves come in four sizes, based on the circumference of your child's hand (excluding the thumb), and tend to come up a bit on the larger size.
Small = 11.5-13.0cm (approx 5-6yrs)
Medium = 13.0-14.5cm (approx 7-8 years)
Large = 14.5cm-16.0cm (approx 9-10 years)
XL = 16.0-17.5cm (approx 11-12 years)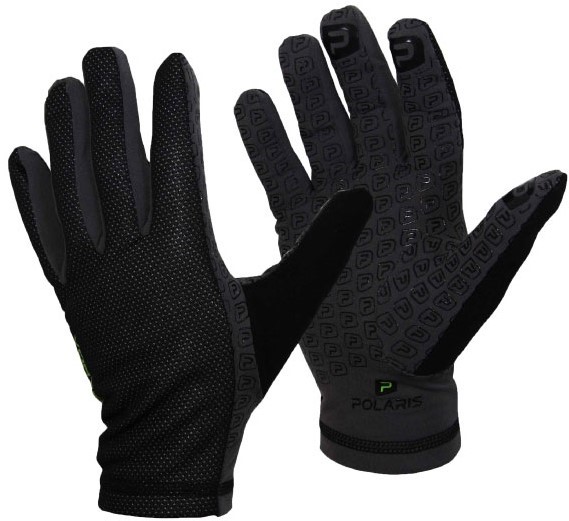 The Polaris Mini Windgrip gloves are designed for year round use – they are, as the name suggests, windproof, so will stop fingers getting cold on milder days. They're not waterproof or thermal, so are best suited for those who cycle on dry, mild autumn and spring days only.  The palms are grippy, so good for those needing optimum control of their bike (think racing!)
==> Click here to buy the Mini Windgrip gloves 
Cycle Sprog used and recommended gloves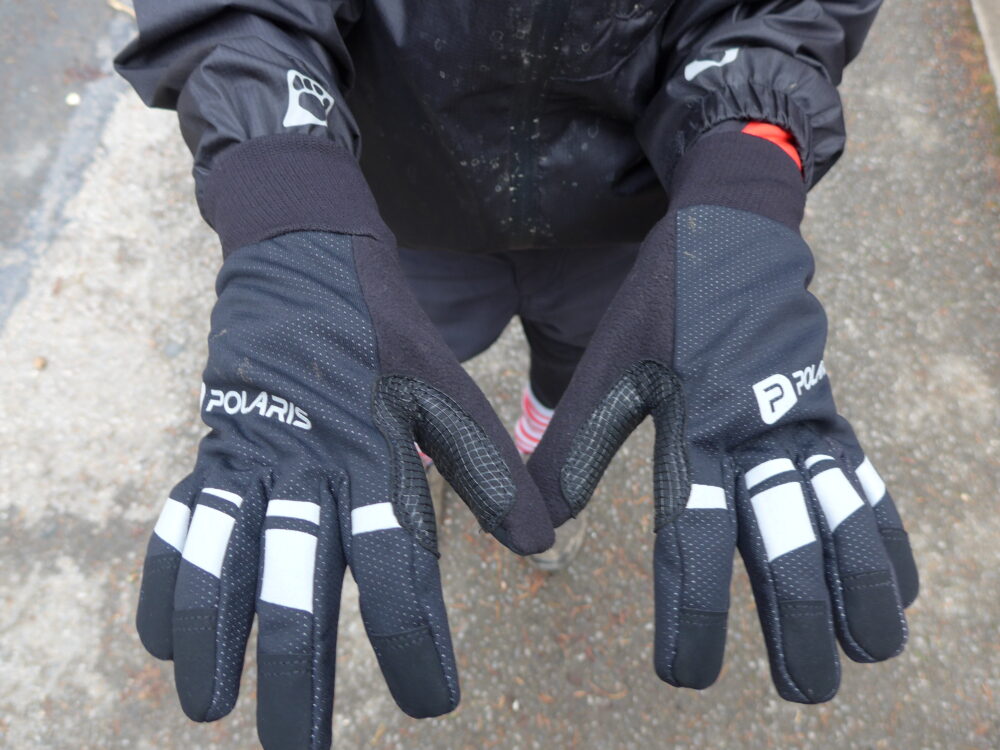 The Mini Attack is a warm winter glove but it is not completely wind or waterproof. Whilst this might sound bad, it's worth remembering that if it was, then little hands would probably get very hot and sweaty on all but the coldest days.  With the Mini Attack, the wind and waterproof fabric is to the back of the hand to prevent the worst of the cold and wet getting in.
The glove does have a knitted cuff rather than the velcro, meaning water ingress during torrential downpours, plus it can be difficult to let the heat out your child is getting very hot through exertion.  However, the Mini Attack is a good choice if you're riding on crisp, dry winter days, or when it's light rain.  
Our youngest wore them all winter for weekend mountain biking and didn't complain of cold hands.  He did overheat several times on the very steep climbs – but we do live in Cumbria! The rest of the time he found them to be a great all rounder (here's our review of the Polaris Mini Attack if you want more detail on how it performed).
==> Click here to buy the Polaris Mini Attack Gloves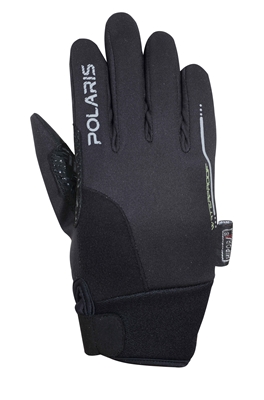 As the name suggests, the Mini Torrent is Polaris's most extreme winter cycling glove. Designed to be fully waterproof, it contains a Hipora membrane lining to ensure no water seeps through from the glove surface to hands.  This glove is ideal below freezing due to its thinsulate padding and insulation – if it's worn in warmer conditions you're likely to get complaints of hands getting too hot.  An ideal glove for those who cycle through extreme conditions, or where your child is expending no energy themselves and getting cold extremities (i.e. in a cargo bike, tagalong)
Buy now:  Polaris Mini Torrent Kids Winter Cycling Gloves
The Altura Night Vision 3 has a sleek look, with added colour and a long cuff.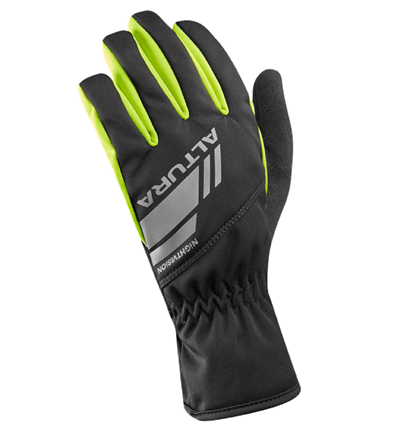 We used the Altura kids winter gloves for several years when our boys were younger and frequently buy adult Altura products, as they are so well designed for the British climate, so expect this glove to perform well.  It's designed to have maximum visibility – check out the reflective material which will be picked out by car headlights – and warmth, whilst maintaining breathability. Cuff extensions provide extra warmth (and hopefully keep the rain out), and an inner thermal lining should keep little hands dry and warm. The external fabric is designed to be windproof.  This glove is designed to be a good all rounder for daily use through the chilly and wet winter months.
The Altura Youth Night Vision 3 has and RRP of £19.99 and is available in three sizes (5-6, 7-9 and 10-12)
===> Click here to buy the Altura Night Vision 3 
If you've found this article on children's winter cycling gloves useful, please do share it with your friends, or pin it to your Pinterest board for next year.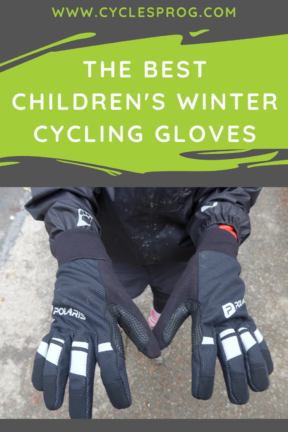 If you follow Cycle Sprog on Facebook you'll hear about lots more useful advice on cycling with your kids.
Other articles you may find useful:
This article on the warmest children's winter cycling gloves was originally posted on 10th October 2012, and was last updated in October 2020 to reflect the latest stock
To find out how Cycle Sprog is funded through affiliate links on this page, visit our affiliate disclosure policy. Thanks for buying through these links – it helps keep Cycle Sprog going!
If you're cycling all year round with your family, you'll love our article on kids winter cycling jackets:
Support Cycle Sprog!
If you've found this article useful you can buy us a virtual coffee (or two!) to say thanks and help us keep the Cycle Sprog website going.