Just because the weather gets colder doesn't mean you need to stop getting out on your bikes. If your family is planning on doing a lot of cycling this winter, you'll want to get clued up on the tips and tricks for cycling safely in winter, particularly if you've got little ones with you.
This post is kindly sponsored by Fawkes Cycles  Run by Nigel and Mandy Bishop, a former cycling World Champion and an ambassador for this year's World Championships in Yorkshire who think that cycling safely when the temperatures are low, especially when there's a risk of snow and ice, is of the utmost importance. To keep your family safe on the trails this winter here is some helpful advice from them.
Family Cycling Safety for Winter
Appropriate Clothing
Making sure your family is fully protected against the elements in the right clothing is essential. The correct amount of windproofing, waterproofing and thermal gear, will make sure your family cycling trips aren't compromised by harsh weather conditions.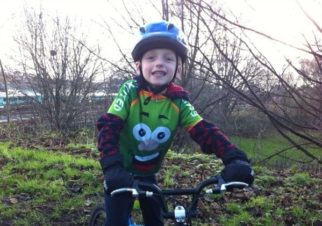 You may be tempted to wrap up the kids in thermal fleece over their entire bodies, but you must be careful not to go overboard, as this can quickly make anyone overheat causing discomfort. The correct gloves, shoes and hats with keep your extremities toasty and warm, while the perfect amount of layers on the top and bottom of your body will keep you protected. If you're unsure, stand outside for a bit in your clothes and see how you feel. Bear in mind that you will heat up once you get going.
Check Your Tyres
The tyres on your bike are like the shoes on your feet. You won't get very far walking in the snow if your shoes are full of holes or haven't got enough grip. It's the same with your bike's tyres.  
Check everyone's tyres before going out for a ride. Make sure there are no punctures and that they are properly inflated. The right amount of inflation will deal with bumps on the trails and help absorb shocks, keeping you all upright. This is especially important in wet and cold weather.
You May Need Lights
Whilst the nights are darker during the winter, you may want to think about investing in bike lights for the whole family. During the days when it starts to get dark as school gets out, it is vital you are seen when cycling on the roads in the dark.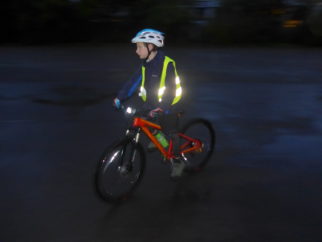 As well as lights, you may also want to pick up some bright fluorescent clothing so that cars can see you coming. These are always great things to have around if you're planning cycling trips in the early morning or afternoon/evenings, to maximise your family's cycling safety.
Storage and Maintenance
Whether you're looking after large mountain bikes or delicate children's bikes, all bikes should be stored appropriately and well-maintained. During winter, you must take care of the moving parts of your bike because the build-up of grime and mud is greater and doesn't do well in cold temperatures.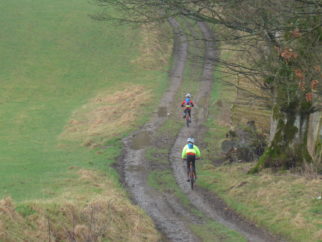 Make sure your chains are appropriately oiled and any cables are looking good. Check your gears, brackets and components to make sure everything is in full working order. This will help stop you and your family from having any accidents when you're in the middle of a ride.
Plan Your Route
Winter cycling takes careful planning. You may already have your favourite cycling routes to take with your family, but harsher weather conditions can mean a little adjustment. If it's snowy or icy, you are best sticking to routes that have been cleared. You should also watch out for sloped areas, and choose routes that your family will all be able to handle in the cold.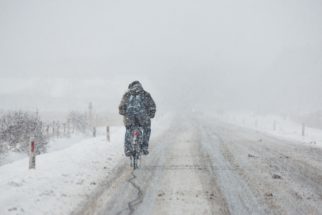 While you're cycling, you should try and watch out for areas that are likely to be icy. When water pools around the gutters of a road, icy patches can form. Avoiding these as much as possible will help keep you pedalling happily. You should also check the weather forecast and if needs be, save the cycling for another day. 
Riding Style
With wind, rain and low temperatures, everyone will need to adjust their riding style to accommodate. Whether you're an experienced cyclist or you're just starting out, there are a few ways you can make sure you and your family are being extra safe whilst cycling in winter.
Firstly, be careful how you take corners. Brake in advance and try to pick dry routes when you take a corner – you can remind your little ones to do this too. Although, be careful not to brake too harshly, as this can cause skidding and accidents. You may also need to adjust the riding positions of each of your riders. Lowering your riding position lowers your centre of gravity, which will keep everyone a little more stable on the bike.
Cycling as a family all year round has huge benefits, but making sure you're staying as safe a possible throughout winter will make sure you all stay merry and bright.
Other posts you might be interested in:
This post was kindly sponsored by the lovely people at Fawkes Cycles.  It was first published in December 2019 and republished in January 2023