Now autumn is well and truly here, your thoughts naturally turn to keeping your child safe, warm and dry whilst cycling to school. A good quality cycling jacket will make them visible to traffic in low light conditions, dry on rainy days and ensure that they enjoy their cycling year round. You'll be able to decide if they also need to be big enough to fit additional layers during very cold weather. Unfortunately there aren't that many kids winter cycling jackets on the market, but we've searched high and low to find you what's available.
This post covers what I call everyday kids winter cycling jackets. These jackets are robust enough to wear every day on the ride to school and are visible enough for your child to ride in traffic. If your child cycles in the dark, you'll be looking for something with 360° visibility, if they only cycle during daylight then brightness of fabric will be more important.
If you're kitting out your kids for winter cycling, you might like our children's winter cycling gloves page too.
Kids winter cycling jackets for cycling to school
Altura Children's Night Vision AW 2016 (rrp £44.99)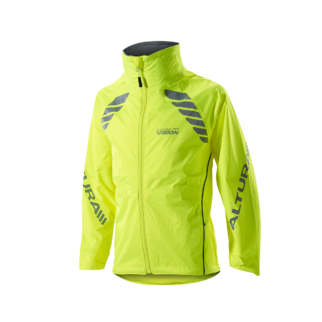 Altura make some of the most popular winter cycling jackets around (both myself and Chris have worn them for years). It's great to see they are continuing their youth cycling range with this kids size version of their 2016/17 'Night Vision' jacket. With water repellent zips and pockets front and rear, Altura are delivering all the features of their best selling adult jacket (which come in men's and women's fits) specifically for younger riders.
The Night Vision jacket is both waterproof and breathable. The trim is highly reflective – it shows up very well when car highlights shine on it, even on the black version. The jacket is designed for 360° visibility, so is highly recommended if your child is cycling home in the dark.
The Altura Night Vision kids jacket comes in three colours (black, yellow and pink) and three kids sizes – ages 5 to 7, 7 to 9 and 10 to 12. I particularly like that they do a black youth version (which so far I've only found available at Tredz and on Amazon – it seems to be selling out quickly!), so that kids don't have to be so obviously a "cyclist" when in the playground after cycling to school.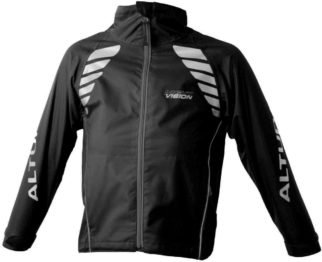 If you're looking for a heavy duty winter cycling jacket to survive daily wear whatever the weather, then the Altura Night Vision is probably the best jacket you'll find. The only down side is lack of hood, so a hat may be required to survive those cold winter break times.
The Altura Kids Night Vision cycling jacket has an RRP of £44.99 and is available from many local bike shops and online stores, including Tredz and Wiggle.
Endura Luminite Hooded Kids Cycling Jacket II (A/W 2017)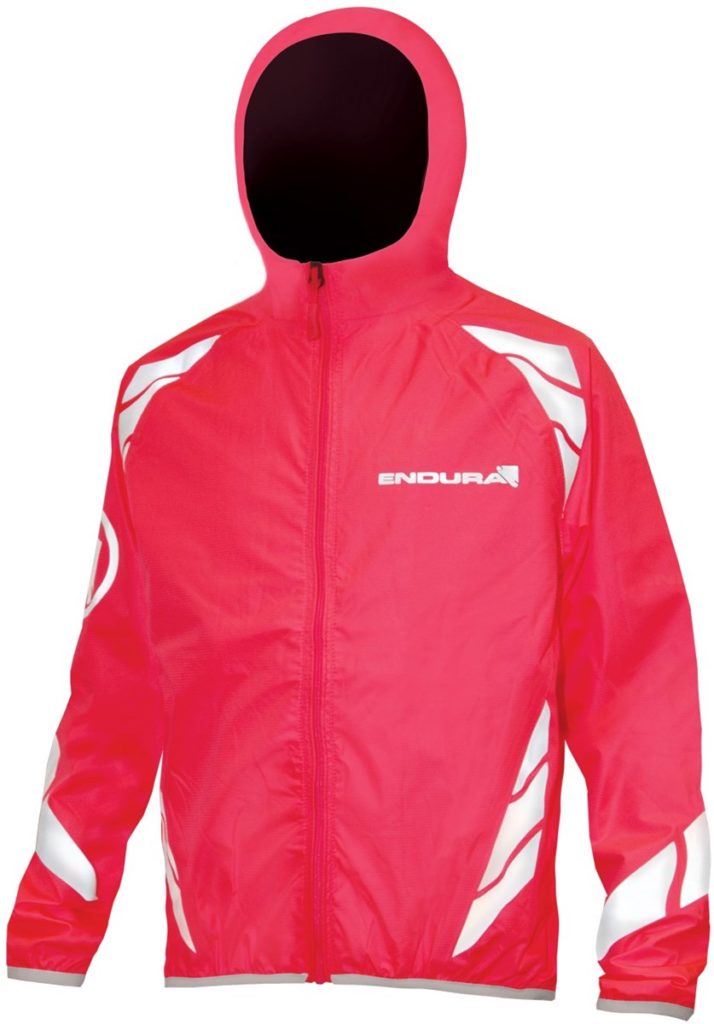 The Endura Kids Luminite Jacket II is the 2017 model from a manufacturer renowned for making excellent quality cycling clothing. This jacket is made from 100% polyester, and offers good protection from the elements.
Breathability is provided via a vent on the back so your child shouldn't get too sweaty. The autumn/winter version of the jacket has a hood, which makes this a more versatile jacket for on and off the bike. The hood can be rolled down and secured with velcro so it doesn't get in the way while cycling. Some people like this, others prefer a jacket with no hood, so it can't obscure their vision.
The Endura Luminite jacket has an LED loop so you can fit a light for night time riding if needed, although this does sometimes get obscured by a rucksac. Whilst on the topic of night time riding, the 360 degree reflective chevrons will ensure your child is visible when the light fades, such an important consideration if they're staying for after-school clubs etc.
The Endura Luminite kids cycling jacket can be packed down into a mesh stuff sack, should that be required.

The Endura Kids Luminite Hooded Jacket II has an RRP of £44.99 and comes in ages 7-8 years, 9-10 year and 11-12 years. The Luminite kids cycling jacket is stocked by Tredz and Wiggle and comes in green or pink.
dhb Kids Hi Viz Jacket (rrp £25)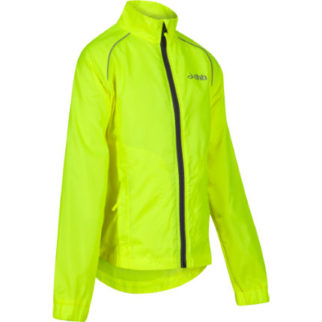 dhb's kids winter cycling jacket is incredibly bright. It's perfect if you're cycling to school during daylight hours and want to been seen, but it doesn't have as much reflective material if your child is cycling in the dark. The dhb jacket comes in a wider size range than the Altura and Endura jackets – 5-6 years, 7-9 years, 10-12 and 13-14 years, so can get them through those early years at secondary school before they'll fit into adult jackets.
Priced to reflect the lower specification than the Altura, the dhb kids cycling jacket has an RRP of £25 and is available from Wiggle
Mountain Warehouse Kids Iso-Viz Jacket (rrp £50)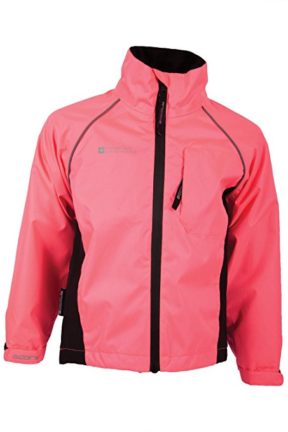 Unfortunately it seems that Mountain Warehouse are discontinuing their range of waterproof, hi-viz kids cycling jackets, but at the time of writing there were a few of these jackets available in pink at the ridiculously low price of £14.99 (down from £50).
The jacket is waterproof and comes with the all important reflective piping, essential for when the light levels start to fade. The rear is lower cut than a standard jacket to help protect the lower back and bum when cycling, and there is a fleece lined collar to keep out the cold.
The Mountain Warehouse Iso Viz kids cycling and running jacket is available direct from Mountain Warehouse and Amazon whilst stocks last.
Aldi kids cycling jacket
Some years Aldi bring out kids winter cycling gear. So far in 2016 this hasn't happened, but if they do, then their cycling jacket will be similar to the dhb jacket, only cheaper. Their clothing tends to be a bit on the small side, but the jacket has done our boys well for years.
Alternatives to a winter cycling jacket for the bike ride to school
If your child is cycling, but is fashion conscious and doesn't want to hang round the school yard in hi-viz, then a possible alternative is to get them a cycling vest or gilet (such as the Polaris Kids Gilet) that can be worn over a standard waterproof jacket. The only thing to remember is that their arms won't be visible, and if they are wearing a rucksac the vest may well be obscured.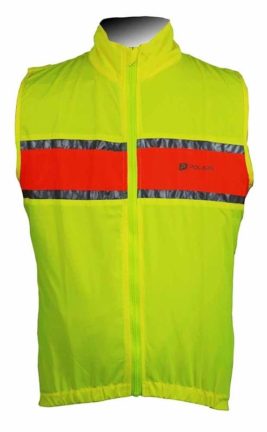 The Polaris Kids Cycling Gilet has an RRP of £19.99 and is available from Tredz
If you're looking for something to keep your child dry on weekend winter family cycle rides check out my post on kids waterproof jackets you can fit in a stuff sack. This seems to be where manufacturers are concentrating their efforts this year, and could also be a suitable option for the ride to school. They're lightweight enough to scrunch down into a small pack, so are good for those days where a waterproof isn't always needed, or if your kid doesn't ride every day during winter.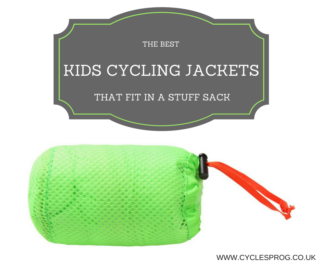 This post on kids winter cycling jackets was first published in Autumn 2012 and has been updated in Autumn of 2016 to reflect the current range of jackets available.
If you've found this post useful please share it on social media. If you follow us on Facebook we'll be able to keep you up to date on cycling with kids, year round.
Affiliate disclosure: At Cycle Sprog we use Affiliate Marketing to help fund the ongoing hosting of the website. Thanks for your support in helping us by buying via the links on this page. To read more about our policy for using Affiliates, and our assurance that this doesn't impact how we inform you of products, please see our Affiliate Policy