Review of the Polaris Fang kids winter cycling jersey
On the face of it, family cycling doesn't need too much "stuff". A bike and maybe a helmet and you're away. However, as we all know, the more we cycle, the more clothing and accessories we want to buy – gloves, shoes, shorts, tops, lights, jackets. The list can go on and on! Plus we all know that kids grow so quickly, so anything we buy them will last maybe one season, two if we're lucky.
Depending on how many rides you get out on, some items can get very little use before they're outgrown. Every so often, however, we come across something that, whilst designed for kids cycling, can actually be worn on other occasions.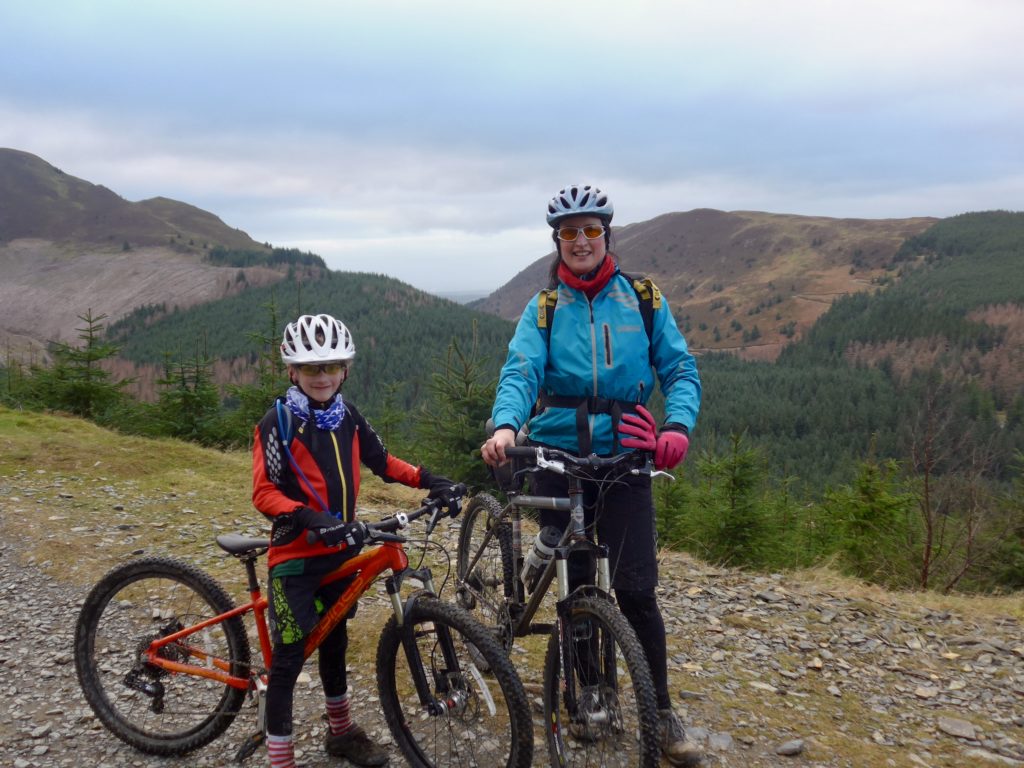 Such is the case with the Polaris Fang kids winter cycling jersey. We were sent one to review and soon discovered it's one of those brilliant items that has had far more wear than the other, cycling specific items that arrived at the same time.
Cycle Sprog is an family run, reader supported, website. We belong to several affiliate schemes so may receive a small commission from sales made from links on our site. We do our best to be impartial and recommend products on their quality not whether they are in a scheme.
The Polaris Fang Kids Winter Cycling Jersey
First impressions
When we received some Polaris junior cycling kit through the post for the Cycle Sprog boys to review, both of them made a grab for the Fang jersey. It immediately stood out as a highly desirable item of clothing, and eight year old T was very happy when he realised that it was in his size! Even though it showed in his eyes, ten year old N took the disappointment well.
The eye-catching colour and striking design appealed to both boys, and we had absolutely no problem getting T to pop it on and test it out. However, it's one thing looking good, but does the Polaris Fang perform when out on the bike?
In a word – yes. The Fang is billed as a winter road cycling jersey, and it quickly became a firm favourite on our December bike rides. The thermostretch fabric with micro fleece lining kept T warm on days where the temperature hovered around zero.
The technical details on the Fang are the same as the Venom adult jersey, and this makes a real difference to the comfort of the ride. T has been really impressed with the silicone waist gripper around the base of the jacket as it helps keep it in place while riding.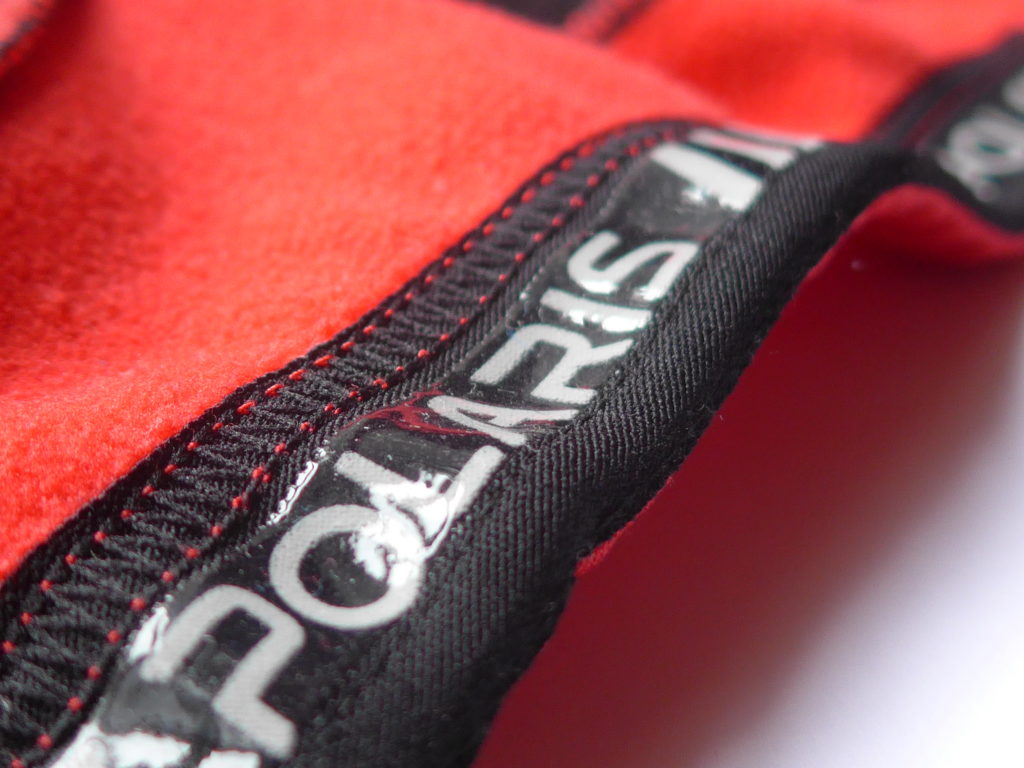 This means the jacket doesn't ride up and expose his lower back to the cold. So, improved comfort with no draughts sneaking in. Result! It's also designed with a lovely long tail to keep that lower back covered and keep their bottom from getting wet from wheel spray.
Another feature of the Fang jersey he really likes are the reinforced thumb holes. These have several benefits – they help the sleeves stay in place as he rides, they make it really easy to put on a jacket over the jersey as the sleeves don't get lost half way up his arm, and they also mean it's possible to pull gloves up over the bottom of the jersey sleeve, so no cold spots.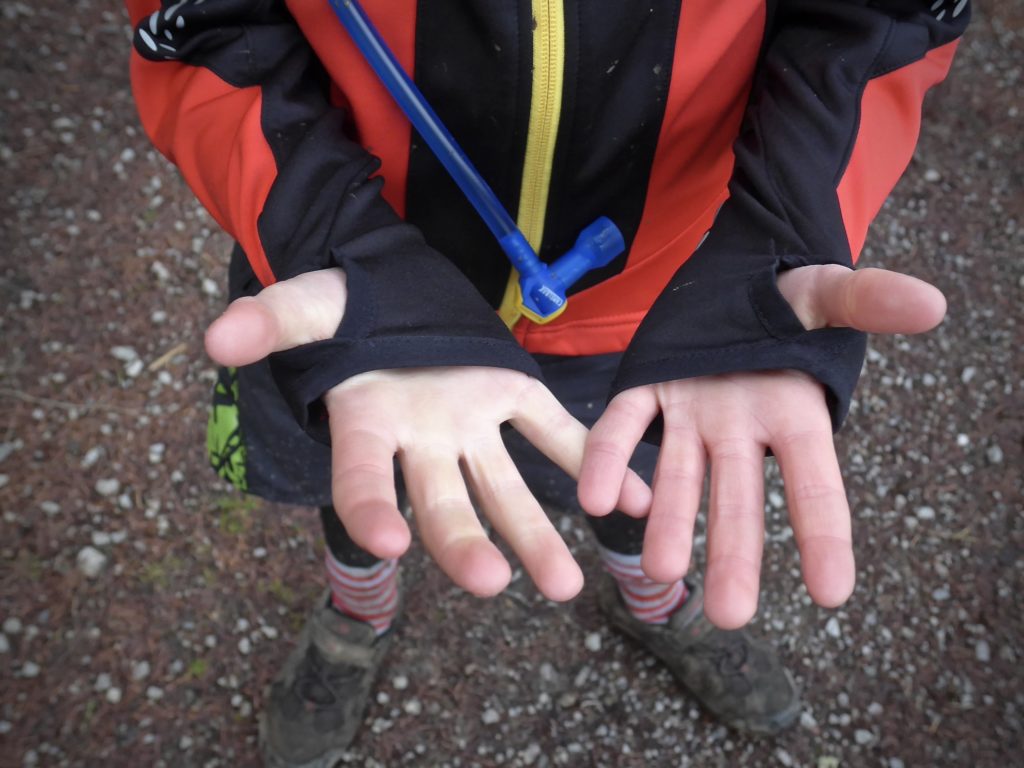 What about the quality of assembly?
As mentioned, the design of the product is a visual treat. It looks great straight out of the pack and when worn. A close inspection of the jersey that came to us for review revealed all stitching to be in good order, with no loose threads to be seen. The contrasting yellow YKK zip is securely fitted and has a smooth action in use.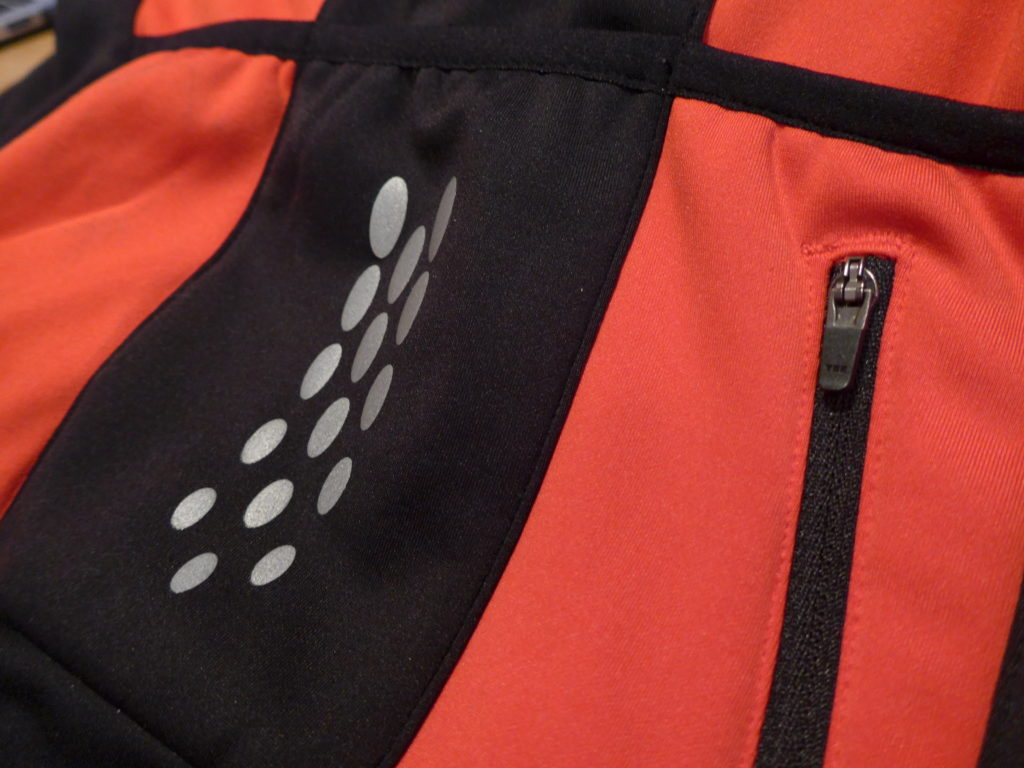 On the rear of the jersey are three pockets with elasticated tops that could be use for all manner of things from snacks to storing sticks and stones picked up en-route. They've a fairly small opening so not designed for carrying water bottles. There's also a zipped section on the right hand pocket to ensure that a particularly valuable stone, or the more likely key/pocket money, doesn't get lost!
Moving on to the full length YKK zip, 8 year old T has absolutely no problem doing this up himself. It's also easy to move up and down whilst wearing cycling gloves – a bonus when you need to regulate your body temperature whilst out cycling. At the top, there's a zip garage that stops the chin getting chafed and there's a full length baffle behind the zip to help keep the wind out.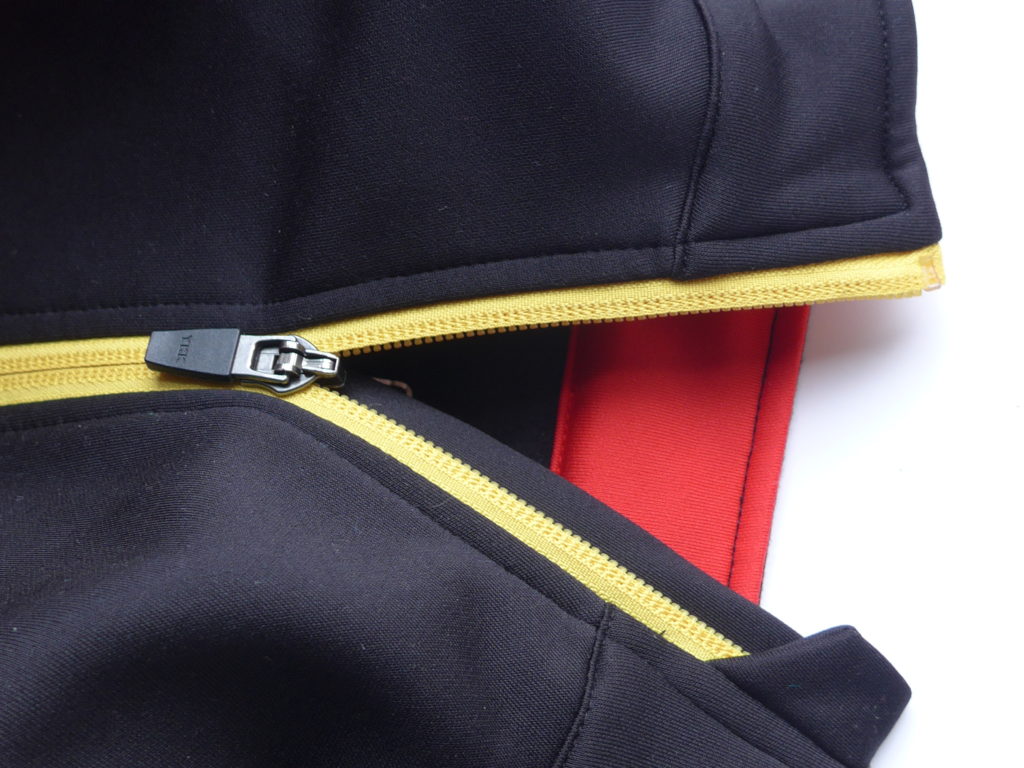 The Polaris Fang has been a firm favourite off the bike as well as on. It's great for playing out on winter's days, and stylish enough to be worn out and about too (that said we got the red jersey – I'm not sure the luminous yellow version would be so versatile).
Safety
The Fang is an attractive garment no doubt, but it also fits the bill where visibility is concerned, with strategic use of hi-viz detailing at various key locations around the jersey.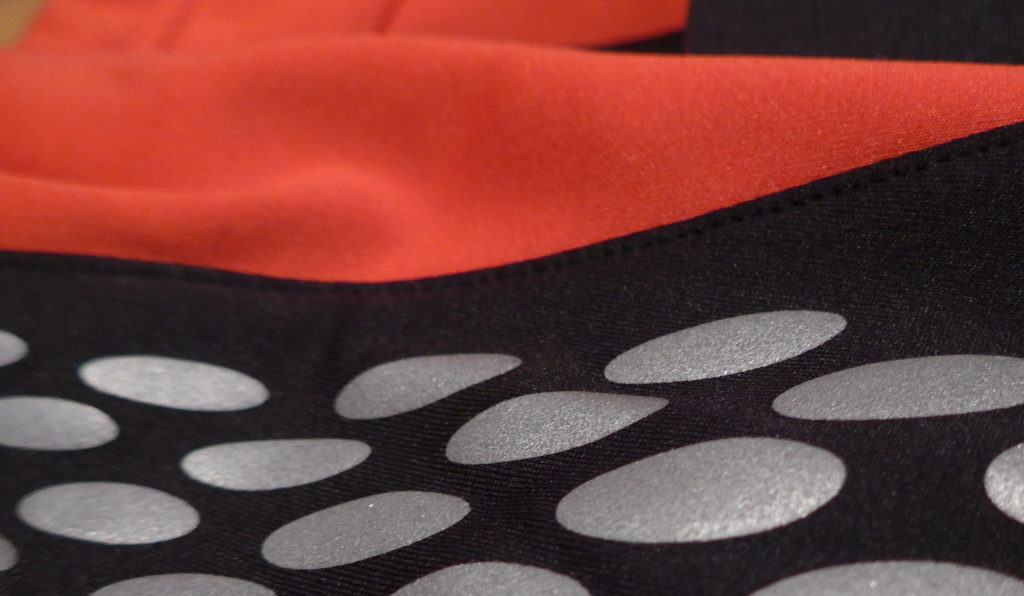 There is a decent amount of reflective detail at the shoulder, hips and tail which should give good all round visibility when riding in murky conditions.
Robustness
T has been wearing the Fang now for a year, both on and off the bike. We've always washed it at 40°C, usually on a short wash, and it has always washed up really well. I was worried whether the reflective trim would come off, but it's held steady. We did a lot of autumn/winter/spring mountain biking (you can read about it in my blog How we became a mountain biking family in just one year), and the Fang was a regular favourite on these rides. He also uses to keep warm in and out the house during cold weather, as he likes that sporty type of style.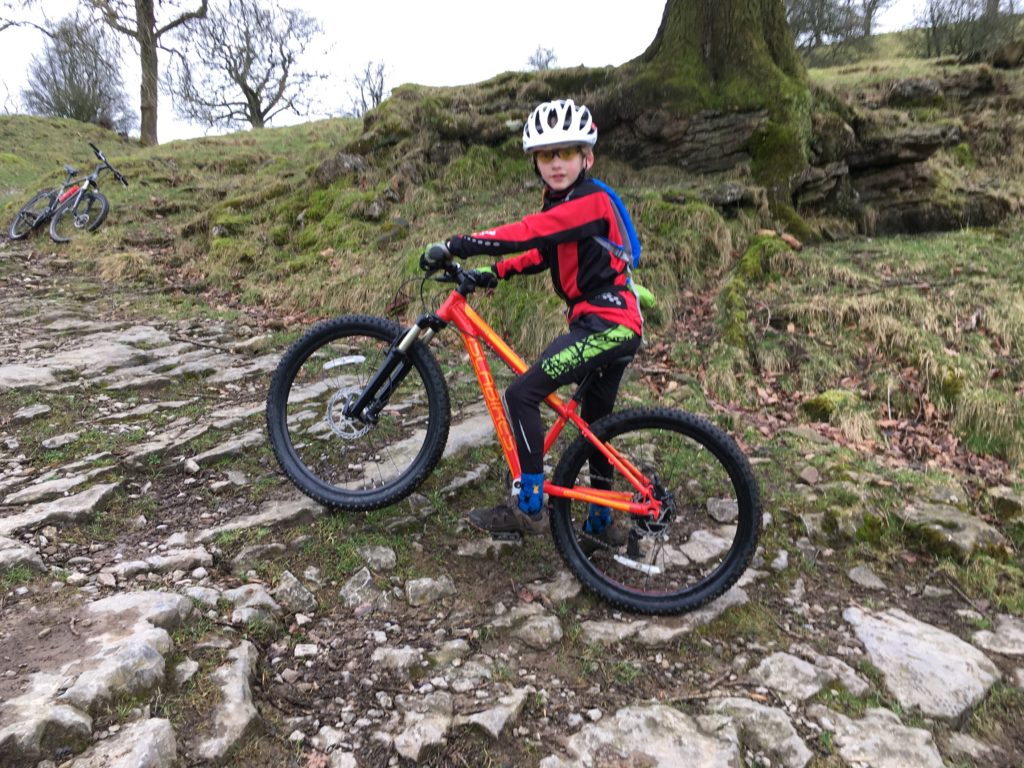 Thoughts from the Sprog
Having worn the Fang on several mountain bike rides, T was in a good position to provide a summary of his thoughts on the jersey.
"Really warm and it's great for chilly winter mornings but you can wear it any time you want. The feel is good when riding – warm and snug.
I really like the grippy rim at the bottom of the jacket because it holds it in place on windy days whilst riding, so it sticks to your body. The wind doesn't get in to cool you down.
Comfort – very cosy! Nice soft fleecy feel against the skin. Around the neck it's tight enough but not too tight. The sleeve length is perfect for me and the little holes (thumb holes) keep the bottom of you hands warm.
The zip I find quite easy to do up. Its bob on perfect I'd say because with some zips you really have to try hard to zip it up and they're a little bit awkward. The Polaris zip is quite easy to do up – not that easy that it'll just fall down though. Just easy when you try. Plus I can do it in my gloves!"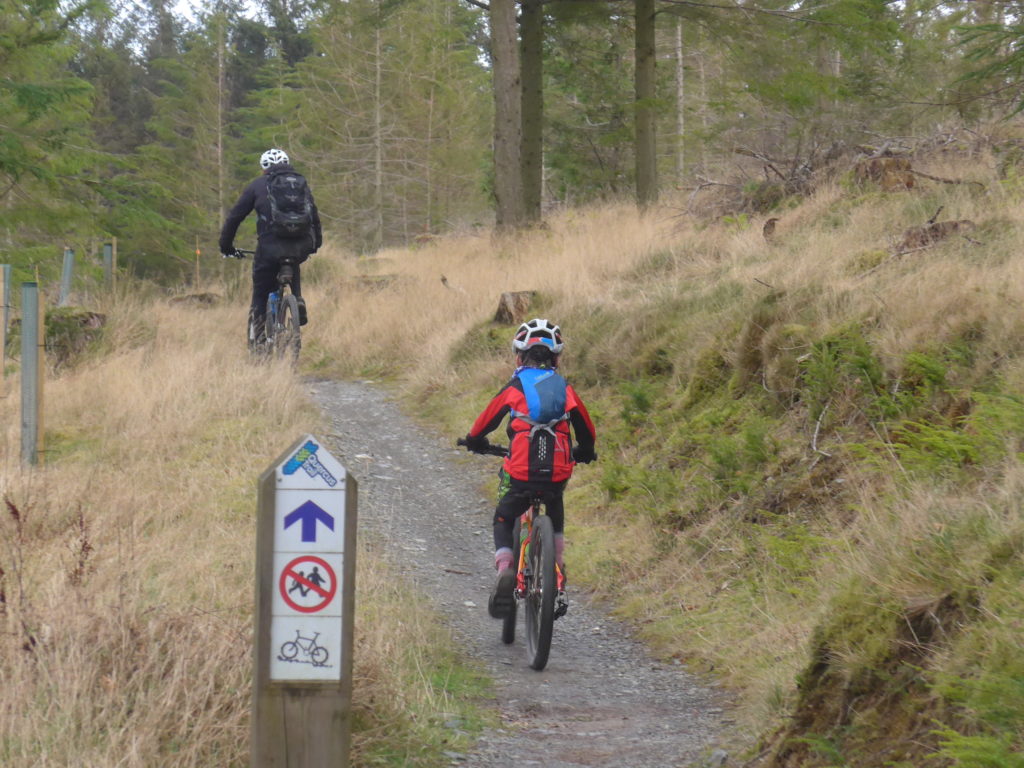 Sizing
Sizing wise, the 'Large' size Fang junior jersey fits our 8 year old really well, but with plenty of room for growth without swamping him. Plus it's not too baggy that he feels the cold. This matches recommended sizing guidance issued by Polaris. If we were after a tight roadie fit then going down to a medium would work fine for T. The jersey is available in S, M, L ,XL sizes – see below on where has stock.
Polaris Fang kids winter cycling jersey review – verdict
A well made kids sized cycling jersey with plenty of technical features to keep the little ripper happy, and easy to wash and keep looking good to keep the parents happy. Stylish enough to be worn off the bike and great out on the trails makes it good value for money.
Where to buy the Polaris Fang Junior cycling jersey
The Polaris Fang kids winter cycling jersey has been stocked by a variety of retailers. As each will sell out of different sizes and colours as the winter progresses, we've listed a variety of suppliers who stock this jersey to help you find the right size/colour combination:
Amazon
Evans Cycles
Tredz
Polaris
Leisure Lakes Bikes
The Little Bike Company
Little Pro
Kids Racing
Other articles you may find useful:
Disclosure: Polaris provided Cycle Sprog with the Fang junior cycling jersey for review. Some of the links in this article contain affiliate links, which mean Cycle Sprog may get a small commission if you purchase through them

This review of the Polaris Fang kids cycling jersey was first published in February 2017, and updated in January 2018 to reflect the condition of the item after a years use.