You're out and about enjoying a bike ride with the children on a lovely sunny day, feeling blessed that you live on these great British shores as you look around you and take in the stunning scenery. Then in the blink of an eye, the sky turns dark as rain clouds loom menacingly overhead and you feel the first drops of cold, wet rain. This is where the Polaris Strata kids waterproof cycling jacket comes in handy.  It's small enough to fit in your pocket when the sun is shining, and comes into its own when the rain starts falling.
AFFILIATE DISCLOSURE:   When you buy through links on our page we may get a small commission if the retailer has an affiliate scheme. You can find out how this works in our affiliate policy. Thanks for supporting us in this way!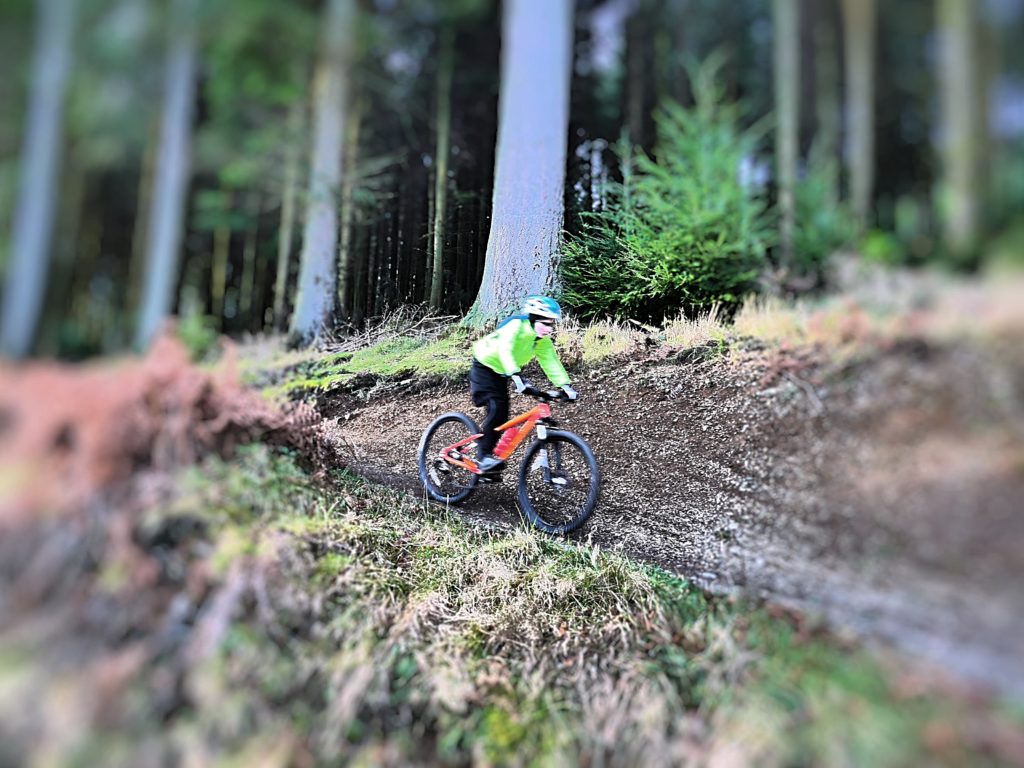 Review of the Polaris Strata kids waterproof cycling jacket – a lightweight jacket that packs away inside the pocket
The Strata jacket we were sent for review by Polaris came in the striking 'fluo yellow' that certainly brightens up any situation! It's a great colour – one that can be seen with ease from distance, making the wearer highly visible, whether out on the trails or on the road.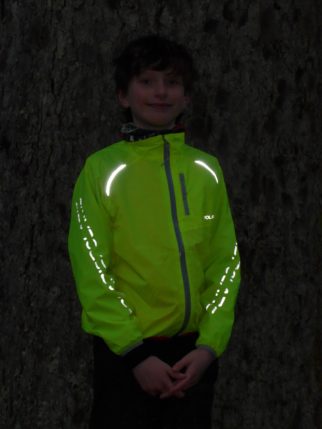 A foldaway kids cycling jacket that is easy to pack
The Polaris Strata kids waterproof cycling jacket is designed as a pack-away with a clever design which allows it to be folded up into its own pocket. I like this because there are no little pouches to get lost (which is an annoying feature of some other cycling jackets we've got in our family).
We've had pack away items before that have been a struggle to fit into the limited space, but the Polaris Strata thankfully fits easily, without threatening to break the zip.
When folded away, the Polaris Strata can be stowed in a backpack, tail pack or even a bottle cage.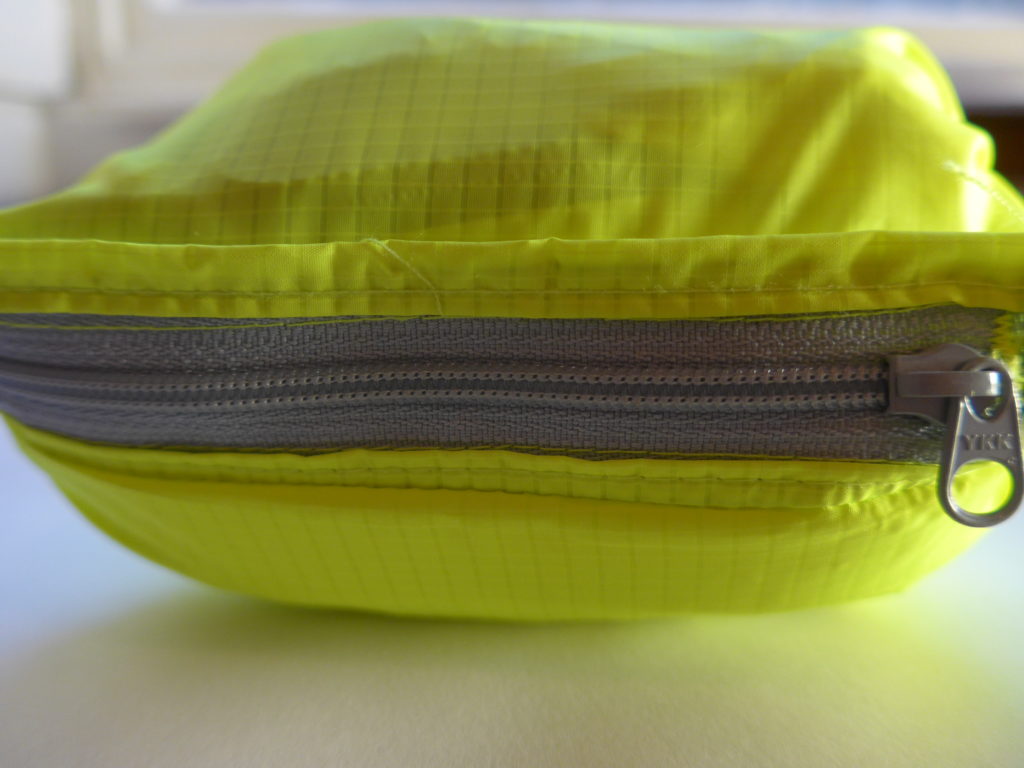 Due to its comfort and visibility, the Polaris Strata also makes for a useful windproof jacket when worn over regular cycling gear. N has been wearing it quite a lot as he suffers from the cold, so being windproof but also lightweight, means he just throws it on top of everything else. It's breathability must be good as he hasn't complained about getting hot and sweaty whilst wearing it.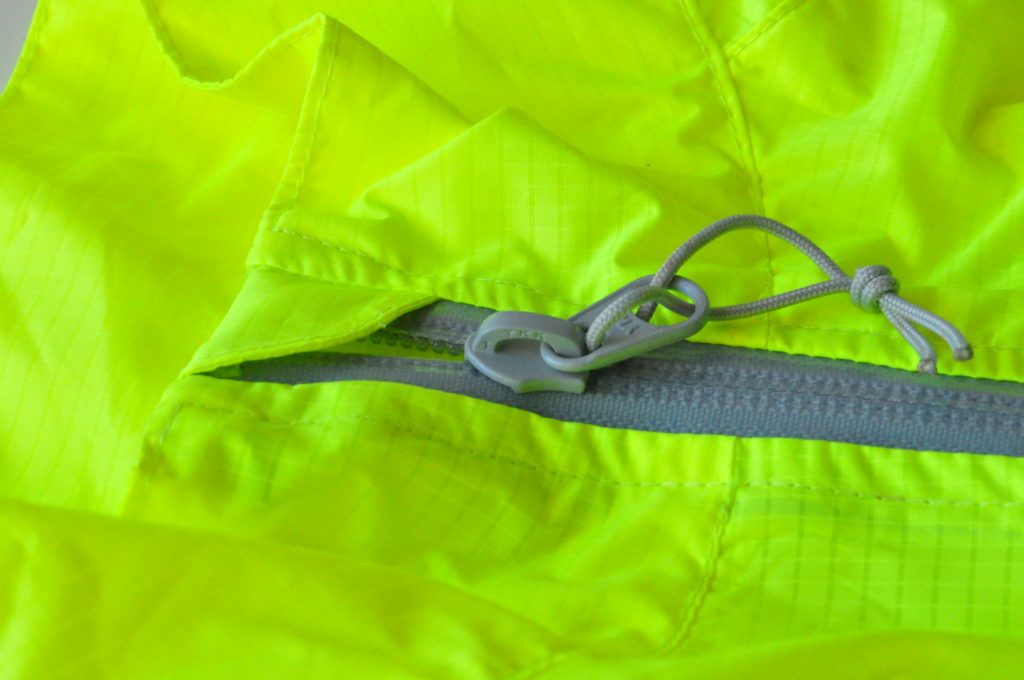 In terms of style the Strata is a classic cycling jacket, with a high neck that is close fitting to keep out draughts and a long tail to keep the bottom dry on soggy rides. There is a zip garage to stop chins getting rubbed and also a baffle behind the main zip to stop draughts making their way through the zip and into the jacket.
There is also a decent amount of reflective trim scattered at strategic locations, including cuffs and hem which is useful for on-road riding.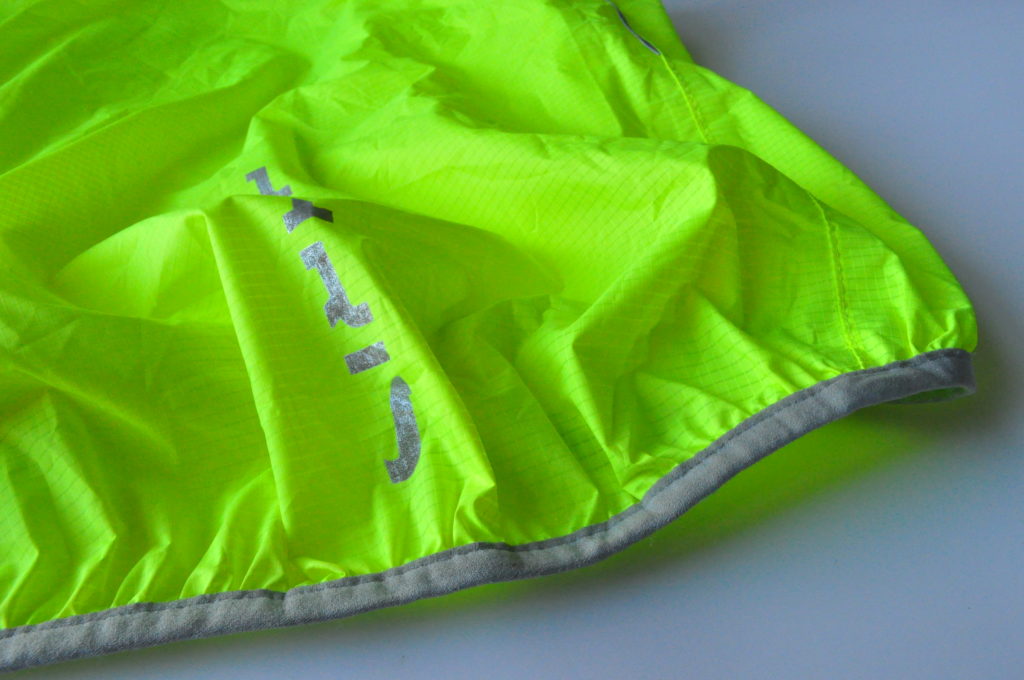 On the front, there is a single pocket situated high up on the left chest area. I must admit that I had expected to see a secondary pocket on the rear that could be used for stashing a snack or two, but this is not the case. The front pocket doubles up as the stuff sack for the jacket and has a long toggle to allow it to be worked with gloves.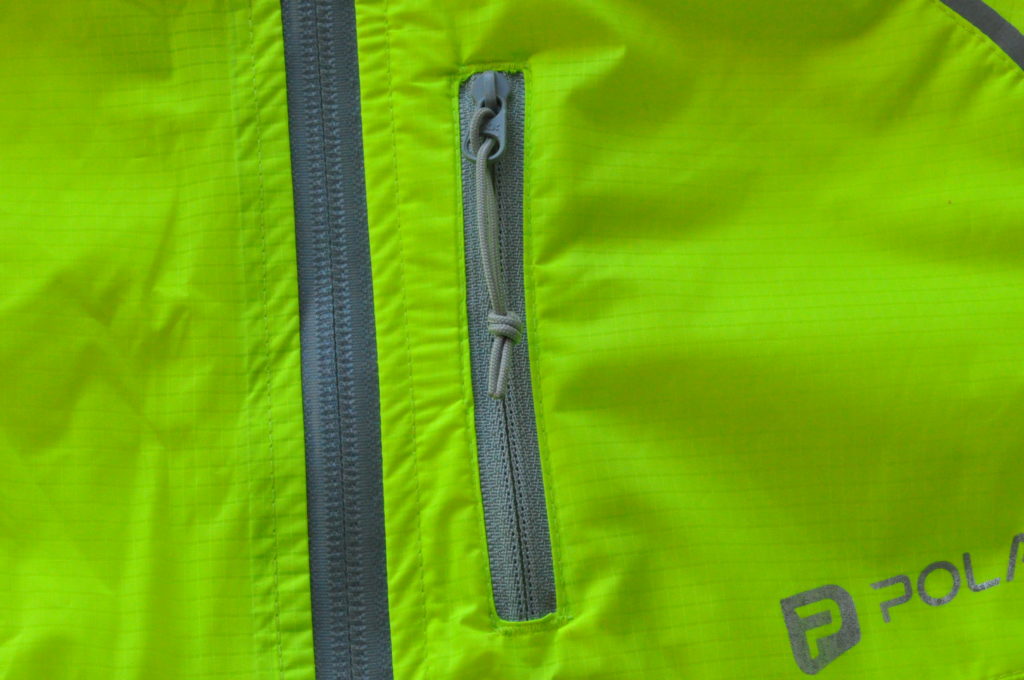 The Polaris Strata junior cycling jacket comes in two colours – the fluo yellow version we were sent, plus an equally vibrant fluo pink if the yellow doesn't take your fancy.
What's the jacket made from?
The Strata jacket is made from 100% polyester with a PU (polyurethane) coating on the external face to make it waterproof. This combination results in a very lightweight and flexible jacket, hence the ease of which it can be packed away.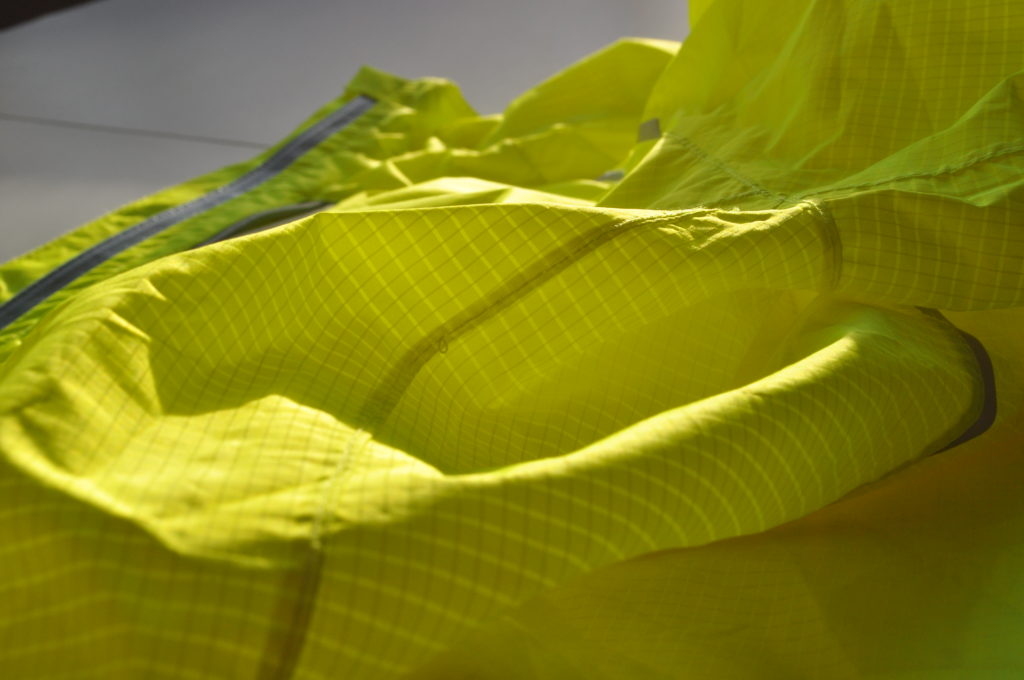 The fabric is also breathable and has a ripstop weave to resist tearing or ripping – always a bonus when an arm gets snagged on a branch!
How does it fit?
The Polaris Strata can be described as having a fairly close fit, whilst having plenty of room for manoeuvre. Suffice to say it doesn't flap in the wind like a family tent on a windy day. This is important as your son or daughter will certainly not enjoy the feeling of draughts entering the jacket. Plus a loose fitting jacket flapping around can be an unwelcome distraction especially when you've already got the task of coaxing them home in the rain!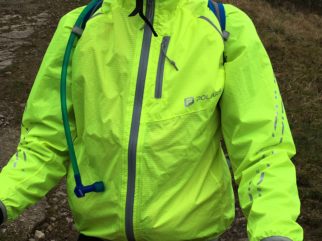 Polaris describe the Strata as having a 'generous fit to allow for layering and some room for growth', which we would say is an accurate description. N has worn it over a long-sleeved cycling top, plus a large and very long fleece when conditions cooled down, or the rain started. For guidance, N is ten and a half and tall and slim for his age. We requested the Strata in an XL which is marked as being for 11-12 years and it fits him well.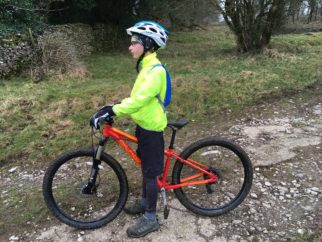 It covers his bottom well, which helps keep him dry when going through puddles.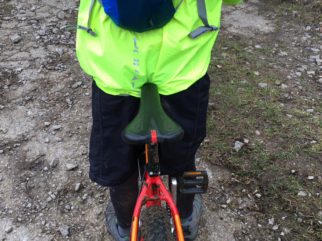 How well does it keep the rain out?
As already mentioned the Strata is made from a polyester fabric with a PU coating that is designed to keep out the wet stuff. However, rain is pretty sneaky stuff and usually finds its way inside one way or another. To minimise this, the Strata has all seams sealed with tape and uses a YKK aquaguard zip – two common areas for water ingress.  It's been tested on rides where there has been low level, persistent drizzle and on more shorter, heavier downpours, and it kept the layers of clothing underneath completely dry.
What sizes does the Polaris Strata come in?
The Strata is available in yellow or pink in the following sizes. The approximate age range given by Polaris is shown in brackets:
Small (5-6 years),  Medium (7-8 years), Large (9-10 years), X Large (11-12 years).  This is the sizing chart provided by Polaris: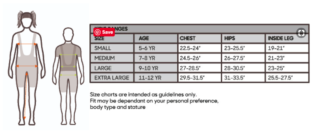 They also do adults sizes, in a mens and a ladies cut.
Verdict on the Polaris Strata kids waterproof cycling jacket
The Polaris Strata children's pack-away waterproof cycling jacket does exactly what it says. It packs up small into its own pocket, keeps water at bay and comes in two strong, visible colour schemes. We recommend it if you're looking for a lightweight waterproof that you can quickly pull out of your bag when the weather turns bad, or light levels start to fade.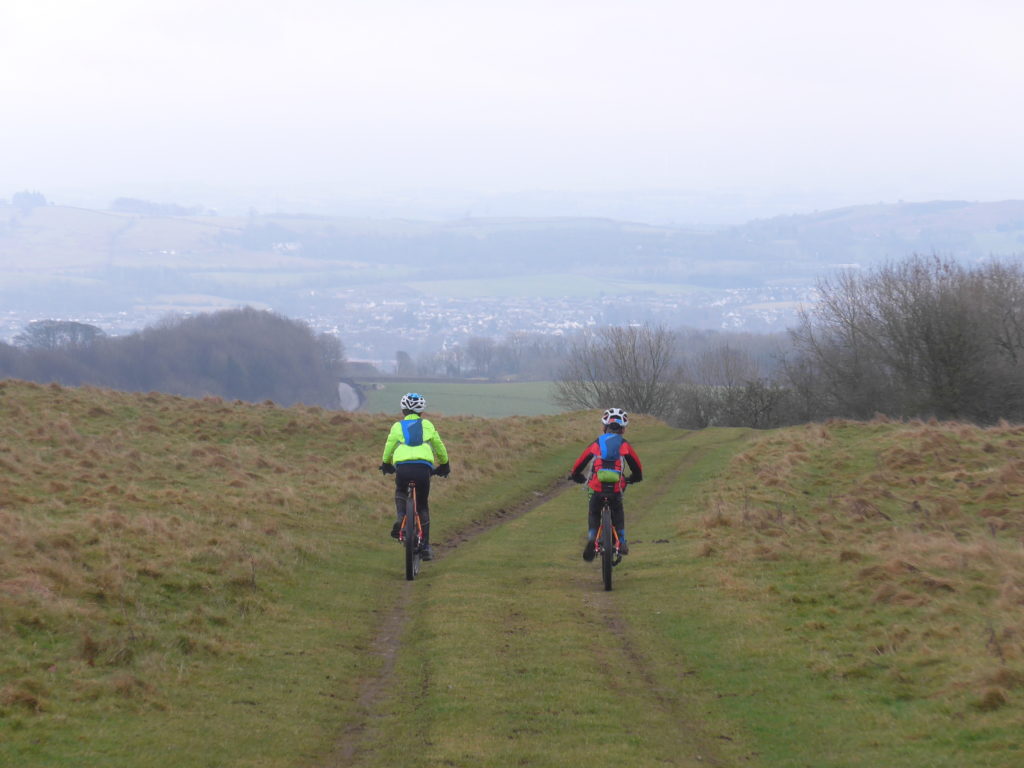 The Polaris Strata kids waterproof cycling jacket can be bought from direct from the Polaris website or from their range of stockists and is available in sizes Small (age 5-6) through to Extra Large (age 11-12)
The Polaris Strata kids waterproof cycling jacket was provided to Cycle Sprog by Polaris for review.
Other posts you may find useful: