So what we have here is a solution to many problems in one! This nifty little light is ideal for the scooter / small bike brigade – those small to medium sized folks who need a back light to be seen in low light conditions, but are unlikely to be on the road mixing it with the traffic. The basic concept of the Knog Boomer Wearable light is that it's a high intensity red LED light that can attach to clothing or a bike in number of ways.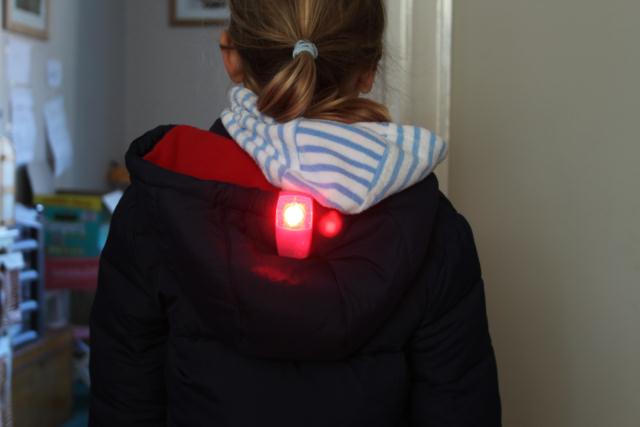 Review of Knog Boomer wearable light
Magnets and Clips
The thing that makes the Knog Boomer Wearable stand out from the crowd is the way it can be attached to your child. Normal seat post rear lights can be covered easily by coats, and of course are no use whatsoever for scooter riders or those with their bike saddle in the very lowest position.
The Boomer Wearable has 2 ways to be attached to clothes. The first is a chunky plastic clip, that snugly grips a thick winter coat. The 6 year old who tested it for me wanted it on her hood…and why not?!
If the clothing is a bit thinner then there is also a magnetic puck that goes on the other side of the clothing and snaps into place holding the light really firmly. This doesn't work on the thicker coats, but then that's what the plastic clip is for.

It's a bike light too…apparently. The instructions showed that the magnetic clip can also be attached to a seat post. Our sample didn't have the necessary glue backed clip, but I could see how this would also be useful. But to be honest, sticking it directly to the child makes a lot more sense and is a whole lot more fun for the kids.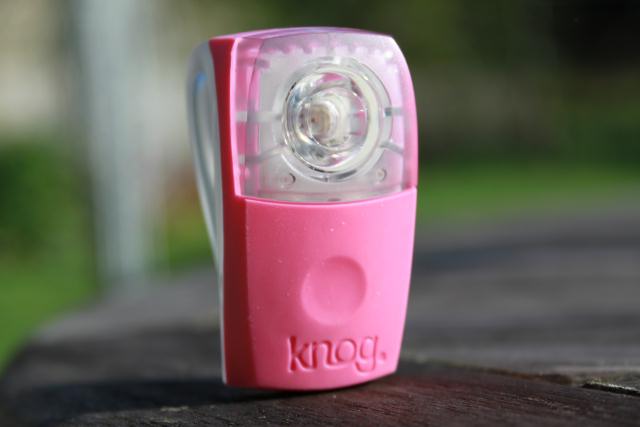 Build quality
The Boomer seems to be as well made as the other Knog products I've seen. The light is seriously bright, even in daylight, and the unit feels well put together and solid without being too heavy. There are four different light modes, including steady, flashing and strobe.
The view from the 6 year old
"It's fab, I love it!!! I want to wear it now!"

"But it's 10 o'clock in the morning and bright daylight"

" I don't care, this is great!"
Says it all really!
Is a wearable bike light legal?
The Road Vehicles Lighting Regulations (RVLR) is a rather difficult piece of legislation to read and fully understand. Detailed analysis of it completed by Cycling UK states that "One is required, to show a red light, positioned centrally or offside (the right-hand side of the bike), between 350mm and 1500mm from the ground, at or near the rear, aligned towards and visible from behind." However, this only applies to when a bike is being ridden on the road.
Obviously, if you're unable to fit a light to your child's bike where it can be clearly seen, then a wearable is by far the better option, and your highly unlikely to be challenged by the police about this (unless doing something else dangerous!)
Overall verdict
As the winter nights come on us, keeping the kids safe on the school run is always a top priority. This looks like another way to help the cause, a high quality product that is innovative and useful for cycling, walking and scooting, especially for younger cyclists where there isn't enough seat post to attach a bike light too. Highly recommended.
Where to buy the Knog Boomer Wearable
The Knog Boomer Wearable is available at a number of local bike shops, or online at Amazon
. The RRP is £20.49. It comes in a choice of 6 different colours, and takes 2 AAA batteries.
For info, Knog also make a bike light only version of the Boomer (both front and rear versions), which doesn't attach to clothing.
About our reviewer
The Knog Boomer was reviewed for Cycle Sprog by Paul, a Dad of two who lives in Surrey, and his 6 year old daughter who walks, scoots and cycles to school.
Other posts you may find useful:
Disclosure: The Knog Boomer was provided for review. Some of the links in this post contain Affiliate links, which means we may get a small commission if you make a purchase after clicking them. This helps us fund the maintenance of the website – thanks for your support.
This post was first published in October 2012, and updated in November 2017 to reflect availability of the light and the details of the RVLR.