January is a long, bleak month for most of us. Christmas and New Year are over and the warmer days of spring are still a long way off. It can be tempting for the entire family to hibernate inside the house and car this time of year, but if you make the effort to get outside and you'll see some real benefits. Here are a few reasons I love cycling and walking with my kids this time of year.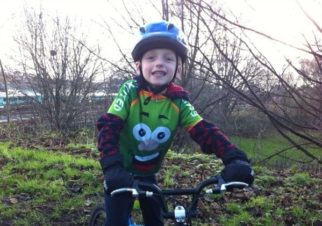 Keep those New Year's Resolutions
I don't know about you, but every 1st January I'm full of great intentions to keep fit, lose weight and generally live a much more active, organised and wholesome life. Usually by the second week of January normal service is resumed – unless I make an effort to change my habits.
Introducing activity into your daily life this time of year will help set you up for the next 12 months, as well as making you a role model to your child for being more active. Ditching the car and cycling or walking to school or work, even if it's just a day or two a week, can help keep you all more active and inclined to meet the goals you set.
Alternatively, meeting up with friends and going for a weekend bike ride can be a good way of motivating you all to get out and be active.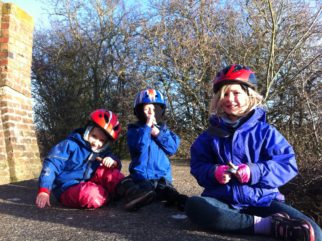 Reconnect with nature
January heralds the start of the new year and new intentions, and with it, the plants and wildlife around us are starting to prepare for the coming spring too. The sight of the first snowdrops or crocuses poking their heads through the grass, or the sound of birdsong for the first time in months, can be a real cause for celebration. Challenge your kids to spot the first signs of spring and you'll all feel excited that the finer weather is on the way.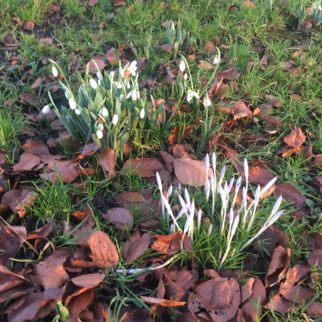 Get your dose of Vitamin D
This time of year it's often hard to get enough daylight and with it the dose of vitamin D, which is needed for a strong and healthy body. On dreary, cloudy days it can be dark when everyone leaves the house and dark when you all get home again. That's why such a waste if you're not outside enjoying the sunshine on those clear, sunny January days we do often get. Jumping out of bed and straight into the car means you're losing the opportunity to build up everyone's Vit D reserves. This is my eldest Cycle Sprog enjoying a road ride on 1st January – it was very cold, but oh my, what a glorious, sunny day!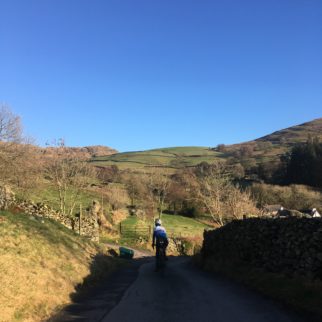 Shake off the cabin fever
Children and parents cooped up inside for long periods of time will, in my experience, lead to disaster. Either tempers get frayed and voices raised, or else everyone sinks into a deep lethargy and nothing gets done. By getting outside and riding your bike (or going for a walk) will blow away the cobwebs and improve everyone's state of mind.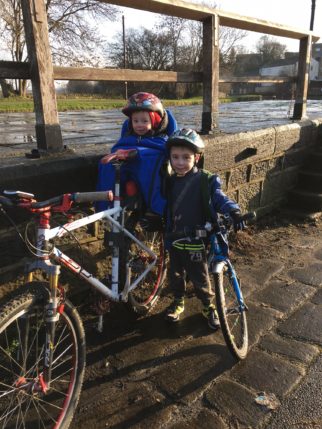 Admittedly some weekends this time of year can be a write off due to severe weather, but it's not unusual to get a couple of January weekends which are sunny and reasonably mild – so make the most of these and get outside and have some fun! It doesn't need to be an epic adventure – a quick spin out on the bikes or a walk around the block can be enough to improve everyone's frame of mind.
Teach your child resilience
Yes, January can be cold and wet. However, children don't dissolve in rain or freeze solid if the temperature drops. Teaching your child to dress appropriately for the season and continue to get outside and enjoy being active in the fresh air will be giving them the tools to survive the stressful winter months as they enter adulthood. Of course, you need to role model this yourself – so wrap up and get out there with them!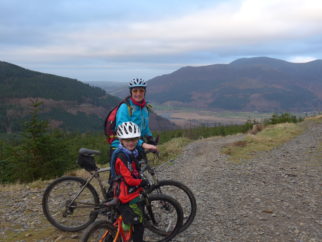 Enjoy having space to yourself
During the summer months, popular cycling and walking trails can get really busy. January is a great time to have them to yourselves – I love not having any impatient riders breathing down our necks on trails!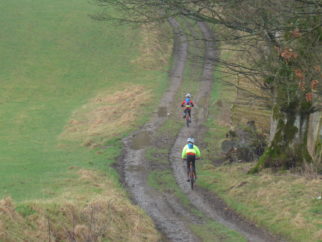 An added bonus is that you'll have a fabulous sense of achievement when you're finished and think of everyone else sitting at home cooped up inside whilst you've been enjoying being out and active with your Sprog.
A word or two of advic
e:
This time of year it makes sense to be well prepared when heading out for a bike ride – daylight hours are shorter and the temperature much colder than spring, summer, and autumn.
Make sure you and your Sprog are suitably dressed for the weather conditions – layers, thermals, winter cycling gloves, buffs, and waterproofs are all great choices this time of year.
Bike lights and some kind of hi-vis clothing are essentials if you're riding on the roads in low light conditions, and don't get caught out on the trails in the dark – give yourself plenty of time to get back to base, allowing for a puncture or two along the way.
It's best not to attempt anything too hard or long this time of year unless you're absolutely certain you're all capable of riding it in time.
Ice is a real danger this time of year, so make a call as to whether it's safe to ride. Snow is great fun with the correct tyres in place and if you're a confident cyclist!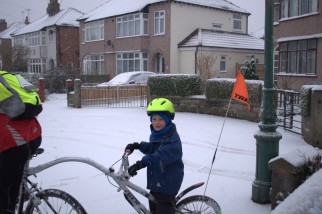 Do you enjoy getting out on two wheels with your child this time of year? Where do you go, and what advice do you have for others thinking of giving it a try? Do leave a comment in the box below.
Other posts that will help you enjoy cycling with your Sprog throughout the winter months: