The Wiggins range of kids bikes has just undergone a bit of a makeover.  The bikes, which are designed for riders aged between 3 and 12  years old, are stocked exclusively at Halfords and now include various colour options. Plus, they've made some changes to the junior specific geometry.
Affiliate Disclosure: At this point, we need to say Cycle Sprog use an affiliate system called Skimlinks which may pay us a very small commission for purchases made after clicking links to the Halfords website. If you don't like that, please don't click any of the links on this page.  We use affiliate links because as much as we love writing about kids bikes our Cycle Sprogs need to eat (a lot!) 
Interestingly, Sir Bradley began his cycling journey as a 12 year old on a Halfords bike after being inspired watching Chris Boardman ride in the Barcelona Olympics. One of Sir Bradleys' ambitions has been to encourage more kids to cycle, and this came full circle with the introduction of the Wiggins range of bikes. Years of riding expertise has gone into the specification and design, but the bikes are very accessible and also one of the best value lightweight aluminium framed kids bikes available.
The original range of bikes has proven to be very popular with Cycle Sprog readers, who often get in touch and let us know how pleased they've been with the bike.  Not only did they perform excellently for the money but they also looked really cool, with styling that you'd associate with Sir Bradley – the mod target motif and reverse forks being part of the look.  The colourway for the complete range was the theme of red, white and blue.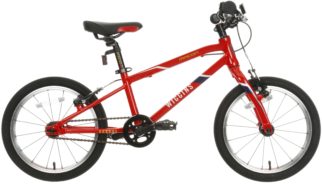 The new bikes ditch the red, white and blue theme with different colours for each size bike. Here's the 16″ wheel in green.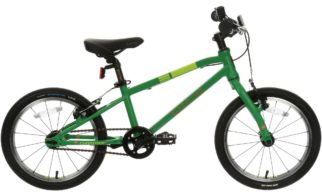 Hmmmm – what do you think???  The new paint job reminded me of something, and then I realised….. Islabikes updated their branding last month, and both have gone with a band of colour on the top tube: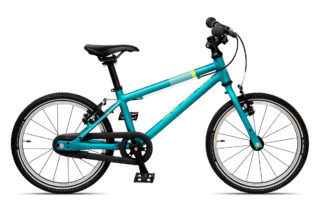 To be honest, I think I preferred the older style colourways on both brands although I'm sure over time I'll get used to them. It's nice to see that you do still get the little target symbol on the Wiggins bike though – it's changed from red, white and blue to a more subtle metallic coloured finish.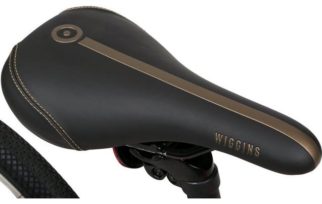 However, it's not all about looks and we're hoping that Halfords and Wiggins have continued to focus on the details, thereby ensuring that the new range continues to deliver great value kids bikes that stand the test of time.
So, let's take a closer look at the new range and see what's now available.
Each model in the Wiggins kids bike range is named after a town or location that was part of Bradley's historic 2012 Tour De France win. The bikes – from balance bikes to high spec road bikes – have been designed with geometry specific to young riders.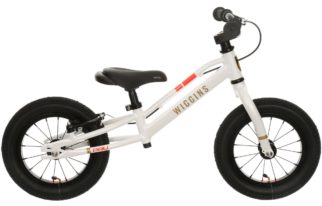 The WIGGINS Pau Balance Bike (£100) is really light at just 3.6kg and boasts a slim rear brake and a 'pinch-free' brake lever to protect small fingers. The design features a concealed carrying handle for when tiredness sets in.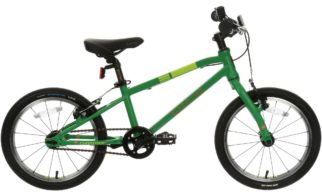 The WIGGINS Chartres 16" Bike (£220) comes in a matte red or green colour. Designed to help kids get the best riding experience, it weighs only 6.4 kg, and features a narrower q-factor (width between the pedal attachment points on the crank) than other bikes stocked at Halfords, which makes for easier and more efficient pedalling. The bike comes with lightweight alloy brakes and easy to reach 'pinch-free' brake levers.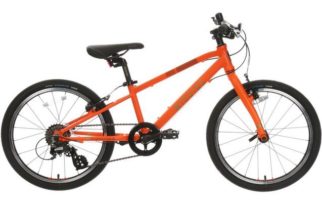 The step up to gears comes with the WIGGINS Chartres 20" Junior  Bike (£252) a lightweight, urban-style bike with seven-speed Shimano gears and weighing in at 8.6kg. It comes in orange and blue colours and is designed for children 117-136 cm tall.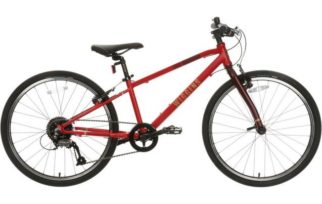 The WIGGINS Chartres 24" Junior Bike (£288) has nine-speed Shimano gears with trigger shift levers and v-brakes. The bike is available in either red or white, and weighs in at 10.2kg.  Sizewise it's aimed at kids 127-145 cm tall, which is roughly 8 – 11 years of age.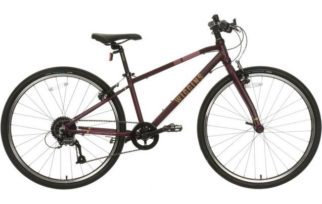 The WIGGINS Chartres 26" Junior Bike (£312) is a premium hybrid, with nine-speed Shimano gears and a lightweight aluminium frame and fork. The colour choice is purple (pictured) or grey.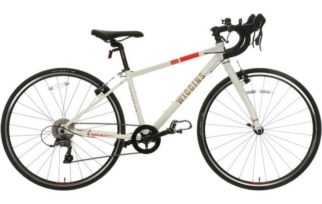 The range wouldn't really be complete without bikes to represent the rides Sir Bradley Wiggins is famous for. The WIGGINS Rouen 26" ADV Junior Road Bike (£360) has a lightweight frame with 16 speed Shimano Claris gears. VEE Rubber tyres help to create a speedy ride, whilst the Tektro dual pivot caliper brakes provide controlled and reliable braking performance. It should also be noted that the frame design delivers great clearance so it comes as no surprise to see the bike supplied with a pair of Cyclocross tyres for rougher terrain.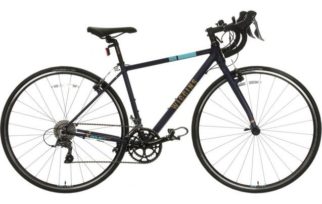 The WIGGINS Rouen ADV 700c Road Bike (£440) weighs just 9.9kg and comes with 16 speed Shimano Claris gears. It is a beautiful looking machine, finished in a deep blue with complimenting lighter blue accent colours and gold branding. A slick, lightweight speed machine for riders looking for real performance from their bike. It also comes with a pair of Cyclocross tyres for when the terrain gets muddy.
The Wiggins range of bikes for toddlers to teens is available in Halfords shops and online priced from £100 to £440.
I'd love to know what you think about the makeover this range has had – do leave a comment in the box below.
Other posts you may be interested in: 
Disclosure:  Cycle Sprog uses Affiliate links, which means we may get a small commission if you buy through the links on this page. This helps us to keep the website going – thanks for your support.