Kids bike manufacturers Islabikes have refreshed their range for winter 2019, with a new look to their bikes, two new models plus specification improvements across the board.
If you're into cycling and have kids then there's a high probability you've heard of Islabikes. Just in case you haven't, they are the creators of the 'original' quality lightweight kids bike, with founder Isla Rowntree's vision becoming a reality way back in 2006, serving to pave the way as the catalyst that has seen a wholesale change in the kids' bike market. No longer do kids need to ride heavy, badly designed bikes thanks to Islabikes.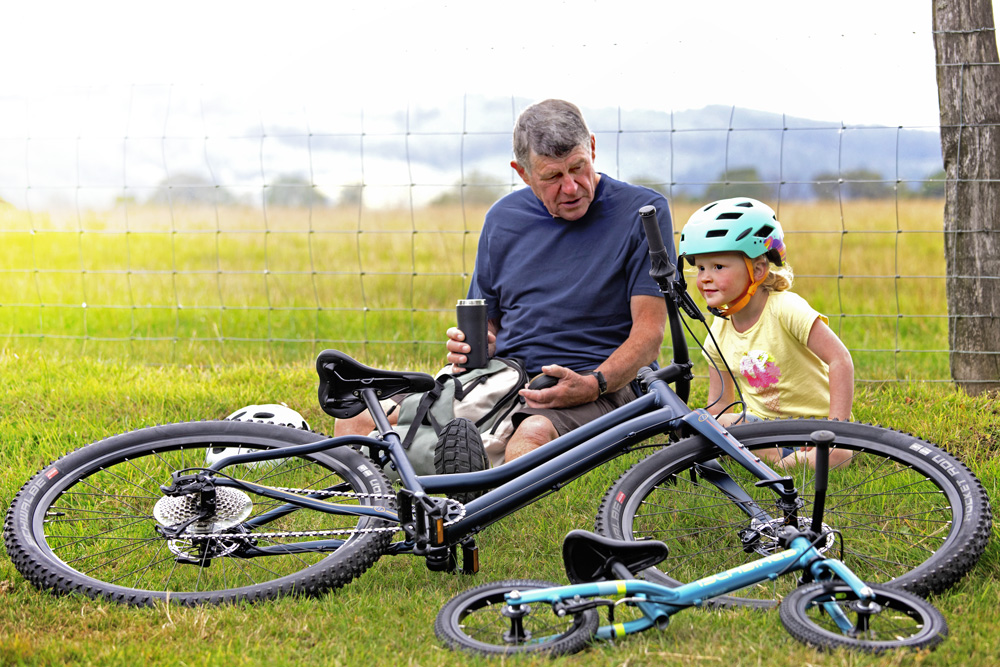 Over the next 13 years, Islabikes has expanded the range to suit all ages of rider, not just kids, and continually obsessed and tweaked over every bike that comes out of Ludlow. Over the years it has become obvious that Islabikes don't make changes for the sake of it, so you know it's worth shouting about when they get in touch to advise that the children's bike range has had a comprehensive refresh. With new colours, sharp graphics and performance improvements things are certainly looking good for this season.
So what changes have they made?
It's all about the riding experience – the fun, the joy, the great times you have from just getting on your bike and going for a ride. Without doubt, Islabikes are dialled into the nuances of what it is that makes a ride memorable and evolve their range in accordance with key principals.
For example, they've made every model in the range lighter than its predecessor while retaining the structural integrity and build quality they're famed for.
Saddles have been redesigned to be more comfortable for girls but without any negatives for boys posteriors.
They've fitted folding bead tyres across the range to make it easier to get them on and off the wheel rims. After all, nobody likes a puncture so anything that helps in this regard has to be welcomed!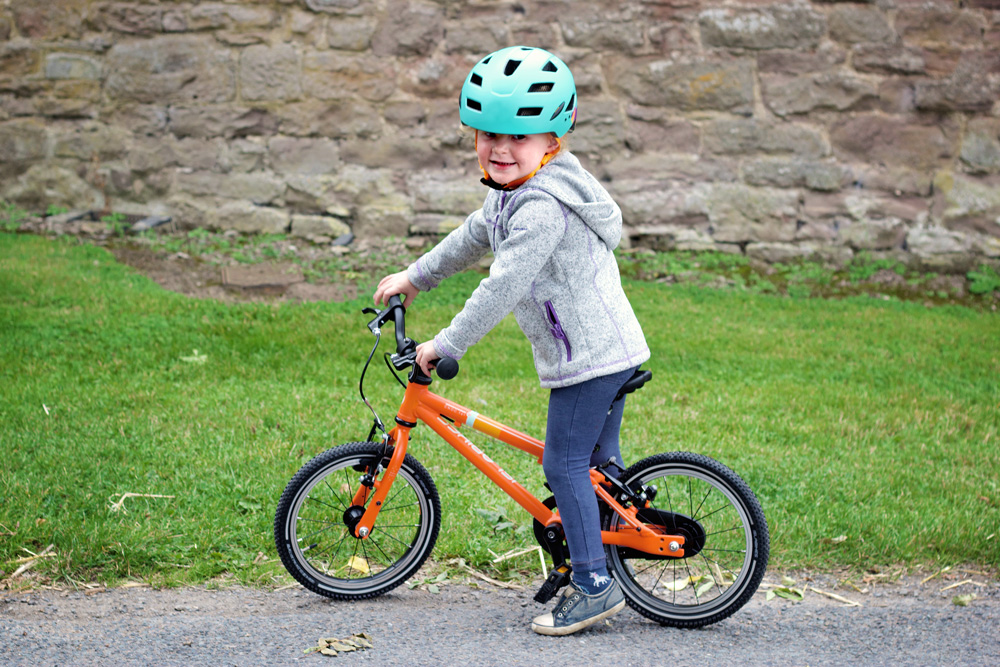 The paintwork has also been refreshed to include different details and new colour schemes. The jury is out here at Cycle Sprog HQ on this. We're agreed we really love the new colours for the Creig and Luath. However, we're not quite so sure about the new design on the top tube. It reminds us of a fusion of Hoy Bikes combined with several other brands who use blocks of colour, and we're just not used to Islabikes reminding us of anything else!
On to the specifics
Islabikes Rothan Balance Bike
A design classic that's very popular amongst the speedy little legged crowd, the Rothan has received an update in colourways and graphics, plus is now fitted with foldable tyres so it's a touch lighter too.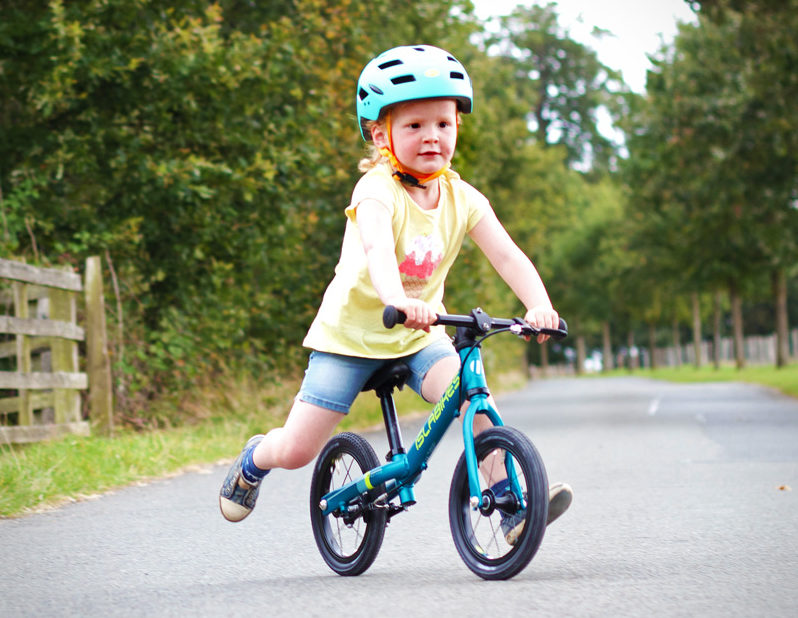 The Rothan balance bike has a retail price of £179.99.
Islabikes Cnoc Starter Bike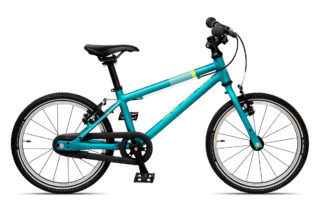 Here at Cycle Sprog we started our quality kids bike journey with an Islabikes Cnoc and never looked back. Now Islabikes are promising it's even better. This year sees a whole host of changes with the most interesting being a redesign of the frame. Islabikes have really gone to town on trying to make the Cnoc as easy and efficient as possible to ride for little ones by making changes at key points to reduce the Q-factor (the horizontal distance between where the pedals join the crank arms). A narrow Q-factor is one of the fundamentals for creating a well fitting kids bike, but Islabikes being Islabikes didn't take the easy route, oh no. They further refined an already fantastic kids bike by redesigning the frame and rear wheel hub to ensure every component is in synergy – a huge amount of work that can't be underestimated and hopefully will be appreciated by those riding it.
The Islabikes Cnoc Starter Bike comes in three different wheel sizes, with the 14″ and 16″ retailing for £319.99 and the 20″ at £349.99.
Islabikes Beinn Multi Purpose Bike
The Beinn is the 'do everything' model in the range and is as happy doing the journey to school as it is heading off road for some trail adventures. It's also built to last as I know of a 2008 model that has been thrashed to within an inch of its life by three unforgiving siblings and yet still comes back for more. Even more astonishing is how well it scrubs up with a wash and a polish – truly incredible.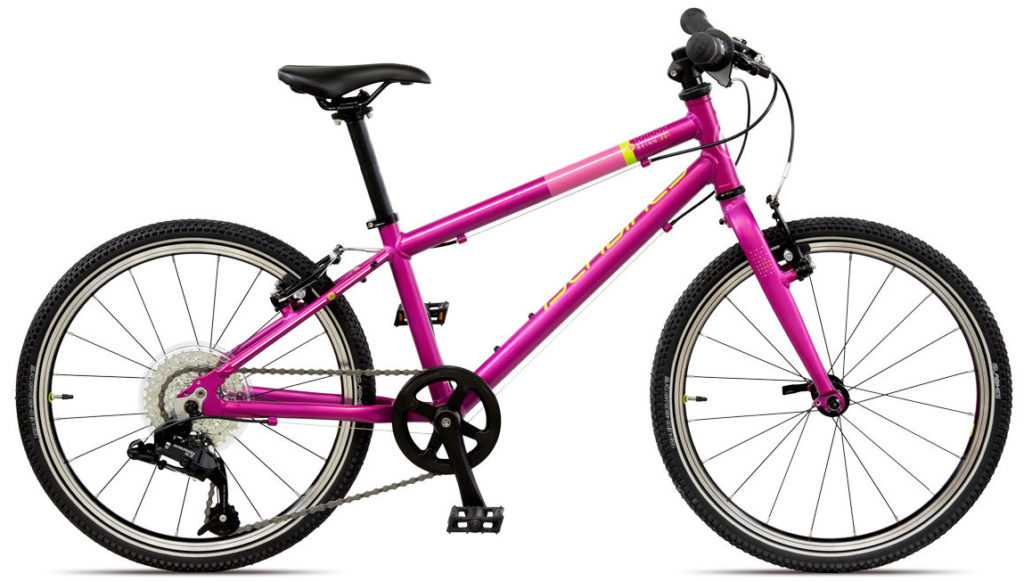 The major changes for the Beinn see alterations to the frameset and to the drivetrain. Islabikes have specified a new straight bladed alloy fork that really refreshes the look of the bike.
With regards gearing, the Beinn now comprises a 7-speed system across the model range with a 32 tooth chainring and 11-34 tooth cassette to give a broader spread of gear options than the previous model with gears selected by SRAM Grip Shift.
The Islabikes Beinn is available in a number of sizes, with the 20″ Small and Large retailing for £399.99, the 24″ for £469.99 and the 26″ and 27″ for £499.99.
Islabikes Luath Drop Handlebar Bike
Visit any cyclocross race involving kids and you're likely to see a Luath in full flow. Released in 2006, the Luath has been a stalwart of the cyclocross scene, but it's so much more than that. It's always been a comfortable steed for road riding too, but in its latest guise, the Luath has been updated to cater for riders looking for a bike that can mix it up in cyclocross, on gravel or out on the road. This year's update sees the Luath feature Islabikes own full carbon fibre fork, plus on the braking front the Luath now features a set of Tektro mechanical cable-operated disc brakes.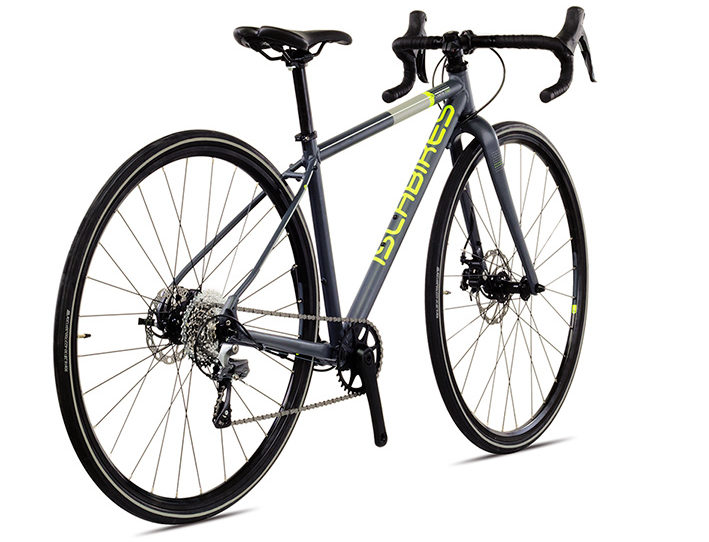 The drivetrain has seen work too, with a narrow Q-factor crankset fitted with a narrow-wide single chainring. This is a great upgrade as it allows chainrings to be swapped out (e.g. 30 tooth for 38) depending on the type of riding being undertaken.
The Luath has also been placed on a low-fat diet as the new model comes in at almost a 1kg less than the previous model!
With the Luath positioning itself as a great multi-discipline option, you can now specify cyclocross, gravel or road tyres to suit.
The Islabikes Luath is available to purchase in 24″ and 26″ for £699.99 and in 700c (Small and Large frame) for £799.99.
Two new Islabikes Creig Mountain Bikes launched
It's astounding to think that the Islabikes Creig has been with us for over a decade. That's 10 years of proper mountain bikes for kids! Designed for blazing cross country trails, the Creig has not disappointed and is still revered as a superb purchase option.
However, here at Cycle Sprog we've been pestering Islabikes to expand their range for several years now. We know that kids want to start riding trails young, and keep riding them as they get older. The existing 24″ and 26″ bikes are great, but what about those wanting smaller and bigger wheels??
We're pleased therefore to see a 20″ and a 27.5″ Creig joining the range. The 27.5″ is available now, and the 20″ will be in stock from January 2020.
Cycle Sprogs are plainly more skilled and competent than ever before (thanks to Go Ride amongst others), so the type of terrain they're riding is becoming more challenging. Islabikes have embraced this and redesigned the Creig with a long low trail geometry that will inspire confidence on technical terrain.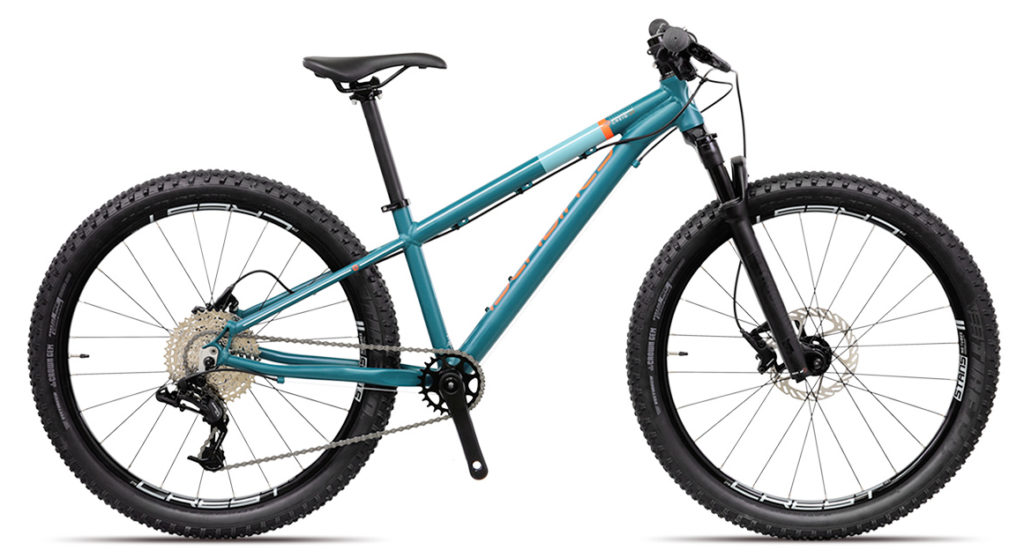 For the 20″ there will be a straight blade aluminium fork, while the larger sizes will come fitted with a Rock Shox 30 Gold air fork, which according to Islabikes is lighter and more tunable than the fork fitted to previous models. Travel will vary depending on frame size.
Islabikes have specified SRAM Level hydraulic brakes across the whole of the Creig range, with a 140mm disc at the rear and 160mm at the front.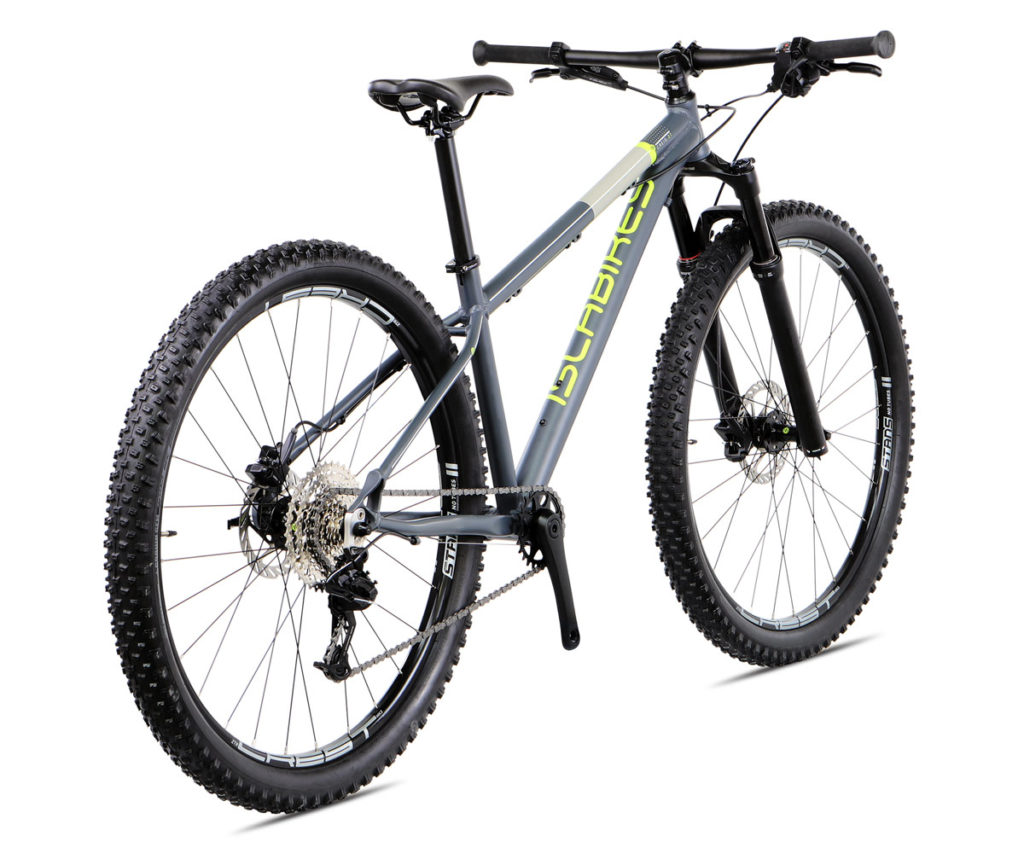 As with the Luath, Islabikes own narrow Q-factor 30mm crank is specified. This has a direct mount fitting so gives options for changing the fitted 26 tooth narrow-wide chainring to suit different types of riding. Cassettes are 11-34T for the 20″ wheel and 11-40T for wheel sizes of 24″ and up. The new models also take account of customer feedback and see a change from the Grip Shift of previous versions to a new SRAM trigger shift.
The wheelset also sees revision with Stan's No Tubes rims fitted with Vee Tire Crown Gem's in a width of 2.25" which are tubeless ready. These are a large volume tyre with tall side knobs for cornering control with plenty of straight line grip without sacrificing speed.
The Islabikes Creig is available in 20″ wheel size for £699.99 and 24′, 26′ and 27.5″ for £899.99.
Where to buy Islabikes:
Buy new: The new range of Islabikes are only available to buy directly from their website at www.islabikes.co.uk
Buy secondhand: Islabikes are so well constructed it's possible to pick up second hand bargains and also sell on a bike when your Sprog has outgrown in. Check out Islabikes on Ebay for inpsiration.
We'd love to hear what you think about the new look Islabikes. Are you a fan, or non-plussed by the latest updates? Leave us your comments in the box below.
Other posts you should check out whilst you're here:
Disclosure: A couple of the links on this page contain affiliate links which mean if you make a purchase we may get a small commission. We aren't affiliates of Islabikes but our Sprogs have been test riding Islabikes for many years and we are happy to recommend them to our readers based on how good we know they are.
Support Cycle Sprog!
If you've found this article useful you can buy us a virtual coffee (or two!) to say thanks and help us keep the Cycle Sprog website going.