Isla Rowntree has done it again! Back in 2006 she launched Islabikes and revolutionised the way that people think about kids bikes with a range of lightweight bikes designed specifically for young riders. Now, that same attention to detail and desire to make cycling enjoyable and easy has been turned to another group of people who don't tend to be catered for by the mainstream bike manufacturers. The new Islabikes Icons range is designed for cyclists aged 65 and over.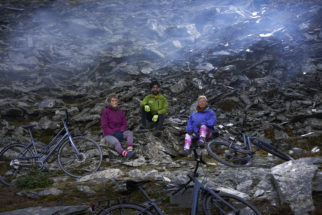 Taking all the learnings from 13 years of manufacturing children's bikes, the Icons range has design features tailored specifically to meet the challenges that develop as you get older. There are three bikes in the range, all named after musical icons from the 1960's – the Joni (Mitchell), Janis (Joplin) and Jimi (Hendrix).
Isla Rowntree explained the thinking behind the new range of bikes:
"Older people have been ignored, much like children pre-2006. I want to prolong their cycling lives so they can continue to enjoy physical health, psychological well-being and those vital social connections that come from riding with friends."
Islabikes range of bikes for over 65's
The Joni (£799.99) is an urban bike aimed at those wanting to cycle to the shops, visit friends or maybe go on gentle cycle rides with grandchildren.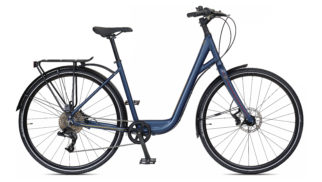 The Joni comes with a specially designed saddle to provide comfort in the weight bearing sit-bone area plus a luggage rack for attaching panniers for carrying shopping, spare clothes or picnics (or you could even fit a rear bike seat for smaller grandchildren).
The Janis (£1,199.99) is a road bike for those who want to prolong their road cycling experiences.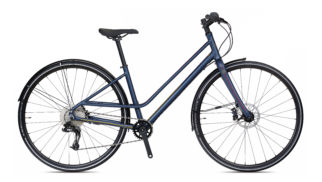 Islabikes are targetting club cyclists, racers, touring cyclists and keen leisure riders. The Janis is set up with a low step over and flat handlebars, while the gearing takes a 32t chainring and couples it to a Sunrace 8 speed 11 – 40t cassette giving a broad spread of ratios while maintaining the lightness and simplicity of a single chainring system. Other chainring sizes are available as an optional extra, along with a shorter crank. The bike comes without pedals to enable the rider to fit their favourites, but flats can be ordered if preferred. A luggage rack is also available.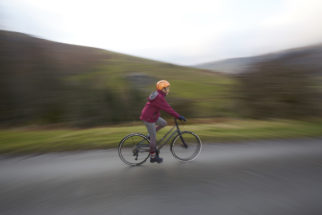 The Jimi (£1,199.99) is a mountain bike for those who may be coming to terms with the fact that their days of large jumps and drop offs may be over, but are still keen to mix it up off road. It's also a great option for those who wish to ride predominantly on bridleways and canal paths rather than tarmac.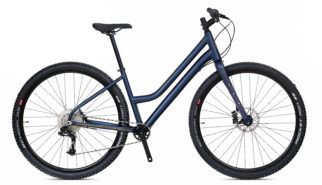 The trade off of increased weight (> 2lb) from a suspension fork is a big penalty when climbing, which is why Islabike have decided to go with a lightweight rigid carbon fork designed to absorb vibrations. The Jimi is sold without pedals but flats can be added at time of order, and an optional set of mudguards can be specified too.
Features of the Islabikes Icons range of bikes for older riders
The Islabikes ethos has always been that as people change, their bikes should change with them. It's interesting that many of the adaptations essential in the best children's bikes also apply to older riders. Some of the design features of the Islabikes Icon's range include:
Low stepovers – to make getting on and off the bike easier. Conventional bikes often require lifting one leg higher than the other, which can be difficult for those experiencing restricted mobility or balance impairment.
Light weight bikes – as we age, our ability to produce power drops, so the weight of a bike becomes more significant. This is similar to small children, who also struggle to ride and manoeuvre heavy bikes.
Low gearing – over time the ability to "muscle" our way up hills on high gears reduces. However, regular exercise keeps general fitness good, particularly aerobic capacity, meaning that climbing is still possible if there are enough low gears available.
Easy to change tyres – finger strength and dexterity reduce with age, meaning fixing a puncture can become difficult or impossible. The Islabikes Icons range features a wheel rim of their own design that has an internal profile which makes tyre fitting and removal easy.
SRAM hydraulic brakes – as hands get weaker it's harder to apply the force needed to brake, so all the bikes are fitted with SRAM DB hydraulic disc brakes and close reach levers. The Joni Urban bike uses the A1 specification, whilst the road and mountain bikes have the more powerful TL brakes for reliable stopping when travelling at speed downhill.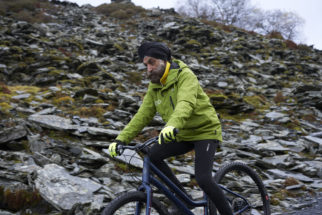 Optional extras to make riding easier
All the Islabikes Icon range can be fitted with the following optional extras:
Dropper Seatpost – it will be easier to mount and dismount the bike in the lowered position and then raise to optimal pedaling height. Obviously those riding the Jimi MTB may also want to use it for descending.
Handlebar mounted mirror – aids right hand turning if neck flexibility is an issue
Handlebar mounted bottle cage – to allow easier drinking whilst in the saddle
No e-bike (yet)
One thing that's noticeable about the Islabikes Icons range is that there is no electric assistance. This is slightly surprising at a time when the cycling industry is embracing all things "e". Steve Chapman, Islabikes PR and Events Manager told Cycle Sprog "Not all older riders are ready to switch to an e-bike, so we are keen to provide customers with another choice. With Icons, we wanted to deliver a range of bikes that are lightweight, easy to get on and off and are low geared. If this range is well received we may choose to add an e-bike model in future."
Where to buy the Islabikes Icons Range
The Icons range, as with the kids bikes, are available to purchase direct from Islabikes. Test rides and fittings can be booked at their Ludlow showroom.
Shipping is possible to the majority of Europe – see their delivery page for details.
Islabikes will be showing the Icon range at a series of pop ups and other shows. The first of these will be at a pop-up in Bristol on 4-5th May at the Paintworks Event Space. More dates will follow on their Test Ride page.
If you've found this article interesting, why not share it with your friends? You can also follow Cycle Sprog on Facebook.
Other articles you may find interesting: