The Cube Stereo 140 Youth is a 27.5″ wheeled mountain bike aimed at youngsters who are just getting to the point of being too big for most kids bikes, but too small for most adult MTB's.  Cube and a few other manufacturers have recognised this difficult crossover time, and decided to plug the gap with good quality bikes – in Cube's case, a stonking full suspension MTB.
Cycle Sprog is an family run, reader supported, website. We belong to several affiliate schemes so may receive a small commission from sales made from links on our site. We do our best to be impartial and recommend products on their quality not whether they are in a scheme.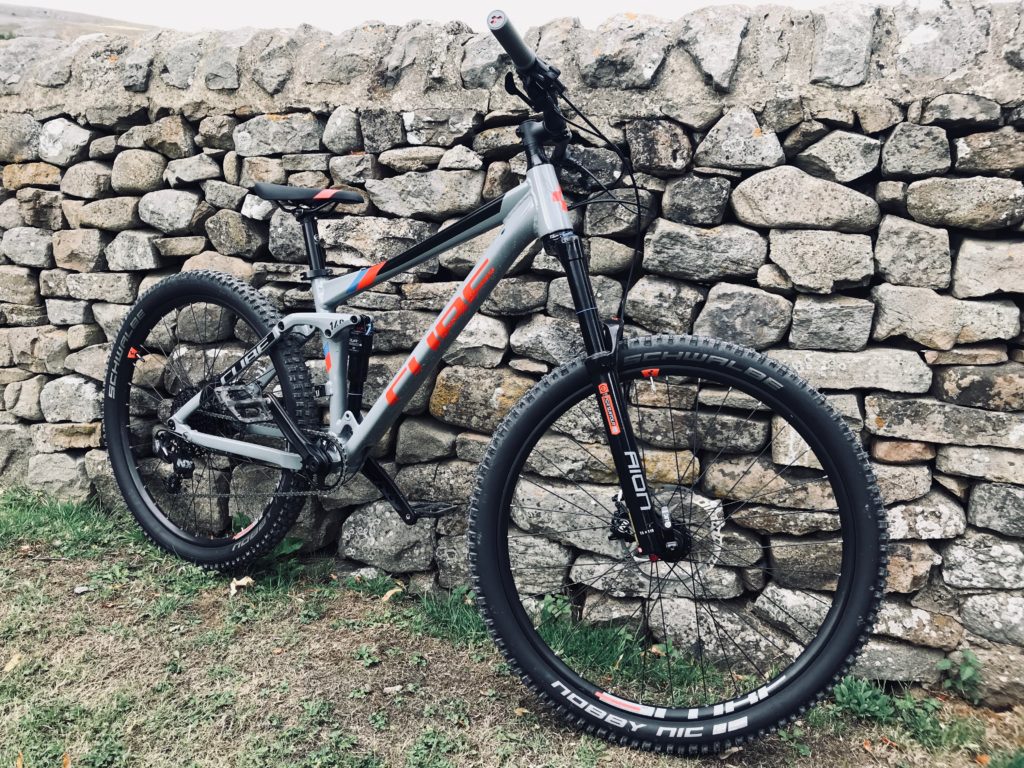 First impressions of the Cube Stereo 140 Youth
Let's not beat around the bush. The Cube Stereo 140 Youth certainly looks every inch the all-mountain machine designed to make you grin like a manic Cheshire Cat. From its long-travel forks to the 4 piston front brakes and 1x crankset, the 140 Youth really is a proper, proper MTB.  However, with a price tag to match (£1,699) so it should be. We were keen to take a much closer look and to get the bike out on the trails to find out what you get for your hard-earned cash.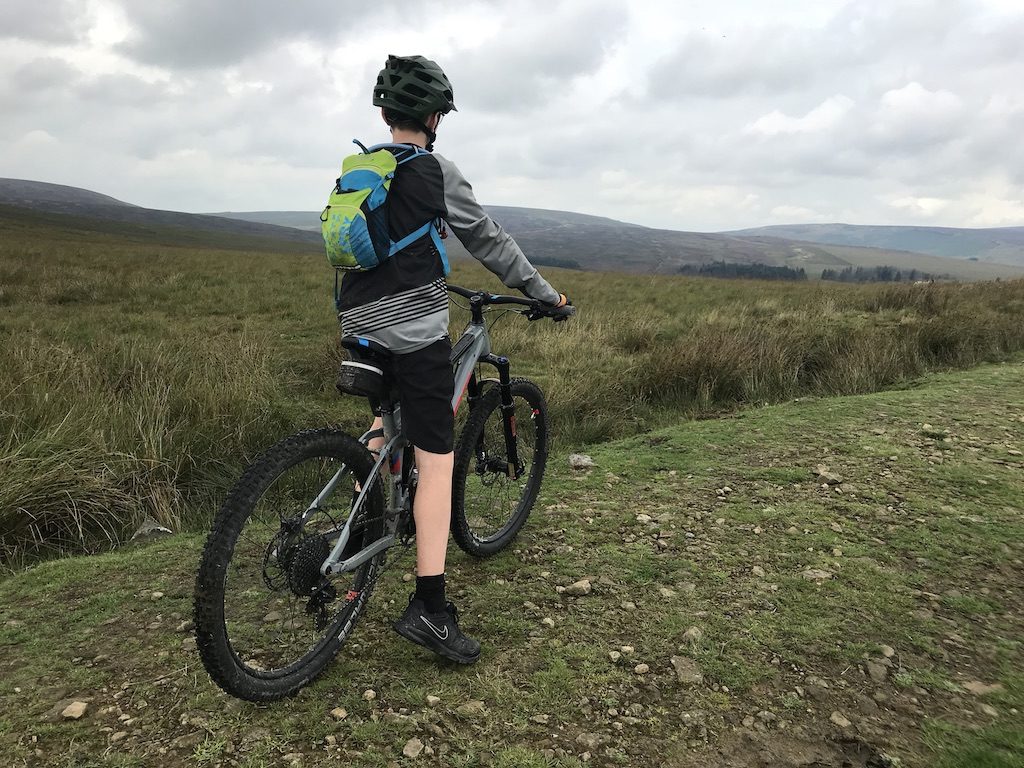 12-year-old Tester N has been fortunate enough to ride the Stereo 140 Youth across a number of different locations in the North of England and Scotland over the summer and autumn of 2018, to see how well it coped for him when exposed to different conditions and terrain.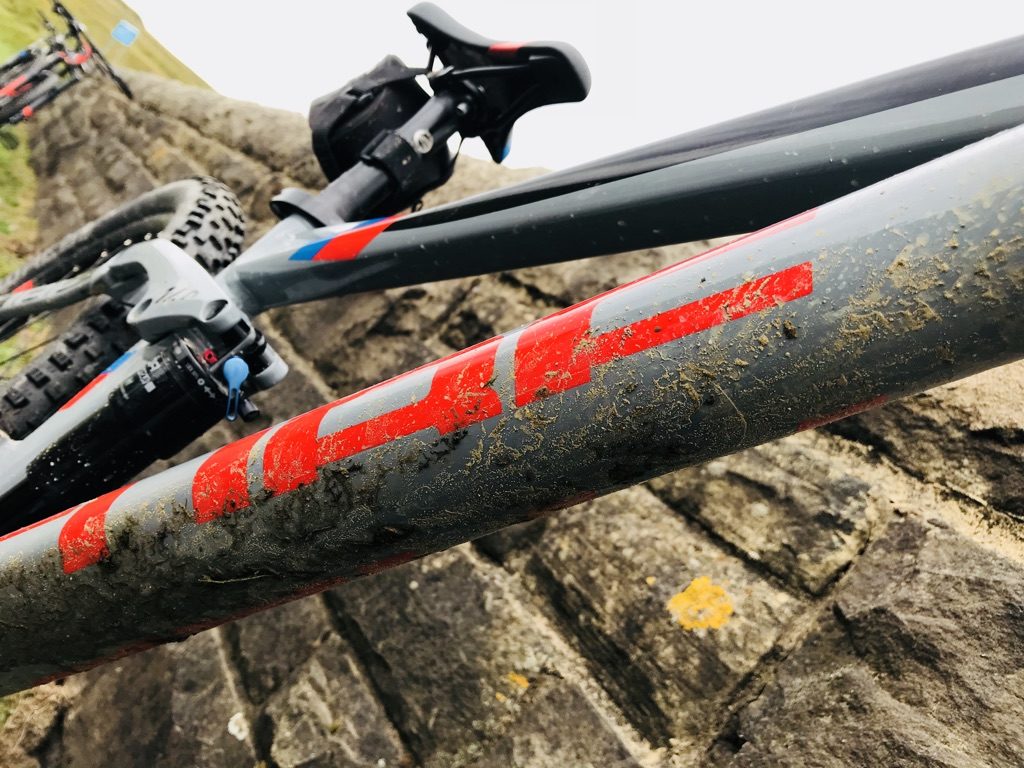 What age is the Cube Stereo 140 Youth aimed at?
The 140 Youth has a target audience between the ages of say ten and fifteen (depending on how tall or small your Cycle Sprog is) due to the variety of frame sizes that are available.  Yes – this isn't a "one size fits all" bike.  The Cube Stereo 140 Youth comes in not one, not two, but three (yes 3) frame sizes (13.5″, 16″ and 18″).  There's a detailed breakdown of the geometries for each sizing on the Cube website.
Other manufacturers, please take note – growing kids and teenagers are different shapes and sizes and need bikes that reflect that!
Specification of the Cube Stereo 140 Youth
Frame and forks
Once upon a time bike frames were made of round tubes joined together.  However, now tubes can come in all manner of funky shapes, as evidenced by the 140 Youth.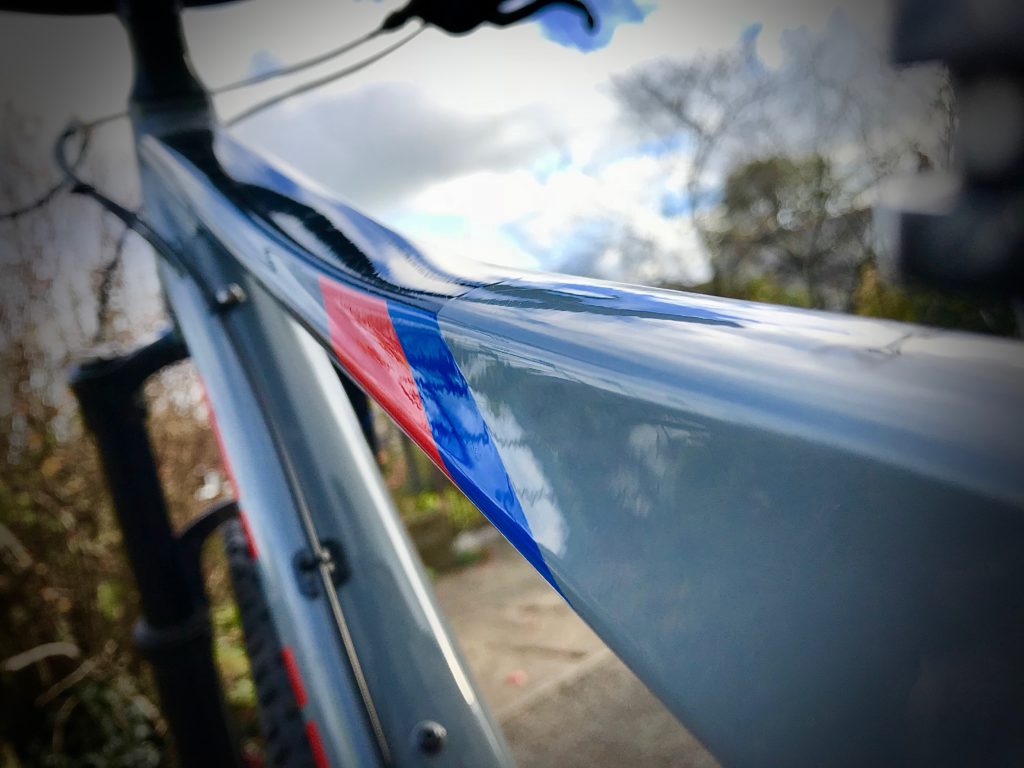 The bike has a T6061-T6 aluminium hydroformed frame – created by a technique that employs fluid under high pressure to create the required tube shapes, rather than the traditional method of pressing or stamping. It also allows the designers creative juices to flow. This allows tube shapes that would never have been possible, and hence frame design and aesthetics has moved on a pace. The frame of the Cube Stereo 140 Youth is also triple-butted – meaning that material can be removed from tubes where it's not required, thus retaining strength where needed while reducing weight where it's not.
Taking a look around the frame in detail, it comes with integrated ISCG05 tabs behind the chainset on the bottom bracket.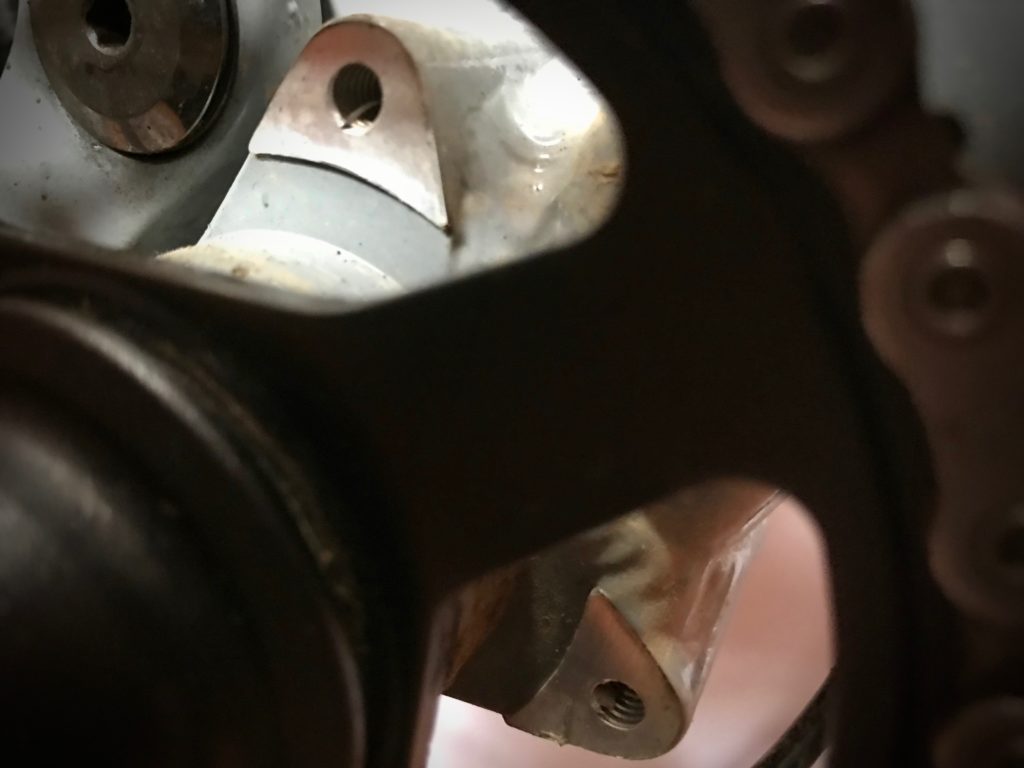 These are connecting points on the frame to allow the fitment of a chain retention device which stops it coming off and causing all sorts of problems. Aggressive riders sometimes like to use one (often with a bash guard to protect the chainring) for peace of mind especially if racing, hitting seriously rough terrain or heading out on huge multi-day adventures where a mechanical problem can be a showstopper. (For those of you who are interested, ISCG  stands for International Standard Chain Guide and there are two standards ISCGO3 and ISCG05 – I found this article that explains more – don't say you don't get educated in fascinating matters whilst reading Cycle Sprog!!!)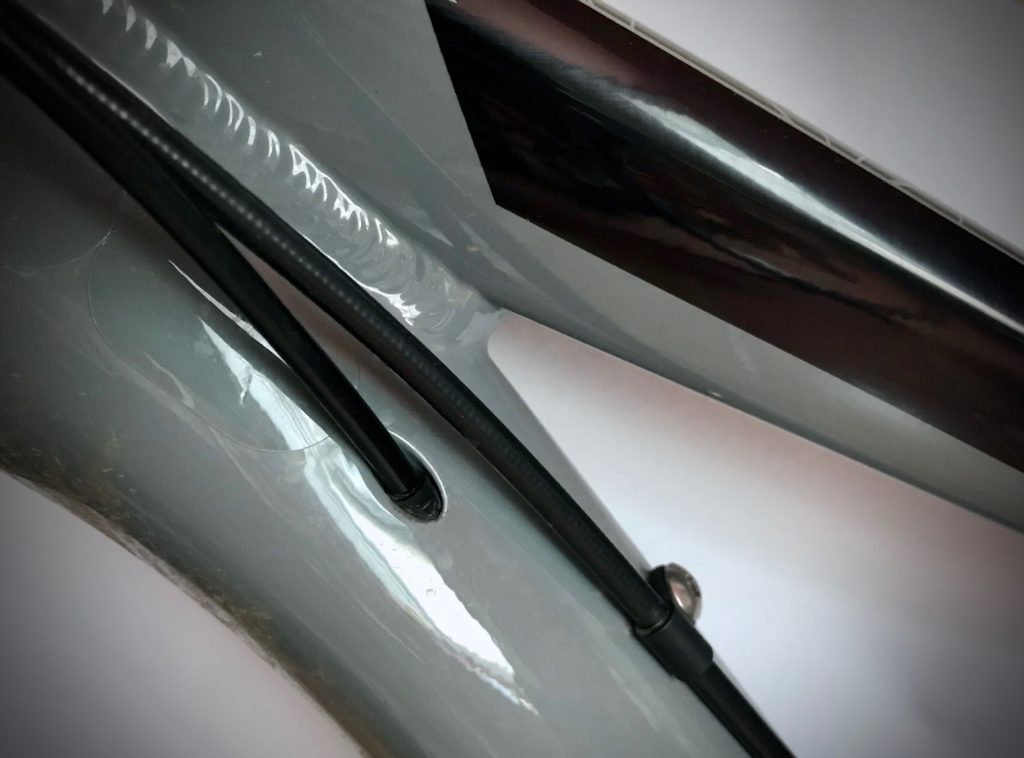 Gear cabling is concealed within the downtube which keeps things neat looking but also saves it from getting all mucked up. There's also built-in cable routing points to allow for the fitment of a height adjusting dropper seatpost.
Cube have made plenty of use of clear 'helicopter' tape at key points where stones and debris are likely to strike and this helps keep the frame in good order.
On the drive side chainstay there's tape to avoid it getting all marked up, but nothing meatier to avoid any slapping noises when things get a bit wild. Fitting a rubber protector would help quieten things down.
There's also a front mech hanger in place in case you decide that a single ring at the front isn't giving you enough gear options, plus there's a couple of mounts on the down tube to fit a water bottle cage if required.
Suspension on the Cube Stereo 140 Youth MTB
At the front, there is an SR Suntour Aion RC-PCS air fork with tapered steerer and a huge 150mm of travel.
It comes with a threadless 15mm thru-axle, which once mastered, is a quick and nifty way of connecting up the front wheel (best to practice first at home, before encountering a puncture on the trail!)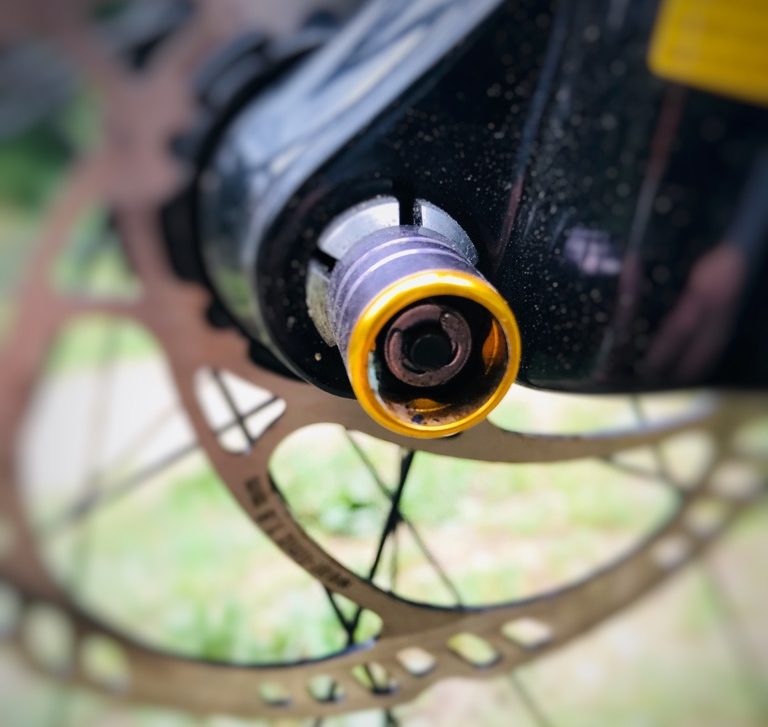 Although the price of the Aion comes in way under the likes of Fox 34 or a RockShox Pike, it seems to have won plaudits for the performance it delivers, and certainly handled everything our Cycle Sprog asked of it – which as we'll cover later was a mix of cross country riding and trail centre reds and some black features.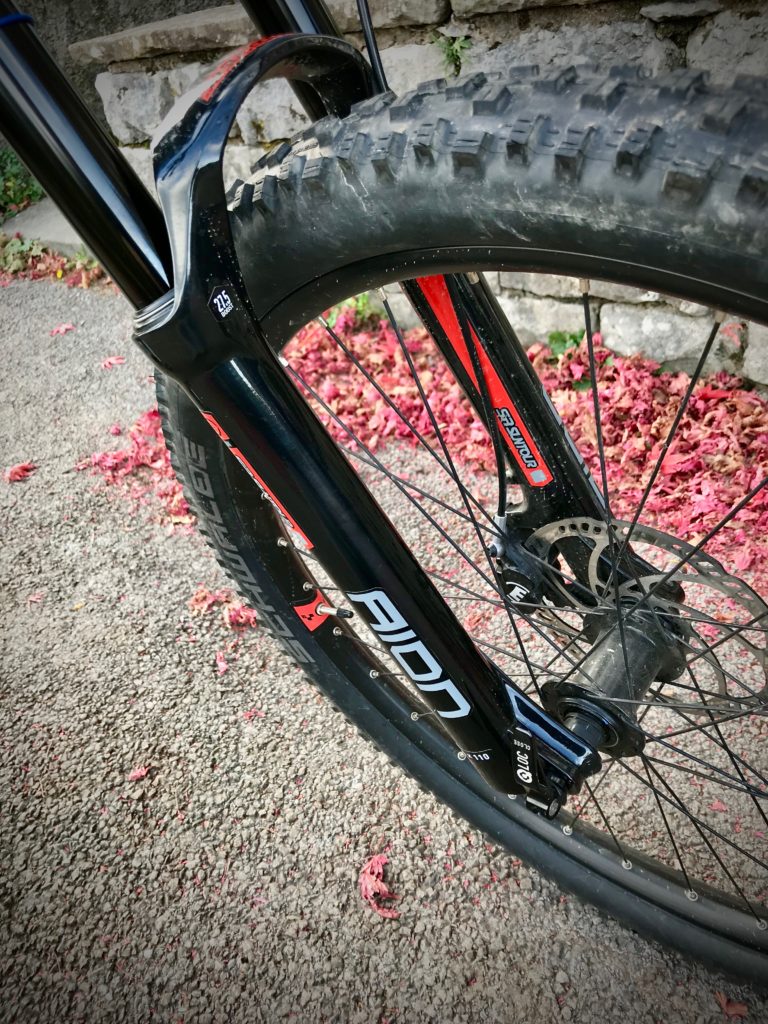 Rear Shock
Giving the Stereo 140 Youth plushness at the rear end is a SR Suntour DuAir shock providing 140mm of travel. This is a tuners delight as it gives a wide range of adjustment for both rebound and compression, plus you can change the air sleeve to add more volume should you wish to go to those lengths!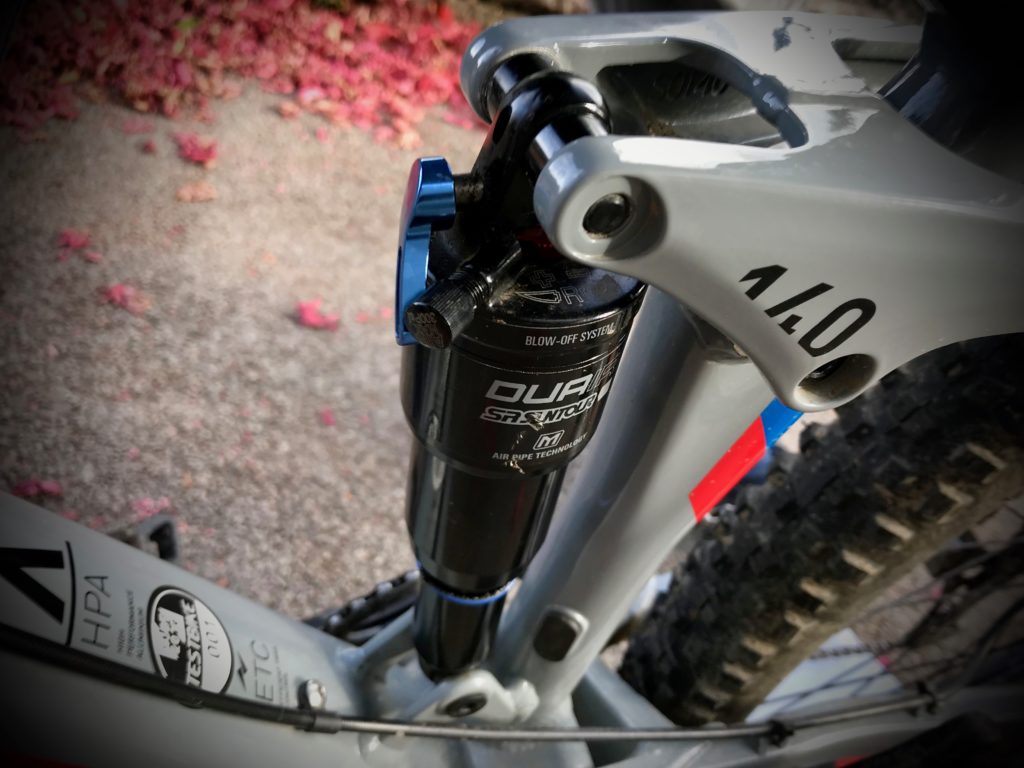 Gearing
SRAM's NX range has been specified to make the changes with a long cage rear mech and thumb shifter swapping cogs on the 11-42T cassette. This setup adorns several bikes at Cycle Sprog HQ and we've found it to be a robust and reliable combination.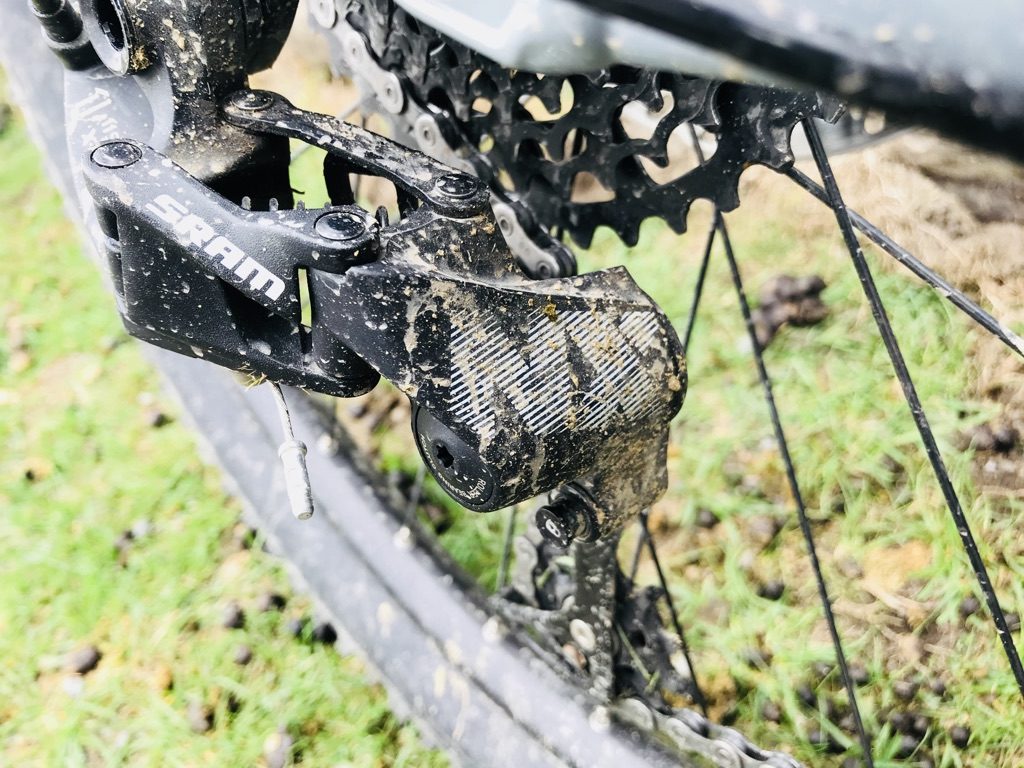 Cube have opted to fit a rather tasty Race Face Aeffect crankset to the Youth 140 and this comes readily supplied with a 30 tooth chainring. The Aeffect uses the Race Face Cinch system that allows you to customise your chainset in many ways, including swapping out the chainring for another size should your riding environment require it. There's also a huge range of colours to choose from to personalise your ride!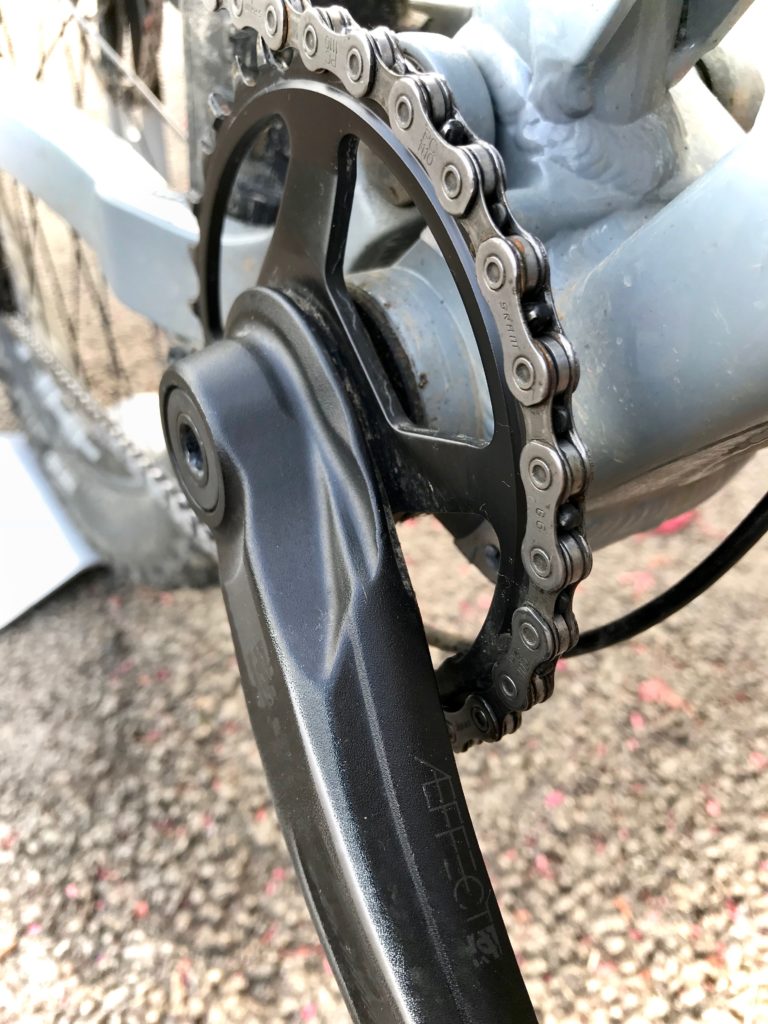 Test N had no problems with either the operation of the gears, nor the range available – we've been riding some rather steep terrain in Yorkshire, Cumbria and Scotland and the ratios available were adequate for all but the very steepest of climbs.
Brakes – time to slow things down
When looking for a suitable set of stoppers for the Stereo 140 Youth, Cube went exploring what fellow German brand Megura had to offer. The MT Trail brakeset is the result of in-house experimentation, as their riders and employees often raided the parts bin to create a custom setup of the traditional two-pot caliper (i.e. two pistons pushing against the brake disc – one on each side) at the rear combined with a four-pot caliper at the front.  Taking note, Magura decided to bring it to the market to see what would happen.  This means that you're essentially getting a lot more power through the front brake from applying the same amount of pressure on the brake levers.  This is useful for younger riders who perhaps don't have the same strength of grip as an adult rider.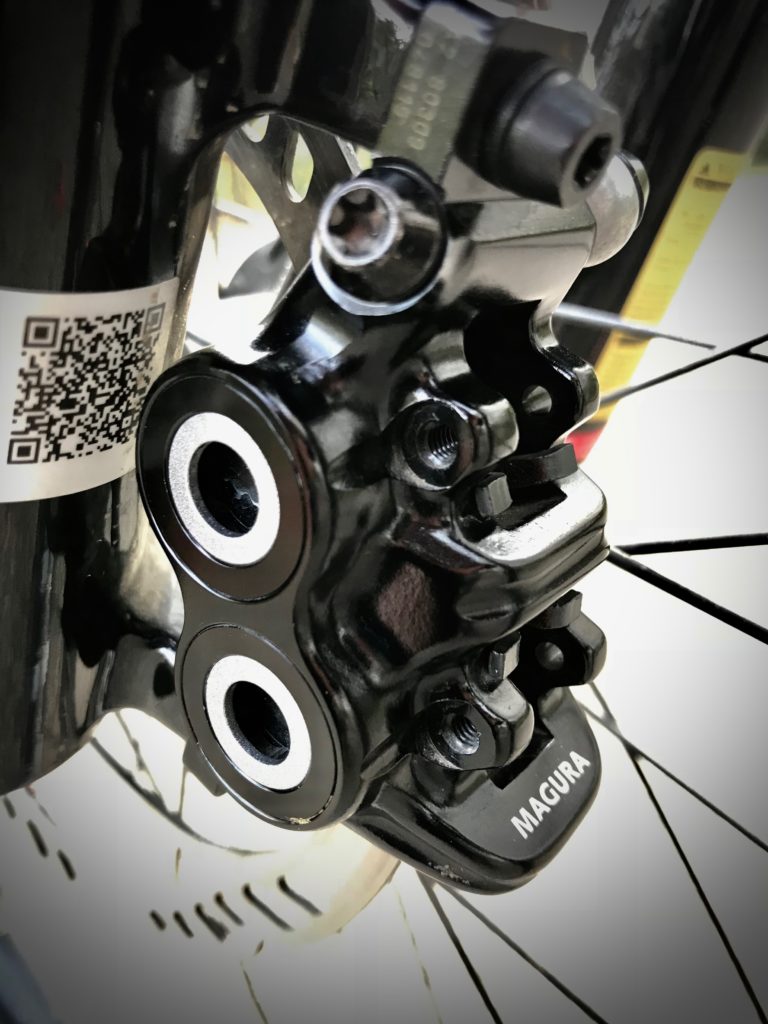 With 180mm discs front and rear, the Magura MT Trail brakeset certainly has no issues when it comes to stopping power. Feel at the lever is progressive and the power can be modulated as desired. Yes, if you grab a handful of front then the bite on the disc is akin to hitting a brick wall, so it's probably best to explain this to your Sprog before they start their first descent!
Obviously it's subjective but I really like the ergonomics of the brake levers. Made from anodised aluminium, they're textured to the touch and are shaped in such a way as to really lend itself to one finger braking.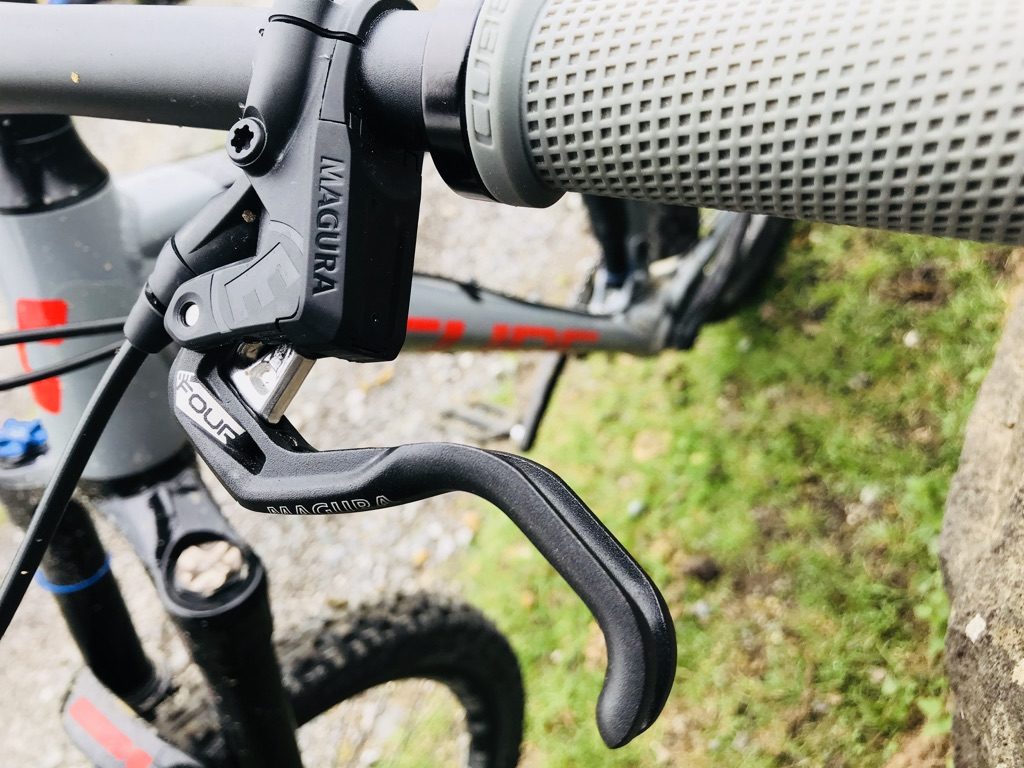 A funky little touch is the use of magnetic brake pads which make changing them a cinch.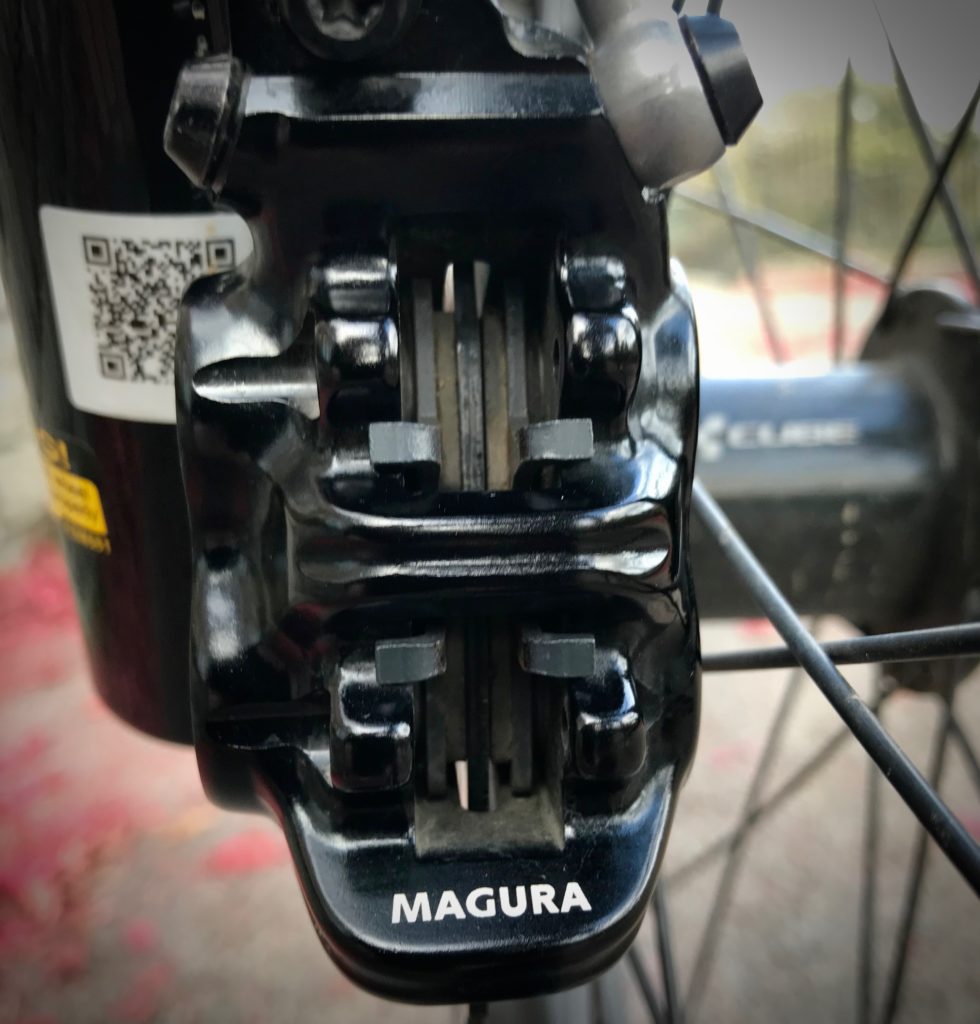 Wheels and tyres
The 27.5″ wheels on the 140 Youth are Cube in-house branded items for both the hub and rim and come ready to setup tubeless. The tyres that come fitted are Schwalbe Nobby Nics Performance Addix in 2.35 width which, according to Schwalbes website, are not part of the 'Tubeless Easy' range so in theory can't be run tubeless.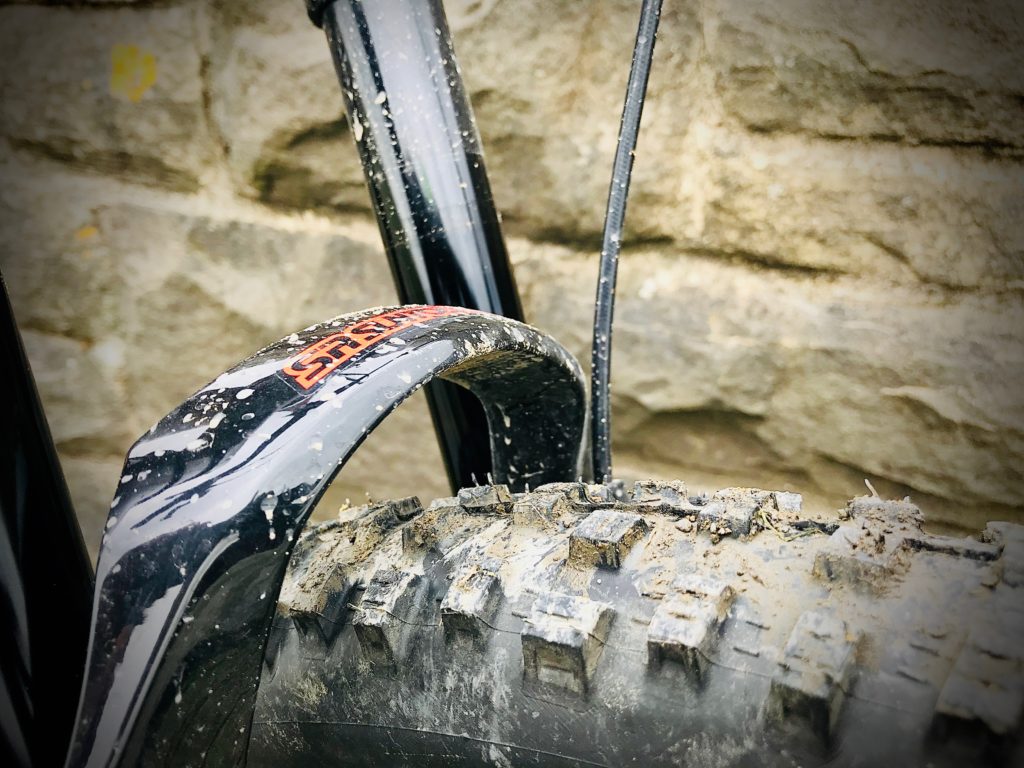 Finishing kit
As with most large scale manufacturers, Cube has an extensive parts catalogue from which to source components such as stems, saddles and handlebars.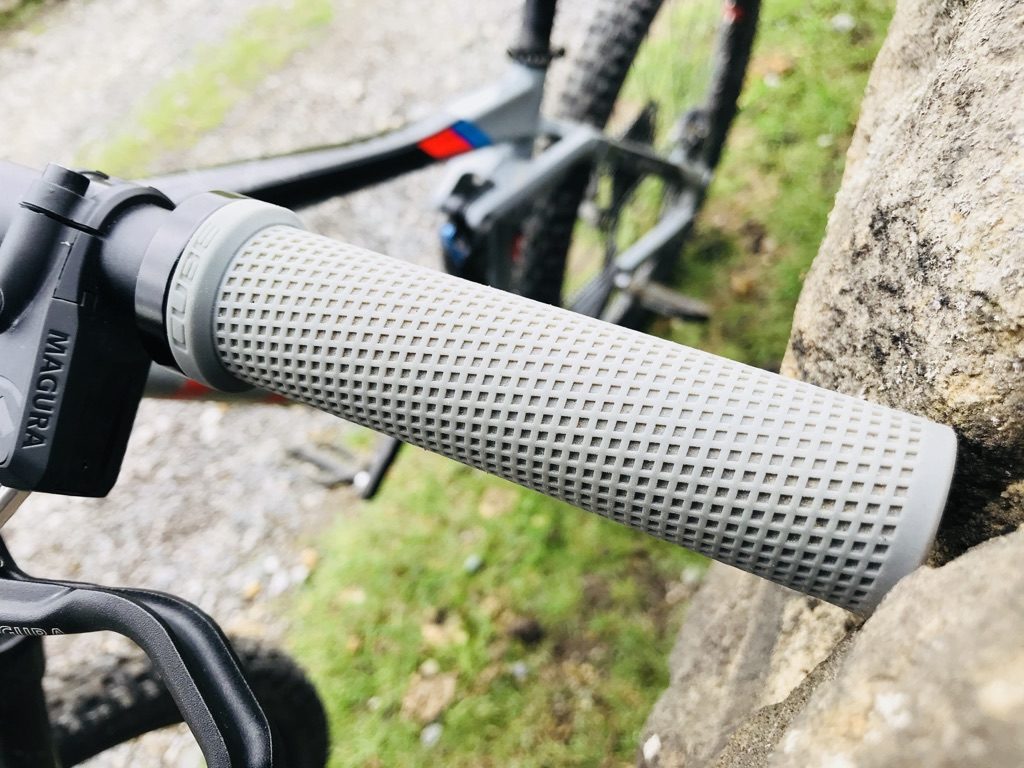 The bars fitted to the Stereo 140 Youth are 720mm wide, which was suitable for Tester N who prefers a wider bar setup but also allows for some reduction if needed. Alternatively, a narrower set of bars could be fitted and these ones kept for later.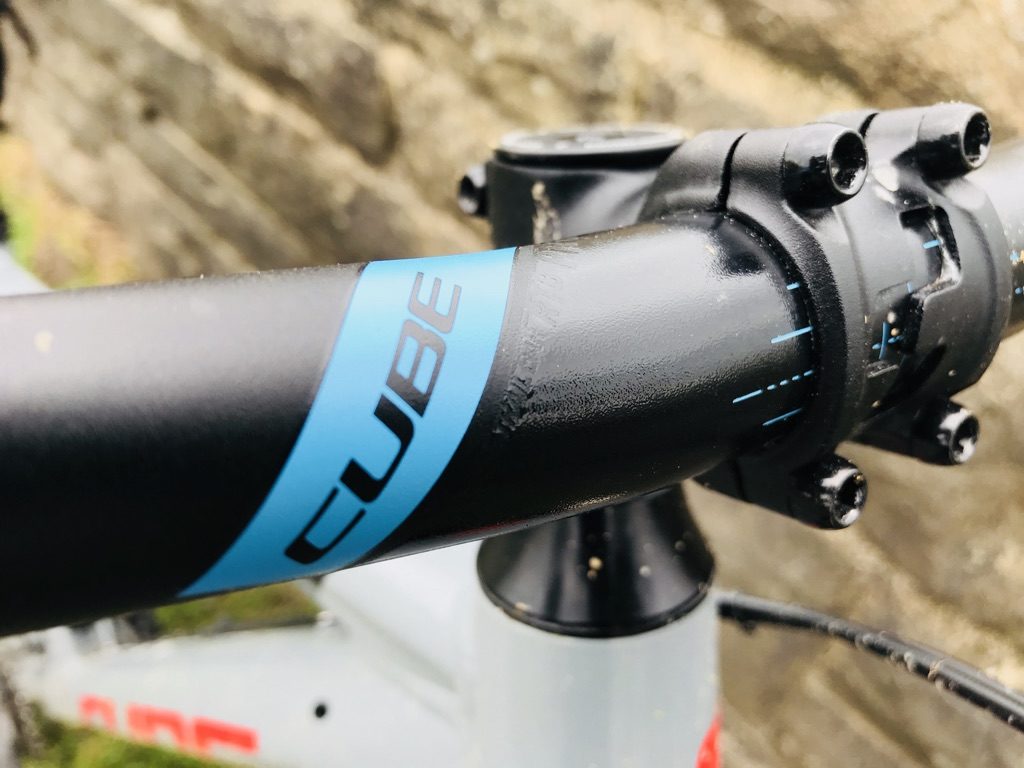 How does the Cube Stereo 140 Youth ride?
Over the course of the review period Tester N has ridden the Cube Stereo 140 Youth in many different locations. We live in Cumbria, so we've got challenging and steep terrain on our doorstep, and the Stereo has never failed to perform well on all surfaces.  It's worth pointing out that he doesn't race, and doesn't do serious downhill so we've not tested the bike under those extreme conditions, but he rides a mixture of trail centres and cross country. 
He also uses the bike for his weekly go-ride mountain bike class and was lucky to be able to attend some regional MTB training session run by British Cycling.
It's safe to say that during this period we've seen his riding skills and confidence levels come on leaps and bounds.  Yes, he's been having tuition, but the bike gives him the confidence to go and put into practice on the trails what he's been taught in his lessons.
During school holidays he's taken the bike to various trail centres, including Dalby Forest in North Yorkshire and Glentress in the Scottish Borders.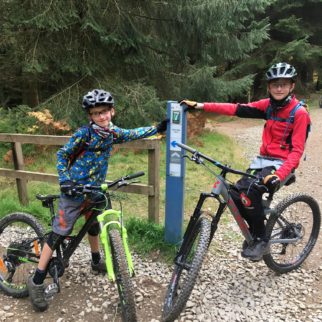 One of the stretches of trail the Cube has probably ridden most is "Berm Baby Berm" in Glentress – here he is with his younger brother before one outing. It's such a brilliant stretch of single track if you're ever in the area – it's blue graded so suitable for most levels of rider, but can be ridden really fast by more advance riders and proves addictive if you've got a Strava time to beat!
He's been hurtling down the blue and red graded trails and has been starting to mess around on more advanced black graded features too. The suspension certainly got a good workout on the Spooky Wood descent at Glentress, and the tyres performed well when we were there in damp conditions.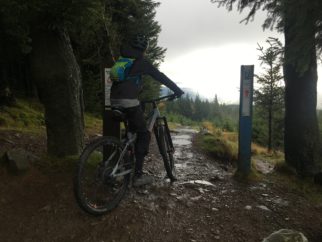 One thing that has been very evident is that he trusts this bike so much that he's happy to give new features a go, and there's been a couple of occasions where we've all agreed that perhaps the bike has probably saved the day!  I'm not yet sure as a parent whether this is a good or a bad thing, but on the basis that he's probably going to try it anyway, I'm erring on the side of it being a good thing! We have however had various conversations about not relying on the bike too much, and needing the skills in place before you attempt some features – parents eh!!!
We've also done some brilliant cross country rides on it, including the Swale Trail in the Yorkshire Dales.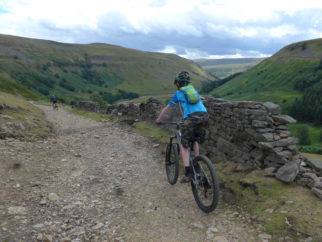 Plus a couple of classic rides out around the Hebden Bridge area of West Yorkshire.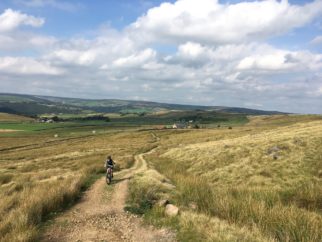 These were all much longer rides, where he was in the saddle for hours on end, and it was noticeable that there were no complaints about getting sore on any of the contact points with the bike (which was an obvious relief!)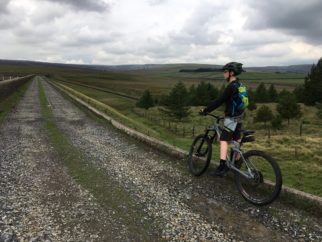 Like most almost-teenagers, N doesn't really do care and attention. Well, it speaks volumes that in the case of the Cube Stereo 140 Youth he's actually spent some time looking after it. Maybe it's the price that has jerked him into life, or perhaps just the fact that he loves riding it so much. Whatever the cause, it enabled me to get a very rare shot of Tester N in the very unusual position of washing a bike. Enjoy!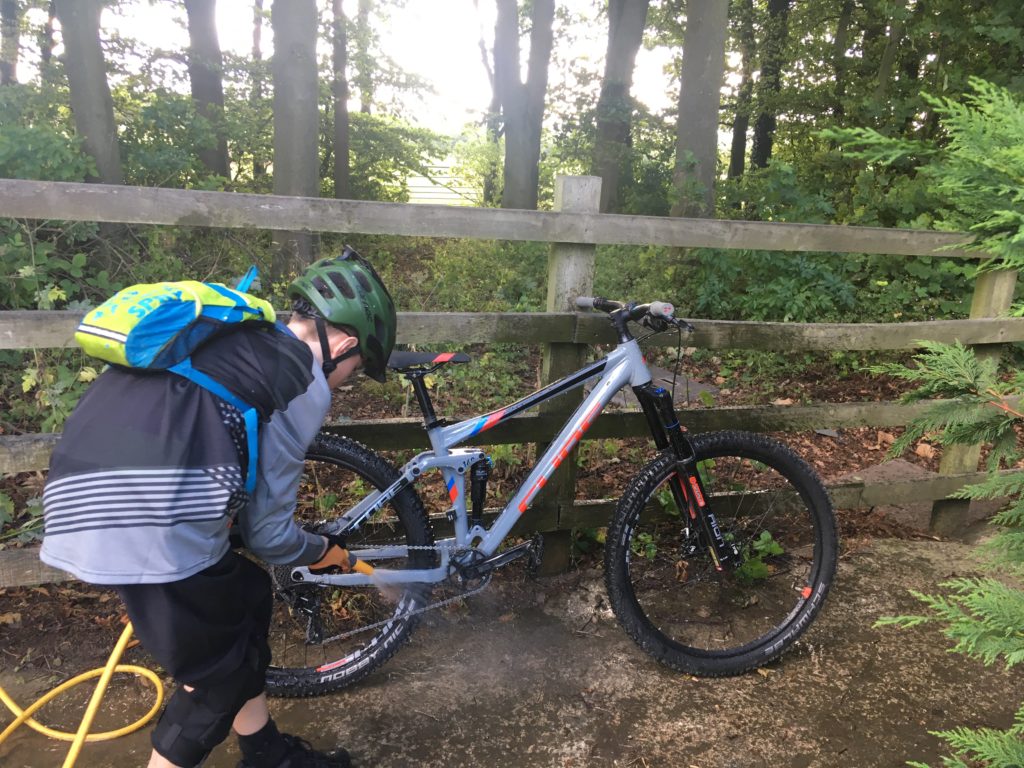 What did 12-year old N think of the bike?
I thought that the bike was amazing to ride and due to the full suspension, a comfy ride too. I felt that the bike gave me a huge boost in confidence which meant that I could start doing black routes at trail centres.
In general, the Cube is a fun, fast-paced bike that can handle almost anything you throw at it. Whilst riding it, the Cube reacts sharply and feels safe at all times. You get a real buzz whilst riding it and it can make you feel like a pro.
I enjoyed riding the Cube Stereo 140 so much that for the first time I felt I needed to wash it myself! I know!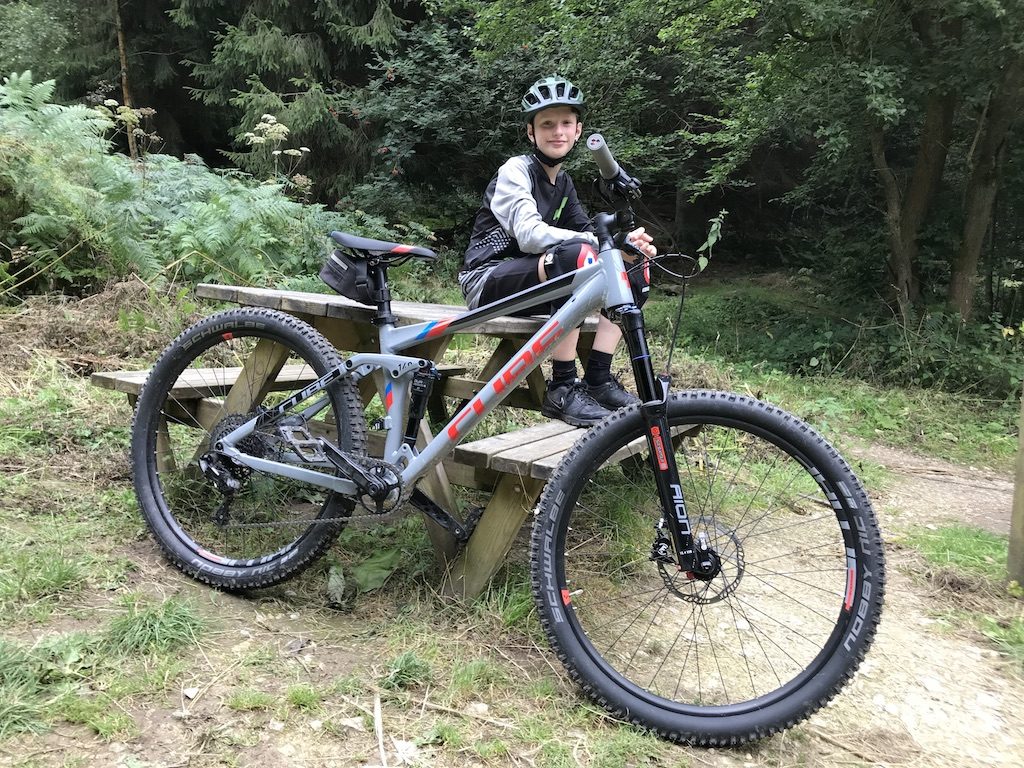 Review of the Cube Stereo 140 Youth – final verdict
Tester N is rather fortunate in that he gets to ride a broad selection of bikes from many manufacturers, as well as the hand downs he gets from me (yes – he is that big now!). As a result, he's pretty assured when it comes to deciding what he likes and what he doesn't and the Cube Stereo 140 Youth has really made an impression.
It would be quite easy to say that he's blinded by the flashy full suspension outfit with a significant price tag, but that would be unfair. Yes, he's been impressed by that and also by the way it looks like a proper off road tool, but to draw to a conclusion on those reasons alone would be misguided.
The real reason above and beyond everything else is how his riding has improved dramatically since taking charge of the Cube Stereo 140 Youth. It has inspired a level of confidence in him that matches his skillset, and so for once he's riding to his ability and that has put a huge grin on his face – every time, without fail.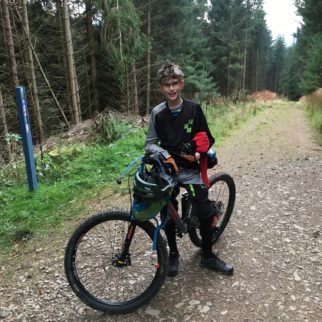 We'd highly recommend the Cube Stereo 140 Youth if mountain biking is your Cycle Sprog's passion and they're pushing themselves to improve their skills and go faster. Yes, it's a hefty price tag but you'll get several years of fun on it, and if you maintain it well, should be able to sell on to recoup some of your outlay (obviously to put towards the next bike they'll be demanding!)
Where to buy the Cube Stereo Youth 140 Mountain Bike
Currently, the Cube Stereo Youth 140 MTB can be bought for £1359 if you shop around.  As mentioned above it comes in three different frame sizes (13.5″, 16″ and 18″).  There is a network of Cube Stockists around the country.  However, if you're buying online, then the following retailers have stock of some or all of the sizes (and they all pay us a very small commission if you click through on their links, which we hope you'll do as a thank you for bringing you this review!)
Check sizing availability and price of the Cube Stereo Youth 140:
SAVE £5 ON THIS BIKE AT TREDZ: Sign up for the Tredz Bikes newsletter (you can do this from the bottom on any bike page) and they'll immediately send you a code to get £5 off your first purchase
Accessories to go with the Cube Stereo 140 Youth
In many of the photos, Tester N is wearing the Cube Action Essentials MTB Shorts and MTB jersey  in XS adult sizing.
Younger brother (10 year old Tester T) was riding the top of the range 24″ wheel Cube MTB and wearing the Cube MTB helmet.
Many thanks to Cube Bikes UK for loaning N the Cube Stereo 140 Youth for the review period, and for providing him with the clothing he was wearing in many of the photoshoots. We were not paid to write this review, and all opinions are our own. 
Other articles you may like:
Affiliate Disclosure:  Obviously it takes us a lot of time to produce a review of this depth. We use affiliate marketing in the hope of generating enough income to allow us to continue to run the website. This means that if you buy any of the products through the links on this pay we may get a small commission from the retailer. It doesn't cost you anything but means we can hopefully keep the website going. Thanks!