If you've got a pre-teeen or young teenage Cycle Sprog who is quite big for their age, finding cycling kit that not only fits but is in a suitable style can be something of a headache. Often the kids clothing ranges don't go large enough, or as their designs are aimed at a younger audience, they're just 'so uncool'. However, a lot of adult sizes are just too big, especially for thin Sprog like our eldest.
Thankfully, Cube makes it's range of adult clothing in smaller sizes too – ideal for the youths in your life that are continually eating you out of house and home. They kindly sent us over some of their latest range for our 12 year old to test out.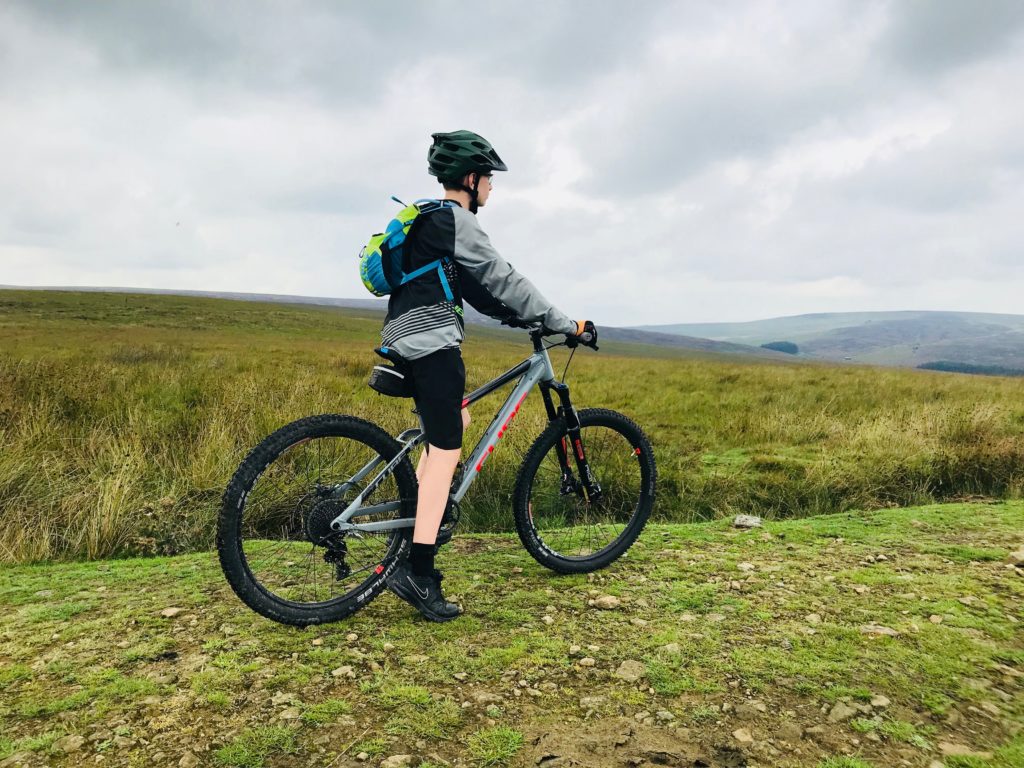 In this article we're taking a closer look at the MTB jersey. You can read how the MTB shorts fared here.
First impressions of the Cube Action Essentials Round Neck Jersey
The Cube Action Essentials Round Neck MTB Jersey (£39.99) is lightweight with long sleeves and comes in a fetching 'charcoal and light grey with a splash of green' colour scheme.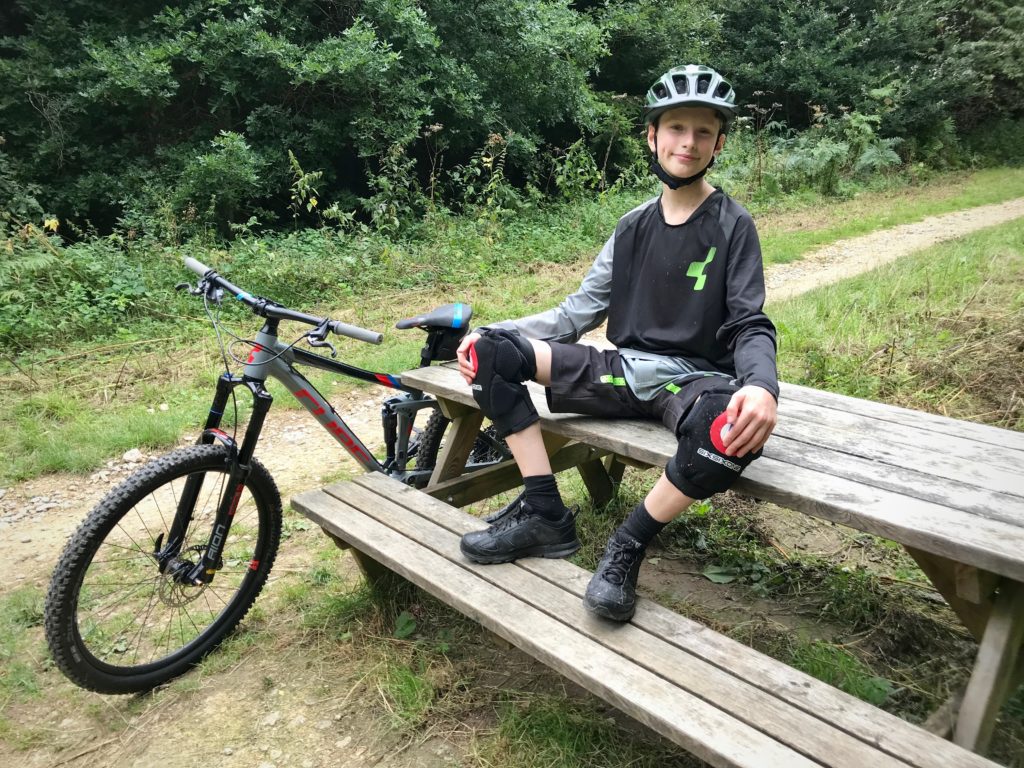 Material
The Action Essentials jersey is made from a lightweight and breathable fabric comprised of 92% polyester and 8% elastane that gives the jersey some stretch.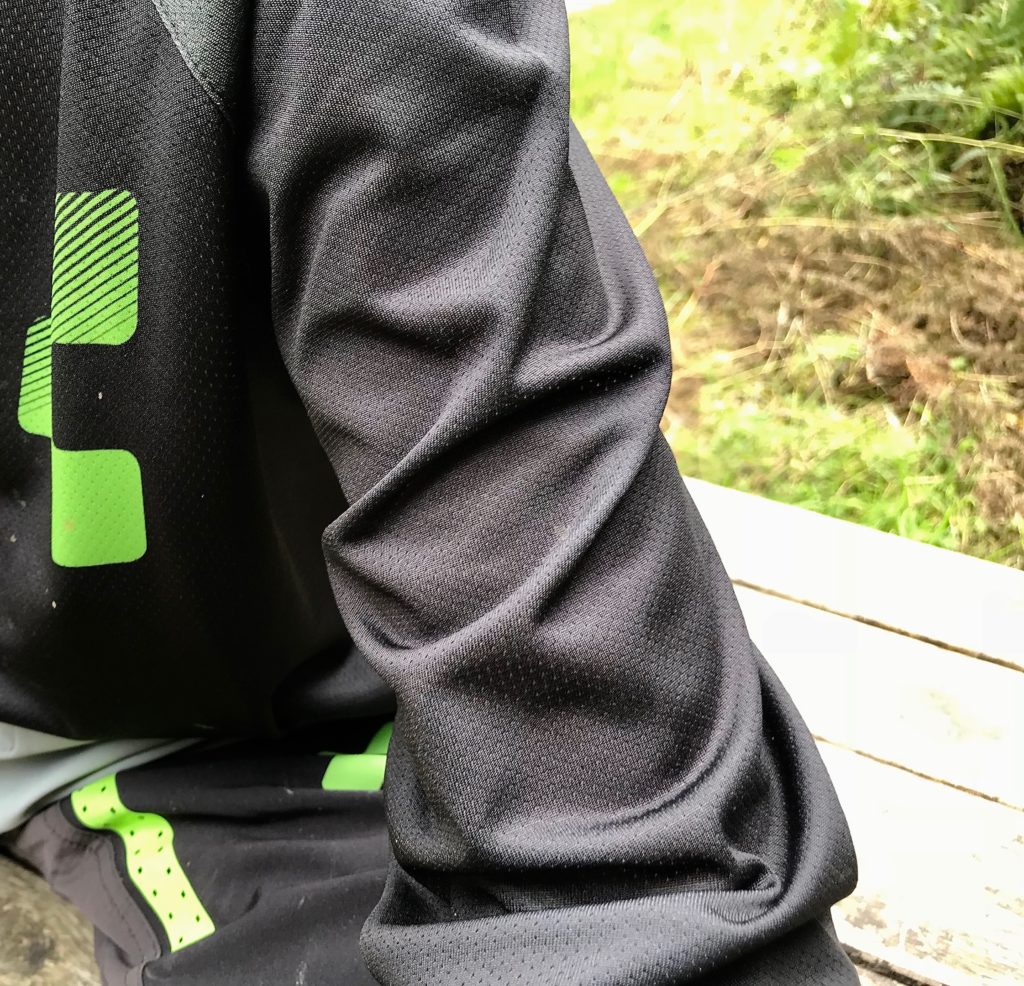 Comfort and fit for a teenage rider
When the Cube MTB jersey arrived and the packaging removed, we looked on in dismay as it appeared the wrong size had arrived. It certainly looked large and to be honest thought it would absolutely drown N. However, it's a loose fitting garment that has a design and cut to allow for huge amounts of body movement when on the bike.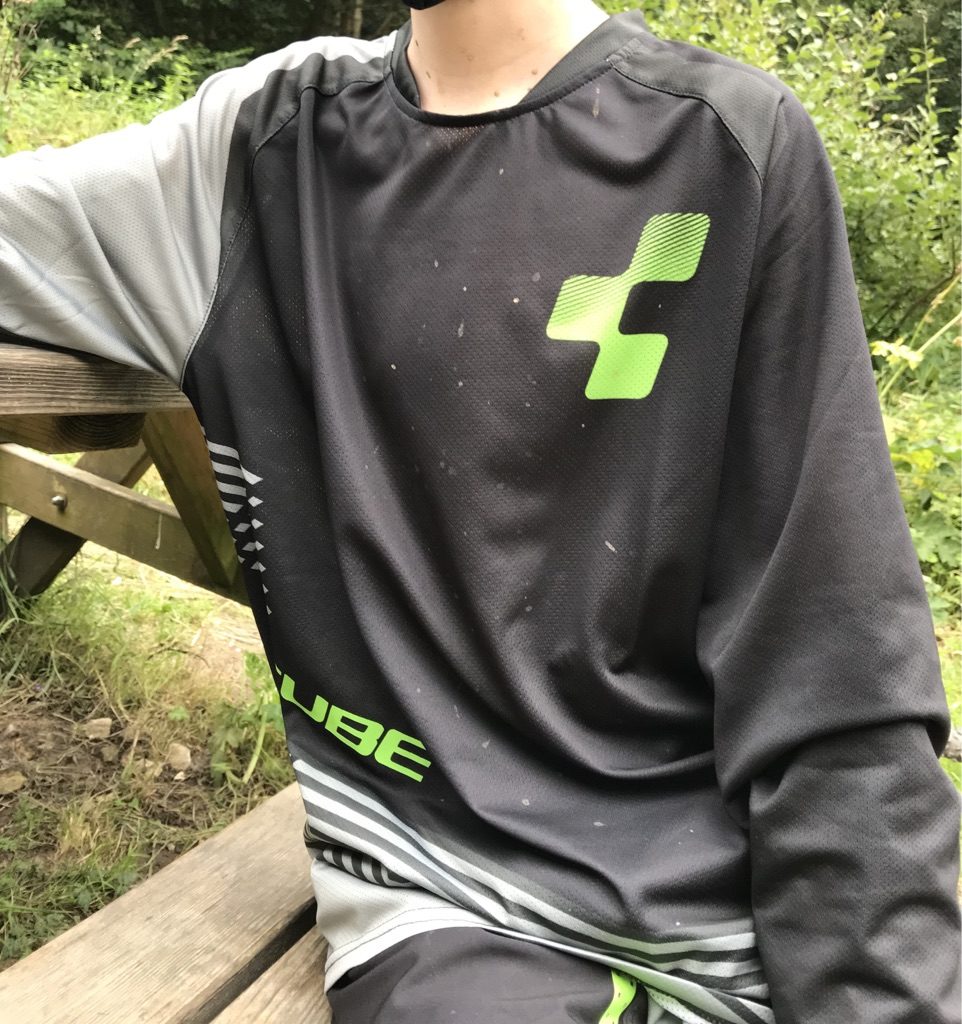 So taking that aspect into account, when he tried on the top it was certainly loose but not overly so. Also, as the weather has been cooler recently the loose fit has allowed N to use it as the outer piece of his layering system.
The seams of the jersey are 4 thread overlock stitched, feel soft to the touch and should have a high level of robustness in line with the purpose of the jersey.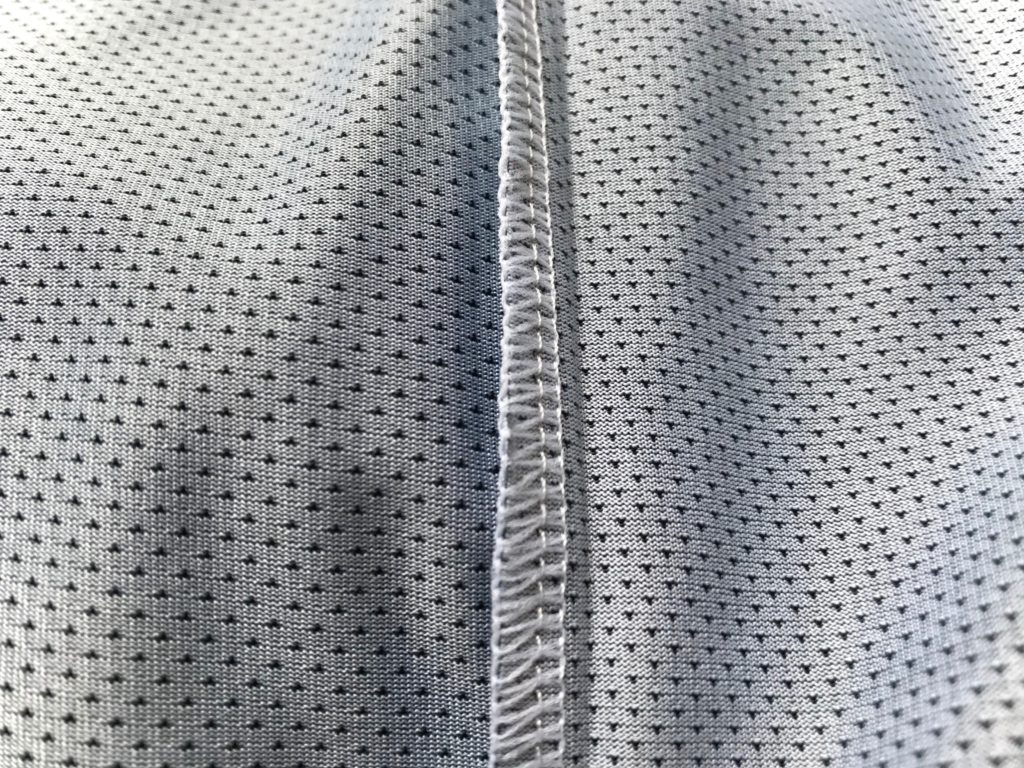 Ventilation on the Cube MTB jersey
The round neck jersey is constructed from a thin technical material with fairly large pores so ventilation is good in hot conditions, further aided by the cut of the garment that provides a loose fit. N has certainly found it comfortable when the weather has been a bit on the toasty side and used it as a layer with other items when the temperature has dropped.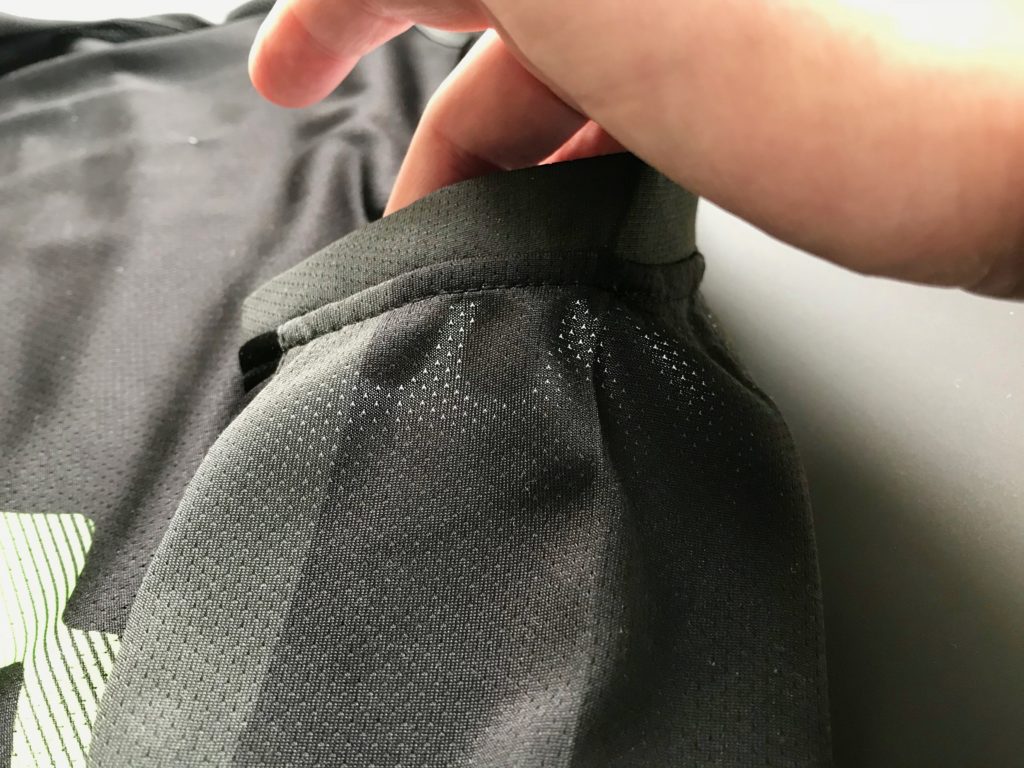 Robustness of the Cube MTB Jersey
The Action Essentials jersey is made from a lightweight and breathable material that is soft on the skin and has endured a number of washes and come up well considering it has adorned the body of a twelve year old boy.
The fabric certainly feels soft to the touch and there hasn't been an utterance of a complaint from N (who is sensitive on the skin front) so that's good news, but it is possibly a touch susceptible to getting snagged by undergrowth and sticky out branches that seem to come at you from nowhere and catch you by surprise!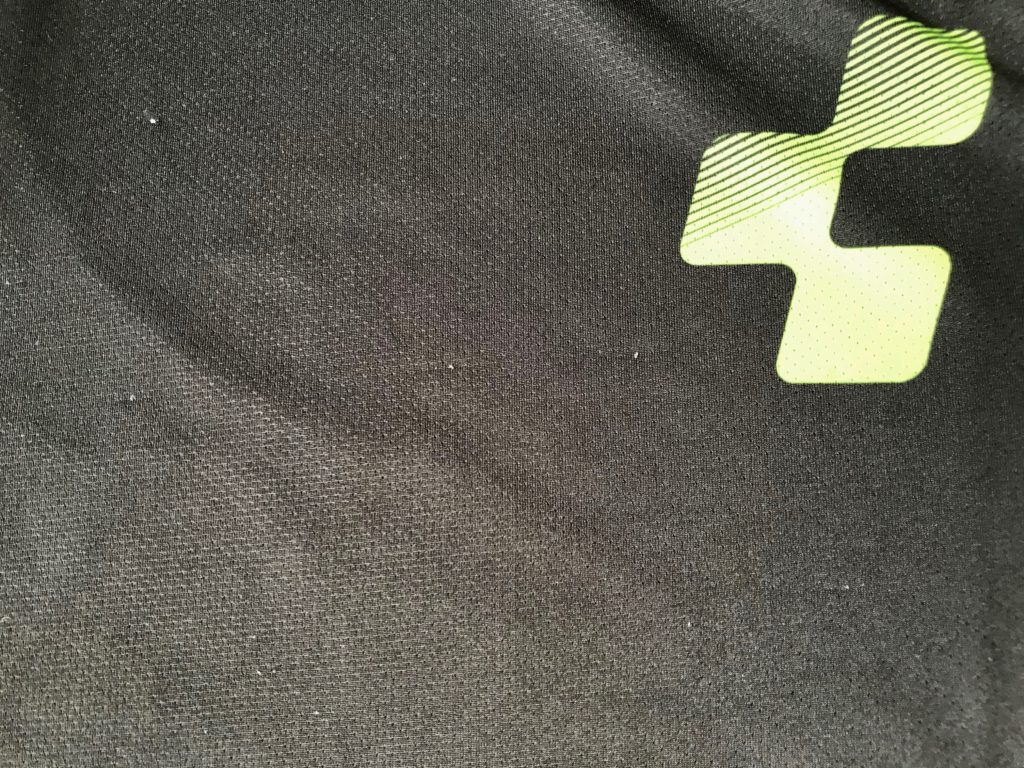 However, it is showing some battle scars in the form of little 'pulls' from its time on the trail, having also picked some of these up early on. This brings the underlying light grey to the surface and initially is quite noticeable in contrast to the jerseys black front.
Strangely, the material seems to repair itself with the little nicks being less obvious after going through the wash. Trying to take a photo to illustrate the damage has certainly proven difficult!
So apart from a few nicks here and there, the material has proven pretty robust as whatever foliage it's been subjected to hasn't resulted in any rips or tears.
Sizing the Cube MTB jersey for teenagers (and younger)
The Cube Action Essentials Mountain Biking Jersey is available in adult sizes from XS through to XXL. For reference, Tester N is 12 years of age, 165cm tall with an inside leg of 81cm. He is very tall and thin and wore the XS size. It is certainly a loose fit but not ridiculously so.
Where can I buy the Cube Action Essentials roundneck jersey?
The Action Essentials Jersey retails for £39.99 and can be purchased via the Cube Dealer Network and via Tredz. You can currently buy the Cube Action Essentials Roundneck Jersey from Tredz – now £35.99! (
Please note, we're an affiliate of Tredz, so by using this link you're helping us to get a bit of income to keep the website going.)
Other teenage cycling products from Cube
As you can see from the pictures in this article, as well as the Cube MTB jersey, Cycle Sprog N has also been testing the Cube Stereo 140 Youth full suspension mountain bike, and the Cube MTB shorts. Do follow us on Facebook or sign up for our newsletter to get to read these reviews when they get published.
Disclosure: Cycle Sprog were given the Cube Action Essentials mountain biking shorts to review by Cube Bikes UK. We are an affiliate of Tredz, so if you buy these shorts through the links on this page we may get a small commission, which helps us to keep the website going. Thanks for your support.
Other posts you may like to read whilst you're here: