Our eldest Cycle Sprog is getting taller by the day, and at 12 and a half he's starting to outgrow some of the kids cycle clothing ranges. However, he's tall and very skinny, so finding adult kit that fits him can be difficult. We were really pleased therefore when Cube Bikes got in touch and suggested that their new range of adult clothing might be of interest to teenage Cycle Sprogs. They kindly send over a pair of the Cube Action Essentials mountain biking shorts for test and we handed them over to our almost teenager (and very tall) N, to go riding and see how they fared.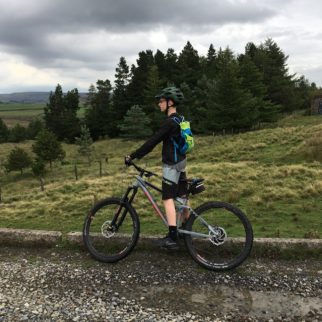 First impressions of the Cube Action Essentials MTB shorts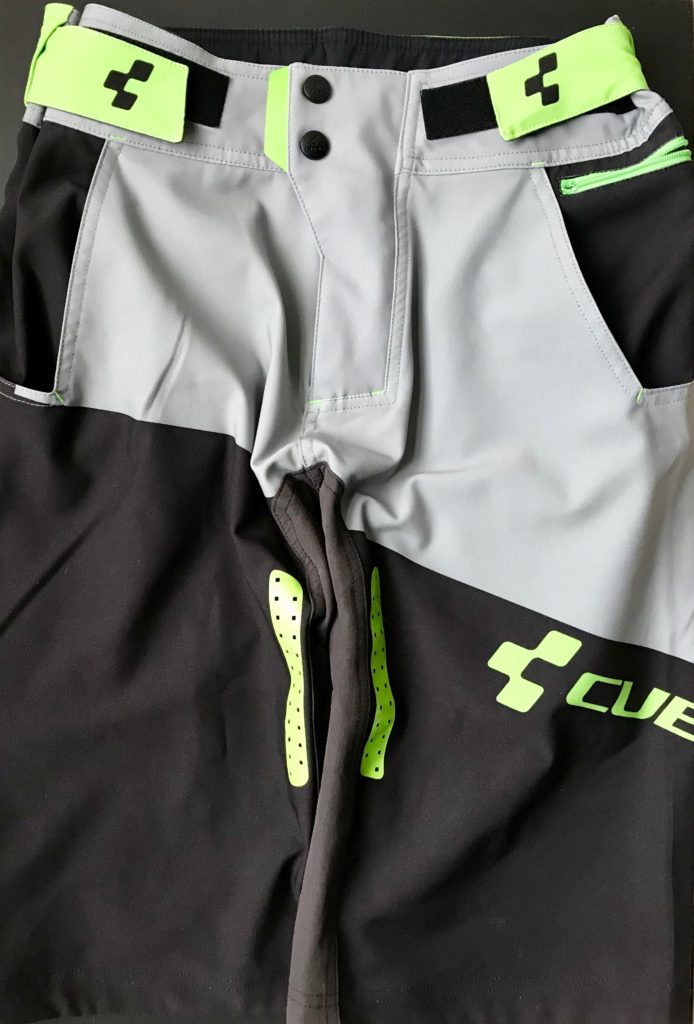 The Cube Action Essentials are a lightweight knee length baggy short that come in an attractive grey/black/green colour scheme. They're fairly long but with a leg width that's flattering rather than tent-like but with enough room for knee pads to fit comfortably. At the front, the primary colours of black and light grey are delineated by an attractive diagonal, with the light grey continuing it's journey around to the rear of the leg.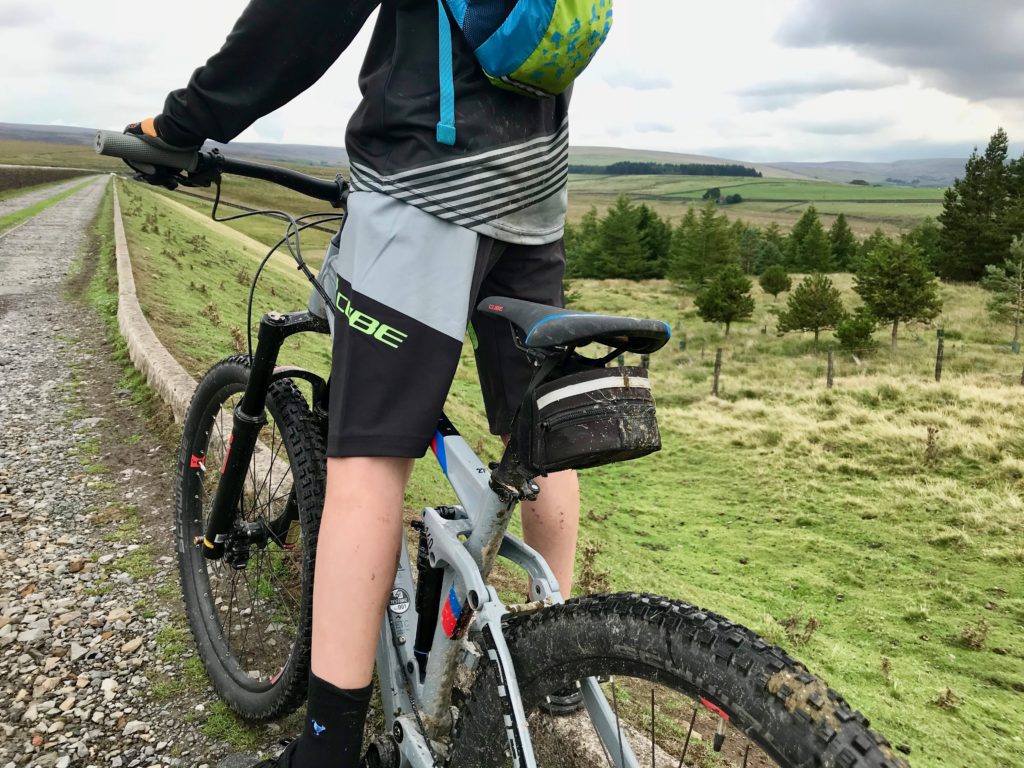 They're an outer short only so do not come with an inner liner short.
Retailing at £64.99 the Cube Action Essentials are not the cheapest short out there, but they are certainly well made and look as though they're built to last.
Having a good poke around the seams and stitching and giving a good tug where deemed appropriate reveals the Action Essentials to be well put together, with no loose ends and tidy stitching.
Specification of the Cube Action Essentials MTB Shorts
Material
Nice and stretchy, the Action Essentials are a mix of 90% Polyester and 10% Elastane to give that elastic feel.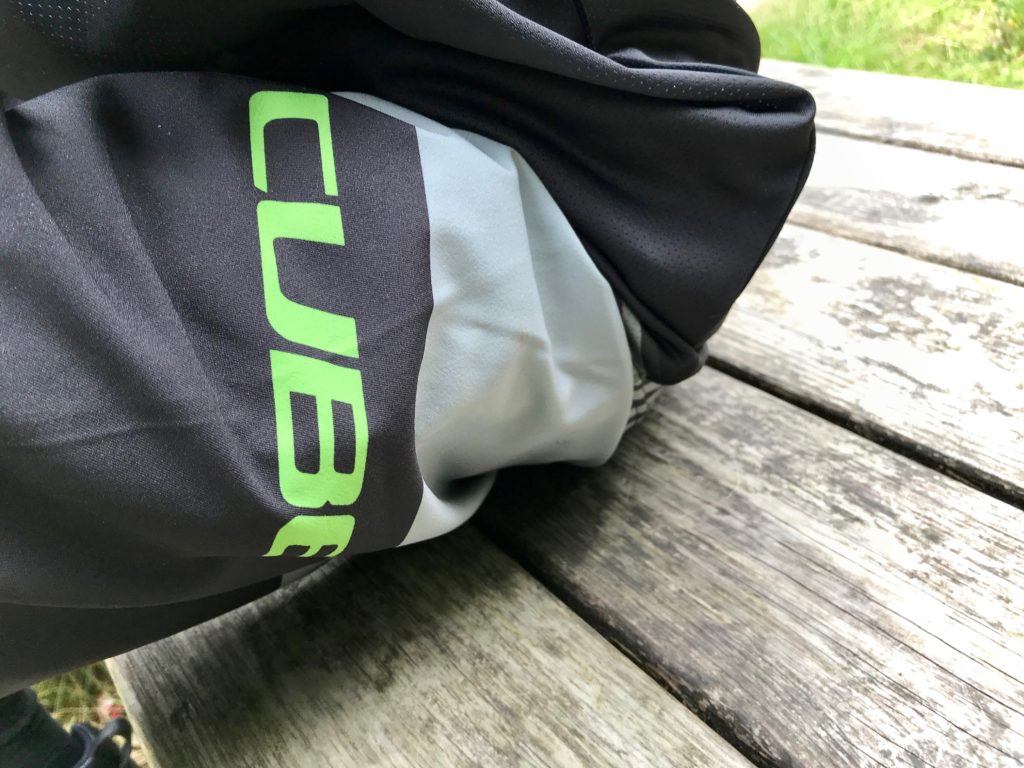 Comfort and fit
The waistband is soft to the touch and of double thickness and sits nice and high at the rear to stop your lower back getting cold. Below is a stretch panel that allows for a greater range of motion when riding, giving you the freedom to wriggle around and not constricting you when pedalling.
N has worn the shorts on numerous occasions with large knee pads and had no problems with the shorts getting caught on the pads.
Ventilation
The Cube Action Essentials are made from a lightweight breathable fabric that gives plenty of ventilation, but in addition to this the shorts have a laser perforated panel on the inner leg to give additional airflow.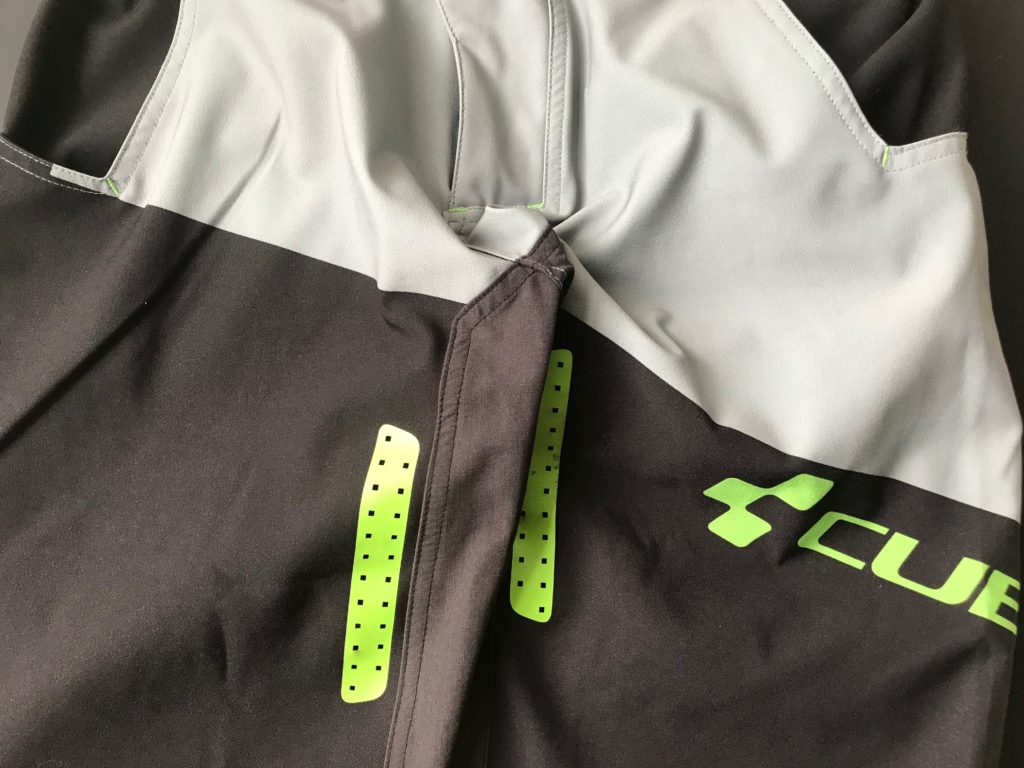 Pockets
On either side there are two deep hand pockets with a further small zipped hip pocket on the left hand side that would be suitable when heading over to the trails for carrying a set of keys, bank card and some cash. The zip pull is long enough to grab hold of when wearing gloves.
The zipped pocket is not big enough to slot an i-phone in, but he's carried one in the big pockets on the road and flat trail, but puts in his backpack when hitting the rougher trails, just to be on the safe side.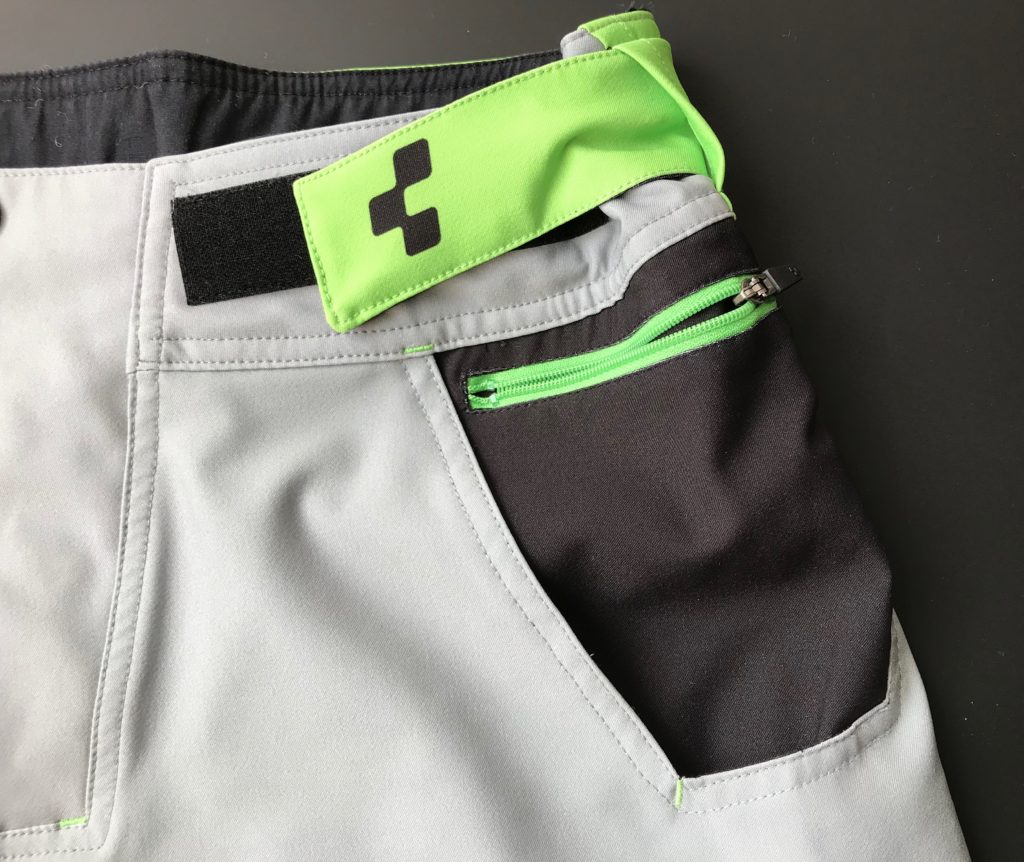 Zips, fasteners and adjustment
Getting the shorts just right in terms of comfort around the waist is important, so there are cinch style waist adjusters on either side with velcro which allows for a decent range of waist sizes to be catered for. However, with N's skinny 12 year old waist we wondered if there would be enough velcro to hold them up. Thankfully there is sufficient even for his waist, and he had no problems with the shorts slipping down.
There's no belt loops fitted to the shorts, but they're not needed anyway as the adjusters do their job just fine.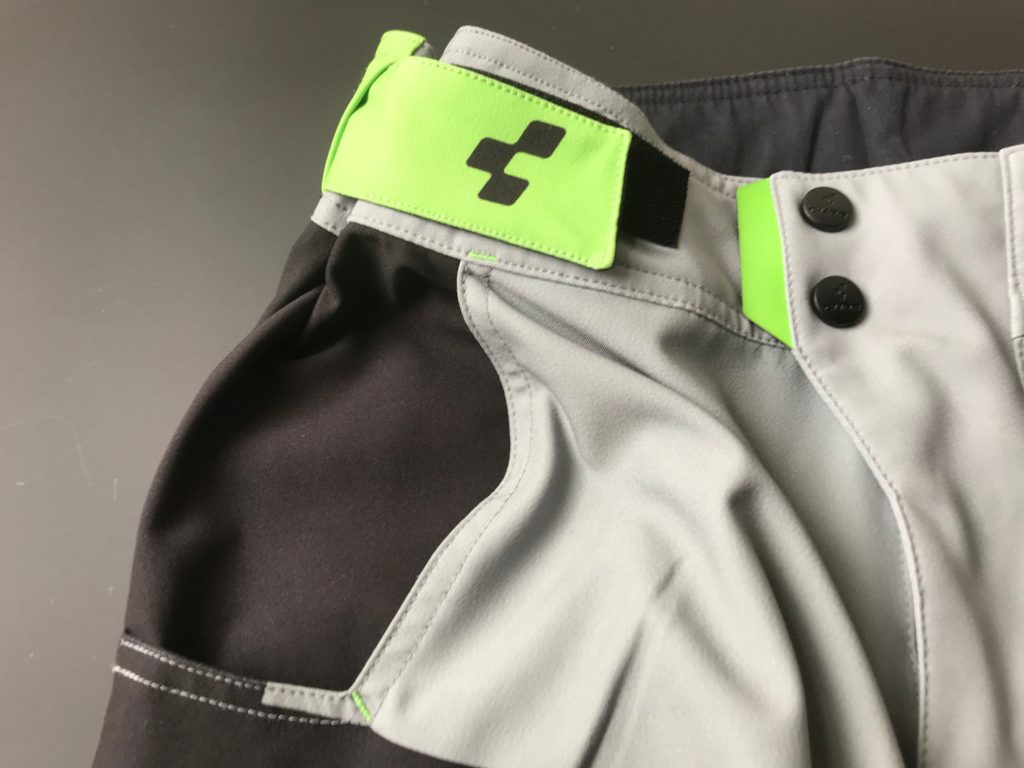 There are double studs to fasten the waistband so there should be no problems with shorts coming undone and having to endure the subsequent shaming that would result. There's also a decent grip at the fly to get hold of should you need to open them in a hurry – 'Mum, I need a …….'. Enough said.
Robustness
Tester N has worn the shorts numerous times now in conditions ranging from wet and muddy to sandy through to tight singletrack with branches, bushes and thorns all over the place. They've been washed after each ride and so far are showing no signs of degradation (all the closeup photos in this post are taken at the end of the review period).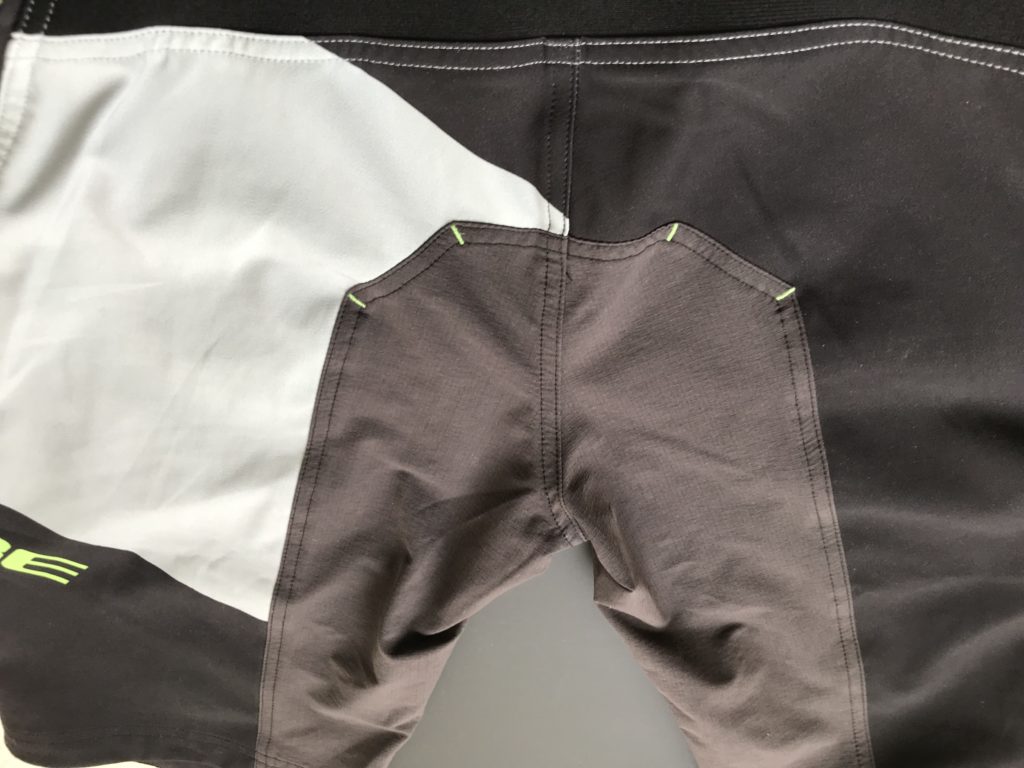 All stitching is still looking tidy, with no loose threads, and the material looks undamaged. I'm surprised that the seat looks as good as new, because I'd expected to see a bit of wear here, especially when it gets wet and filthy as that all gets worked into the area when pedalling. However, all seems well.
On the topic of getting soggy, there's no mention anywhere in the Cube literature that the shorts have DWR water resistant coating, but they do seem to repel water quite nicely. They're not waterproof but water does bead up and roll off well, such that N has never complained of wet legs.
Sizing of the Cube MTB shorts for teenage riders
The Cube Action Essentials are adult sized mountain biking shorts which come in sizes XS through to XXL.
Tester N is 12 years of age, 165cm tall with an inside leg of 81cm. He wore the XS size shorts and they fitted him perfectly. As previously mentioned there's a lot of room for adjustment on the velcro waistband for varing sizes.
Where can I buy the Cube Action Essentials MTB shorts?
The Cube Action Essentials mountain biking shorts have a retail price of £64.99 and can be purchased via the Cube Dealer network or through Tredz.
==> Buy the Cube Action Essentials mtb shorts from Tredz <===
Other teenage cycling products from Cube
As you can see from the pictures in this article, N has also been testing the Cube Stereo 140 Youth full suspension mountain bike, and the Cube MTB jersey.
Disclosure: Cycle Sprog were given the Cube Action Essentials mountain biking shorts to review by Cube Bikes UK. We are an affiliate of Tredz, so if you buy these shorts through the links on this page we may get a small commission, which helps us to keep the website going. Thanks for your support.
Other posts you may like to read whilst you're here: