Last summer we received a couple of boxes that contained some test models for the updated range of HOY kids bikes. Inside one was a HOY Bonaly 20, and our 'First Impressions' Review certainly showed it to have plenty of promise.
Cycle Sprog is an family run, reader supported, website. We belong to several affiliate schemes so may receive a small commission from sales made from links on our site. We do our best to be impartial and recommend products on their quality not whether they are in a scheme.
This article was first published in December 2018 and updated in April 2021 with minor changes.
After completing our initial review we handed the bike over to one of the Cycle Sprog test team to put it through its paces and provide feedback on how the Hoy Bonaly 20 fared over the longer term.
Our reviewer is Katherine, and she and her Dad have kindly told us how they got on.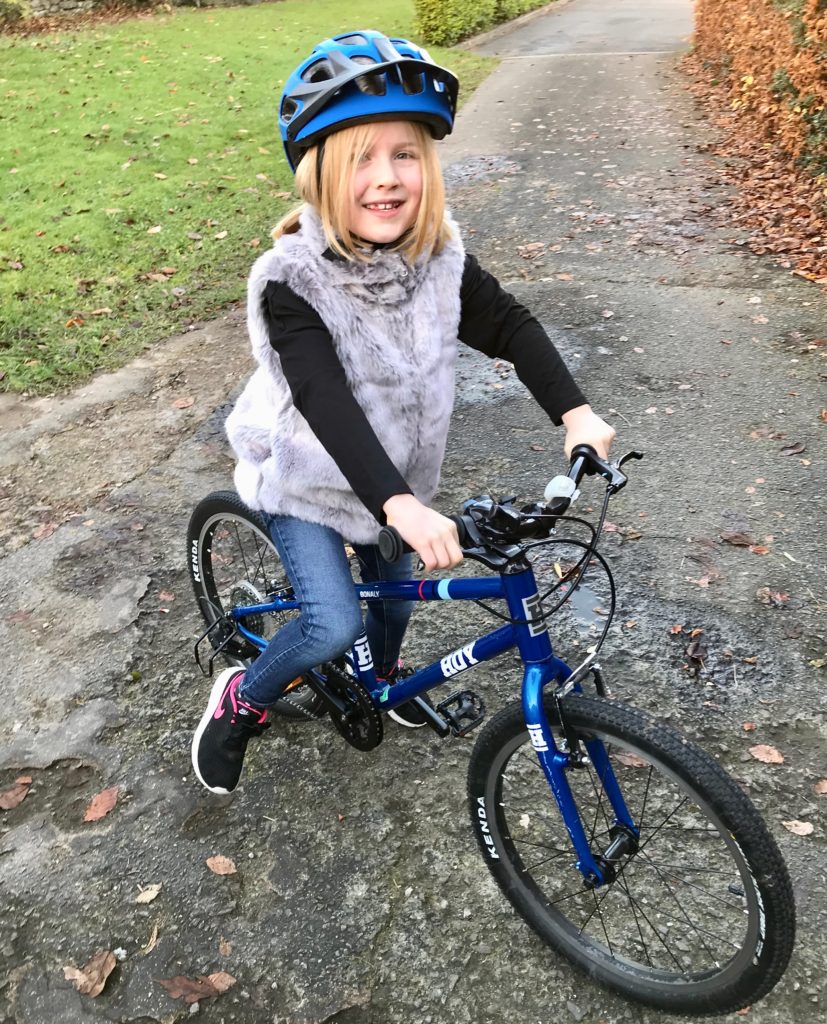 Review of the Hoy Bonaly 20 kids bike
Katherine is a very active 7 year old who really enjoys her cycling. She received the Hoy Bonaly 20 model when she was 6 years old, and it's been ridden on a regular basis for just under 6 months.
Size-wise, the bike fitted fine when she received it, and there's still plenty of room for it to grow with her.
To give you some idea of whether the Hoy Bonaly 20 will fit your Cycle Sprog, these are Katherine's current measurements:
Height – 119cm (47")
Inside leg – 51cm (20")
Arm reach (armpit to finger tip) – 44cm (17")
Appearance of the Bonaly 20
The HOY bike we were sent to review is dark blue in colour which really appealed as it's Katherine's favourite colour. The bike is also available in red or a funky yellow-green colour.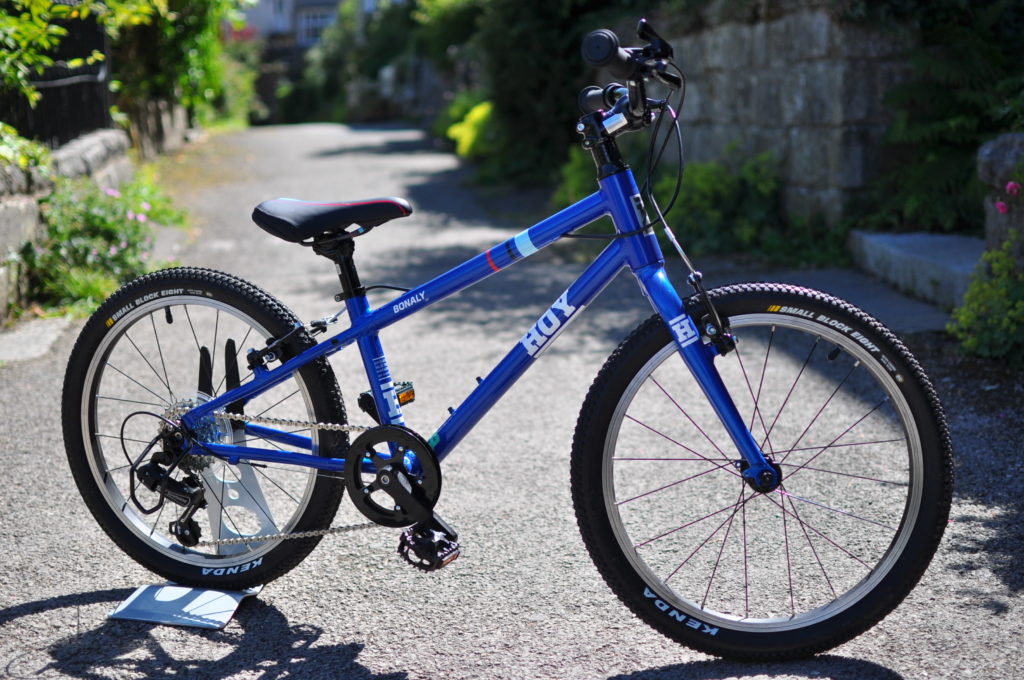 The styling of the Bonaly 20 is modern and it feels solid in construction. The bike has been used in all weathers and conditions, and even though it has been transported in the car and thrown around a fair bit by Katherine it still looks like new. This would be great news if we'd actually purchased it and were wanting to sell on when the girls have finished with it.
Its light weight means it has been easy for Katherine to carry short distances or over large obstacles. The brakes are effective and well placed for small hands, and easily accessible for small adjustments. Katherine does like to race her sister and it's very important that any braking system can stop or slow her quickly, without incident, and these brakes certainly do that.
A first time for gears
The Bonaly 20 is Katherine's first bike to come with gears. The 6 gear shift up and down is very simple to operate with her right hand and is unobtrusive on the handlebars, along with the brakes.
Obviously the move to gears can be confusing at first, and initially she was riding constantly in 1st gear. As the concept of gears, and the help this would give her when riding, began to sink in we were grateful for the simplicity of the Hoy shifters.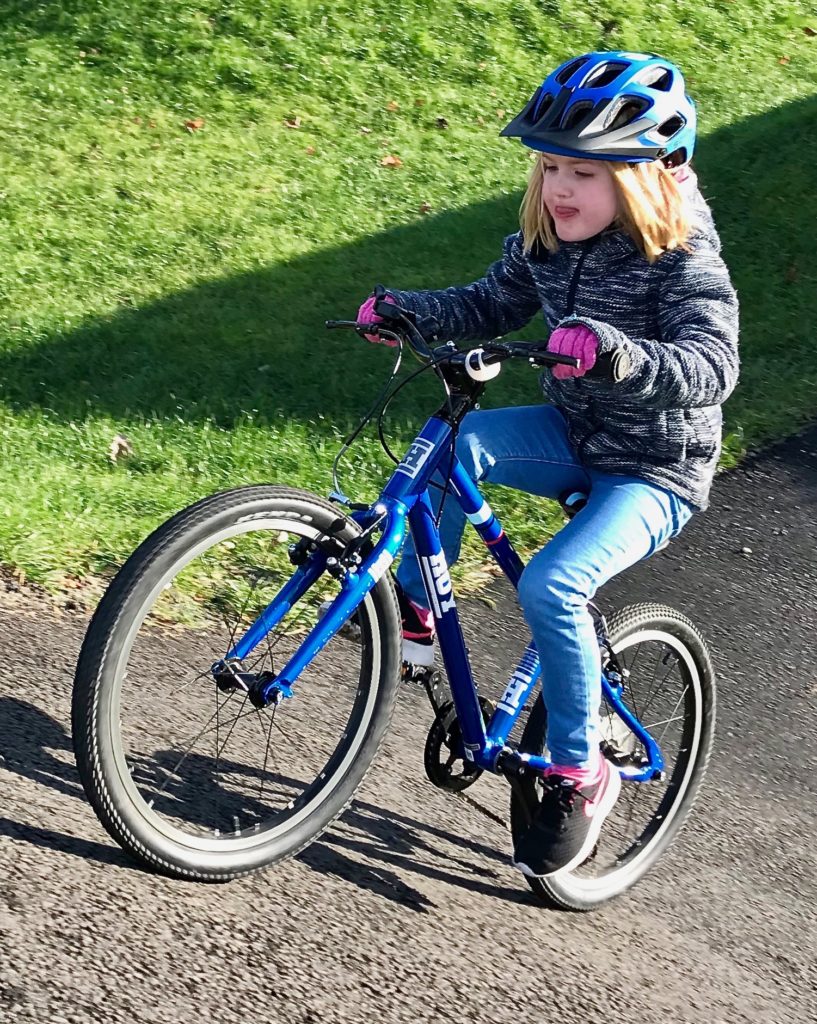 Once she had mastered the fact that going up hill is easier in low gears and downhills are more fun in higher gears, she was converted and they are now in constant use. We've had no problems at all in their operation, and I think 6 gears operated by a single hand is all that a 6 or 7 year old needs. Had she needed to master a left hand shifter too it would not have been so easy.
Editors Note – we've been notified that in 2020 the Bonaly 20 was been upgraded to have a 7 speed block and trigger shifters
How did Katherine get on with riding the Hoy Bonaly 20?
Manoeuvrability of the bike is excellent and she can make tight turns with ease. The riding position is stable and the seat is well positioned and comfortable. As well as her commute to school, Katherine has regularly ridden the bike for longer periods of up to 2 hours at a time, and has never mentioned any problems with the comfort of the Hoy.
The tyres provided have a good tread, have proven hard-wearing and thus far we've not had any punctures! Katherine has been able to ride at speed on these tyres on tarmac, but the Bonaly 20 has also performed well when ridden on grass, on sand, in the pouring rain and along gravel tracks and on the pump track. After all of this riding, the Bonaly 20 and it's tyres still look great and perform well.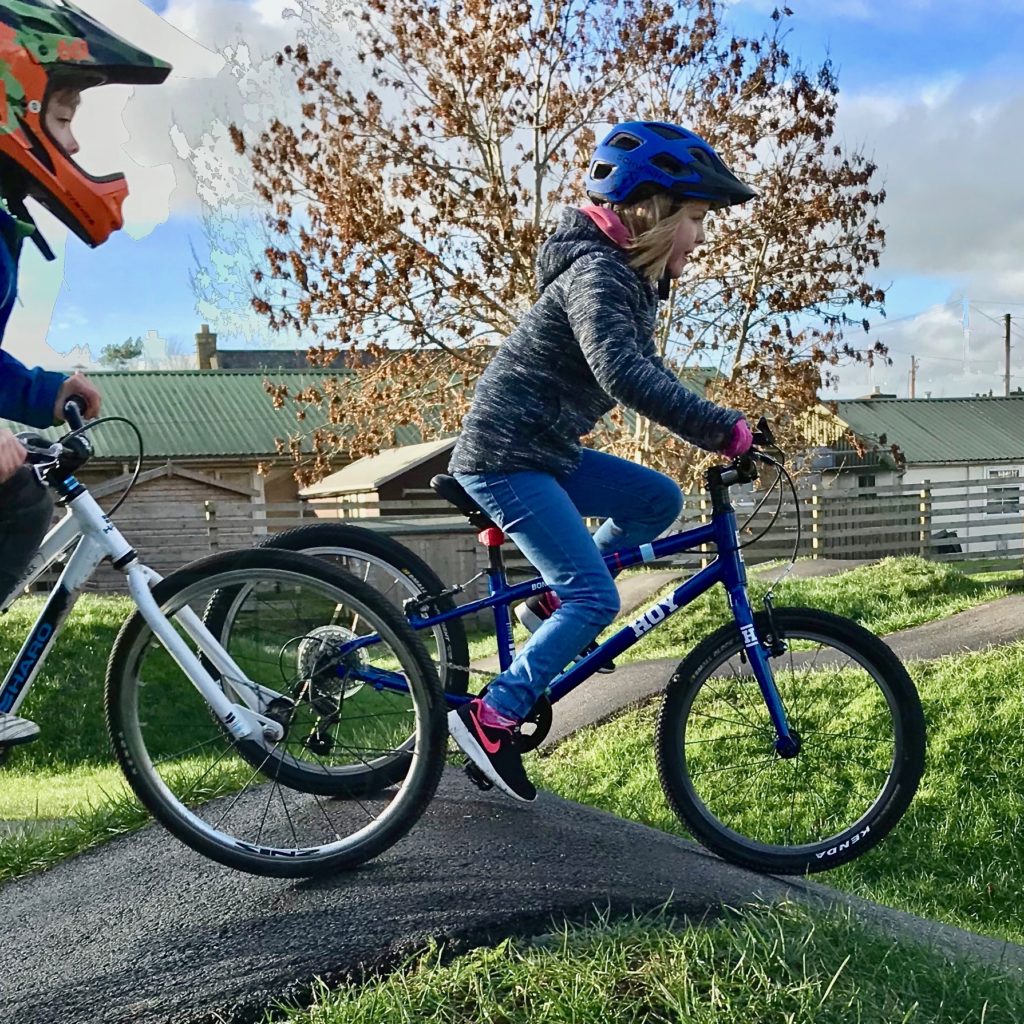 Katherine has recently joined our local Go Ride club where her bike handling skills are being honed. The Hoy Bonaly 20's performance certainly holds up very well in comparison to many other high end bikes that the other kids own and ride, and Katherine has greatly improved her skills at the same time.
She's particularly pleased with how fast she can get the Bonaly moving, but it's also noticeable that she has good control of the bike when riding slowly or navigating more complex terrain, and well as on our forays onto the road.
HOY Bonaly 20 review – a dad's summary
As a parent I like the lightweight, uncomplicated, solid operation and functionality of this bike. It is much lighter than it looks. It also proved fun explaining to Katherine and her younger sister where the name HOY comes from, and its great sporting associations. The name itself certainly holds some Kudos!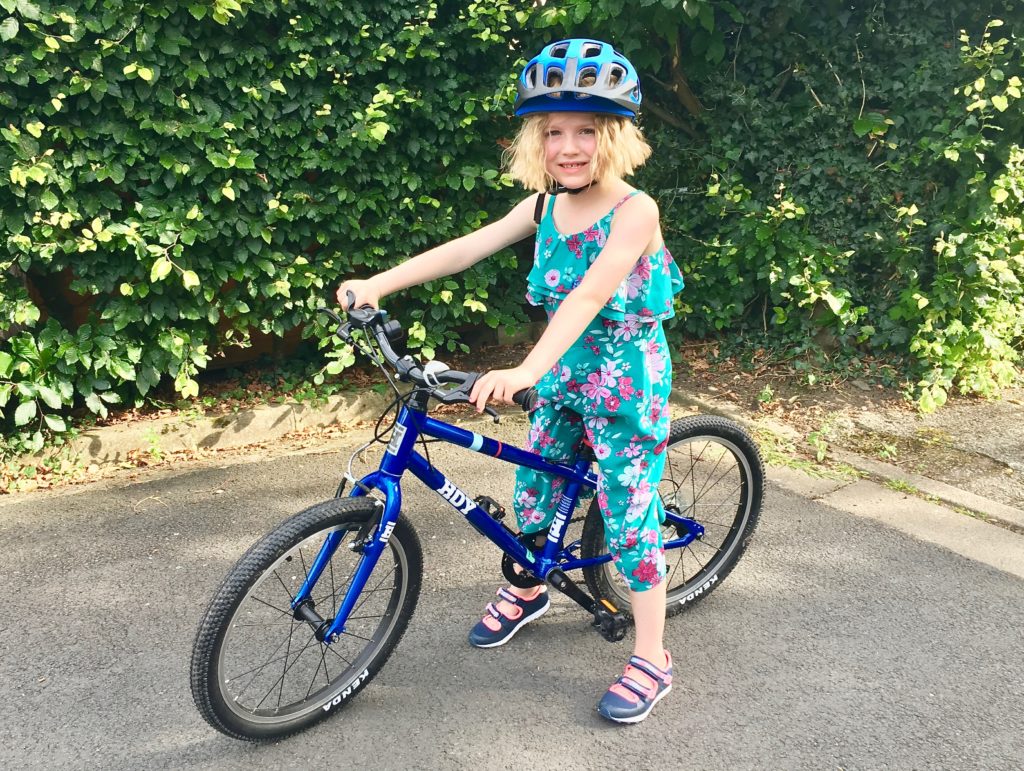 I would highly recommend the HOY Bonaly 20 bike as an excellent buy in this age/size group and it compares very well to other bikes in this category.
It has proven to be a great introduction to the world of geared bikes and will help shape the future of Katherine's riding choices as she grows in age, size and skill.
Where to buy the HOY Bonaly 20
Sponsored content:  
If you've got an old Hoy Bike that's been outgrown but you've not got round to selling on, then The Bike Club are here to help.  Click here for a valuation and then sit back whilst they send a courier (and a bike box!) to come and collect it from your home - freeing up space and giving you cash for the next bike. 
Disclosure: Cycle Sprog were provided with a Hoy Bonaly 20 for review
Support Cycle Sprog!
If you've found this article useful you can buy us a virtual coffee (or two!) to say thanks and help us keep the Cycle Sprog website going. 
Other articles you may like: