The Hoy kids bike range has been updated for 2018 we've been sent a couple of bikes in the new range to test. In this article we are taking a first look at the Hoy Bonaly 20 – a geared hybrid style bike sporting 20″ wheels – before we send it off to a willing Cycle Sprog to put through its paces.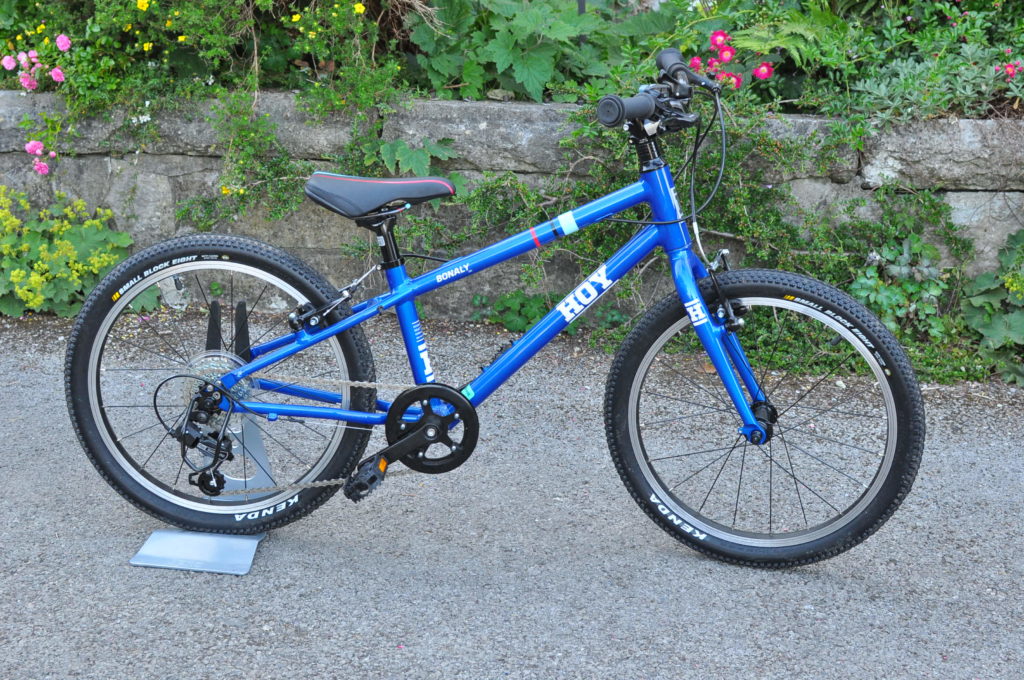 What's a Bonaly?
Well, not so much a 'what' as a 'where', as Bonaly is a country park situated to the south west of Edinburgh that falls within the Pentland Hills Regional Park. It was here that Sir Chris Hoy cut his mountain biking teeth and ventured off road for the first time.
Affiliate disclosure: Cycle Sprog may get a small commission if you make a purchase from the links in this post. For more information please see our affiliate policy
This review was first published in July 2018 and last updated in April 2021 to correct some of the links.
First impressions of the Hoy Bonaly 20
The Bonaly 20 has a 'go anywhere/do anything' build. It's not a full on mountain bike, rather it has been designed to ride both on and off road. It would be unfair to throw the term 'a jack of all trades' at it, because that's usually followed by 'master of none', which the Bonaly most certainly is not!
Size wise, the Bonaly 20 has a minimum saddle height of 375mm, which can be extended up to a maximum of 510mm. All kids vary in size, but this is likely to be between the ages of about 6 and 8 years of age.
Out of the box
Lifting the Bonaly 20 from it's packaging reveals a lightweight kids bike that's free of anything superfluous. Sir Chris Hoy was no stranger to the world of track bikes, so it's no surprise that he's adopted the less is more approach to his kids bike range. The Bonaly is very focused in the approach to its build, in that it gives you everything you need, but nothing more.
Hoy Bonaly 20 frame and forks
In previous guises, the Hoy Bonaly has always had a purposeful look about it; primed ready for fun and adventure. Outwardly, this latest version carries on with this tradition, but the team at Hoy have been busy beavering away making changes that are concealed beneath that glossy exterior.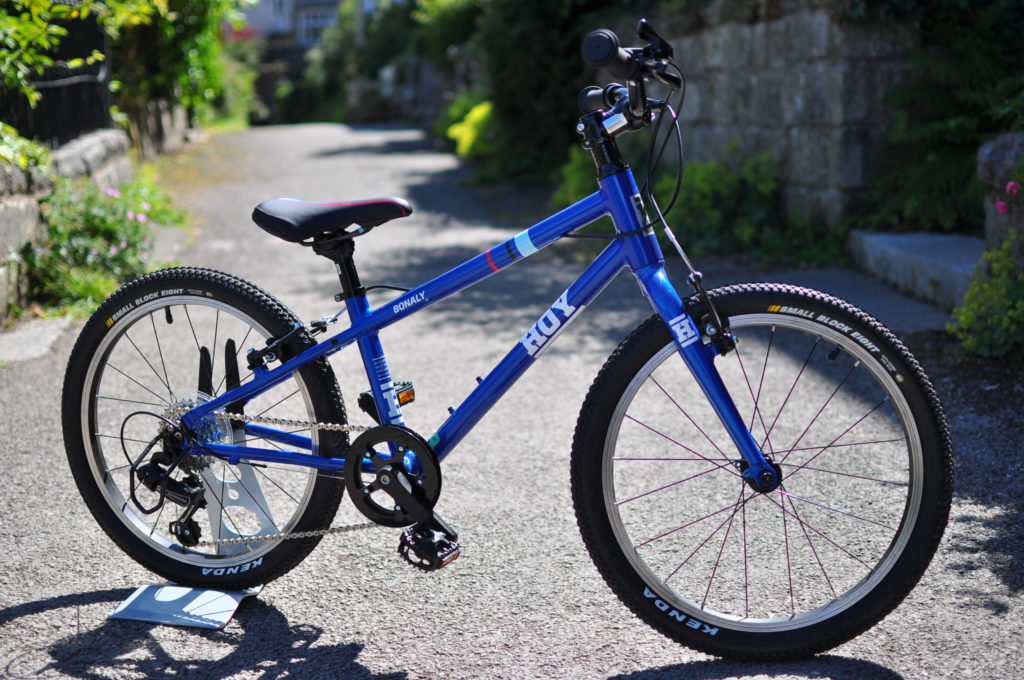 The frame is built using triple-butted aluminium so you get strength where it's needed while keeping frame weight in check, but the tubing dimensions have been altered for this new version to reduce weight further. Geometry-wise, the slack front end is still there so there's a stable platform to hone your skills and inspire confidence in riding around, which comes in handy if starting to tackle rougher terrain.
The paint work on the Bonaly range has had a revamp, and the colours are more vibrant than the previous bikes in the range, and as you can see from the photos there is a pleasing glossy shine to the bike.
Braking on the Hoy Bonaly 20
Braking on the Hoy Bonaly 20 is a straightforward affair, using Tektro v-brake calipers and short reach levers to ensure little hands can comfortably control their braking needs.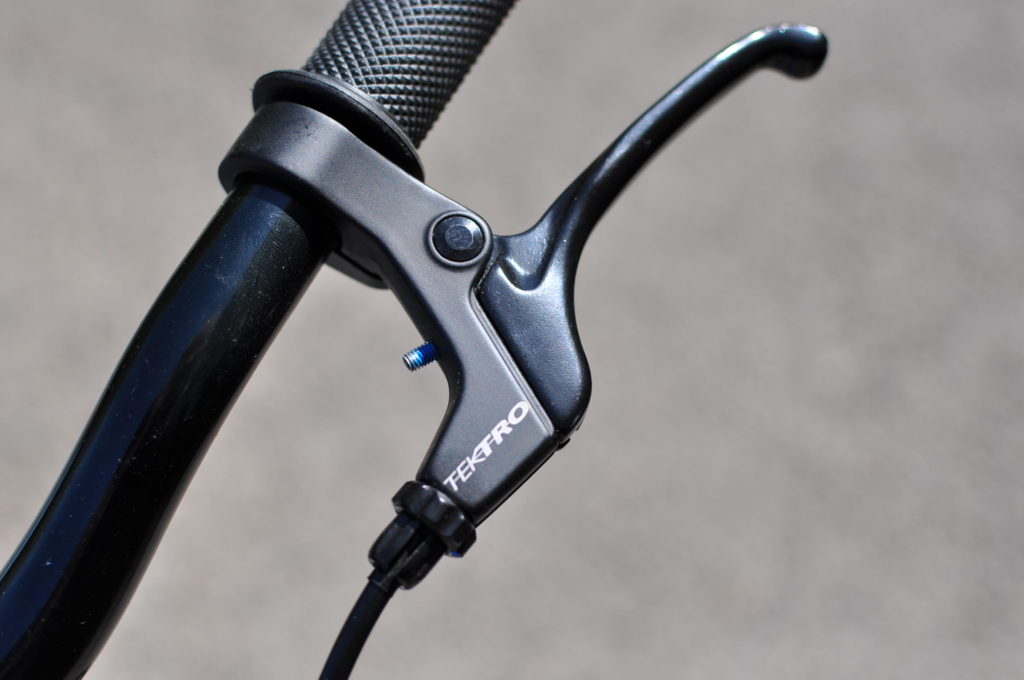 Gearing on the Bonaly 20
The Bonaly 20 comes equipped with 6 gears, with a single ring 32 tooth chainset that is designed for use by children. This involves the crank arms being shorter for shorter legs than on an adult one, and the width between the crank arms is less (known as the q-factor), because the stance of a child is less too.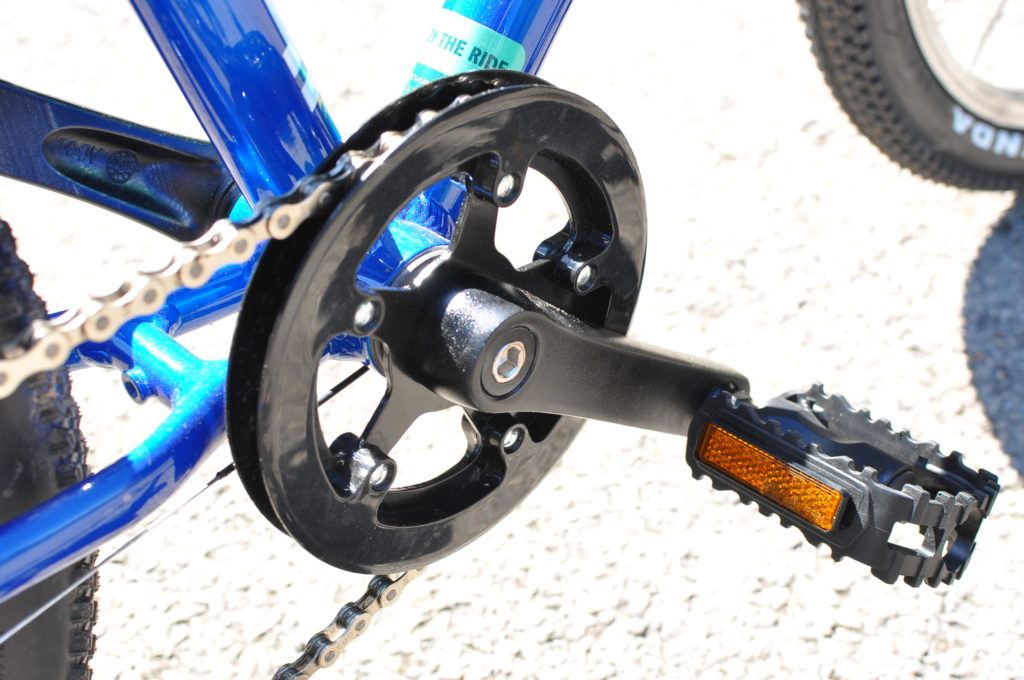 At the rear of the bike there is a Shimano Tourney derailleur and a 6 speed cassette with sprockets ranging from 14 teeth up to 28 for the hilly bits!
Our review bike also came fitted with a rear derailleur protector, which is a cage made from alloy bar that stops the derailleur getting bashed.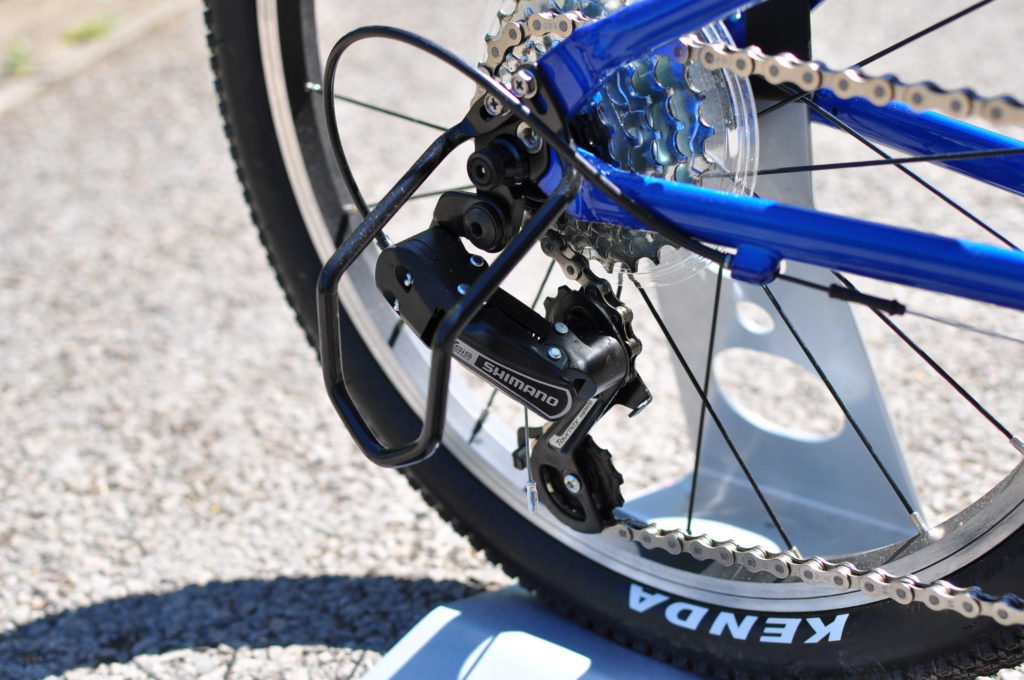 Changing between gears is courtesy of a Shimano Tourney thumb shifter. Changing to a lower gear requires a lever to be pushed away, whereas changing to a higher gear requires a thumb button to be pressed. The thumb press is very easy, whereas the lever may take a bit more effort, especially when trying to get into 1st or 2nd gear. It will be interesting to hear the views of the Test Sprog when she's had chance to enjoy riding it.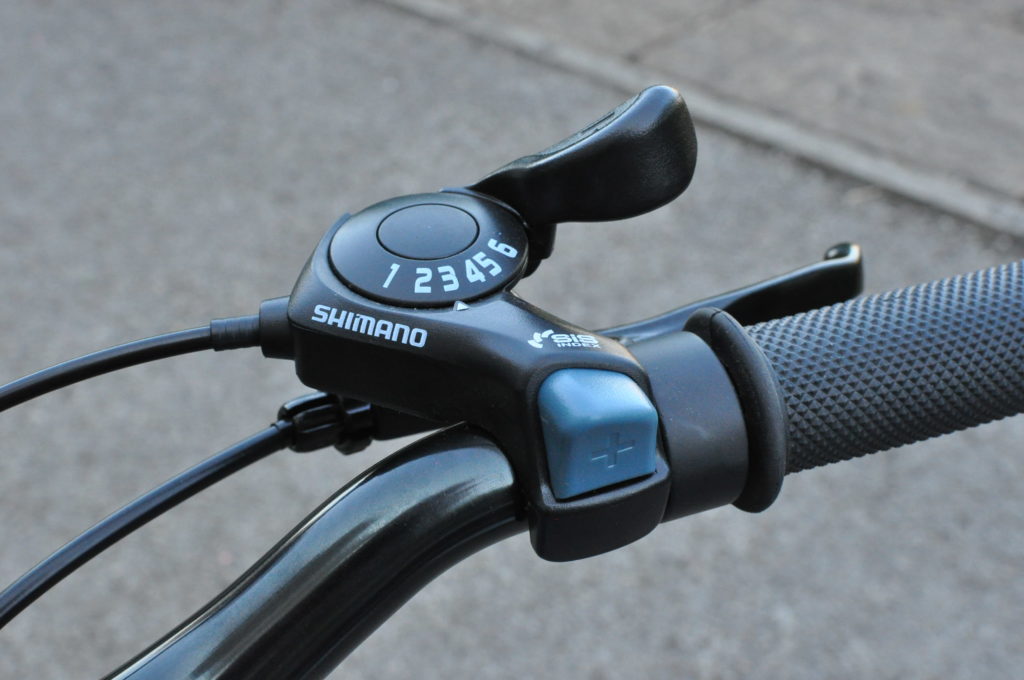 Wheels and tyres on the Hoy Bonaly 20
The wheelset on the Bonaly is an in-house affair that has been fine tuned by reducing the spoke count from previous years (from 32 to 20) with the intention of delivering a wheel that has reduced weight but that's strong enough to deal with everything nippers will put them through.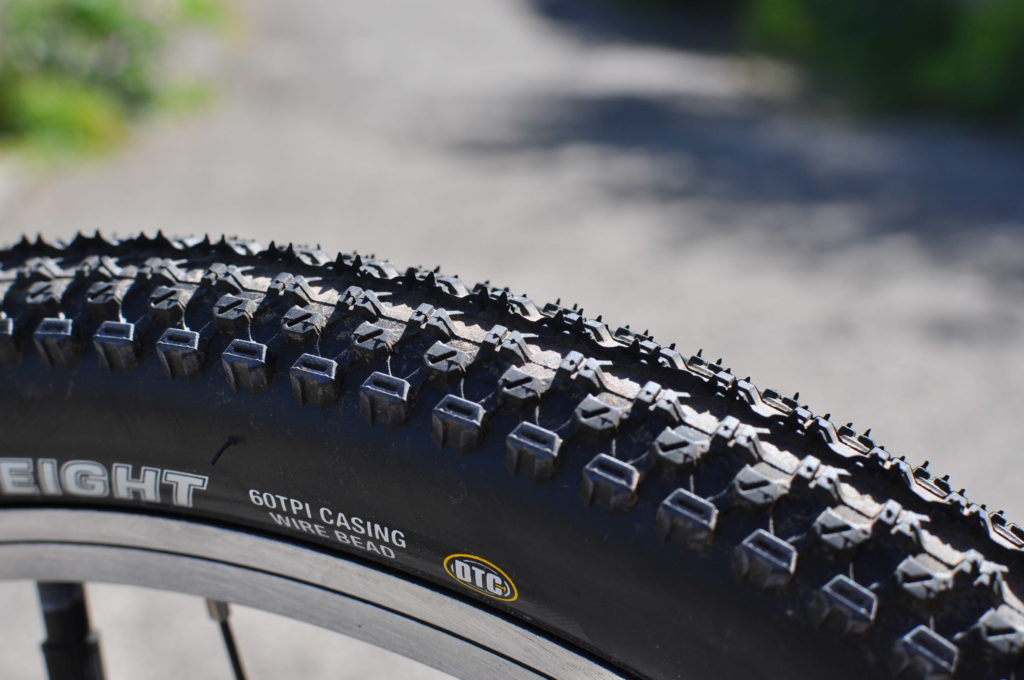 Tyres are from Kenda with the oft used small block tread pattern seen on a high number of quality kids bikes these days, as they're grippy for off-road activities but have a low enough tread pattern to be used happily on tarmac.
Nice touches
It's fair to say that a lot of thought has been put in by the designers at Hoy into how they could improve on what was already a very decent kids bike, and this shows by the additional touches that evident when you start snooping around it.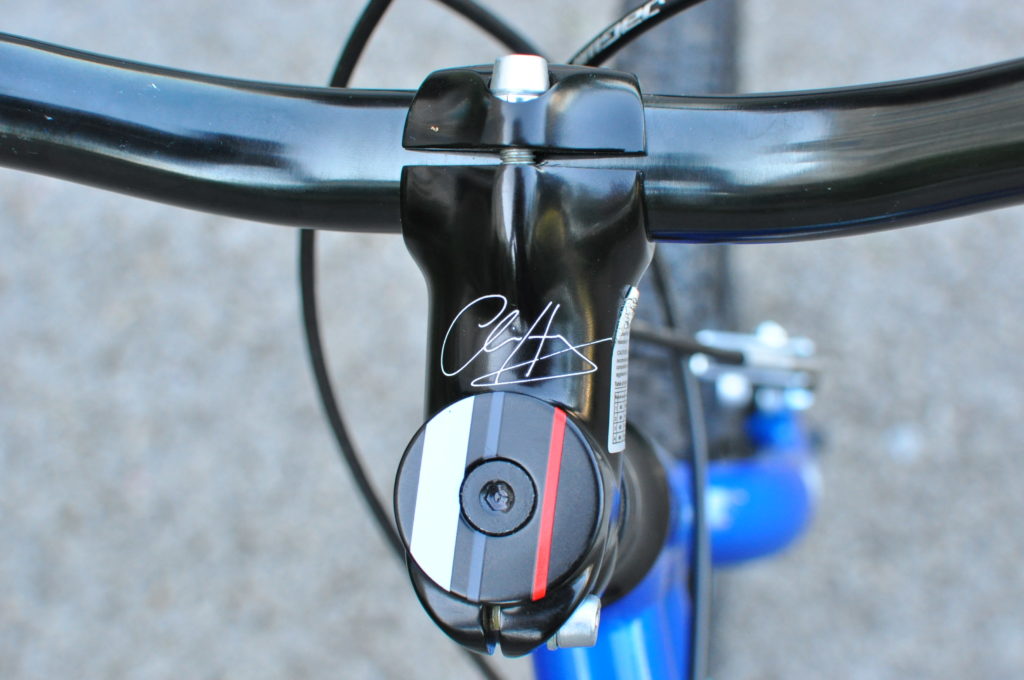 I like the clean lines of the frame and also the concealed brake cable on the top tube; keeping it out of harms way!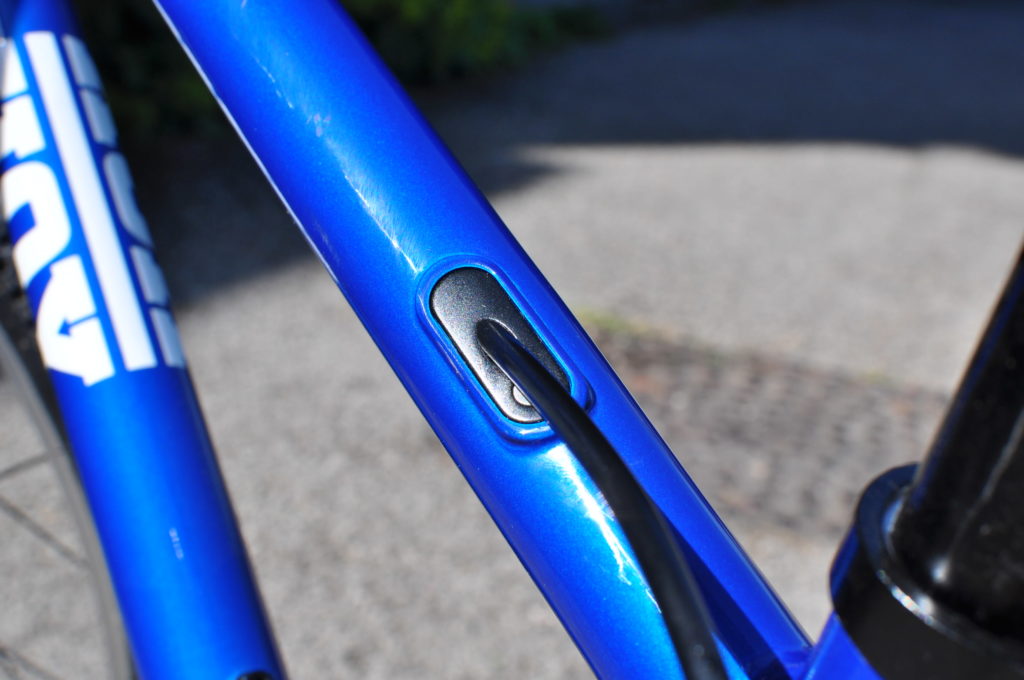 The changes to the bike have resulted in a lighter weight bike. The Bonaly 20 now comes in at a slimmed down 8.57kg, which is almost half a kilo less than the previous version. For comparison, the Frog 52 weighs 8.75kg and the Frog 55 8.8kg, whilst the Islabikes Beinn 20 Small weighs 8kg and the Beinn 20 Large comes in at 8.1kg.
How does the Hoy Bonaly 20 ride?
Now, this is the million dollar question, and we passed the bike onto our 7 year old reviewer who rode it for months and then let us know (with a bit of help from her dad) how they got on.
Rather than make this a huge article, we've published it seperately, so you can click here to read our reader review of the Hoy Bonaly 20.
Where to buy the Hoy Bonaly 20
Buy Now
Sponsored content:  
If you've got an old Hoy Bike that's been outgrown but you've not got round to selling on, then The Bike Club are here to help.  Click here for a valuation and then sit back whilst they send a courier (and a bike box!) to come and collect it from your home - freeing up space and giving you cash for the next bike. 
Other articles you may like:
Disclosure – Cycle Sprog were provided with the Hoy Bonaly 20 for the purpose of this review. We were not paid to write this review and all opinions and photos are our own.