The new range of 2018 kids Hoy Bikes has been unveiled, introducing some changes to the design of the frames and components of their best selling Hoy Bonaly range. In this article I'm taking a look at what the changes are, and what it means in practice to the look, feel, weight and price of the bikes.
Who are Hoy Bikes?
Hoy Bikes were launched in 2013, and as the name suggests are the range associated with Sir Chris Hoy, eleven-times world champion and six-times Olympic track cycling champion. Available exclusively at Evans Cycles, but now with many appearing secondhand on Ebay, Hoy Bikes have always been a popular choice with parents looking for a well specified and competitively priced bike.
What type of bike is the Hoy Bonaly?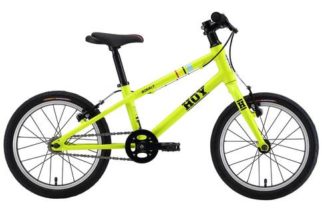 The Bonaly range is Hoy Bikes hybrid kids bike offering (flat handlebars, go anywhere tyres, rigid forks), which comes in wheel sizes from 16″ (single speed – ages 4 and over – pictured above) through 20″ and 24″ wheels (with gears) to the largest 26″ wheel bikes (up to early teens depending on height). The 24″ and 26″ wheel Bonalys come with a choice of disc (pictured below) and rim brakes, and are a great option for those thinking of giving mountain biking a go, but who also want to ride on roads and cycle trails, so don't want the weight and price of suspension forks.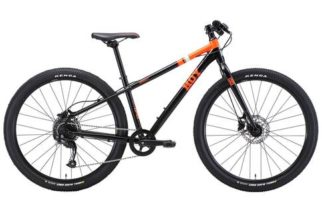 Hoy Bonalys have been used by British Cycling's Go-Ride regional coaches so have withstood being carted around the country and ridden by thousands of kids in all sorts of conditions.
What changes have Hoy Bikes made to their 2018 Bonalys?
Frame composition:
The weight of a kids bike is so important, as even a light bike is a much higher percentage of a child's bodyweight than an adult's bike is. The 2018 Hoy Bonalys have lighter frames than previous models, with testing having taken place to work out how light is just light enough rather than too light, and how this can be achieved without compromising on durability or cost. The result is a mix of 6061 and 6066 grade Aluminium tubing to get the weight as low as possible.
Spokes:
The number of spokes on each wheel will also have an impact on the weight of the bike, and for 2018 Hoy have reduced the spoke count across all sizes. For example, previously the 16″, 20″ and 24″ bikes were all running 32 steel spokes and are now down to 20 (material unspecified).
The 26″ wheel bikes have seen a reduction from 32 to 28 spokes. Generally, kids don't really need the strength or the weight that a 32 spoke wheel provides.
Maybe the growing number of kids bike companies have been pushing manufacturers to create hubs and small diameter rims to go on the latest kids bikes. After all, a weight saving on a little bike can make a big difference.
Cables:
The new Bonaly bikes have cables routed inside the tubes, which gives a much cleaner finish to the bikes, as well as keeping them safe from inquisitive fingers and other harm.
Child sized cranks:
Hoy have shortened and narrowed the cranks on their bikes, making them more natural for smaller legs to pedal.
Lower frame:
The change in crank size has allowed for the lowering of the frame slightly, which should make younger children feel slightly more confident on the bike. This may mean that a child can cope with handling a 20″ or 24″ bike slightly earlier than before (with the benefit of a longer time with the bike), which is good news for those parents who may have been tempted to buy a bike that's slightly too big.
Remember, it's never good to do this, as if your child doesn't feel confident and safe on a bike, they (quite rightly) won't want to ride it.
New saddle:
The Bonaly saddle has been redesigned and contains a lightweight foam padding that helps to reduce weight and improve the comfort of the ride.
Colours:
As with any product relaunch, there are some new colour schemes available for 2018. These vary by bike size, but I've noticed a welcome move away from the slightly dated looking white frames towards a vibrant yellowy green.
Saddles and handlebar grips have also changed from white to black – much more practical and modern looking.
Bike weight:
If the stated weights of the bikes are correct then Hoy have really got their weights down – for example the 16″ wheel Bonaly starter bike has a stated weight of 5.95kg including pedals (the previous model was listed as 6.3kg).
This compares very favourably to 6.1kg for the Islabikes Cnoc and 6.75kg for the Frog 48.
At the larger end of the scale, the 26″ wheel disc brake Bonaly has reduced from a stated weight of 11.6kg on the 2017 model to 10.2kg with pedals on the 2018 model. That is a significant reduction of over 10% of the bike's weight.
It will be interesting to see if there is any trade off in terms of durability or handling with these reduced weights.
Price:
At the current time all the 2018 models have the same price as the 2017's which is very welcome news.
What do the changes to Hoy Bonalys mean in practice?
Let's take a look at the Hoy Bonaly 20, the smallest of the geared bikes in the range. Here's the old model: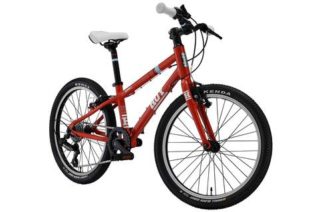 And here is the new 2018 model:
My immediate reaction to the new model is that it looks much more contemporary. I prefer the sleeker look provided by the internal routing of the cables, whilst the black saddle, handlebars and logo certainly bring the bike more up to date. The lower spoke count brings the bike into line with what I'm used to seeing on other quality kids bikes.
As I've been writing other articles on Cycle Sprog about the various kids bikes available in each wheel size it's been noticeable that the Hoys have been looking tired and dated compared to the other brands available. These changes should mean the Hoy Bonaly now holds its own in terms of looks against the likes of Frog, Islabikes, Cuda Performance, Squish etc.
Weight wise, the 2017 model was listed as being "approx 8 kg" with a frame of HOY Alloy 6061. The new 2018 model is made of 6066-T6 heat treated alloy, with double and triple butted tubes and comes in with a reduced stated weight of 7.57kg including pedals.
If that is correct, this is a very impressive weight loss. For comparison, the Frog 52 weighs 8.75kg and the Frog 55 8.8kg, whilst the Islabikes Beinn 20 Small weighs 8kg and the Beinn 20 Large comes in at 8.1kg.
There are a couple of other noticeable tweaks to the specification, including the shortening of the handlebars from 500mm to 480mm and the introduction of narrower Q factor alloy arms on the chainset.
Price wise, nothing has changed. The 2017 and 2018 Hoy Bonaly 20″ wheel bikes are both retailing at £310 at Evans Cycles (although I wouldn't be surprised if the 2017 models were discounted at some point in the future). This is the same as the Frog 55, so seems to be correctly priced.
Available sizes of the Hoy Bonaly bikes:
Sadly, Hoy are still behind their main rivals in terms of the sizes available and the 2018 range hasn't done anything to rectify this.
The only single speed starter bike available is a 16″ wheel, whilst this is an area many of their competitors have multiple offerings in. Even Evans lower specification in-house brand Pinnacle has a 14″ wheel offering, and Islabikes now do a small and large 14″ Cnoc. Squish Bikes have recently released an 18″ wheel bike to fill in the gap in Single Speed bikes at the larger end.
Hoy have one 20″ wheel hybrid bike (geared) whilst Frog and Islabikes both offer two frame sizes in their geared 20″ hybrid bikes, plus single speed versions for those kids who aren't ready, or don't need, gears.
Overall verdict of the 2018 Hoy Bonaly bikes
In my opinion the Hoy kids bikes were overdue a style makeover, and I like the new contemporary look. This is obviously a matter of opinion, and if you like white saddles and handlebars and lots of spokes you're going to be disappointed with the upgrade.
Specification wise, it's good to see Hoy keeping up with the changes in design and specification within the kids bike industry.
The weights of these bikes seem very low indeed for a mass produced and widely available bike. It will be interesting to see if they've set a new benchmark.
I remain disappointed with the lack of 14″ wheel Hoy Bonaly, and wonder if Hoy are losing customers to other brands due to this omission.
Given the specification, price and general availability of these bikes, the Hoy Bonaly definitely remains a good choice for a lightweight, well specified and keenly priced kids bike.
Where to buy the Hoy Bonaly kids bike
You can buy both the old and new style Hoy Bonaly kids bikes on Ebay.
If you've bought one of the new 2018 Hoy Bonaly bikes I'd love to know what you think of it. Do leave a comment below.
Other Cycle Sprog articles you may find useful:
12 things you need to know before buying a kids bike
The best 14″ starter bikes for ages 3 and 4 years
The best 16″ wheel bikes for 4 and 5 year olds
The best 20″ wheel bikes for kids aged 6 to 8
The best kids 24″ wheel mountain bikes
Best 26″ wheel kids bikes – last stop before an adult bike!
Hoy Bonaly 20 – first impressions review
If you've enjoyed reading this article, please do sign up for our newsletter - we'll keep up updated when we have new articles which may be of interest. Thanks!