Hiring bikes for your family can be a great day out for everyone involved. With so much advice now recommending that kids (and adults) need to get more exercise and fresh air, renting bikes is a great opportunity to be outdoors all day with everyone being active.
A quick google search should bring up bike rentals in your area, or the location you're going on your holiday.
Cycle hire providers should be able to offer expert advice on what might be most suitable for your family set-up and they may even let you try out a number of bikes, just to get a feel for them. They should have different options for different ages and sizes of children, including cargo bikes, bike seats, tagalongs and trailers. They will also be able to give you advice on local family friendly routes.
Alternatively if you're looking to buy bicycles for you or your child(ren), hiring them first provides the perfect opportunity for you to try out equipment before buying.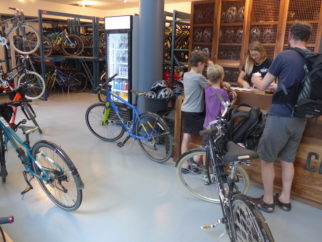 Top tips for hiring bikes for all the family
Here are a few things to remember when hiring bikes for you and your family (especially if you have young children):
If you have a special requirement, such as a rear bike seat or a tagalong, it's best to book in advance. You don't want to be disappointed when you arrive at the shop.
Check what deposit is needed – is it cash or credit card? And do you need any form of ID to rent?
It's best to start cycling somewhere that is traffic free. Forest and country parks and other off road locations often have bikes to hire.
Aim for a fairly short distance, with the option of increasing the route if energy levels allow. You don't want to find yourself in a situation where you're several miles from your starting point and you or your children are flagging
It's always worth asking if there is a family discount when you're hiring a number of bikes – if you don't ask you don't get!
If you're hiring bikes abroad, make sure you're aware of the local traffic laws, and it's worth checking what your travel insurance covers (especially if you're doing mountain biking)
Some bike hire providers offer a delivery and collection service so that you can choose where you start and end your day out. This could help particularly if you're trying to avoid cycling on the roads, or wanting to avoid steep climbs.
Make sure you take plenty of water for your family, as well as some snacks. Some hire bikes come with panniers or baskets. If not, use a bag that is comfortable to wear, is free of loose straps and has space for a few spare layers
Remember the weather can change quickly and kids find it harder to regulate their body temperature, so pack some layers, and waterproofs if you think there's any chance of rain.
Wear loose fitting, comfortable clothing – think about saddle comfort.
Always lock your hire bike with the lock provided when you're not riding it.
Make sure you ask what time the shop closes, and get back in plenty of time to return your bikes.
Have fun!
Other posts you may find useful:
This article was first published in June 2012 and updated in March 2017