A trip to Amsterdam is not complete without a bike ride and for adults there is no shortage of places to turn up, hire a bike and ride away. However, if you're wanting to hire a kids bike in Amsterdam you need to be slightly more organised. As you'd expect from Amsterdam, it's possible to rent kids bikes, cargo bikes, tandems and adult bikes with front and rear kids bike seats. Here's our advice on making your experience of cycling with your kids in Amsterdam a success.
Where can I hire a kids bike in Amsterdam?
There are several bike rental companies in Amsterdam that hire out kids bikes and other bikes suitable for cycling with young children. The two main ones are MacBike (www.macbike.nl) with 5 stores and Black Bikes (www.black-bikes.com) with 13 stores. However, as they don't keep as many kids bikes for rental at each location it is always advisable to book in advance, especially at weekends and during school holidays. Don't believe their websites which say bikes are always in stock – this only applies to adult bikes.
Black Bikes pride themselves on their rental bikes being discrete, so that you don't look like a tourist whilst cycling round the city. As you'd expect their bikes are black and are great if you want to integrate seamlessly into the Amsterdam way of life.
At the opposite end of the spectrum are MacBike – bright orange or red bikes with rental logos prominently displayed. The bright colours warn everybody else that you are a tourist. This is a good thing as tourists may not be used to cycling on the right, cycling with so many other cyclists and are likely to make unexpected movements!
When we rented bikes in Amsterdam we used MacBike so much of what comes next is based on our experience with them. On the wet day shown below there were plenty of bikes available for families to hire. However, the day before was gloriously sunny and they were fully booked on all bikes suitable for cycling with children. It pays to book in advance.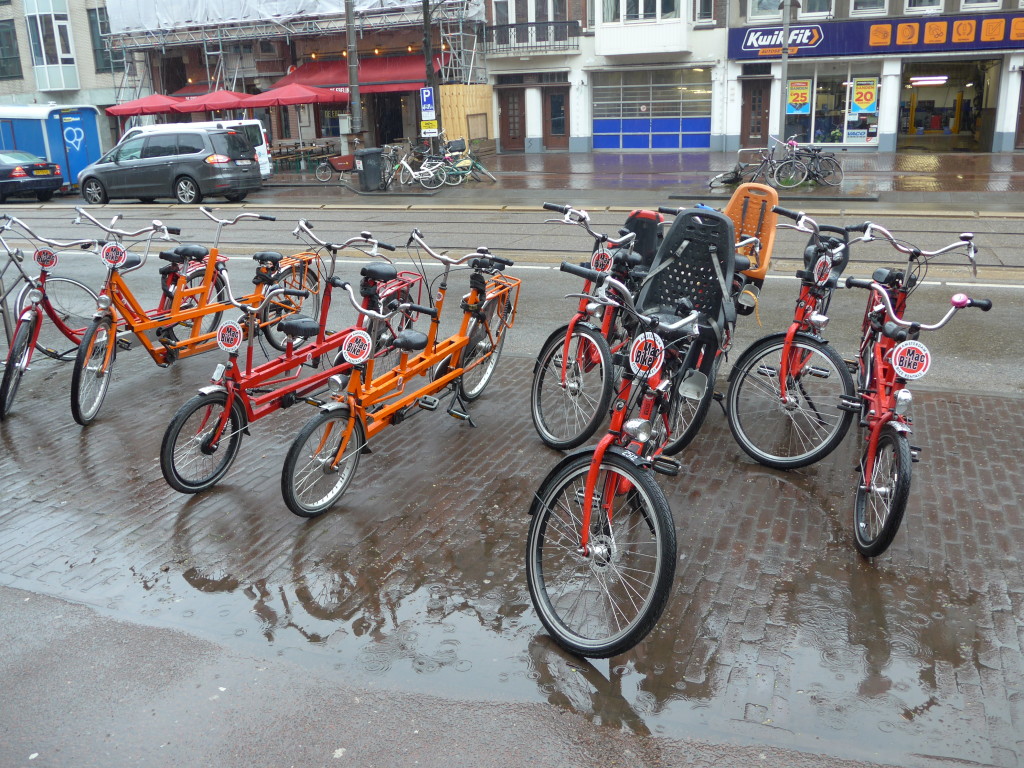 Which is the best location to hire a kids bike in Amsterdam?
We'd recommend the bike rental shops near to Vondelpark as this means you can take your bikes (pushing if necessary) to the park where you can safely get used to them. The MacBike store is on Overtoom and the Black Bikes store round the corner on Constantijn Huygenstraat.
The Vondelpark is huge and has so many people cycling in it, that you may find you can easily while away your three hours there. We lost count of the number of laps we did before heading out onto the cycle paths.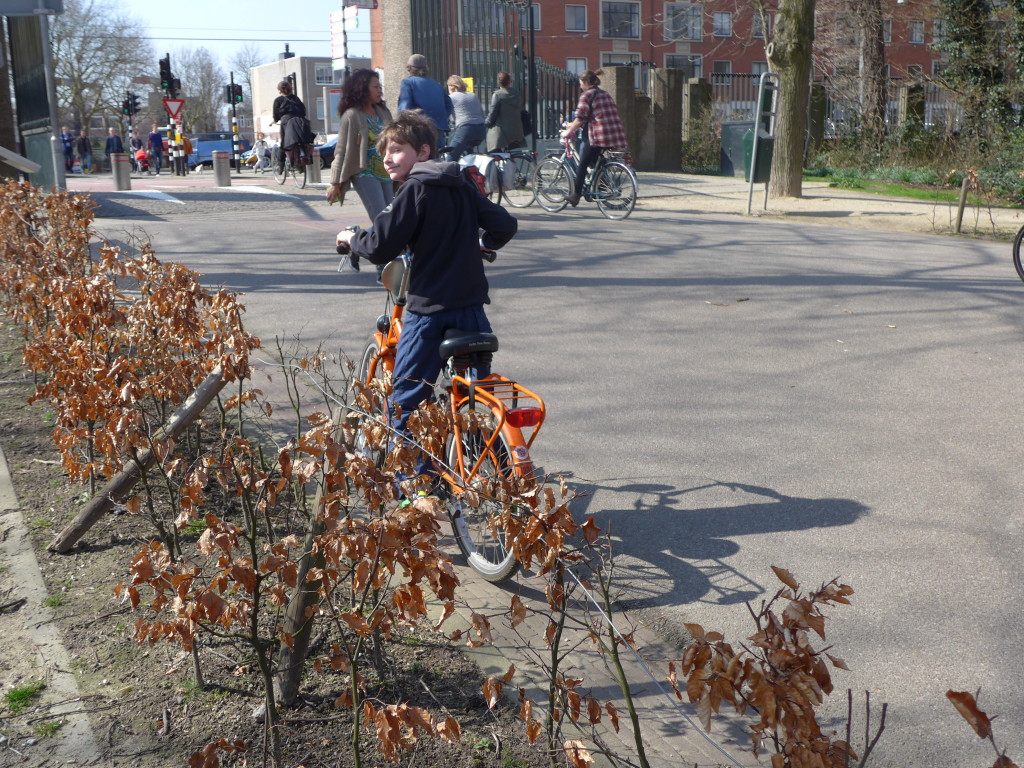 But don't be fooled into thinking that the Vondelpark will be quiet for cycling – there were hundreds of cyclists there when we visited in March. If you're able to hire a kids bike in Amsterdam and cycle with your child in the park, it will be a truly wonderful experience for them.
Being able to cycle with so many others, in an atmosphere that is much more relaxed than the cycle paths (which can get busy during the working day), is something they will always remember from their holiday in Amsterdam.
The photo below shows all the bikes outside the excellent children's play area. As you can see most people in Amsterdam cycle to the park.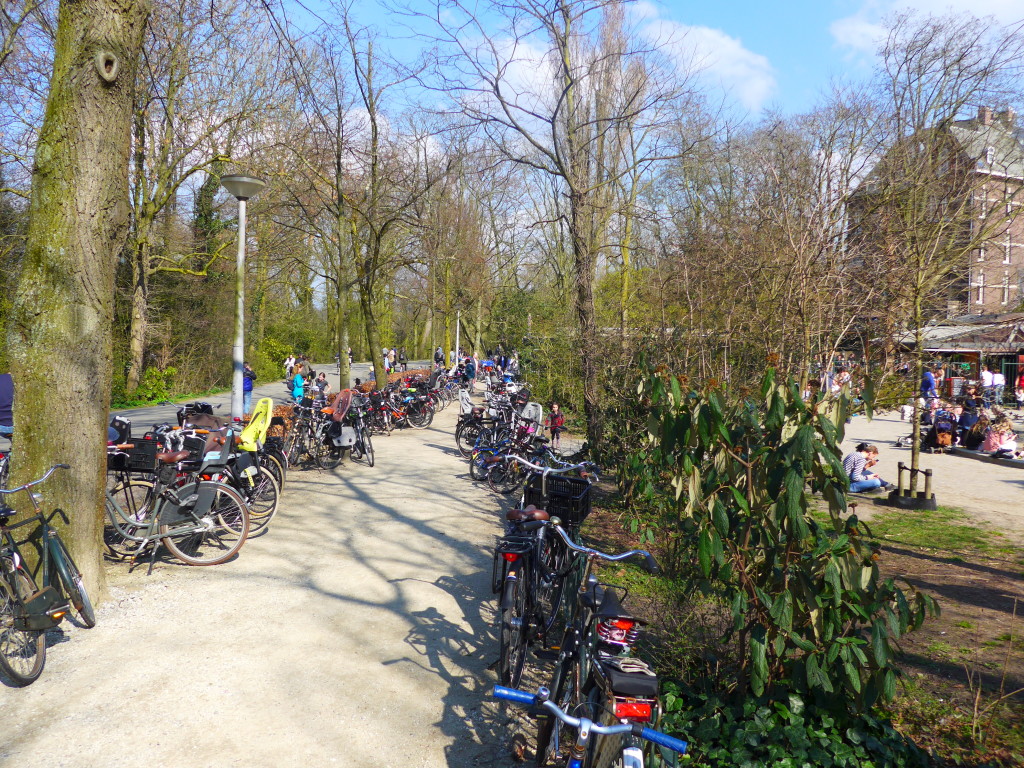 How do I rent a bike in Amsterdam?
Once you've chosen your rental supplier, determined the location of the store and checked that they have bikes available for your family, you just need to turn up at the agreed time. Due to the large number of rentals each day, the process is very slick and speedy and everyone's English is perfect.
When you arrive to hire a kids bike in Amsterdam make sure that you've got the correct deposit and form of photographic id (i.e. passport) with you. Check beforehand whether they accept your credit or debit card as many places in The Netherlands don't accept cards, and others don't accept Visa or Amex. You'll also need to decide if you want to take out insurance (recommended, especially if you're hiring a more expensive cargo bike or tandem).
Once the admin is sorted you're given your rental bikes, a quick instruction on how to use the locks and then you're away to explore Amsterdam!
This can all seem a bit quick, so we were glad that we'd watched the online video about how to cycle safely in Amsterdam, and how to use the lock before we set off.
If it's raining they can supply ponchos to keep you dry. Try to avoid wearing jeans if the forecast is for rain!
Can I hire a cargo bike in Amsterdam?
Yes – this is a great way to allow children who are not confident enough to cycle themselves to experience the wonderful cycling culture of Amsterdam and travel longer distances than if they were pedalling. Cargo bikes for hire in Amsterdam are in more limited supply so book in advance to avoid being disappointed, especially during peak tourist season. If you've never ridden a cargo bike before, you may want to do a couple of laps round the block before your kids get in, or find a large open space to practice getting your balance. I was surprised at how quickly I went from nervous to confident after a few figures of eight.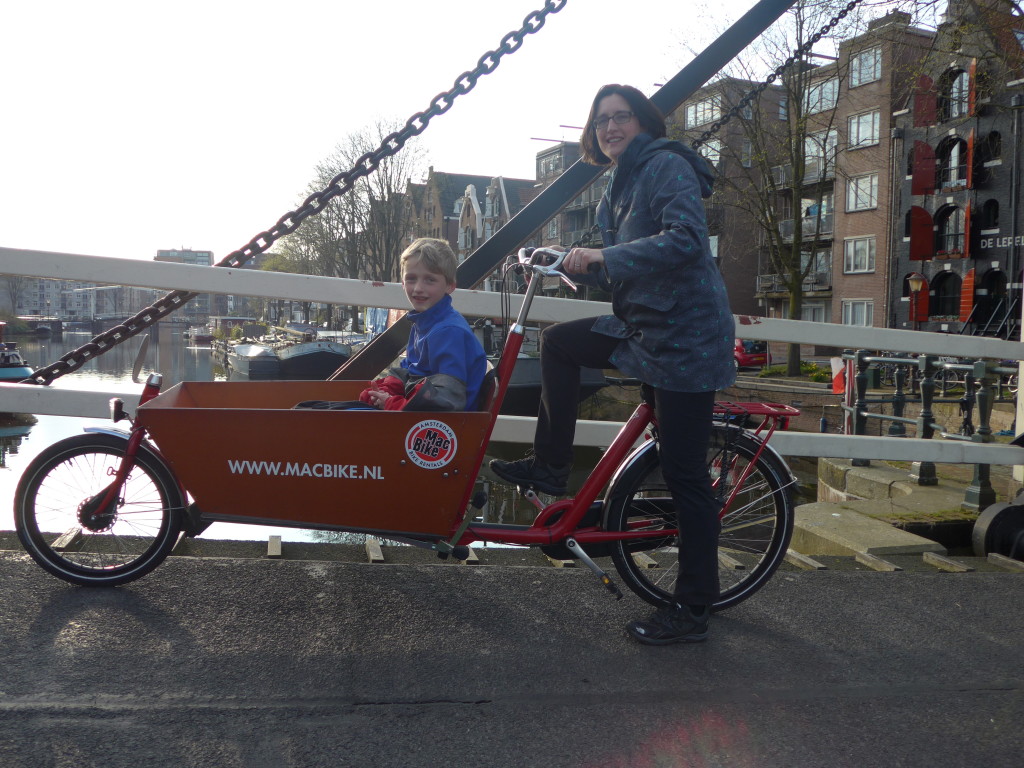 How old does my child need to be to hire a kids bike in Amsterdam?
Your child will obviously need to fit the bikes and these are sized for children approximately aged 8 and over. However, they also need to be able to ride safely in amongst all the other cyclists. It's worth remembering that if your child is not used to riding on the roads back home, they're going to need help and guidance to get used to cycling amongst so many other cyclists.
At the time of writing, motor scooters are allowed to use Amsterdam's cycle paths. This is a growing problem as they ride fast up the left hand side of the segregated cycle paths. This is the main reason you need your children to be able to ride confidently. This can be quite nerve wracking (for child and parent), so unless you're heading straight to the park for a leisure ride then you may want to consider either a kids tandem or a cargo bike if your child is not a confident cyclist.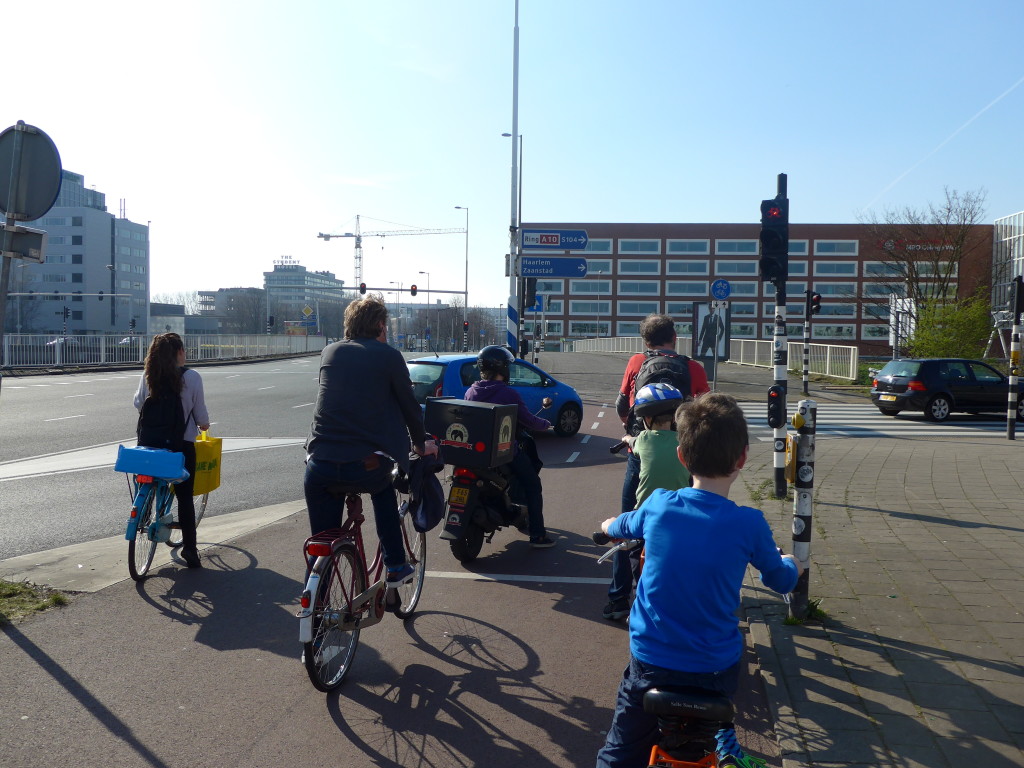 As guidance, our 9 year old (almost 10), who is a confident cyclist and used to riding regularly on quiet roads in the UK, loved riding his own rental bike. He was segregated from the traffic at all times, and apart from the mopeds, felt incredibly safe.
Our 7 and a half year old, who is more used to riding away from traffic in the UK, was overjoyed with both the tandem and cargo bike we hired in Amsterdam, as it was not something he'd ever done before. This also meant we could travel much further distances around the city over the three days than if had he been pedalling himself.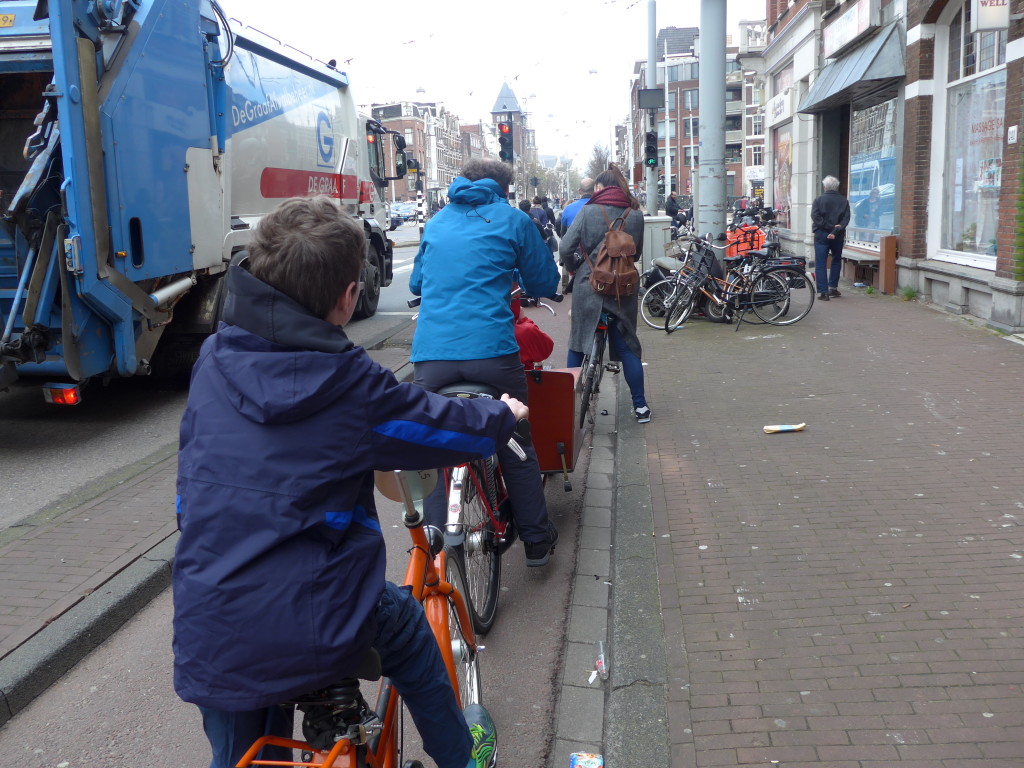 What's the difference between a kids tandem and an adult tandem?
With a kids tandem the child sits at the front. They have pedals and handlebars, but the main pedalling, all the steering and braking is done by the adult behind them. The adult saddle is higher, so they can easily see over their child's head. This is a really good way for children who are used to cycling at home, but not confident enough to cycle on Amsterdam's busy cycle paths, to get around the city.
With an adult tandem, your child will have to sit behind you, on a saddle the same height as you, so their view will be somewhat obscured. With younger children you may also face the problem of them pedalling when you don't want them to, which can result in bruised shins for you, or not pedalling at all, which is hard work.
An adult tandem would be better suited for a teenager than a younger child. However, due to lack of kids tandems, we did use an adult tandem with our 7 and a half year old for the first day. With his long legs and the seat set at its lowest he fitted fine. Great fun was had, and only minor adult shin injuries were sustained.
Can I rent adult bikes with child seats in Amsterdam?
Yes – both MacBike and Black Bikes have bikes with front bike seats and bikes with rear bike seats for toddlers and preschool children. As with the cargo bikes, book in advance if you want a bike seat.
If you're not used to riding with your child in a bike seat our guide on riding with your child in a bike seat for the first time might help. Unlike most bikes in the UK, the ones used in Amsterdam are purposeful 'city' bikes that are very sturdy and designed for carrying loads. Perfect for zipping around with your child so that you can both enjoy the ride!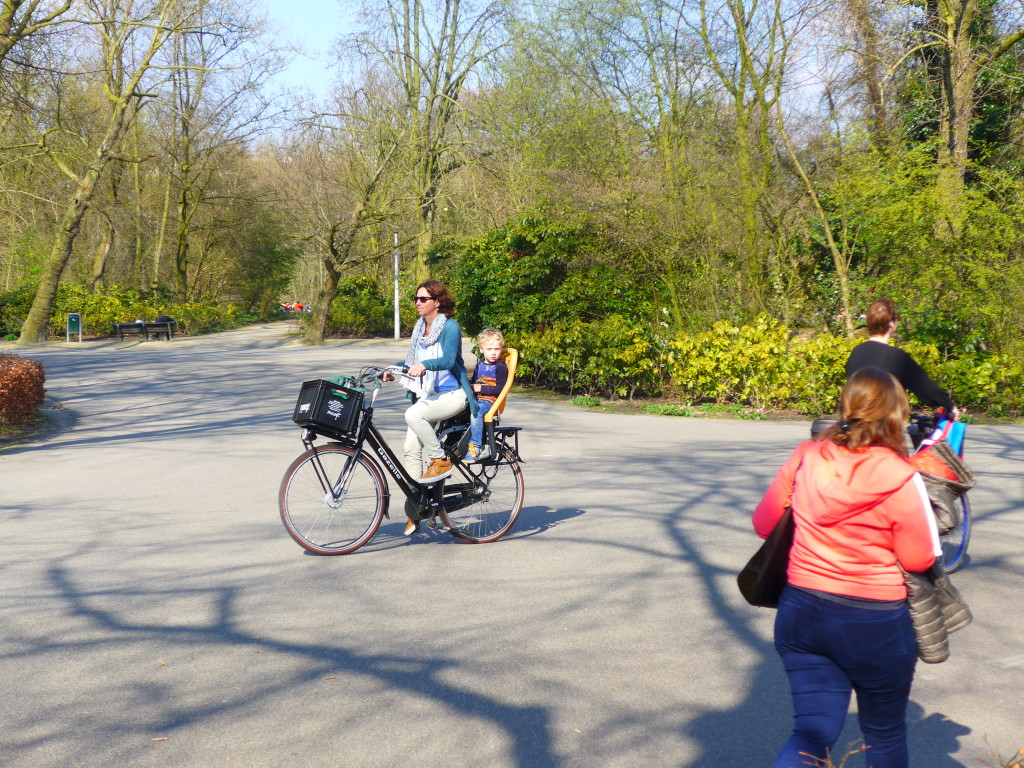 How long can I rent a bike for in Amsterdam?
Bike hire in Amsterdam is either for a defined period (i.e. 3 hours), or by the full day (24 hrs). Check the Company websites for terms and conditions as these can vary. There are no limits on the length of time you can have the bikes, unless someone has already pre-booked it for a certain day (cargo or tandems will be popular as there are fewer for hire). At MacBikes you usually don't have to let them know in advance how long you're keeping it – you just get billed at the end. We started our rental at 1pm on a Sunday and returned the bikes just before 1pm on the Tuesday, allowing us to cycle on three consecutive days for the price of 48 hours rental.
We also asked to change from a tandem to a cargo bike after the first 24 hours, which MacBikes were very helpful in facilitating.
Are helmets available when renting kids bikes in Amsterdam?
At the MacBikes rental store we used there were a couple of well used kids helmets available (free of charge). Don't expect help with fitting them and don't be surprised when your child is the only person in Amsterdam wearing one. There were no adult helmets available.
How do I keep my rental bikes safe from theft in Amsterdam?
The majority of bikes are stored outside in Amsterdam and your rental bikes are no exception. There are so many places to park your bike, but do make sure that you secure your rental bikes properly by looping the chain through a secure object. One of the main challenges was finding places to leave the bike, not due to lack of provision, but due to the number of bikes!
Bikes are fitted with a key operated lock on the back wheel. The key sits in the lock when riding and can only be removed when you actually lock the bike up. Your insurance will only be valid if you can produce the key – proof that the bike was locked!
They work great and are easy enough for a 9 year old to use.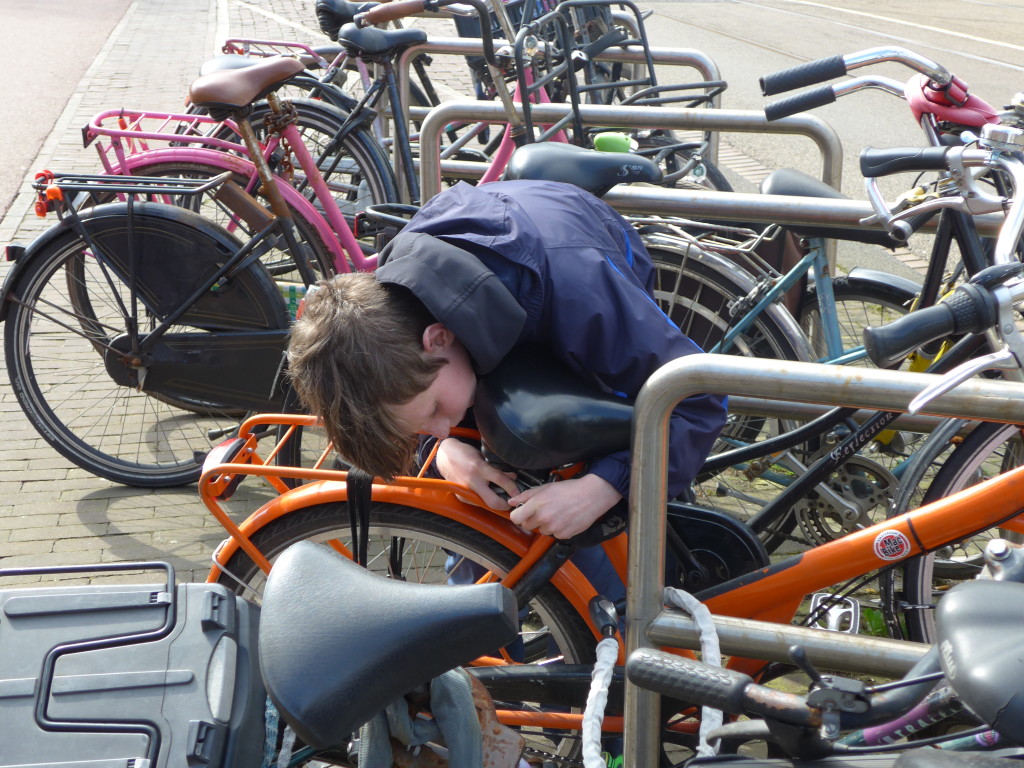 Renting kids bikes in Amsterdam is a fabulous way to explore the city. We'd love to hear about how you got on, so do please follow us at Cycle Sprog on Facebook or @CycleSprog on Twitter and share your experiences.
If you've found this article on how to hire a kids bike in Amsterdam useful, please do share it with your friends.
If you'd like more advice on cycling with your kids, inspiration for family friendly cycle routes, or reviews of the best kids bikes and children's cycling accessories don't forget to sign up for the Cycle Sprog newsletter.