When you're riding with your kids along a cycle track or trail, have you ever stopped to consider how it was designed and why? And more importantly, what makes a great MTB trail for kids? I have to confess it's not something I'd given much thought to, until very recently. We were at the 7Stanes Kirroughtree mountain biking centre in Galloway Forest, where a new extension to the 2km taster mountain biking loop absolutely made our day. I couldn't get the boys off the MTB trail – they just wanted to go again and again!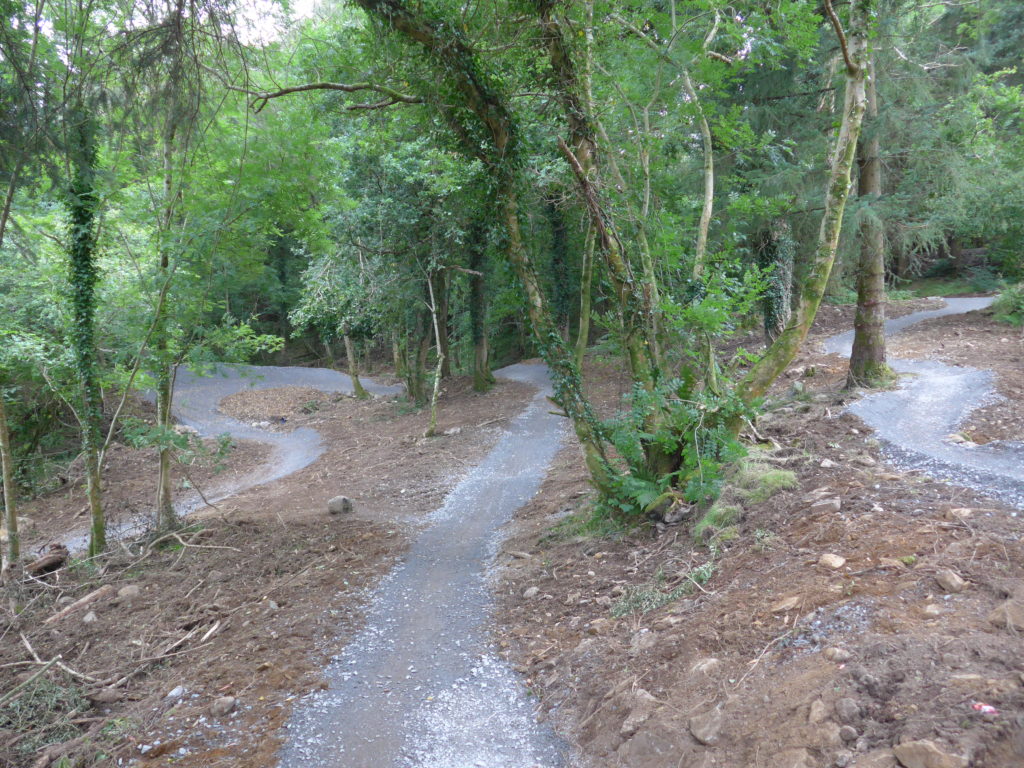 Later I was lucky enough to meet Andy Hopkins, 7Stanes Technical Officer and self confessed "Path Geek" – the man responsible for the new stretch of single track at Kirroughtree. He explained to me that designing and building a MTB trail should be thought of as an art and not a construction.
This surprised me slightly – people have been making paths and tracks throughout history from ancient times until present. So what makes mountain bike single track so different, and what makes a good MTB trail for kids? I'll let Andy explain:
A path that is used for any other purpose than mountain biking is taking you from point A to point B and should lead you to a point or several points of interest along its route. The path itself is never the topic of conversation. The exception is for path geeks like myself who, to my family's frustration, have to put up with a running critique as we walk the path!

However, trails for Mountain Bikers are completely different – it's all about every meter of trail, each twist and turn, hump and bump forming the subject of conversation at the end of the day. Having a great view at resting points is a bonus, but it's not the main purpose of the path.
So what is the X-factor when it comes to designing and building 'sacred single track'?
For me personally it all starts with understanding who you're building for. Once you have an understanding of the user then this forms everything you do from here on in.
In the case of this relatively short addition to the Kirroughtree taster loop, the brief was to realign a walking path by taking over a small section of the start of the mountain biking taster loop. This required a new start to the MTB trail, allowing us to design and build a new section of MTB Single Track. This had to be designed as a Red/Blue grade trail. Any bike path that has to be dual grade immediately gives the trail designer a greater challenge.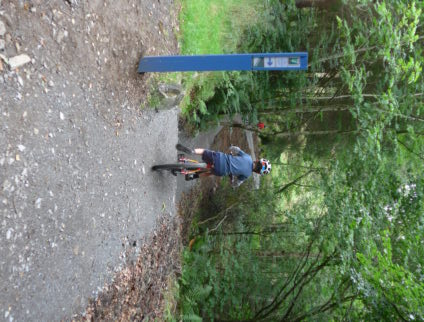 So what makes a good MTB trail for kids?
The overall gradient and features on the trail shouldn't allow the rider to feel like they need to brake hard. The features on the MTB trail should be well spaced out, giving plenty of thinking time between each feature. Trails that are too steep and have too many features cause youngsters to panic brake, which is unsettling for the rider and also causes trail erosion.

A good MTB trail for kids should give the rider an experience that is similar to that of being on a roller coaster – fast smooth and never gaining so much speed that the rider feels out of control.
Trying to explain exactly how this roller coaster effect is achieved is the 'Black Art' of trail design and should never be divulged or the "Gods of Single Track" will be displeased.
So, next time you're out on a cycle route or MTB trail with your child, remember the path geek who has worked hard to make sure your family cycle ride is enjoyable, and thank the God of Single Track that they saw fit to bless you with that path!