The good people over at Frog Bikes asked if we would like to test out one of their road bikes. Always keen to review new items we took delivery of a Frog Road 67 kids bike for a trial run.
Affiliate disclosure: Cycle Sprog may get a small commission if you make a purchase from the links in this post. For more information please see our affiliate policy
What age child is the Frog 67 aimed at?
Frog suggest that the Frog 67 road bike is suitable for a child with an inside leg measurement of 67cm, which equates to an age range of between eight and twelve years. However prudence is advised as children can vary dramatically in terms height/leg/torso lengths and so you should always measure your child and go with the bike that fits the child best.
If you've got an old Frog Bike that's been outgrown and needs selling get your Used Frog Bike quotation here. 
Frog Road 67 kids bike review – first impressions
The Frog Road 67 kids bike duly arrived in its cardboard shipping crate, covered with various bits of packaging to protect the paintwork from damage.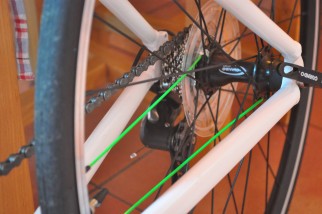 Plucking it from within produced a gloriously finished lightweight aluminium frame in gleaming white, complemented by a pair of black rims with black spokes. Very stealthy! Well they would have been were it not for the fact that two of the spokes are green in colour. Bright, no nonsense shocking green in colour.
Love it! The number of positive comments that this little touch has generated beggars belief. People cast their eye over the bike, usually giving a nod of approval, then they clock the 'odd' spokes and let fly with the comments.
When built up the contrast between the white frame and black componentry really works well for me. However if that's not your child's ideal combination other colour choices include frames in black, red or in Team Sky colours (black frame or white).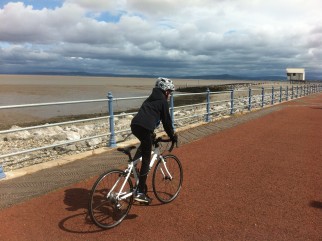 What about the components?
Taking a closer look at the complete package, I was pleased to note that the Frog Road 67 is built up, as one would expect from a quality kids bike, with child specific components. The handlebars are short drop and suitably narrow for kids shoulders and the in-house gear shifters are nice and close to the bars to make braking/changing gear easier for small hands. It appears that Frog have started to specify a mix of branded and in-house components for different areas of the bike to give a blend of quality as well as achieving value for money.
As this is a bike with a wheel in both camps of road cycling and cyclocross, the Frog 67 comes equipped with Tektro Oryx cantilever brakes. Matched to a healthy amount of clearance between wheels and frame, the Road 67 has good mud clearing ability that is essential if you decide to take it on the rough stuff.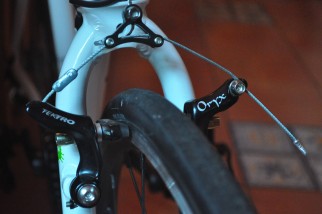 For road use the Frog Road 67 is supplied with a small box that contains a bell and reflectors for the wheels, and these come as standard.
Wheels and Gears on the Frog Road 67
Size-wise the wheels come in at 24″ and are fitted with sealed hubs from Quando front and rear, with their small diameter helping to reduce any toe overlap. Also, being fitted with a quick-release mechanism means you can whip the wheels off and chuck the bike in the car boot if you don't have a bike carrier.
The Frog 67 has nine gears in total. At the back, the 12-27 ratio cassette has been coupled to a chainset at the front manufactured by Prowheel. This is a single ring chainset (34 teeth) so there's no confusion about having to change gears at the front.
The microshift dérailleur at the rear is mounted on a replaceable gear hanger (a sacrificial part to stop damage to the frame if the bike gets roughed up a bit!) and shifts cleanly enough through the gears with ease.
Changing gears is performed with little fuss by using the right hand shifter on the handlebar, the same as those that would be seen on an adult road bike with drop handlebars. It works great and enables gear changing and braking to be done without having to remove hands from the bars. Very quickly mastered, they are enjoyable to use.
Supplementary braking on the Frog Road 67
Not all children lucky enough to get their hands on a Frog Road 67 will be familiar with drop handlebars and the positioning of the associated brake levers. Initially, they may well hold on the top of the bars, as they build up the courage to use the drop handlebars.

On a standard road bike this can cause a bit of a panic when wanting to slow down yet having your hands in a totally different place to the levers! However, as is common with many cyclo-cross bikes, supplementary top mount brake levers are fitted to the Frog 67 bike meaning that braking is still possible to perform with hands on the top of the bars.
The Reviewer
For this one we sought the services of N, aged nine years, to put the Frog 67 through its paces.

Having started to get into riding his way up hills, N was very keen to get the Frog 67 road bike onto the grey stuff to see how it faired.
Thoughts from the Sprog on the Frog Road 67
N loved the look of the Frog Road 67 kids bike and enjoyed the way it rode. However he did admit to feeling a bit cramped in the cockpit area. He's nine years of age but has a long upper body and as a result would possibly benefit from a longer top tube.
However the stem that came fitted to the bike was very short indeed with next to no extension, so even a slight increase here would be of benefit for him. This doesn't pose a problem though as your Frog retailer or local bike shop would be able to change it without any fuss.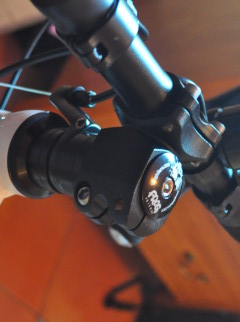 On the gearing front the Frog Road 67 provides a good range to get you up most hilly sections you'll encounter. We live in one of the hilliest parts of the country and N did mention once or twice he'd have liked a few more teeth at the back for the steepest hills we struggle up on a regular basis (15% incline)! For those living in more gentle areas, the 9 gears should be more than adequate.
He really liked the fact that the rear brake cable is routed through the top tube as in his words, 'this made carrying the bike really easy'. He also rode it on road, canal towpath and loose gravel with no complaints.
Overall, the Frog 67 is a definite winner in his eyes – especially the drop handlebars, which transformed him into a Tour de France competitor!
Review of the Frog Road 67 kids bike – the verdict
The Frog Road 67 kids bike – a competitively priced and well put together children's road bike kitted out with good components and finished with some lovely little design touches.
Available in several striking colour schemes this is a great road bike or crosser for a younger cyclist in the family and one that will be great for passing down to the next budding cyclist, or resold.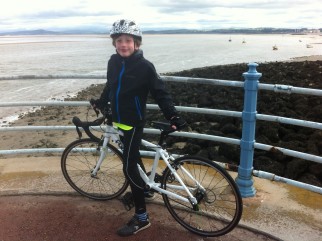 Where to buy the Frog Road 67
The Frog Road 67 can be bought new online or from your local Frog dealer. They are also available to lease on a monthly basis from The Bike Club and can also be found secondhand.
Cycle Sprog were provided with the Frog 67 kids road bike on loan for review. We were not paid to write this article, which was published in January 2016.
Other posts you ought to check out:
If you've enjoyed reading this article, please do sign up for our newsletter - we'll keep up updated when we have new articles which may be of interest. Thanks!