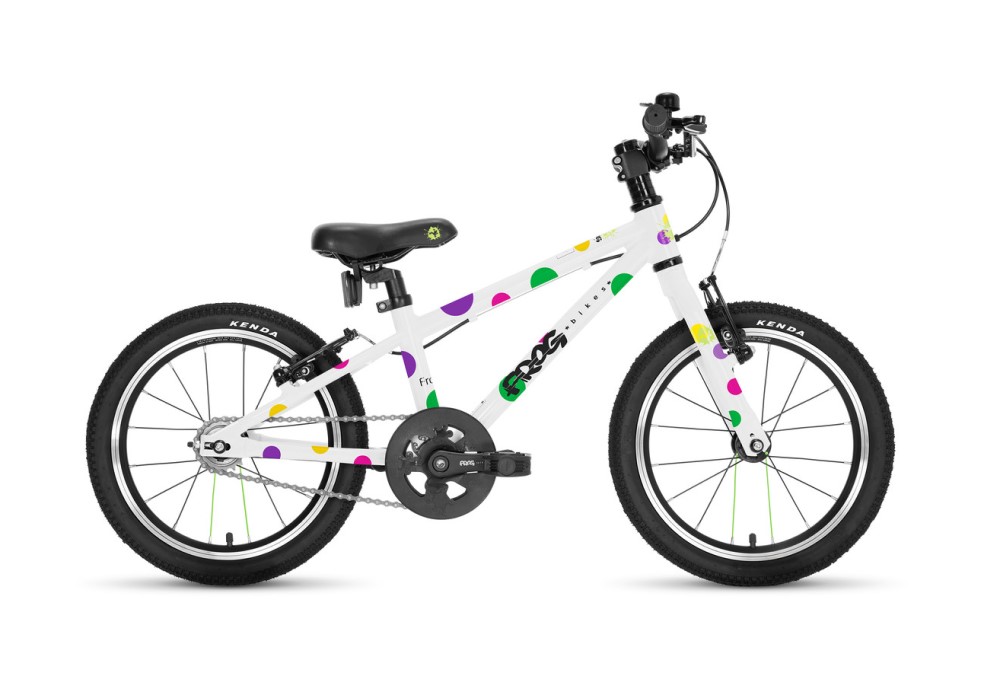 Recommended by Cycle Sprog
We've not tested this bike, but have reviewed other Frog bikes and are happy to recommend them.
Frog 44
Frog Bikes are one of the most popular kids bike brands, with a range of bikes that stretches from small balance bikes through to large 26″ wheel mountain and hybrid bikes. We're seeing brand loyalty from families as their children grow through the Frog range, which is a sign of a quality bike.
The Frog 44 is a new version of the really popular Frog 48, their previous sixteen inch wheel bike.  They've introduced a lower standover for the frame, meaning children can start riding it with legs 4 cm shorter than before (i.e 44cm rather than 48cm inside leg), which is usually around to 4 to 5 year mark. 
Frog Bikes come with everything you expect from a quality kids bike – child specific components, a good riding position and a light weight frame which all combine to make learning to ride such great fun.
This is backed up by a free 5 year warranty on frame and forks if you register the bike (2 years if you don't), and this quality means that they sell extremely well second-hand on eBay.
We've reviewed a wide range of Frog Bikes over the years and they've always been well designed and specified.
You can subscribe to the Bike Club and get the Frog 44 for a low monthly cost. When it gets too small just upgrade it for a bigger Frog. 
Learn more: Introducing Bike Club subscription kids bikes, a better way to get your child riding?
A bit for the bike geeks
The new Frog 44 is 200g lighter than the old Frog 48.  They've achieved this weight reduction by using smaller tube diameters and thinner tube walls. 
Along with this weight saving, Frog have also lowered the bottom bracket to achieve a more ergonomic position on the bike.
They've also added a longer steerer tube with a 10mm spacer ontop of the stem, so you can raise the handlebars as your child grows, as well as changing the frame design so the standover height is 4cm lower. 
Not the bike you're looking for?
Search our database of kids bikes to find the perfect one for your Cycle Sprog