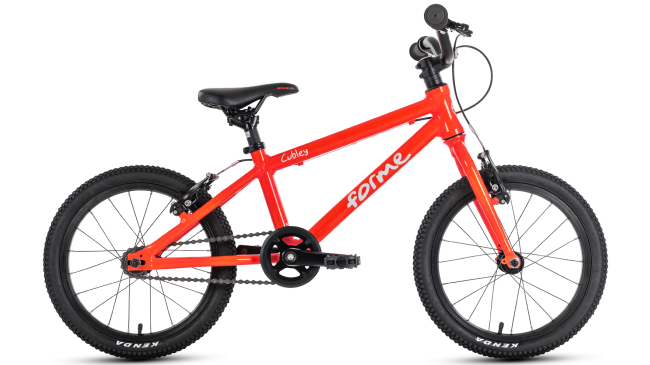 Reviewed and Recommended by Cycle Sprog
The Forme Cubley 16 has been reviewed by our testers and got the thumbs up!
Read our review
If you're looking for a lightweight, well specified 16″ wheel bike from a British owned company then it's well worth considering Forme bikes.
Whilst up until now they've been better known for their extensive range of adult bikes, they released a range of quality kids bikes late in 2020, which has proved really popular with our readers. 
The Cubley 16 has all the features we're used to seeing from the more established kids bike brands. 
We're impressed with the low weight of the Forme Cubley 16 – it tips the scales at just 6.64kg.  It's so important to have a bike that your child can pick up and manoeuvre without struggling if they're going to enjoy riding it (plus it's much easier for you when you're carrying it around).
The Forme Cubley 16 can be leased from the Bike Club - you pay a monthly subscription and when your Cycle Sprog grows out of the bike just send it back and upgrade to a bigger bike. 
Forme are based in Derbyshire, where they get proper weather. So they've fitted the Cubley 16 with all-terrain tyres plus it has an integrated headset where the bearings are hidden to protect from the rain and give you peace of mind that your Sprog can enjoy year round riding whatever the weather.
Other features on this bike include a size specific crank set for little legs, narrow bars, short reach stem and smaller pedals.
We've been sent a couple of the new Forme Bikes to review - here's our first impressions review of the Forme Cubley.
And if you're interested, the name Cubley refers to the two Derbyshire villages of Little and Great Cubley that are a short distance apart and collectively known as Cubley. 
Not the bike you're looking for?
Search our database of kids bikes to find the perfect one for your Cycle Sprog