Here at Cycle Sprog we always like finding out about a new kids bike brand. We've therefore been very excited to take delivery of not one, but two, of the new Forme Kids Bikes to review – the Forme Cubley 18 and the Forme Kinder 20.
Before we send these bikes out for rider review we thought we'd like a closer look at these two bikes (plus the sun shone so we could even get them out for a bit of a Cumbrian photo shoot too!)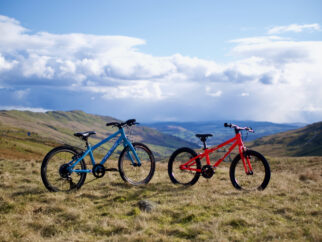 SPONSORED ARTICLE: This article has kindly be sponsored by Forme Bikes, but the opinions (and images) are all our own
AFFILIATE DISCLOSURE:   When you buy through links on our page we may get a small commission if the retailer has an affiliate scheme. You can find out how this works in our affiliate policy. Thanks for supporting us in this way! 
Who are Forme Bikes?
Derbyshire brand Forme may not be a household name for kids bikes (yet!) but they have been producing quality bikes since 2010. Road, mountain, electric, and kids bikes, you name it, they do it all. Notably, they claim to have the largest range of electric bicycles from a British bicycle brand!
Forme Bikes are proudly rooted in their local areas of the Peak District and Derbyshire which have strongly influenced their bikes and their cycling ethos. With a huge blend of riding available in their surrounding hills, the diversity of local riding has developed a range of bikes to tackle any terrain. With steep roads and rocky trails bumping up to nearby urban areas, their range of bikes covers all styles and they have even taken the names of iconic local places to name their bikes (more of that later).
It is safe to say that Forme is embedded in the landscape that surrounds them and committed to cycling in all its forms. Forme's goal is, "to create a product that encourages people to ride more, become fitter, and enjoy a more sustainable, hassle-free cycling experience". With this commitment to creating great bikes, it's fantastic to see them expanding their kids range of bikes.
Forme Kids Bike review – a closer look
Whilst Forme have a range of six models of kids bikes on their website, today we're looking at their starter bike (the Forme Cubley) and their hybrid geared bike offering for older kids (the Forme Kinder) as these are going to appeal to most kids (and parents).
The bikes have just arrived at Cycle Sprog HQ ready for us to review so are fresh out of the box and have not even been ridden, so it's an ideal time for a 'first look' and some close up photos.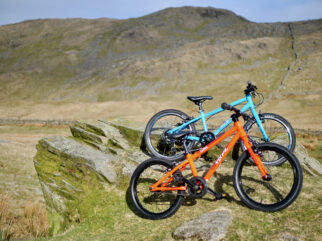 Forme Cubley first impressions review
The Cubley is Forme's smallest model and comes in 14, 16 and 18 inch wheels. It is a single-speed bike with no gears, so ideal for new riders as it keeps things simple.
Cubley is an ancient Derbyshire village which appears in the Doomsday Book – although there's certainly nothing old fashioned about this new bike.
The styling is fun, and with a colourful paint job (red, pink or blue) that looks robust and eye-catching. With three different wheel sizes it's going to be easy to get the right size for your rider and get a good fit.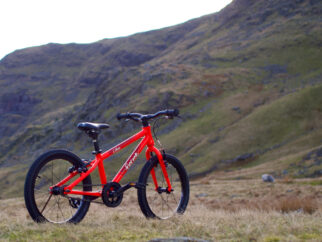 The 18-inch Cubley looks like everything you need in a quality childs bike, with well thought out components and no gimmicks. The 18-inch wheel size is really useful to bridge the gap to a 20inch wheel geared bike and it's great to see brand offering such a wide range of sizing.
The quality of the aluminium frame looks good, with neat welds, clean lines and simple cable routing, and the paint job looks like it could take some abuse!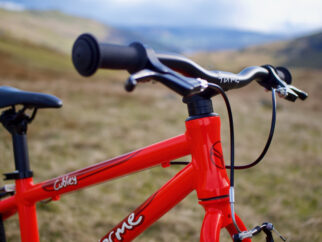 The 18″ wheel Cubley is light at 7.5kg, which is in the same ball park as the Squish 18 – the other main 18″ wheel quality starter bike. For context, the Halfords Apollo 18″ bikes weigh in at approximately 12kg – that's a huge weight difference.
The components are well chosen, with a light set of wheels and some fast-rolling tyres, though if your child likes riding in the mud you may find they run out of grip on these tyres. That's something we'll be looking forward to testing in the coming weeks!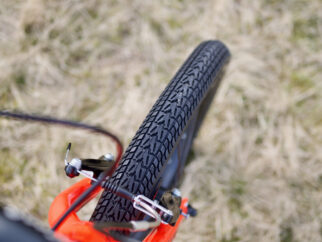 The bars and stem are a 'one-piece' set up meaning there is one less thing to worry about tightening and it gives the Cubley a sleek, integrated look.
With no gears, it keeps things simple and the chain is retained well around the chainring to keep the chain on and trousers out.
Brake levers are light action and the v-brakes will offer plenty of power to slow them down.
At £259.99 the Cubley 18 sits competitively into the kids bike market ready to take on any of the other brands, not just on price alone but also on quality. The 14″ retails at twenty pounds less, and the 16″ at £10 less.
Forme Cubleys can also be leased from The Bike Club, with prices ranging from £9.00 to £11.35 per month.
Rent Now
Buy Local
Forme Kinder first impressions review
The Kinder follows on from the Cubley, starting at 20-inch wheels and growing through 24 and 26-inch wheel versions. Again, this gives plenty of choices to get sizing spot on for your child.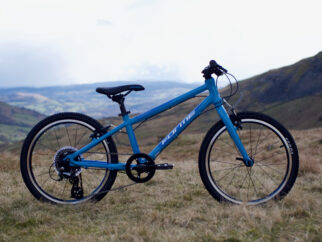 The styling is again age appropriate, with a more grown-up set of graphics to appeal to an older rider and a choice of red, pink or blue.
The bike is actually labelled as an 'ATB' or an all-terrain bike and it looks to live up to that as an all-rounder from roads, tracks and venturing into off-road territory. The geometry of the bike is again suitable for all riding,
If you're looking for something very much in the MTB style then there are other bikes that do that, but as a bike that can turn its hand to anything, it looks like a versatile machine.
The Kinder frame, just like the Cubley, is aluminium, has clean welds and a paint job that looks robust, glossy and attractive. The 20″ version weighs in at 8.5kg so it's light and will be easy to manoeuvre and carry for the rider. This is also an important consideration for parents who might be lifting the bike up onto a car roof rack.
With 8 gears, there are plenty of options for comfortable pedalling and winching up those steep climbs – good job as the bike is named after Kinder Scout, the highest place in the Peak District!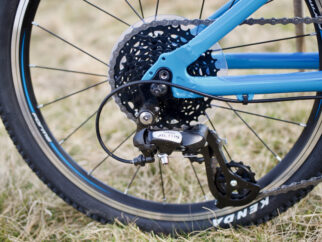 Choice of gear shifter on a kids bike is always interesting, and Forme have opted for a trigger shifter (which is operated by the thumb and forefinger, rather than a twist grip shifter). There's no right or wrong answer to this, but the key is to make sure the model used is easy for small hands to operate. It will be interesting to see how our test riders get on with it. I'm hoping they find it easy to use, especially with the numeric display.
The bars and stem are integrated once again which is a nice touch, the only issue is the lack of spacers above or below the stem, which means there is little adjustment in bar height available, but this is a minor adjustment to bike fit.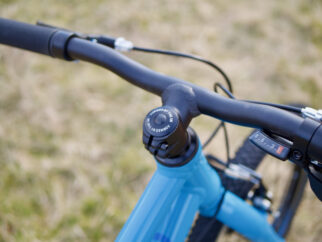 Tyres follow the all-rounder feel with enough grip for light off-roading, but still efficient on cycle paths and tarmac.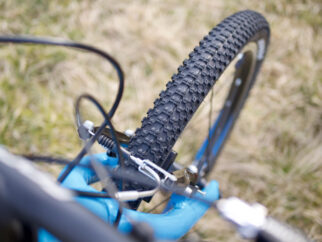 The price is for the Kinder 20 is £324.99 which brings a competitive addition to the quality 20inch wheel arena and we see this sitting comfortably alongside the other leading brands' offerings. The Kinder 24 retails at £339.99 and the Kinder 26 at £359.99.
The Bike Club have a fleet of Forme Kinders for long term rental with prices ranging from £11.85 to £15.05 per month.
Forme Kids Bike review – overall first impressions of the range
Forme have two great looking kids bikes covering everything from 14 to 26-inch wheels. Two models and 6 different sizes mean there is something to fit pretty much any rider. You could start them on a Cubley 14-inch as their first foray onto a pedal bike, all the way through to being left behind as your child cruises away on a 26-inch Kinder!
Full reviews of both bikes to follow once we've put them through their paces, so sign up to our newsletter and we'll let you know when they're available to read.
Where to buy Forme Kids Bikes
If our Forme Kids Bike review has got you desperate to buy one of these bikes for your Cycle Sprog, you've got a couple of choices.
If you're lucky enough to have a local bike shop, you can check whether they are a Forme Bike stockist.
Alternatively, you can lease a Forme Kids Bike via The Bike Club for a monthly payment, or you can buy new online too.
Disclosure: Cycle Sprog were kindly lent the Cubley 18 and Kinder 20 by Forme Bikes for the purpose of this review, and they have provided us with financial recompense for writing and hosting this review. However, the opinions stated in the article, and the photographs, are our own.
Other articles you may be interested in: