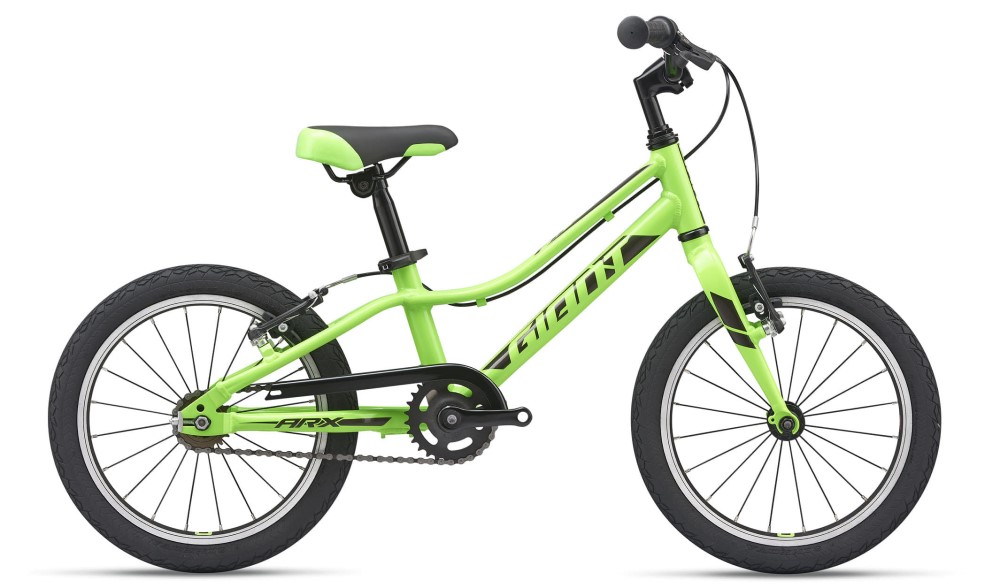 Recommended by Cycle Sprog
We've not tested this bike, but have reviewed other Giant bikes and are happy to recommend them.
Giant are one of the world's biggest bike manufacturers, so it's surprising that they are quite late to the party (they only launched their lightweight ARX range in early 2019 – years after the rest of the market!)
However, this has given them an advantage, as Giant have been able to see what works in a quality kids bike and then bring their experience and expertise in building adult bikes and focus it on making a really decent kids offering.
The ARX 16 is the smallest bike in the range, and as Giant have economies of scale that some of the smaller brands don't have this means they've produced a great value bike without sacrificing quality.
It's got everything you'd expect to see on a quality kids bike – it's lightweight, has versatile tyres for riding on different terrains, and has child proportioned components, as well as coming in a range of fun colours. 
Giant don't publish their bike weights, but we reviewed the larger ARX 20 and the bike was well towards the lower end of the weight range of bikes in that wheel size, and the ARX16 is a similarly lightweight and well specified bike.
They even do kids sized bike helmets to match or clash with the bike! 
Not the bike you're looking for?
Search our database of kids bikes to find the perfect one for your Cycle Sprog