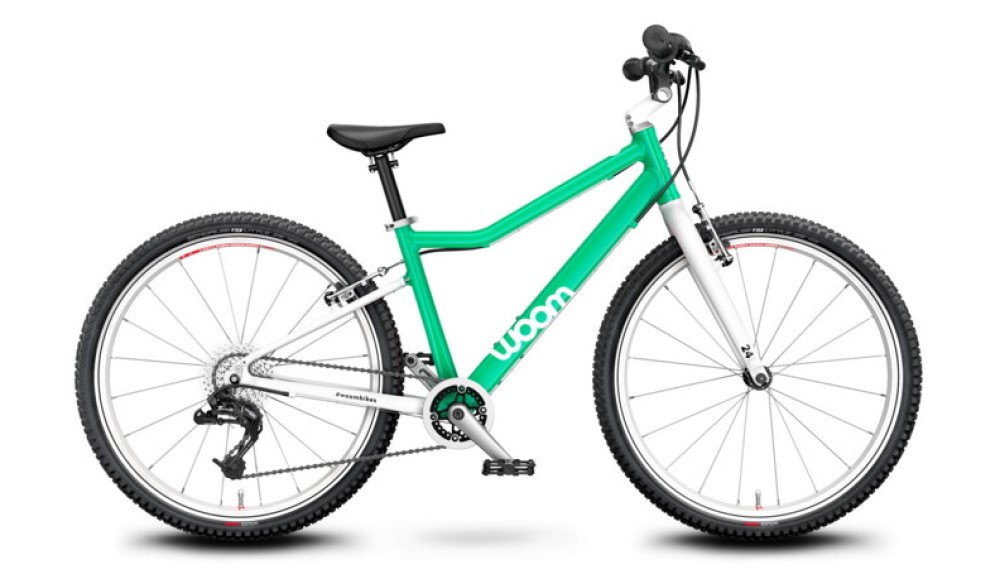 Recommended by Cycle Sprog
We've not tested this bike, but have reviewed other woom bikes and are happy to recommend them.
If you're looking for a well specified, lightweight kids bike that is a bit different to what everyone else is riding, the woom 5 is certainly worth considering. 
woom are an Austrian brand who are now sold in the UK.  It's slightly more of an upright riding style than some other kids bikes, which makes it ideal for cycling to school.
However, it also has Kenda small block tyres and 8 Speed 29 T by 11-32T gearing (operated by a SRAM X4 Twist Grip) which makes it fun to ride off road at the weekends and should get up some quite steep hills (which they have in Austria!)
The inside leg measurement range is 64 – 75cm which means this is a slightly larger bike than some of the other 24″ wheel bikes available, making it ideal for taller / older children.
woom also offer the option of buying a kickstand and mudguards for this bike, making it good for regular commuting all year round. 
We've reviewed a couple of the smaller woom Bikes and were incredibly impressed with the quality and attention to detail.  You can read our woom 2 review and woom 3 review to find out a bit more about the brand and the build quality. 
If you think of an Austrian bike built with the same quality and attention to detail as Islabikes, then you can understand why this bike isn't cheap, but is well worth the price tag. 
Not the bike you're looking for?
Search our database of kids bikes to find the perfect one for your Cycle Sprog