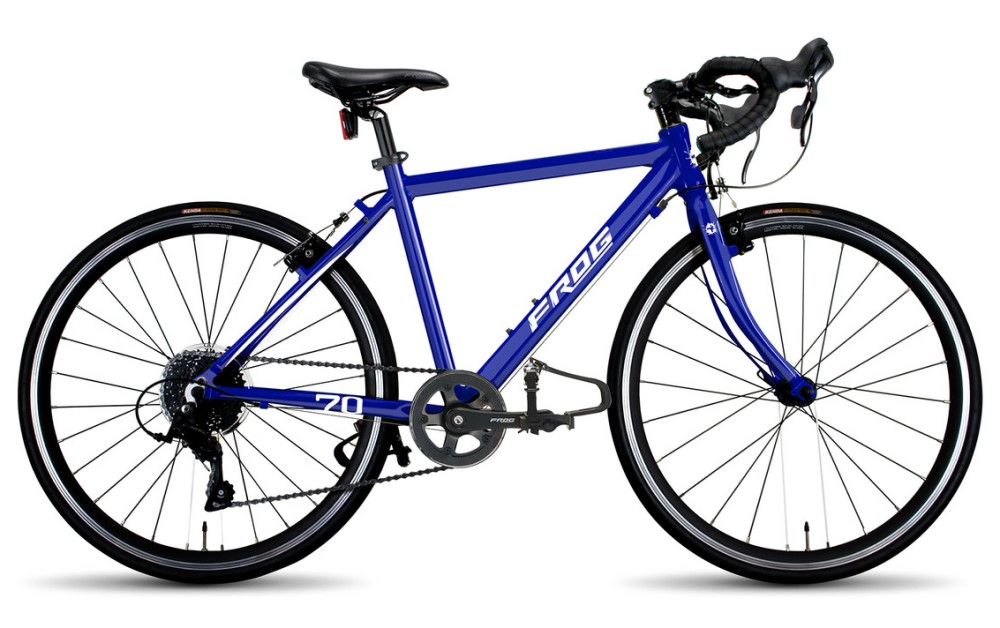 Recommended by Cycle Sprog
We've not tested this bike, but have reviewed other Frog bikes and are happy to recommend them.
Frog Road 70
The Frog Bikes website says that the Frog Road 70 is out of stock and the next shipment due in the UK something during Spring 2022
The Frog Road 70 is a 26-inch kids' road bike, with 10-speed gears.   It's sized for children with a minimum inside leg measurement of 70cm, which is likely to be between the ages of 11 and 14 years old. 
It's a good bike if your child is racing cyclocross or triathlon, as well riding on road, as the frame has enough clearance to fit wider cyclocross tyres as well as slick road ones. 
As well as integrated short reach brake levers the Frog Road 70 is also fitted with additional levers on the tops of the handlebars.  This is useful for children who are just progressing to drop handlebars and skinny tyres, as it can be a big step to spend all (or even any) of your time on the drop handlebars. 
We've not reviewed this particular bike, but you can read our review of the Frog Road 67 to find out more about this range. 
Not the bike you're looking for?
Search our database of kids bikes to find the perfect one for your Cycle Sprog