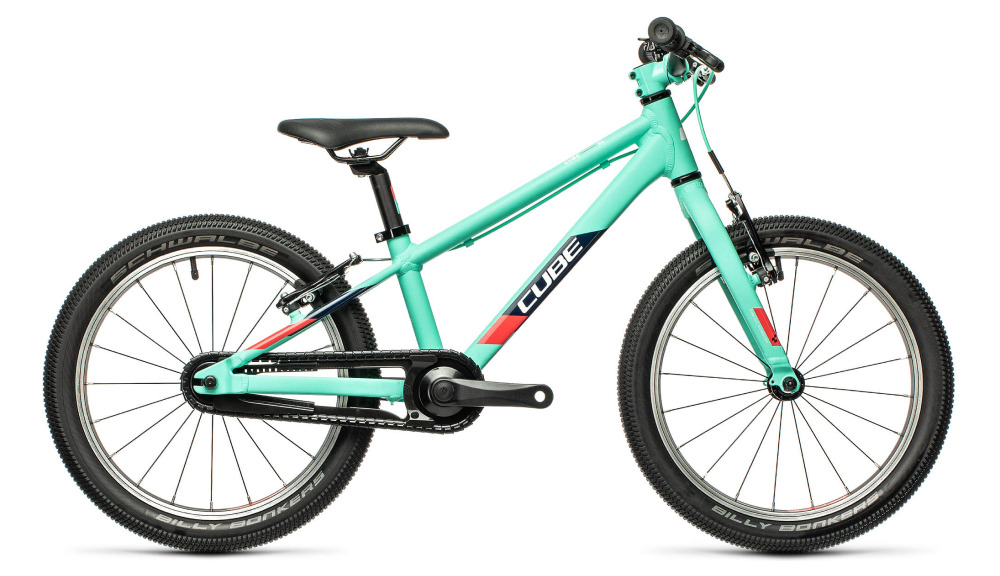 Recommended by Cycle Sprog
We've not tested this bike, but have reviewed other Cube bikes and are happy to recommend them.
If your Cycle Sprog is desperate to get a proper mountain bike but isn't quite old enough to handle a 20″ wheel bike with gears, then the Cube Cubie 180 should keep them happy during the waiting phase.
The Cubie 180 is inspired by Cube's adult and junior range of mountain bikes – we've reviewed a couple of Cube's kids mountain bikes and have been really impressed.
Cubes only 18″ wheel bike has a lightweight aluminium frame and forks that have been designed to take the knocks and scrapes a little shredder will undoubtedly give it.
The Cubie 180 has front and rear V brakes so your child can learn how to control their speed using brake levers designed for little hands.
The single-speed Hudson 25T chainset is fitted with a chainguard to keep the chain away from legs and clothing.
The Cubie 180 comes with Schwalbe Billy Bonkers 1.75 tyres which are a mountain bike tyre suitable for all terrain types.
The good news is there's no heavy suspension or gearing to weigh the Cubie 180 down, meaning it weighs only 7 kg – making riding easier as well as being easier for you when you're liftin and carrying at the end of each ride. 
Not the bike you're looking for?
Search our database of kids bikes to find the perfect one for your Cycle Sprog